If you keep your eyes on the road, you might see battery-powered electric pickup trucks, and buyers are definitely interested. Electric pickup trucks and cargo vans for commercial uses are available now from Ford, and an electric pickup truck will be available from Chevrolet next year.
Are electric work trucks currently a viable option for the construction trades? Factors to consider are initial cost, maintenance, miles per battery charge, towing capacity, expected battery life and availability of service.
"Electric vehicles can play a major role in a fleet's carbon reduction program," said Christopher Lyon, director of fleet relations for NTEA, the Association for the Work Truck Industry, Farmington Hills, Mich. "Based on drive and duty cycle, electric vehicles can provide lower fuel and maintenance costs. However, these potential savings are strongly dependent on many factors, such as infrastructure availability and energy costs."
When considering electric work trucks, it is essential to decide exactly what an EV will be expected to do.
"Electric vehicles will make inroads where the technology is matched to the application and total cost of ownership and reliability can be determined to be an improvement over other propulsion fuel options," said Bob Raybuck, NTEA director of technical services.
---
Electric work truck availability
Chevrolet: Earlier this year, Chevrolet revealed the 2024 Silverado EV. The electric truck is launching first to work truck customers in spring 2023, and then will launch to retail customers in the fall, said Darrick LeGrande, battery electric truck fleet product manager.
GMC: No details about work trucks revealed at this time, but GMC has introduced an electric Hummer pickup truck and SUV.
Ford: E-Transit cargo van, chassis cab and cutaway and F-150 Lightning pickup truck
RAM: No comment
---
Batteries and uptime
"Range anxiety certainly is an area of concern for many potential buyers of electric vehicles," said Steve Carey, NTEA president and CEO. "For commercial applications, operating range could also be even more varied and could be impacted by the vehicle's duty cycle, operating environment (like temperature) and the load or work the vehicle is performing. All of these factors generate range variations as a result of how the vehicle is operated."
Another concern is the battery lifespan and vehicle uptime, Raybuck said. This is primarily from a lack of independent information on specific vehicles (since many have not yet gone into production), and what can be assumed to be a relatively high cost of replacement.
Lyon expects the immediate future of electric work trucks will largely be dependent on current and near-term infrastructure, as well as chassis availability.
"The more complex the work truck becomes, the more expensive the upfit. Also, it's important for buyers to understand limitations in both range and operability," he said. "An example would be towing capacity. A stated range of an electric work truck may be 300 miles; however, outside factors need to be taken into consideration."
"Towing can significantly reduce operating range, much like reduced fuel economy on a conventional vehicle," he said. "For the long range, as more fast-charging infrastructure is developed and battery density increases, the more applications can be accommodated."
Lyon said there may be applications where full traction drive EVs may not be appropriate, and buyers may want to consider subsystem electrification. Taking auxiliary loads off a conventional power plant can help fleets reduce their carbon output. Examples include electrifying bucket or power takeoff (PTO) operations.
---
Components of a battery-powered electric vehicle drive system
The operational system of a battery-powered EV involves the battery and drive unit, which includes an inverter, electric motor and gearbox. The inverter converts DC current from the battery into AC to power the electric motor, and the gearbox functions like a traditional transmission to provide reduction of the RPM of the motor to the wheels (although doing so with a single or very few gears).
Summarized from information provided by NTEA.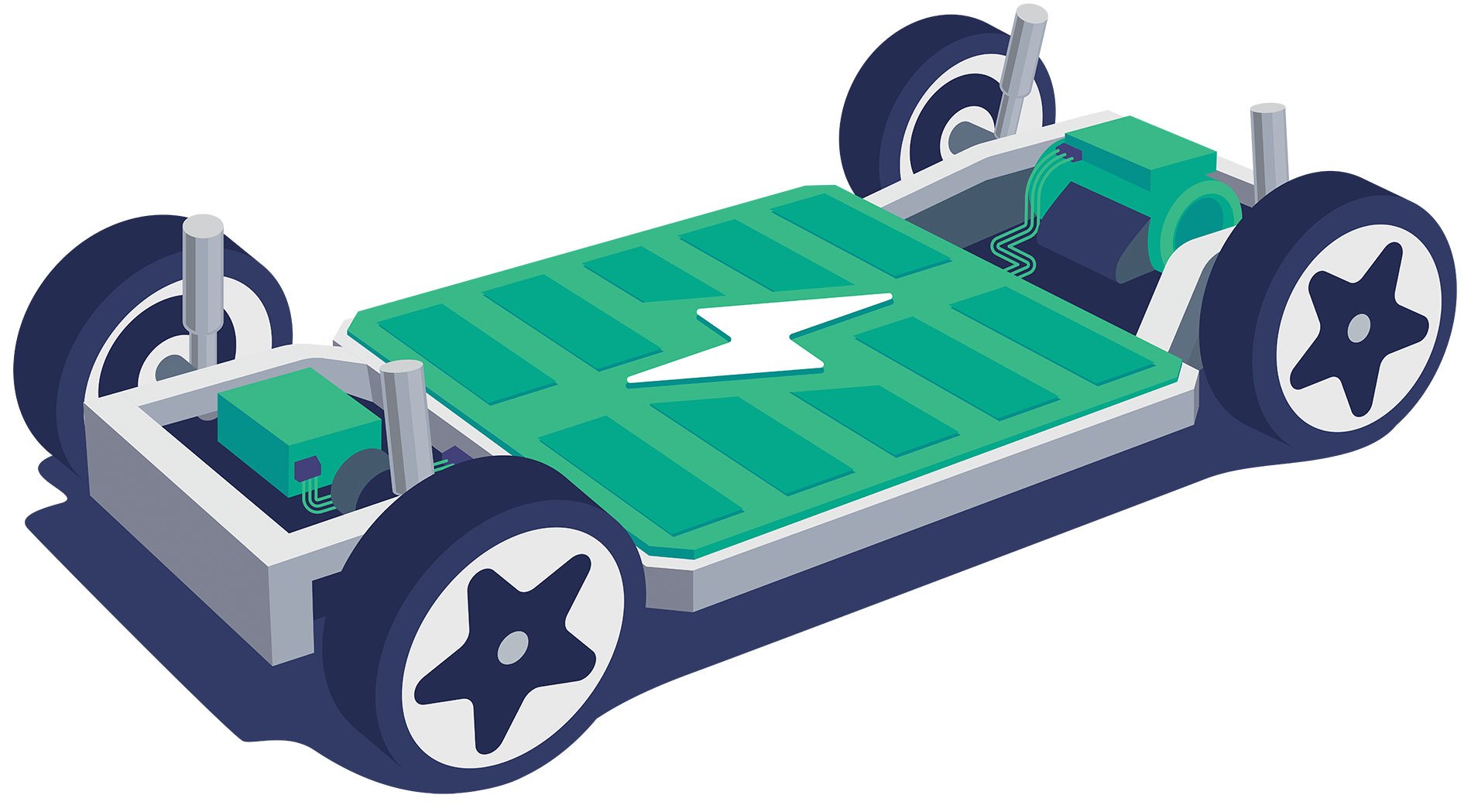 ---
A manufacturer's perspective
Ford currently offers the all-electric Ford E-Transit cargo van, chassis cab and cutaway and the F-150 Lightning pickup truck.
"Prospective buyers will find there will be significant variations in pricing across vehicles and manufacturers," said Drew Walker, EV product marketing manager for Ford Pro, Dearborn, Mich. "To help gauge potential purchase and operating cost savings, Ford Pro commercial customers have exclusive access to the Ford Pro Total Cost of Ownership that calculates a variety of factors including purchase and lease costs, federal and regional tax incentives and regional fuel and energy costs."
Walker said EVs require significantly less maintenance than vehicles with internal combustion engines.
"We expect scheduled maintenance costs for the F-150 Lightning Pro and E-Transit to be 40% lower than their gas-powered counterparts over eight years and 100,000 miles," Walker said, adding that "there is potential for further operational cost savings through lower fuel costs."
But electricity isn't free. How expensive and time-consuming is charging?
"There are a lot of factors to consider," Walker said, adding that those include the vehicle and charging system type and the time of day.
"Ford Pro Charging offers integrated and end-to-end solutions for home, public and depot charging to help customers make a seamless transition to electric vehicles," he said. "The business provides not only hardware and software to support charging and energy management, but also provides consultation on which charging options would work best for individual customers.
"Further, Ford Pro Charging software can help customers optimize energy costs. The software looks at fleet schedule, vehicle duty cycle, utility rates and more to provide insight on when, how much and how quickly to charge electric vehicles."
What about concerns for limited range of electric work trucks?
There is no one-size-fits-all work truck that is appropriate for every application, Walker said.
"Just as a Class 7 diesel-powered dump truck would not be used to carry tools and equipment to every job, an electric van wouldn't be the best choice for a long-haul towing application," he said. "It's a fleet-­management best practice to match the vehicle to the application. As we developed the all-electric E-Transit, we analyzed 30 million miles of customer telematics data and determined that commercial vans in the United States are driven an average of 74 miles per day.
"Our battery delivers significantly more range than that, ensuring commercial customers can take care of business without paying more for expensive battery capacity that they won't use. E-Transit has a demonstrated range of 126 miles in the low-roof cargo van configuration, making it a great choice for commercial customers who know their drive routes and often work in urban environments," Walker said.
"F-150 Lightning offers a choice of standard or extended-range batteries to deliver up to 320 miles of EPA-estimated range."
Payload and towing affect the range an EV can achieve and, as a result, how often it needs to charge.
"This is very similar to the effect that payload and towing have on how often a gas-powered vehicle needs to refuel," Walker said. "Factors like trailer weight, frontal dimensions and aerodynamic drag, traffic speed, weather, route topography and driver habits all affect fuel economy and range in the same manner."
Key elements
When evaluating electric work trucks, Walker suggests the key elements to consider:
Capability: Evaluate what vehicles would be best for the jobs to be done. Factors to consider here include range, payload and special features. Ford Pro has Power Onboard for transporting power tools and equipment to job sites.

Charging strategy: Before adding EVs to a fleet, decide how they will be charged. For example, maybe the primary approach will be depot charging, supplemented with public charging while on the go. Ford has Pro Charging team that helps a business select the best strategy and consults on depot site design, installation, operations, maintenance and support.

Service and support: Consider where EVs will be serviced to reduce downtime. Is there a dealership nearby? Ford EVs are backed by more than 2,300 EV-certified dealers, including more than 650 business-focused commercial vehicle dealers.
Walker believes electric trucks have the potential to deliver higher productivity, lower total cost of ownership and better driver health and well-being.
"At the same time, they reduce the impact vehicles have on the communities in which they're driven, thanks to their zero emissions and quiet operation," he said.
---
Factors affecting EV range
Ambient temperature

Heating and cooling load

Tire pressure

Payload

Driver behaviors such as aggressive driving, vehicle speed, idle time and trip length

Road characteristics

Charging behaviors