Wildfire smoke is made of a mixture of fine particles and gases produced from burning trees, grasses and other plant matter. The largest health threat from wildfire smoke is the ingestion of particles through the eyes and respiratory system. Smoke and ash can irritate eyes, noses, throats and lungs, which can cause coughing and wheezing and make it hard to breathe. As smoke gets worse, the density of particles in the air increases, which can aggravate chronic heart and lung diseases. Even for healthy individuals, it is a good idea to avoid breathing in smoke if possible.
Objectives
Upon completion of this safety talk, participants will:
Know how to protect themselves and
others from wildfire ash or smoke
Be able to choose the correct respirator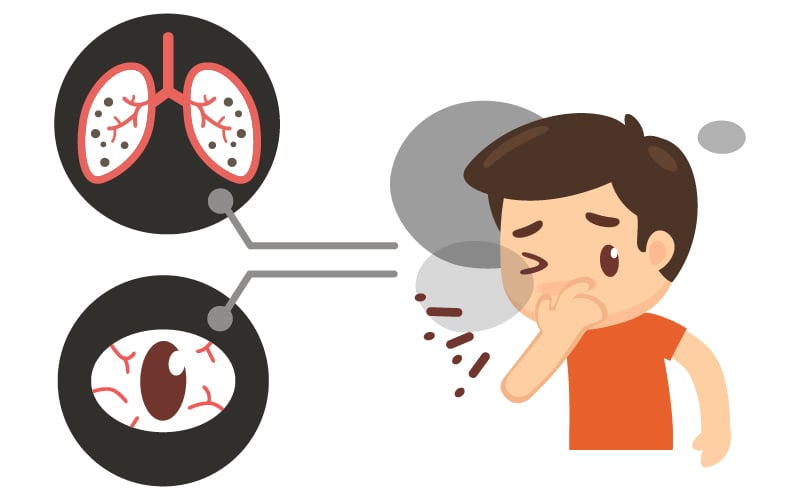 Protecting yourself and others
The most effective way to protect yourself and others is to stay indoors or limit time outdoors when the air is smoky.
Reduce physical activity and use air cleaners with HEPA filters indoors.
Avoid using anything that burns, including fireplaces, gas stoves and candles.
When smoke is heavy for a long period of time, fine particles can build up indoors, even if you cannot see them.
Avoid activities that add to air pollution, such as smoking, driving and using gas-powered machinery. Reduce use where avoidance is not possible.
Run an air conditioner, if possible. Close the fresh air intake and keep the filter clean to prevent bringing more smoke inside.
If you have heart or lung disease, follow your doctor's directions about medication.
Those who must be outside for extended periods in smoky air may benefit from using a tight-fitting respirator to reduce exposure.
Using a respirator correctly
A respirator fits tightly to the face, covering the nose and mouth while filtering out smoke or ash particles before the wearer breathes them.
Choose a particulate respirator that has been tested and approved by NIOSH. If it is, it will have "NIOSH" and "N95" or "P100" on it.
Effective respirators have two straps to go around the wearer's head. Place one strap below the ears and one above.
Choose a size that fits over the nose and under the chin and seals tightly to the face.
Any leakage around the edge of the mask will cause unfiltered air to be inhaled.
Do not choose a mask that has only one strap or two straps that go around the ears. Such masks do not seal tightly to the face and will not protect the lungs.
If the mask has a nose clip, use two hands to press it firmly to the nose
and face.
Facial hair prevents a good seal.
Wearing a respirator in hot weather or if you are physically active can increase the risk of heat-related illnesses. Take breaks and drink water often.
Discussion questions
What are some aspects of a good respirator?
What are three ways to protect yourself from wildfire ash
and smoke?