The economy wants to win. It has taken every hit and gotten back up. Neither COVID-19, nor steep inflation, supply-chain woes or the war in Ukraine has delivered a knockout punch. Through it all, hiring has remained strong, demand has not flagged and housing continues to grow with renewed strength in the multifamily sector. Meanwhile, nonresidential construction continues to gain. At midyear 2022, recovery and growth endure, albeit with warnings.
"In the words of the mighty Marvin Gaye, 'What going on?'" said Paul Hart, vice president of product marketing, building product manufacturers for ConstructConnect, Cincinnati. "Unprecedented" is how he described today's challenging confluence of current events and the economy. Fonda Rosenfeldt, the company's senior economist, added, "As construction professionals, we never could have anticipated the ups and downs and sideways of the last 26 months or so." She described the time as "unbelievable, surreal, challenging, unpredictable and maybe just downright crazy."
While economists from ConstructConnect, Dodge Construction Network, Hamilton, N.J., and others remain positive, a new realization has taken hold that anything can happen
Yet through all the noise of the first half of this year, ConstructConnect found U.S. construction starts grew 4.1% year-over-year (y/y) in the first quarter of 2022. By May 2022, year-to-date numbers showed continued strength, with civil engineering up 21.9%, nonresidential building fell 12.5% and residential starts at 7.7%. The firm expects put-in-place spending (a measure of work-in-progress) to rise to 13.2% in 2022, up 8.2% from 2021. Total construction starts are expected to grow 10.9% by 2022's end, with similar progress in 2023.
Square footage, however, took a hit due to high material prices. In 2021, ConstructConnect estimated the square footage of residential and nonresidential starts at 3,480.3 million square feet (msf). That was an 11% rise from 2020. Square footage estimates for 2022 are 3,548.5 msf, a lesser gain of 2% compared to 2021.
"In 2022, the number (total construction starts) does include cost or price increases, so maybe the starts are closer to between 5% and 10% in constant dollars. But 2023 should be a true actual dollar volume increase," said Alex Carrick, chief economist for ConstructConnect.
ConstructConnect reported total construction starts in May were up 6.7% from April. Year-to-date (YTD), starts were up 16%. Megaprojects ($1 billion-plus) ranging from liquefied natural gas (LNG) plants and manufacturing to hospitals and airport expansions contributed to the positive gains. Breaking YTD down (May 2022), nonresidential building gained 31.6%, civil engineering or nonbuilding added 24.6% and residential starts cooled but added 1.6%. Year-to-year (May 2021-May 2022), total construction starts rose 37.9%.
Richard Branch, chief economist for Dodge Construction Network, estimates total 2022 construction starts will gain 9% (3% constant dollars) (see Figure 1). Inflation is baked into Dodge's numbers as well.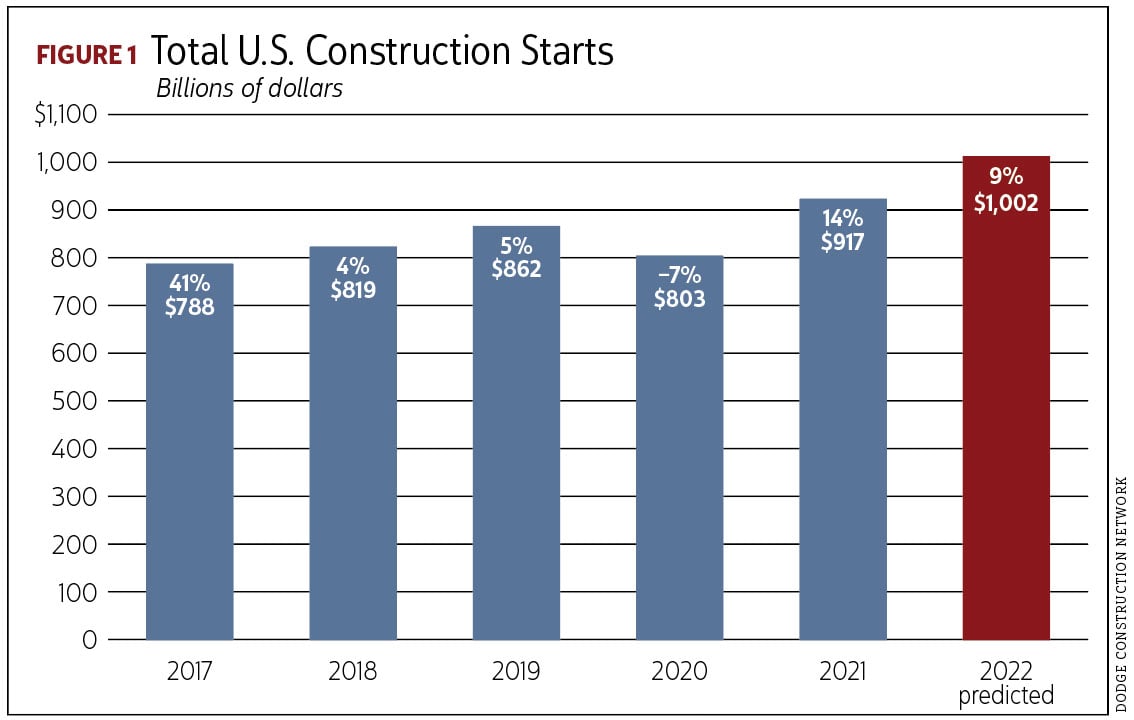 "Nonresidential construction has benefited from the growing confidence that the worst of the pandemic is in the rear-view window. The pipeline of projects waiting to start continues to fill, suggesting this trend will continue. However, higher prices and a shortage of skilled labor will slow the progress of those projects through the design and bidding stages, resulting in moderate growth in starts activity," he said.
"The construction sector is seemingly shrugging off the fear of higher interest rates and a potential recession. However, there is concern that the Federal Reserve will force the U.S. into recession later this year, which may thwart the momentum in construction starts. While recession is not our baseline forecast, it cannot be fully discounted," Branch said.
He shared that sectors with the smallest recessionary risk include education, transportation and healthcare. Markets at risk include office, warehouse and hotel.
"I feel positive as to growth this year," Branch said.
Kermit Baker, chief economist for the American Institute of Architects (AIA), Washington, D.C., pointed out that the U.S. economy grew at 5.7% (gross domestic product, or GDP) last year, more than offsetting the pandemic-produced recession of 2020. GDP forecasts for year-end 2022 range from 2.2% to 3.5%.
Baker added sporting event attendance has returned, as have people flying and dining out, all almost back to prepandemic levels. However, return-to-office levels are only half of what they were before the pandemic, which has implications for future office demand.
"Most feel we are not entering a recession, but we are feeling the fallout of supply-chain problems, rising inflation and winding down of federal stimulus spending," Baker said. "The economy will continue to be challenged in the coming quarters."
Bids and prices are up
Rosenfeldt reported bid volumes increased 22% above last year during the first quarter of 2022 and another 7% in the second quarter (see Figure 2). "We are seeing a shift in awarded projects (U.S. and Canada), a 50/50 ratio between civil and general bid," she said. "We are also seeing an increased volume in bid project value."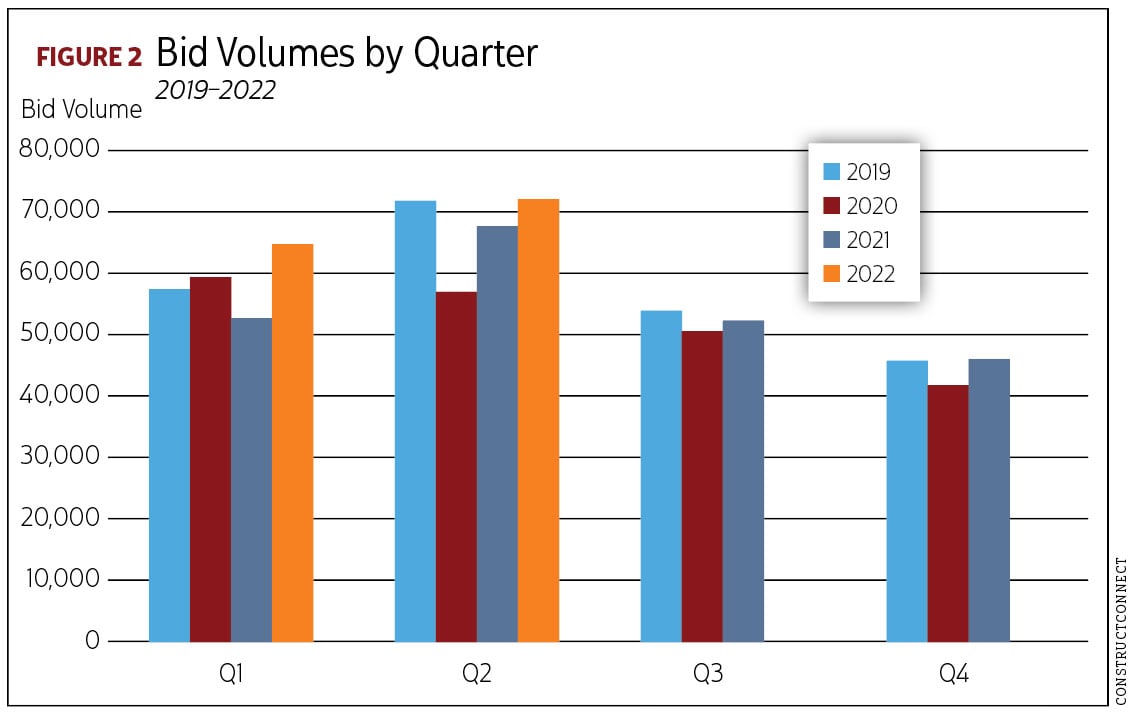 She added renovation work has increased (e.g., large civil projects at wastewater treatment plants, rail work). Beyond that, she is seeing modification/renovations in education sectors and medical buildings. Big box and retail are also renovating and adapting to more online shopping.
Baker added that the share of revenue from renovations, retrofits and additions exceeded 50% since AIA tracked this information. Common examples include adaptive reuse and building conversion, interior modernization, tenant fit-outs and additions.
With higher material costs, contractors must now decide what they can absorb. In a recent survey by ConstructConnect of contractors and others, 48% of respondents said they were less profitable today compared to six months ago.
Ken Simonson, chief economist for AGC, found two indices that shed some light. "The Producer Price Index (PPI) shows change in prices at the producer level that are sourced for construction," he said. "The bid price index is what contractors say they would charge to put up new nonresidential buildings. In September 2020, the two indexes were both going up at a modest 1.8% annual rate. By last summer, materials cost rose nearly 25% year-over-year. They have eased down a tad in the areas of steel, copper and lumber. In the 12 months through March 2022, price rises averaged 21.5%. The bid price has gone up too, but has not caught up to the price index. We do not know how long this will last, but historically, we have had periods of elevated prices lasting 26 months. Right now, we are at 16 months (April 2022)."
Between April 2020 and March 2022, the price of diesel fuel quadrupled (averaging $5.70 per gallon as of June 2022, according to the U.S. Energy Information Administration). Lumber and plywood rose 112%, steel mills climbed 103% and copper and brass mill shapes prices elevated 73% (see Figure 3).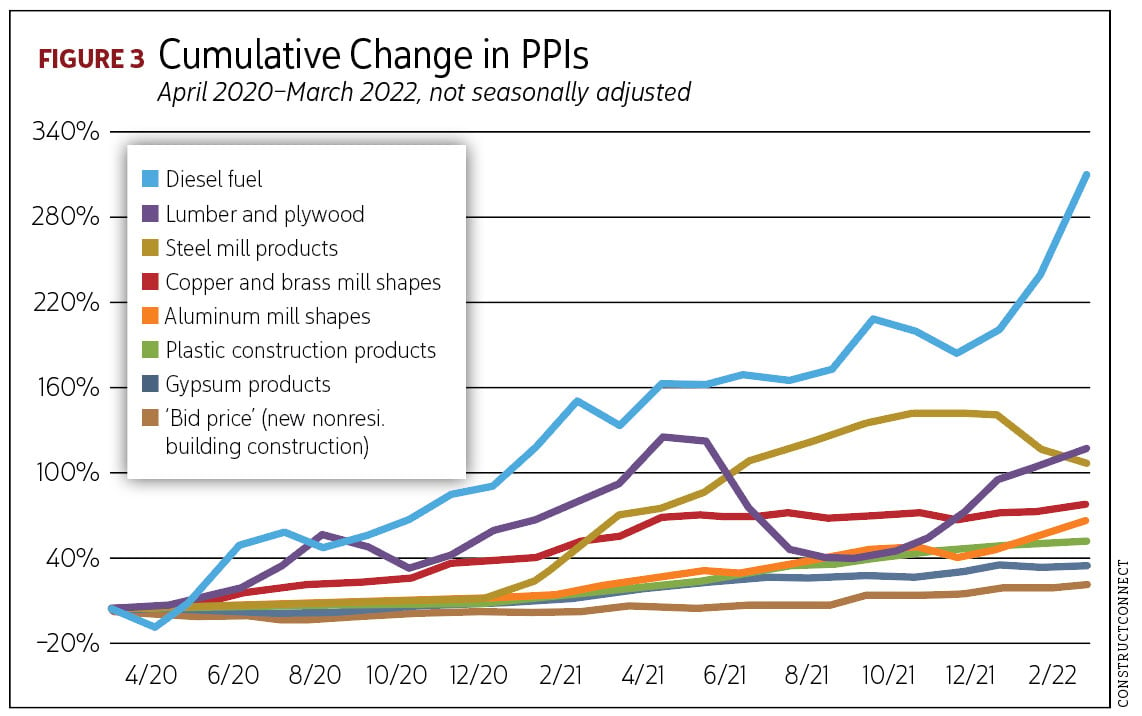 Work in the pipeline
AIA's Architecture Billings Index (ABI) continues to show favorable conditions at architecture firms. Offering a 9- to 12-month lead to construction activity, the ABI stood at 56.5 in April 2022. A score of 50 or higher indicates billings growth.
"The amount of work coming into architecture firms has created a backlog averaging 7.2 months," Baker said. "That is the highest level of backlogs in 10 years."
The Dodge Momentum Index (DMI) is a monthly measure of nonresidential building projects in early planning. It leads this sector's spending by a full year.
In April 2022, the DMI rose 6% to 165.2 (2000=100), up from March's 155.0. The May 2022 DMI rose another 7% to 176.2. Looking at May numbers, commercial work grew 6%. Institutional gained 9%. Commercial planning gains were due to an increase in office and hotel projects. Institutional planning saw an increase in education and healthcare projects entering planning. On a May year-over-year basis, the DMI was 17% higher than in 2021 (commercial 24% higher; institutional 8% higher).
Of note, Branch shared the strength in commercial-planning work to date has also been supported by data centers and warehouses; however, it remains a volatile sector, as a single large project (e.g., warehouses) can represent the lion's share of growth month-to-month. He expects more broad-based growth for commercial in the future.
Branch says the DMI suggests construction will continue to weather labor scarcity and higher material prices. It is showing project work for schools and offices as the pandemic becomes endemic. A total of 21 projects with a value of $100 million or more entered planning in March (see Figure 4).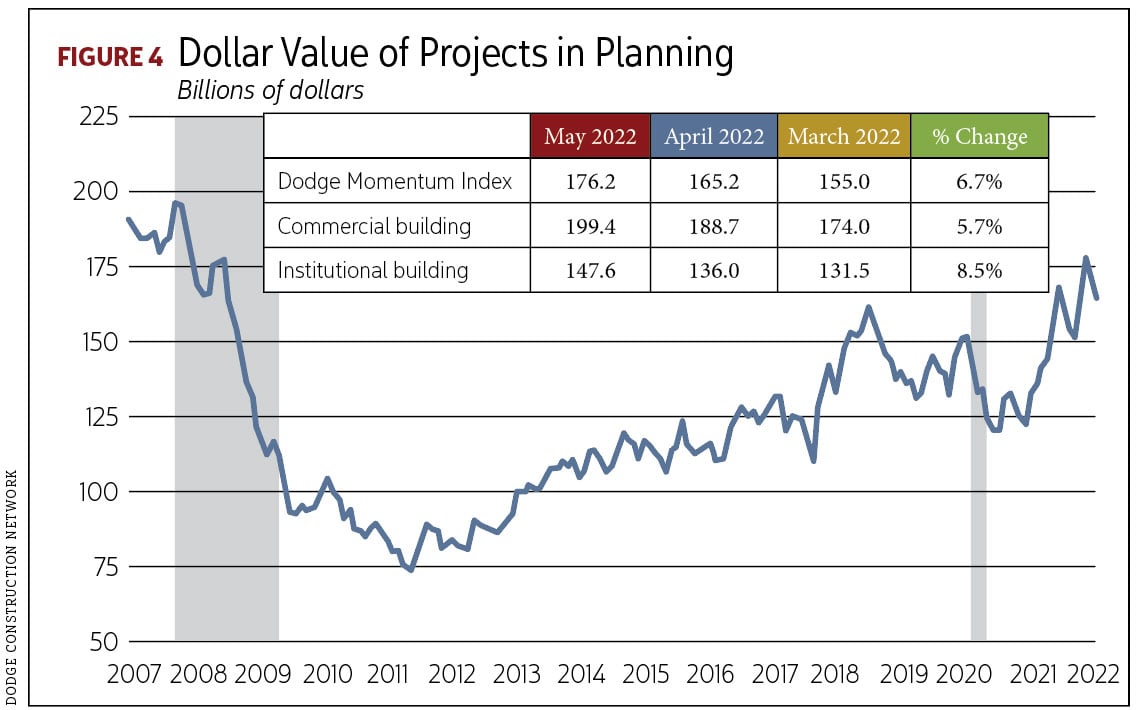 The lag from planning to groundbreaking, however, has been growing, especially in the private sector and will likely result in a delayed impact on construction starts, moving some to late 2022 or 2023.
Revealing project work
Baker sees challenges in the coming quarters, citing high oil prices, rising interest rates and the temporary appearance of an inverted yield curve (where long-term rates are lower than short-term). Carrick would add the foreign trade deficit to the list. But Baker also sees economic expansionary indicators.
"Top of the list is a very strong jobs market, high (sometimes record) profits at the corporate level, solid spending and investment by business and consumers, the financial position of consumers and rising house prices generating equity for homeowners," he said.
Carrick sides with the glass half-full economic view.
"Let's take a breath here," Carrick said. "Between 1951 and 1981, there were 59 months in which inflation was higher than 9%. That is the equivalent of five years. We are not there. The unemployment rate is 3.6% (May 2022). Wages are rising 6% year-over-year, construction employment grew 5%. There are 11 million open positions. It is the first time in a long time where we are seeing all kinds of major construction projects. Manufacturers are increasing production to deal with overseas supply shortages. There is also job creation in the move to lower emissions and the electrification of the economy."
Carrick referenced projects he feels bode well for the construction industry's health. They involved vehicle assembly plants (e.g., GM and Ford), including battery plants created in part by legacy automakers; emerging U.S.-based computer chip plants (e.g., a planned $20 billion Intel plant in Ohio and an announced $17 billion Samsung semiconductor factory near Austin, Texas); United States Steel Corp. is breaking ground on a new $3 billion state-of-the-art steel mill in Osceola, Ark.; the infrastructure law's proposed $5 billion in spending to facilitate a half-million electric vehicle charging stations; and Tesla's Austin manufacturing plant for utility-sized power storage batteries.
"There are also new types of projects we haven't really seen before, like Green Hydrogen International's (GHI) plan to build Hydrogen City (an integrated green hydrogen production, storage and transport hub) near Corpus Christi, Texas; and a BDO (butanediol) plant being built by Cargill in Eddyville, Iowa, deriving plastics from corn. There are tremendous opportunities for LNG exporting as well, such as a $9 billion project by Sempra in Port Arthur, Texas," Carrick said.
Construction employment improves, but still problematic
Simonson said that construction employment continues to grow, but not enough to resolve pervasive underemployment.
"By the end of 2020, the residential construction workforce was back to February 2020 levels (prior to pandemic shutdowns) and has continued strong growth," Simonson said. "From April 2022, residential construction employment rose 5.6% compared to February 2020. Nonresidential construction employment has climbed more slowly and is still down 3.5%, though not for a lack of demand for workers. The unemployment rate for people with construction experience was at an all-time low in April (4.6%)" (see Figure 5).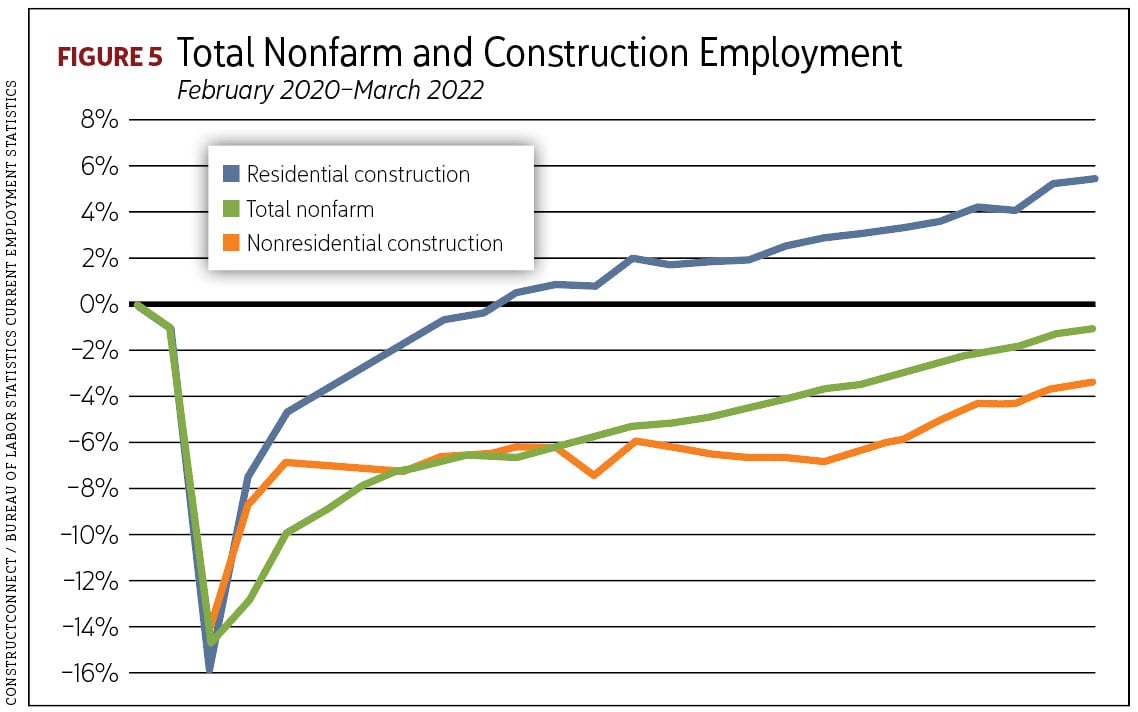 Between February 2020 and March 2022, 32 states had surpassed prepandemic hiring levels; 16 states lagged. The top five were: Utah (13.2%), South Dakota (12.1%), Idaho (12.0%), Montana (11.0%) and Missouri (8.8%). States with the weakest construction employment or losses were New York (–7.2%), Pennsylvania (–5.3%), North Dakota (–5.0%), Kentucky (–4.2%) and Oklahoma (–4.1%).
"Craft wages are rising at the fastest rates since 1982 (6.2%), double from a year ago, though other industries have been raising wages even more," Simonson said (see Figure 6).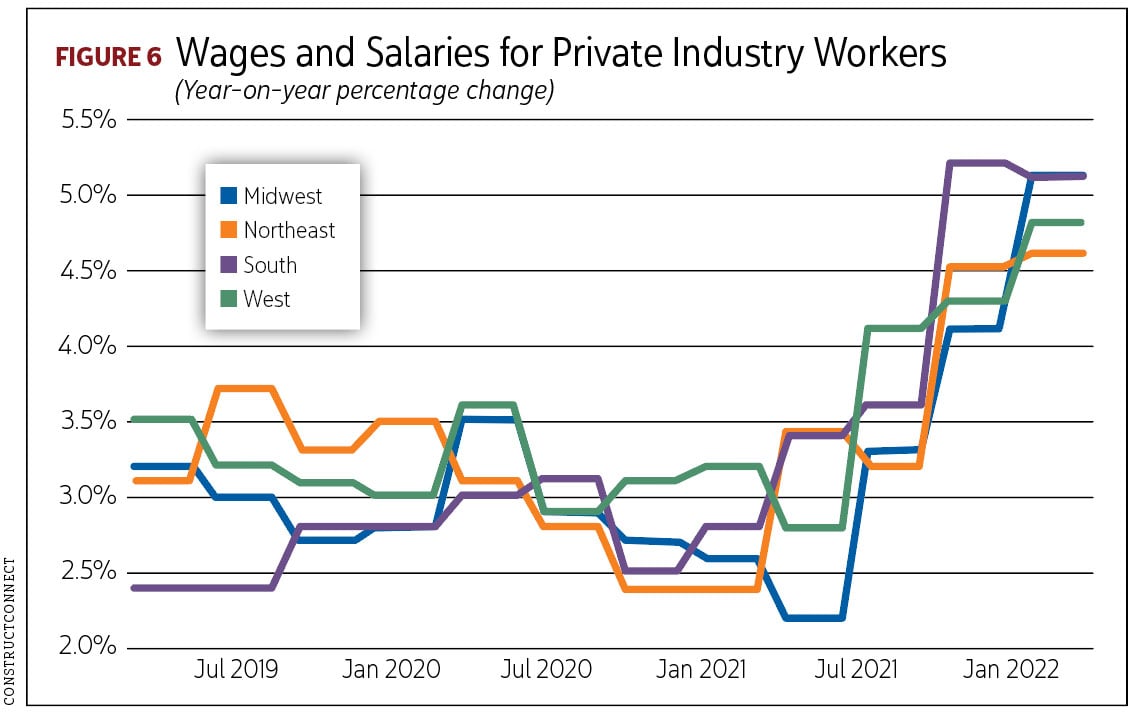 Sectors Summary Brief (Y/Y May 2021–2022)
Nonbuilding (–3%)
Dodge reported that starts for environmental public works rose 9%, and streets/bridges gained 7%. Miscellaneous nonbuilding starts fell 33% and utility/gas plant starts 15%. The largest nonbuilding project to break ground in May 2022 was the the $1.6 billion Samson Solar Energy Center in Franklin, Lamar and Red River Counties, Texas.
Nonresidential (20%)
According to Dodge, commercial starts grew 18%, institutional rose 9% and manufacturing climbed an amazing 116%. The largest nonresidential building project to break ground in May 2022 was the $950 million Meta Hyperscale data center in Temple, Texas.
Residential (8%)
Dodge found total residential starts improve 8% y/y in May: single-family (2%) and multifamily (27%). ConstructConnect has seen growth in smaller multifamily units (1,999 square feet) across regions. The largest multifamily project in May was the $800 million Two Bridges building in New York, NY. Growth in multifamily may point to homeownership affordability issues. Single-family's 14% growth year after year over the past two years appears unlikely to continue.
In the second half of 2022, construction activity will continue to gain with shovel-ready projects, delayed projects moving forward and some projects rethought in scope. Even if a short-lived recession rears its head in 2023, the construction sector has a cushion supported by a pipeline of work. In an economy that absorbs sucker punches and stands strong, the better song might be "Can I Get a Witness?"
---
Report sources
ConstructConnect, Cincinnati, and Dodge Construction Network, Hamilton, N.J., presented midyear economic forecasts, "State of the Construction Industry: 2022 and Beyond" and "2022 Mid-Year Outlook," on May 10 and May 17, 2022, respectively. ConstructConnect's webcast also included chief economists from the American Institute of Architects (AIA), Washington, D.C., and the Associated General Contractors of America (AGC), Arlington, Va.
Header image by Shutterstock / Inked Pixels.
About
The Author
GAVIN, Gavo Communications, is a LEED Green Associate providing marketing services for the energy, construction and urban planning industries. He can be reached at [email protected].
Email:

[email protected]