An often-referenced 2001 study published by the Lawrence Berkeley National Laboratory notes that Americans spend an average of 87% of their time indoors and an additional 6% in an enclosed vehicle. This exclusion from outdoor light has moved scientists, manufacturers and others to pursue healthy artificial lighting. Light-emitting diodes and their compatibility with lighting controls are providing a hopeful answer.
Human-centric lighting (HCL) can include circadian and other health-supportive lighting. Biologic lighting is another suitable term. Kevin Houser, professor for the newly developed Architectural Engineering program at Oregon State University, sees artificial light as providing vision, physiological and biologic responses. Houser is also editor-in-chief of LEUKOS, the journal of the Illuminating Engineering Society.
"In this country, building stock with large floor plates typically do not offer a lot of daylight," Houser said. "That sets the stage for more daylight-inspired approaches and design. Biologic lighting could be an important tool."
Houser shared that a positive circadian influence on the body's clock is one aspect of biologic lighting. So is the effect of light on human psychology, alertness, focus and other responses. Further, architects, contractors and lighting designers must directly balance design that avoids glare, the timing of circadian system operation, lighting metrics and energy use.
While downlighting illuminates surfaces, lighting on a vertical plane can influence nonvisual ocular circadian responses that involve mood or energy. Think of light positioned to shine across the plane that catches the eye of an occupant sitting at a desk or in a conference room.
"It's a matter of how much light and how do you deliver it vertically without causing visual discomfort. A product that works to balance down light and vertical, and provide comfortable light, is a trick to accomplish. It is possible." — Kevin Houser, Oregon State University
"It's a matter of how much light and how you deliver it vertically without causing visual discomfort. A product that works to balance down and vertical light, and provide comfortable light, is a trick to accomplish. It is possible," Houser said
Creating healthy artificial light
While new buildings can be built with north-facing positioning, ample windows and skylights, incorporating HCL lighting in existing buildings is a challenge. BIOS Lighting, Carlsbad, Calif., is working to produce down and vertical lights in a single luminaire. Initially using a desk lamp form, BIOS blended vertical biologic lighting with efficient down lighting. Through color mixing and separation, they created an LED luminaire featuring blue sky and warm sun components.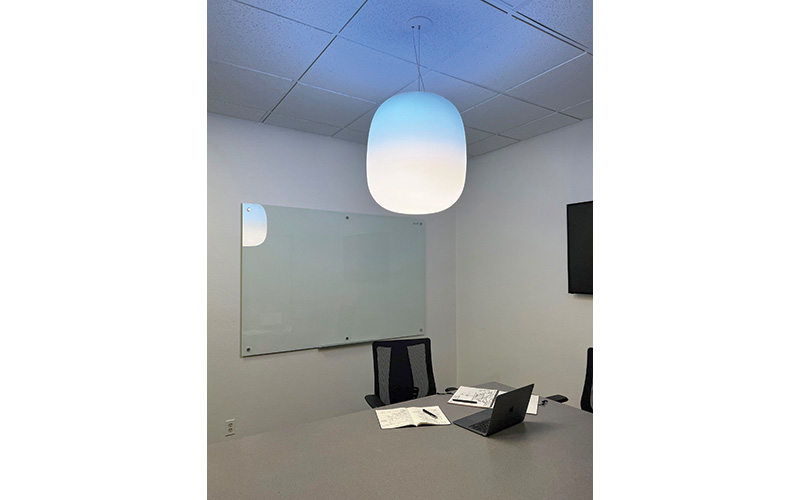 BIOS Lighting is developing a suspended fixture that combines down and vertical light set at 490 nm. Photo courtesy of BIOS Lighting.
BIOS is currently working on suspended overhead lighting to create the same effect. This blend of down and vertical lighting is a further evolution of its SkyBlue line of lighting. SkyBlue LEDs are set at 490 nanometers (nm), a maximum level in which the human eye's "blue-sky" receptor will read as daylight. By mimicking natural lighting, the luminaires deliver neutral and warm white color temperatures of 3,000 kelvin (K), 3,500K or 4,000K.
"Supporting the body's 24-hour circadian rhythm through human-centric lighting remains a continuing evolution," said Robert Soler, co-founder and executive vice president of biological research and technology for BIOS Lighting. "We and the HCL industry have learned a lot of things along the way, and I think we are near the end of the 'figuring out' phase."
BIOS was born from Soler's past work as subject matter expert for NASA's circadian lighting system that synchronized astronauts to a 24-hour cycle on the International Space Station. One thing to know: circadian lighting is not only about sleep.
"Yes, better lighting during the day will allow you to sleep better at night, but it's what you get with the right light during the day that can better your focus, mood, performance, cognition and other things, independent of sleep," Soler said.
"North-facing buildings will fare better receiving natural light, but the problem, depending on the building design, is the good light penetration past the window into the building," he said. "The quality of the light significantly drops off. In this case, effective strategies using daylighting control systems can come into play."
Daylighting systems help employ layers of light, mixing available natural light levels with additional artificial lighting to meet occupants' needs.
Houser agreed that daylighting systems might help in HCL designs, but added he feels the key to any HCL is time and duration. Daylighting systems could control lighting by function of time.
"Spectral tunability is a small part of the biologic stimulus," Houser said. "I feel time of exposure is even more important than intensity and spectrum. The human body's spectral response is bell-shaped, so even at 470 nm [blue] we have sensitivity."
Building industry consensus
Agreement regarding the metrics of healthy indoor lighting is a work in progress. Soler is encouraged by a recent agreement this year by the International Commission on Illumination, an independent, nonprofit organization based in Austria. A 2022 revision of its melanopic equivalent daylighting illuminance (EDI) metric now suggests a 250 EDI for daytime, 10 EDI in the evening and 1 EDI for sleeping. Melanopic EDI is a lighting level read by the eye for circadian response.
To date, U.S. standards bodies have not issued such guidance. The closest recommendations come from the International WELL Building Institute's WELL Building Standard. Within that is a Circadian Lighting Design Feature that uses EDI measures to earn certification points. Underwriters Laboratories references WELL guidelines and German technical standard DIN/TS 67600 for its circadian lighting guidance (UL 24480).
"We need ANSI standards, ASHRAE, IECC and others," Houser said. "Consensus provides design targets for the professional design community, who should also have a voice in developing standards. I would add, let's not set standards in stone for 50 years as research continues. Standards should always be revisited. New and novel HCL ideas are needed, but we're on the path for a collective consensus."
A big testing ground
Bryan Steverson is a program advisor at the U.S. General Services Administration (GSA) Office of Federal High-Performance Buildings. In 2020, GSA properties represented 371 million square feet nationwide.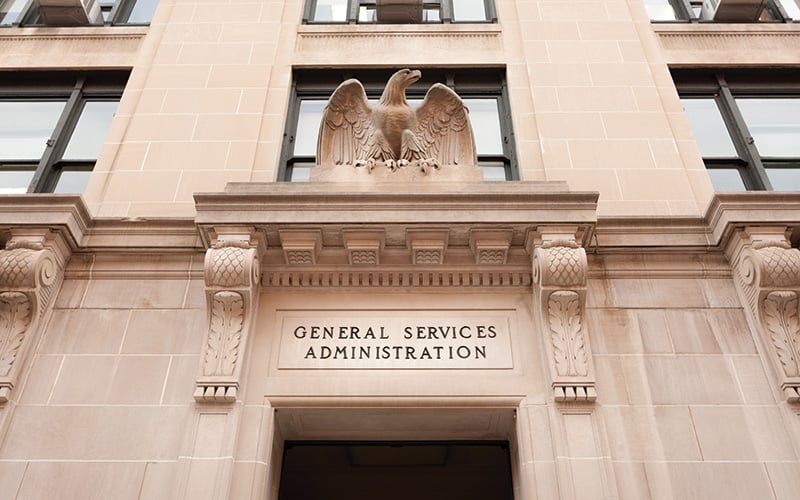 The GSA's Central Office Building features approximately 3,500 windows covering more than half of the facade to ensure that all office space is well-lit. The building uses a daylight harvesting system, a mix of fluorescent and LED overhead lighting and LED desk lamps. Researchers from Rensselaer Polytechnic Institute found less circadian disruption in those workers exposed to good daylight during their working day.
"GSA is a big organization, offering workspaces for civilian workforces across the government," Steverson said. "One of the questions we ask ourselves is how we can enhance the health and well-being of the occupants of our buildings. We've studied the issue of health and lighting for the last seven years. We are in a unique position with the sheer [quantity] of our owned and leased real estate to push the market forward when it comes to visual acuity and human health."
Steverson added that GSA, as a manager of federal properties, is looking to maximize daylighting where possible in buildings to lessen electric load and support occupant health with better lighting.
"HCL lighting is something we are currently exploring for buildings without sufficient natural light or access," he said.
GSA, with researchers from the Lighting Research Center at Rensselaer Polytechnic Institute, Troy, N.Y., examined select GSA properties ranging from courthouses to federal office buildings, including GSA's headquarters in Washington, D.C. Researchers investigated seasonal variability in daylight, the deployment of short wavelength electric light in the morning and longer wavelength light in the afternoon to test levels of daytime alertness, and other electric lighting solutions and best practices for existing spaces to improve occupant circadian functioning.
The research results, sometimes only suggestive or in need of more research, found that low circadian stimulation during the working hours might be associated with sleep disturbances and mood disorders. Further, in areas of the country with fewer sunny days, perhaps building occupants adapted.
High circadian stimulus levels during daytime hours showed dramatic increases in occupant alertness. Finally, using red spectrum white light in the early afternoon was shown to be effective in reducing post-lunch lethargy.
"Circadian lighting is new," Steverson said. "There are still lots of unknowns. There is also the need for the building industry to embrace the science behind these lighting systems. It's a matter of education. We do need to translate findings and science in an understandable way for lay audiences to put this new lighting into professional practice. The focus on lighting remains by and large with ceiling-mounted fixtures. Delivering light vertically to the back of the eye is where the benefits are. Effective vertical lighting can have a tremendous impact for how people feel at work."
What installers should know
Steverson added that systems such as circadian lighting are new and complicated. Commissioning will be important for installers.
"Ask what the spectral power specs are for HCL systems and will they vary in different spaces," Steverson said. "With lighting controls, make sure everything is connected correctly. Label the control systems for the building engineers, who in turn can help occupants through intuitive labeling. To help us, we've reached out to lighting designers who have had experience with HCL systems."
Finally, Steverson found integrated project design is vital in projects using HCL. That includes bringing the interior designer to the table so furniture, file cabinets, etc., aren't placed in a way that will block the HCL lighting design.
Soler added that he feels biologic light should be an imperative. His firm is seeing first-adoption in healthcare markets.
"I think we've learned through the years the need to get creative with lighting for visual, energy use and biologic benefit," he said. "When we demonstrate our product on a project, clients then truly understand how it works and what it offers, as do others on a design team including electrical contractors. When we sit at the project table, we know the HCL effort will be done right."
Though development work continues, now is the time to get familiar with biologic lighting. You don't have to be a doctor to ask the important questions. Before you know it, you'll be able to confidently ask, "Does this lighting product have a spectrum optimized for biology?"
Header image: The Gary and Mary West Emergency Department at UC San Diego Health in La Jolla is the first in California to treat qualifying patients over the age of 65 in a dedicated space customized for geriatric emergency care. It uses BIOS Lighting to stimulate alertness during daytime hours and a unique wavelength of light to help in the visual assessment of patients. Photo courtesy of UC San Diego Health.
About
The Author
GAVIN, Gavo Communications, is a LEED Green Associate providing marketing services for the energy, construction and urban planning industries. He can be reached at [email protected].
Email:

[email protected]