Gloves, voltage testers and flame-resistant clothing are just some of the products electricians use to stay safe on the job. Electricians' safety has been a constant focus when it comes to the equipment and tools that help them do their jobs. But while the basics haven't changed much—for either testing or safety equipment—the work being done may affect what the hazards and resulting safety equipment will look like in the future.

he National Fire Protection Association (NFPA) has made the same recommendations for years regarding personal protective equipment and the necessary practices to prevent burns and arc flashes (by turning off power sources during work), said Susan McKelvey, NFPA's communications manager. The key tools are the same: insulated gloves and voltage-rated tools designed to withstand and insulate against electrical systems voltage.
Flame-resistant clothing and arc flash suits help resist ignition, reduce the extent of burns and provide thermal protection in case of an arc flash incident. Additionally, shoes with nonconductive soles and insulating mats provide insulation and prevent the flow of electric current through the body, reducing the severity of injuries in case of an electrical fault.
The most basic tool is mindset: making sure that electricians comply with safety regulations. Electricians and managers can ensure compliance with regulations by staying mindful—before, during and after each day's work—that practices meet requirements.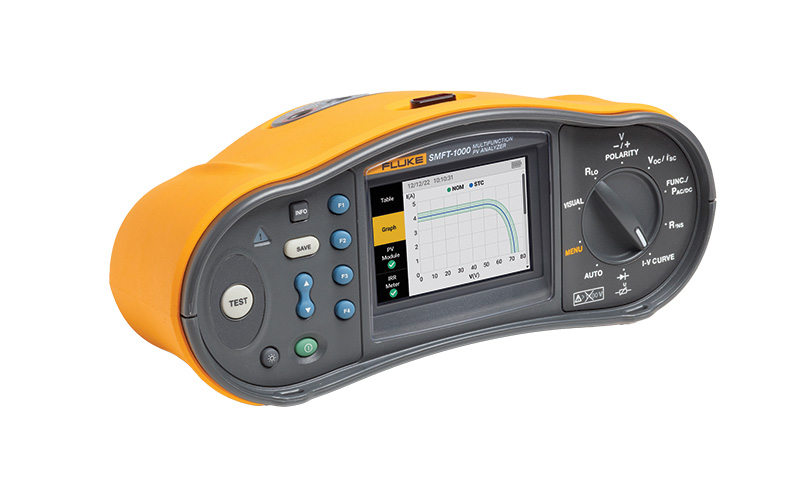 Fluke's SMFT-1000 solar multifunction PV tester streamlines photovoltaic safety and quality inspections.
However, there is a perception among some electricians that safety directors could do more. The 2023 Fluke Safety Survey found that just 29% of workers believe most companies provide adequate electrical safety training. On the other hand, 99.4% agree that a strong culture of safety in the workplace is important in keeping workers safe. While there is no replacement for training and a top-down focus on safety, test and safety tools leveraging the latest technology available can add an important layer of safety to reduce risk. In the same survey, 78% of workers said they rely on tool technology to keep them safe.
One of the challenges for those making safety and testing tools is keeping up with the evolution of the work site and the systems installed or serviced. As electrical projects evolve, so will the tools. For example, electrical work in the renewable energy realm is gaining momentum and will affect a growing number of electricians. That changes the way tools may be used in the future, said Michael Crepps, product application specialist at Fluke, Everett, Wash.
"Fluke is committed to accelerating progress toward a sustainable future," Crepps said, by providing electricians with tools to do their jobs efficiently and accurately during renewable projects, but also safely. For tool manufacturers such as Fluke, this means developing solutions for the unique demands of the clean energy sector. Since new energy systems, such as solar, require specialized test tools, Fluke is researching and developing new technology. Its goal is to create products that target the unique and potentially dangerous electrical environments in these sectors. The company said its tools are aimed at meeting or exceeding the recommended safety standards for the clean energy market.
For example, the Fluke SMFT-1000 solar multifunction PV tester may be the first integrated solution for solar tests that streamlines photovoltaic safety and quality inspections. The company also offers its IRR1-SOL irradiance meter designed for installation, maintenance and checking performance of solar panels.
"We also have the FEV100 electric vehicle charging station tester to ensure stations are operating properly and safely," Crepps said.
Going digital for improved safety
Whether targeted toward alternative energy or standard electrical construction, some tools are getting smarter. Many test and measurement tools have added digital capabilities. Fluke is no exception, with digital testing tools that offer greater accuracy than previous versions, leveraging the power of its tools in the field and software to automate processes. For example, Fluke power loggers can help identify sources of poor power quality and energy waste, which helps facilities reduce energy consumption and protects their equipment from future damage. The loggers include software that offers users visibility and long-term insights into an electrical system's performance.
For installations, the test tool company offers the auto-test feature in some testers. Auto-test accomplishes multiple installation tests in a single sequence, thereby removing the hassle of having to make multiple manual connections. That, the company said, decreases the chance of errors and reduces the amount of time spent at a job site.
Fluke's PRV240 proving unit provides a fixed AC or DC output voltage of 240V, specifically to allow for verification testing of multimeters, clamp meters or testers. This is a matter of safety and compliance.
NFPA 70E recommends that test instruments "shall be verified on any known voltage source before and after an absence of voltage test is performed." Because 70E requires operation verification when instruments are used for testing, the unit is designed to detect the absence of voltage on conductors or circuits operating above 50V.
Safety tools for a new generation
The transition from retiring experienced electricians to new hires puts pressure on contractors and new recruits to ensure safety standards are maintained. That means contractors must also focus attention on training.
According to the National Electrical Contractors Association, there is a significant shortage of electricians, which places further strain on ensuring the work gets done efficiently without ever compromising safety.
Electricians who retire often leave younger ones with meters and equipment they have limited experience using, Crepps said. "Understanding what the measurements mean requires in-depth training, knowledge and experience."
That means critical users can perform initial checks during an installation. But they must also know how to use the tools to troubleshoot, or even do scheduled preventative maintenance to avoid machine failure and facility downtime.
"As a result, we are getting more requests for product training to help equip electricians and engineers with the proper skill sets and knowledge to perform their daily tasks and improve workflow," he said.
Growth in EV charging
Another change underway is taking place with the EV charging stations deployed across parking lots and building facilities. The push to electrify transportation will lead to upgrading transmission and distribution systems across the United States, meaning electrical safety products will be in more demand, said Russ Owen, senior technical lead at Honeywell, Charlotte, N.C.
As part of its Salisbury safety line, Honeywell developed two toolkits to help protect individuals from the "what ifs" when working with EV charging stations. The insulated tools help safeguard workers from electrocution when working with or around high voltages—from firefighters putting out EV fires to mechanics making repairs. The kits include insulated tools such as nose pliers, sockets, screwdrivers, wrenches and extensions.
One of Honeywell's new toolkits is designed for shops working with larger electric trucks, buses and military vehicles, while the other was developed alongside Honda engineers to address the needs of the Civic and Accord electric car models. Honeywell Salisbury also has a third toolkit for EVs and hybrid vehicles.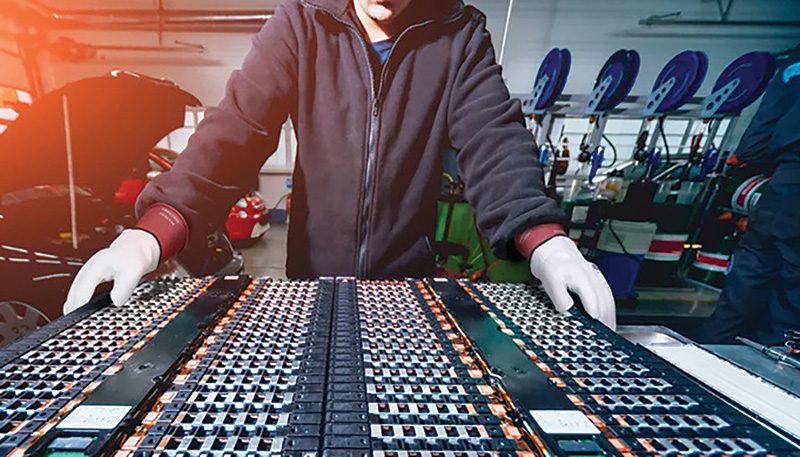 Honeywell Salisbury has toolkits for those working with EV charging stations.
"While electricians have always faced risks on the job, from burns to electric shock, they are now challenged with new types of tasks as electrification continues to become more widespread," Owen said, and that includes installing the charging stations for EVs. "There will be a greater need for electrician, electrical utility and electromechanical assembly jobs, as well as education and training on electrical hazards and working safely in these types of settings."
On top of that, more frequent extremes in heat and cold weather are driving unprecedented demand for electricity—all requiring more electrical work across numerous sectors.
That means electrical contractors will need to supply protective equipment and tools to all workers in a timely manner and ensure all equipment meets the highest standards for quality.
"We see the drive toward electrification accelerating in the next several years," Owen said, "meaning there will be increased demand for insulated products and arc flash protection."
That may include an increased need for basic products such as rubber gloves and blankets, line hoses, dielectric boots and grounding sets to ensure it is safe to work on de-energized equipment. Arc flash garments and face shields will be critical to guard against electrical arcs and potential arc blasts.
The buildout of distributed energy, solar, EVs, storage and major shifts in other industries point to needing accurate, safe and reliable testing and measurement.
Even beyond the training demand and changing project requirements, the electrical industry is growing fast. Power needs are increasing due to technology, industry and population growth, which will mean greater need for power monitoring tools to measure power safely, efficiently and accurately. In addition, a greater reliance on battery power also increases the need for tools that measure higher voltage.
Owen argued that the industry will need to continue to focus on electrical safety training for a broader range of workers. They must also focus on supplying appropriate safety equipment for those who encounter electrical risks on the job.
fluke / stock.adobe.com / Arhendrix / Farnaces / honeywell