Lighting controls, sustainability, illumination quality and circadian health have been considerations in the past decade for commercial lighting systems. Today, other challenges have emerged, including supply chain delays, a preference for domestically made products and rising costs.
There are more products than ever making up the growing market, and while that can be challenging, it also offers opportunities, said Erik Milz, vice president of product strategy and management at Cree Lighting, Racine, Wis. The choice provides greater flexibility for contractors and distributors. For projects where contractors are able to choose products, they find themselves with lots of options, including lighting fixtures designed to meet very specific needs, to those built for flexibility or "selectability," and ultimately products that boast fewer supply chain problems than others.
Meeting supply chain and code challenges
"It goes without saying that there is a customer preference for vendors that can provide solutions when needed," Milz said. "We're still experiencing a COVID hangover in terms of compressed supply chains, which challenges lead times, thus driving more selectable products into the market."
When sourcing from manufacturers in the United States, buyers can avoid the ports and international shipping challenges.
There are other challenges today unique to our times. Contractors are facing recent updates in energy codes. The ANSI/ASHRAE 90.1/IES energy­-efficiency standard and the International Energy Conservation Code (IECC) 2021 dictate specific lighting control requirements for energy savings and prescribe limits for light-based power consumption in commercial applications, said Rahul Shira, Signify's senior product marketing manager. Some state-specific codes, such as California's energy-­efficiency-targeted Title 20 and Title 24, have already been doing this for years.
In this environment, Cree Lighting's customers have expressed interest in the ability to better control their space (and reduce energy consumption) through lighting controls with smarter systems. Users recognize that lighting controls can also drive value beyond just meeting codes, Milz said, by increasing sustainability and reducing energy costs.
In terms of color temperature selectability, some products have options related to switches and dials on fixtures, but "we're also seeing some higher-end or more specified projects introducing controls as a way to offer dynamically adjustable lumen outputs or color temperatures in the field," Milz said.
The wide selection of products comes with some material improvements. Some luminaires are getting lighter in weight and are using less materials. Because LEDs are becoming more efficient, housing designs can come with less weight, which makes it easier for electrical contractors during installation.
Driving these changes is an overall rise in awareness of lighting and the benefits of better light. With LED lighting now considered the choice for businesses and residences, people expect lights to perform well, with the understanding that they shouldn't have to accept harsh glare or cool color temperatures.
"Good lighting should not be 'seen'—it should do its job," Milz said.
Commercial lighting fixtures are getting smaller and more colorful and offering better aesthetics. All photos courtesy of DMF Lighting.
Health, well-being and energy savings
Quality in commercial lighting installations also comes with an overall interest in energy optimization and occupant experience—specifically their health and well-being, Shira said.
This interest contributes to increased demand for products that are connected or connect-ready and that seamlessly integrate into a lighting controls solution, he said.
Building certification programs, such as WELL (a safety standard from the International WELL Building Institute) and Leadership in Energy and Environmental Design (LEED), have heightened the conversation around lighting and its effect on occupants and the planet.
"We're seeing WELL standards lead to more human-centric built environments, emphasizing how lighting can help us see well, feel well and perform well," Shira said.
LEED recognizes buildings for achieving rigorous sustainability goals.
The benefits of LED lighting also provide access to utility rebates, he said.
"It's low-hanging fruit. There are tiered rebate programs available in many markets that offer incentives for installations from standalone LED lights to a complete networked lighting system," he said.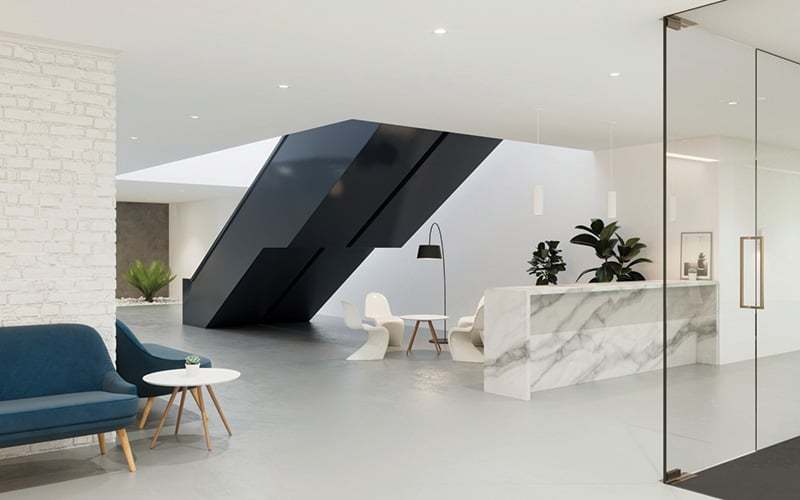 The trend toward smaller fixture sizes is driven by a desire for subtlety and more elegant ceilings.
More room for controls
It's never been a better time to shift to luminaires that can be coupled with sensors and cloud-based software, Shira said. Such a connected lighting system can monitor and collect different data points, from energy consumption and space use to building management system integrations.
Manufacturers are reinventing the boundaries of light, he said.
"It becomes more than illumination; it is an intelligent language. These connected lighting systems are the future of commercial lighting as organizations increasingly look to maximize their sustainability efforts," while keeping employees safe and boosting engagement and collaboration, Shira said.
Supply chain issues
When it comes to ordering and receiving the equipment for a job, these are unique times for ECs. The complex set of challenges in today's lighting industry, along with supply chain delays, means contractors have had to become very adept at managing timelines and preemptively evaluating a manufacturer's ability to deliver.
"Our operations team has become very accustomed to seeing contractors touring our warehouse operations to see for themselves our inventory and delivery situations," said Andrew Wakefield, senior vice president at DMF Lighting, Carson, Calif.
In the meantime, Wakefield sees an ever-increasing set of product options with modifications that pose new opportunities and challenges. Fixtures of all types are getting lighter and smaller, he noted. LED technology has enabled manufacturers to shrink the fixtures, which can be aesthetically appealing.
Contractors need to think about the labor required to make more precise finishes, "and frankly, how does someone service a fixture that they will have trouble fitting more than a couple of fingers into?" he said.
The shrinking fixture sizes are driven by a desire for subtlety and more elegant ceilings from owners and the design community, "and they really do look cool when they are installed in the ceiling," Wakefield said.
DMF Lighting and other members of the lighting industry have experimented with different materials to help with sustainability issues and the supply chain struggles.
"We just introduced a fixture housing that is made of recyclable plastic, which allows us to cost-effectively make it in the United States and reliably reduce our lead times to less than a month," Wakefield said.
Reducing energy consumption is still important, "but what we see as a clear trend is now focusing more on the serviceability and longevity of the fixture," he said.
All LED fixtures are efficient, so now the differentiator from a sustainability and cost perspective is just how long they last and how they are serviced.
All LED fixtures are efficient, so now the differentiator from a sustainability and cost perspective is just how long they last and how they are serviced.
"Our customers want fixtures that last a long time and can be serviced and reconfigured easily below the ceiling, and without having to replace the entire fixture," Wakefield said.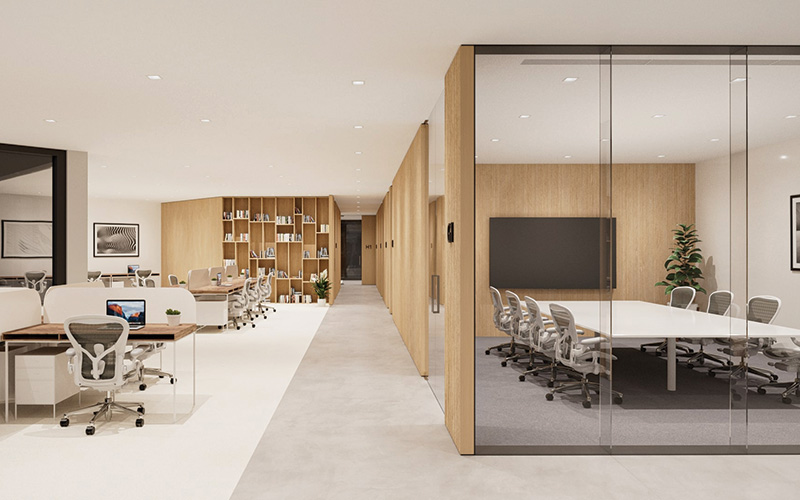 Preparing for tomorrow
Looking forward, Wakefield recommends that contractors will benefit from research in installing fixtures enabled with the DALI 2.0 digital dimming protocol, which has been widely used for years in Europe but hasn't yet taken off in the United States.
"Based on what we're hearing from designers, controls manufacturers and other lighting manufacturers, we think that may be about to change," he said.
"It's gratifying to know that lighting can play a role in sustainability initiatives,"
Milz said.
Buying from a manufacturer sourcing materials and assembling products locally, where possible, could mean less environmental work to get the product built.
Contractors can set realistic expectations when it comes to lighting longevity. For one thing, they can help teach the client that lighting systems don't last forever, Milz said. As the system ages, it's helpful for all involved to educate users on how to determine if the system is still providing the needed amount of light for the application and the economic value.
Low-voltage lighting
Colorbeam Lighting, Montreal, offers a low-voltage approach to lighting a commercial space. The company sells a 48V infrastructure, powering and controlling recessed fixtures over Cat 6 network wiring. The infrastructure allows for a simpler, more cost-effective and more flexible lighting solution, said Mike Teolis, the company's president. In some cases, he pointed out, the lighting requirements can be sufficiently addressed with low-voltage solutions.
"Quite frankly, there's absolutely no reason for a 130-year-old line-voltage infrastructure to power a 14W LED that delivers over 1,200 lumens of light," he said.
A low-voltage wiring infrastructure lends itself well to providing the other key features Colorbeam Lighting provides, such as tunability, color and wellness or circadian lighting solutions.
Focus on intelligence
Commercial and industrial applications are also focused on the intelligence that such systems are starting to provide. One example is collecting presence and user data that play a role in energy-efficiency calculations and management. Consider sensors that detect how many people are in a room, when and for how long.
Teolis added that from a serviceability standpoint, "having fixtures with remote drivers and power supplies simplifies and reduces the associated servicing costs."
As a provider of these low-voltage solutions, Colorbeam finds that its commercial sector customers are often focused most on energy-efficiency and cost.
"However, the emergence of wellness, circadian lighting and productivity lighting in the work space, driven by tunability, will grow in demand as the science and findings continue to emerge," Teolis said.
Across all technologies, however, lighting manufacturers have been innovating at an unprecedented rate, and that will benefit contractors and their customers.
"The big takeaway [is that] there's been more innovation in lighting and lighting control in the last 5–10 years than in the first 100-plus years, and this will continue to accelerate," he said.