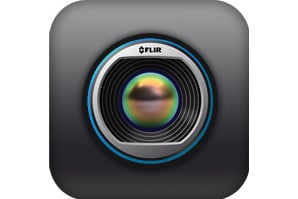 FLIR Tools Mobile App
Mobile apps that have the ability to integrate with existing tools and systems can give contractors a whole new way to approach the job. The FLIR Tools Mobile app is one example.
The app enables users to stream live video to mobile devices from any compatible FLIR E-Series and T-Series infrared camera, so images can be monitored from a distance. These images can be captured and incorporated into reports, sent to others by email or uploaded to the cloud.
Users also can remotely control FLIR infrared cameras, adjust the temperature span and contrast levels, change color palettes, add temperature measurement tools and more. All of this is accomplished using Wi-Fi.
FLIR also has a new augmented reality app, FLIR Live! Download it from your mobile app marketplace, and try it out.