Many powered devices in a building's systems today are not directly connected to a standard AC source because electricity is brought to them by the same wires that transmit data by power over ethernet (PoE). PoE systems include, but are not limited to, building lighting, HVAC and alarm and security components, including security cameras.
PoE is a fundamental component of modern network infrastructures, said Lisa Schwartz, director of product marketing for AEM International, Chandler, Ariz. The world is moving toward becoming smart, and the internet of things (IoT) allows these devices and systems to be powered by PoE and a connected infrastructure geared to optimizing operations and maintenance, reducing the carbon footprint and achieving long-term cost savings.
"There are different products available that make possible varying depths of PoE testing," Schwartz said. "It's very important that the instrument supports industry standards and nonstandard PoE due to the number of devices deployed with these technologies, which is expected to continue to grow exponentially. Our belief is that, for someone who needs to test PoE, there are key components to the measurements they must have in order to get a complete picture of PoE."
Schwartz said a PoE tester should be able to emulate the end-device requiring power by plugging into the network in place of that device, and then confirming power device (PD) class, PoE cable pairs in use and how much allocated power the switch should provide based on the standard selected.
An added bonus is the ability to perform a sustained external power-load test, which allows the user to watch power fluctuations over time, along with being able to see across each pair power is running over.
"These are important measurements to be able to make when a device doesn't turn up, to be able to test to see if the problem is that the PSE [power sourcing equipment] is over provisions, not configured properly if the device is plugged into a switch capable of providing power," Schwartz said.
"Both the TestPro multifunction cable tester and our newly announced Network Service Assistant provide a packed set of cable testing, as well as wired and wireless network testing, along with the most in-depth suite of PoE test capabilities of any PoE test equipment on the market today, even those that are dedicated to testing only PoE. The big difference is in our ability to perform actual load testing as both a one-off test and sustained testing," Schwartz said.
Mark Mullins, marketing manager at Fluke Networks, Everett, Wash., observed that the volume and variety of PoE devices being installed drives the need for testing. However, there is a wide variety of standard and nonstandard implementations, leading to interoperability issues and confusion.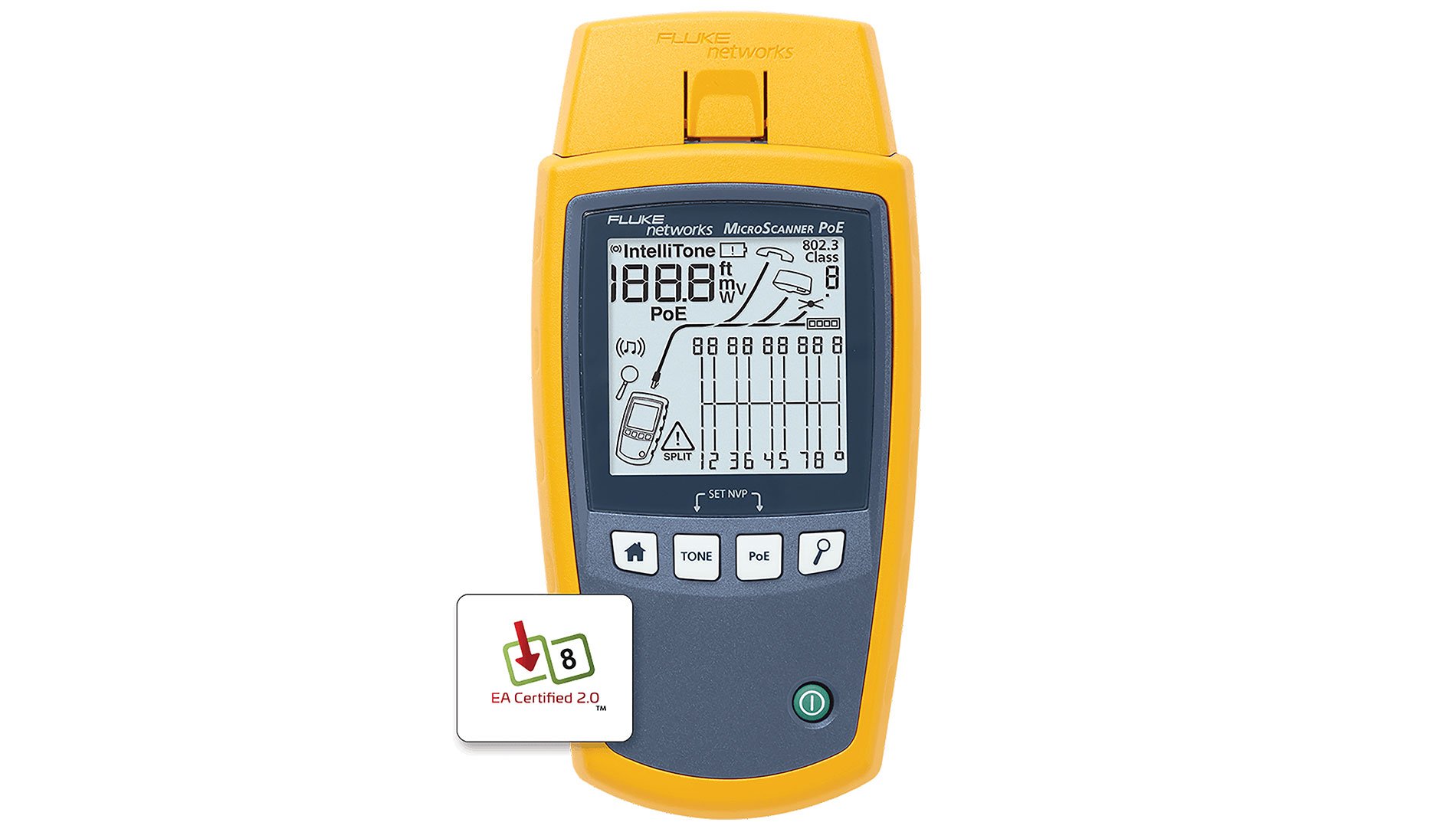 The most common PoE tester used is for technicians installing or troubleshooting powered devices. Knowing the amount of power available shows whether the PD will be able to operate.
The Ethernet Alliance, Beaverton, Ore., has launched a certification and labeling program for PoE products, and Mullins quotes Peter Jones, chair of the alliance's board of directors: "The rigorous test regimen of the Ethernet Alliance PoE Certification validates that PoE devices strictly adhere to IEEE PoE standards. Customers who purchase Ethernet Alliance PoE certified products can expect effortless integration and operation as a result."
Simple, dedicated PoE testers can tell the tech if power is available and sometimes how much, Mullins said. However, a more complete tester can help the installer of PoE devices debug common problems, such as cable failures, incorrect connections or network speed issues without having to add more items to their toolbox.
"In most cases, PoE needs to be requested from the power sourcing equipment, which is most commonly a switch, so the tester needs to be able to do that in the multiple ways used in standard and nonstandard implementations," Mullins said. "Testers can then display the available power, which can be compared to the amount required to operate the PD, such as a camera or access point. Testers can also show more detail, such as which pairs are providing the power or the actual power delivered.
"The Fluke Networks MicroScanner PoE was the first field tester certified by the EA to support all three IEEE PoE standards. As a result, customers can expect interoperability with any IEEE-compliant PSE, and it has also been thoroughly tested for nonstandards- compliant operation as well," he said.
Dan Barrera, global product manager at Ideal Networks, Rockaway, N.J., said that when critical systems, such as lighting, access control and HVAC, are operated by PoE, verifying proper operation is essential.
A PoE system consists of the PSE, PD and the cabling between the two, he explained. The output of a PSE is specified with a PoE class that identifies the maximum amount of power it can deliver.
"Installing network cabling is comparatively straight-forward and well-understood, but the nuances behind the operation of PoE systems and troubleshooting faults is not," Barrera said. "For example, many installers are not likely to know that there are nine different PoE classes, each with its own operational power ranges. Today's PoE systems are much more complex than the original implementation in 2003."
Barrera said a good PoE tester should be able to apply a variable load when measuring voltage to simulate different types of PoE devices. An IP phone that draws two or three watts of power will create an insignificant voltage drop, while a new Wi-Fi 6 access point that draws 50-plus watts (W) of power can cause a drop in voltage to a point where the access point will not operate.
"There are three basic classes of PoE testers," he said. "A PoE 'detector' is a device that simply indicates if PoE is present, and possibly the voltage. In the middle, are PoE testers that put a fixed load on the system to measure available power at the end of installed cabling. The load applied is usually intended to draw 15.4W to simulate a standard PoE device or 30W to simulate a PoE-u device. These testers are good 'go/no-go' checks to make sure a device will operate in most situations."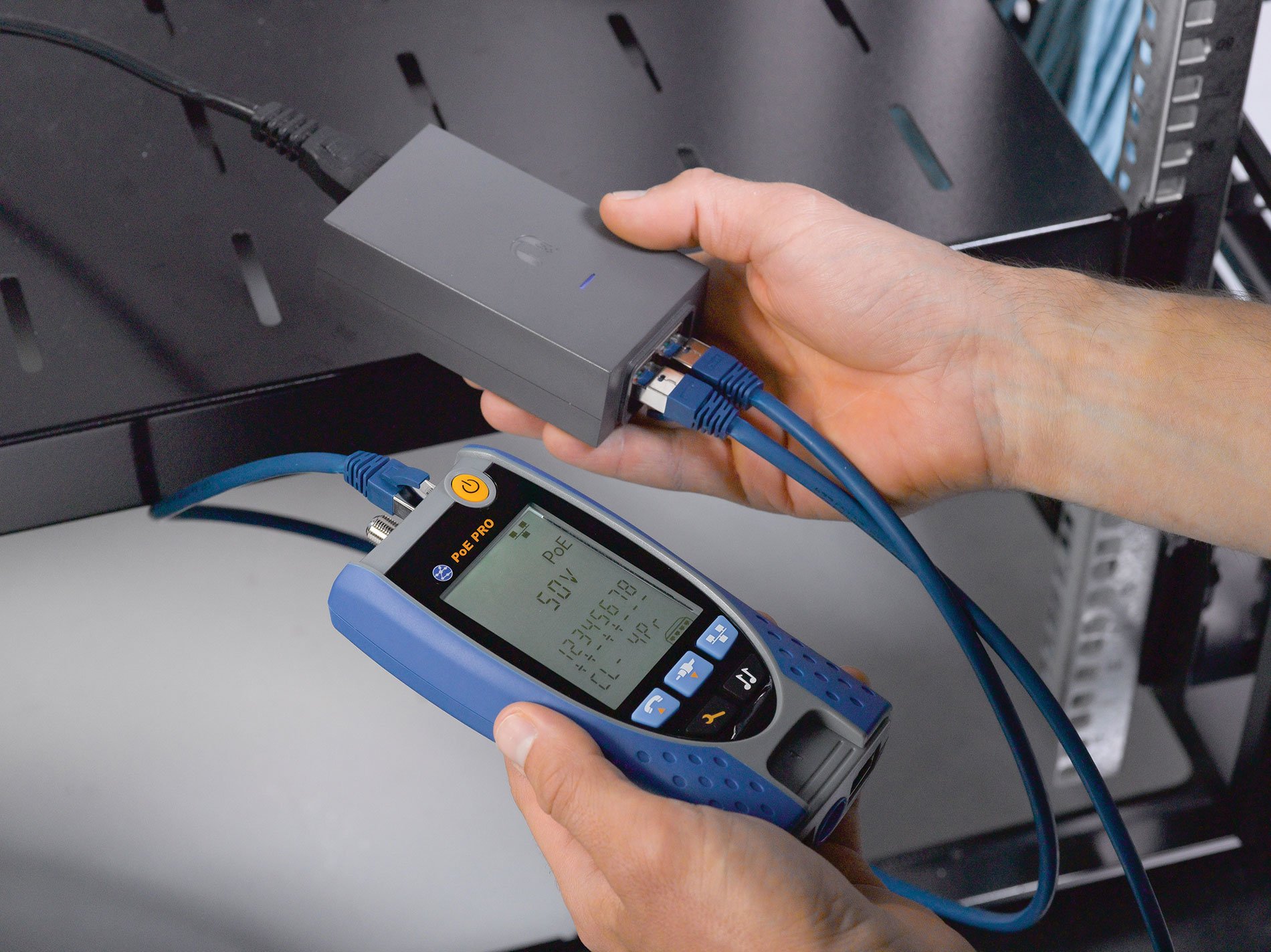 Barrera said PoE testers that apply variable loads by determining the type of power supply to which they are connected are best for making sure a PoE device will operate on any network by simulating the maximum load created by any class of PoE device. An especially important ability is to measure the voltage drop across the cable by first measuring the open circuit voltage followed by the voltage under load.
Barrera said Ideal's new PoE Pro eliminates guesswork when installing, maintaining and troubleshooting networks where PoE is deployed.
"Previously, technicians had to understand all the various standards, device power outputs and cable lengths to be sure a device will operate successfully," he said. "The PoE Pro identifies the class of the PoE source and power available to a PoE device regardless of cable length, cable quality or other factors, and it provides a clear pass/fail result to IEEE 802.3af/at/bt standards."
James Kahkoska, chief technology officer at NetAlly, Colorado Springs, Colo., emphasized the complexity of delivering high-speed ethernet and high-power PoE, while requiring that a PoE tester be able to validate both services.
"It is essential to verify that the entire PoE-delivery system, consisting of PSE, patch cables, patch panels and horizontal cabling are capable of carrying the voltage and current needed to deliver power to the PD, as well as delivering the desired ethernet link speed," he said.
Kahkoska said there is a range of capabilities available, from creating a simple PD advertisement (by an appropriate resistance value), through the latest high power PoE hardware and software negotiation for verifying the voltage and current across all four pairs to deliver the power to the PD under maximum load. These latter capabilities would be considered "advanced" PoE testing.
"Testing is important because the cable plant is often used in a way it was never intended. Also, PDs can vary their power draw dynamically, for example, as a function of activating a motor in an outside camera or changing the power level or number of radios an access point is using," Kahkoska said.
Testers exist with a variety of capabilities. They should support standard and nonstandard implementations. Nonstandard can consist of 12 volt (V) or 24V for some vendors, and they should verify the injectors and the pairs on which they deliver power.
"Voltage and power delivery under load are the most important to test," he said. "Coupled with this is switch provisioning and power budgeting. There also are some vendor-specific implementation details, for example, whether a switch requires PoE negotiation to be completed before establishing an ethernet link. Ensuring that an ethernet link can be established at the desired speed and duplex is a necessity. Ideally, the tester should be multifunction to reduce the number of tools the technician must carry."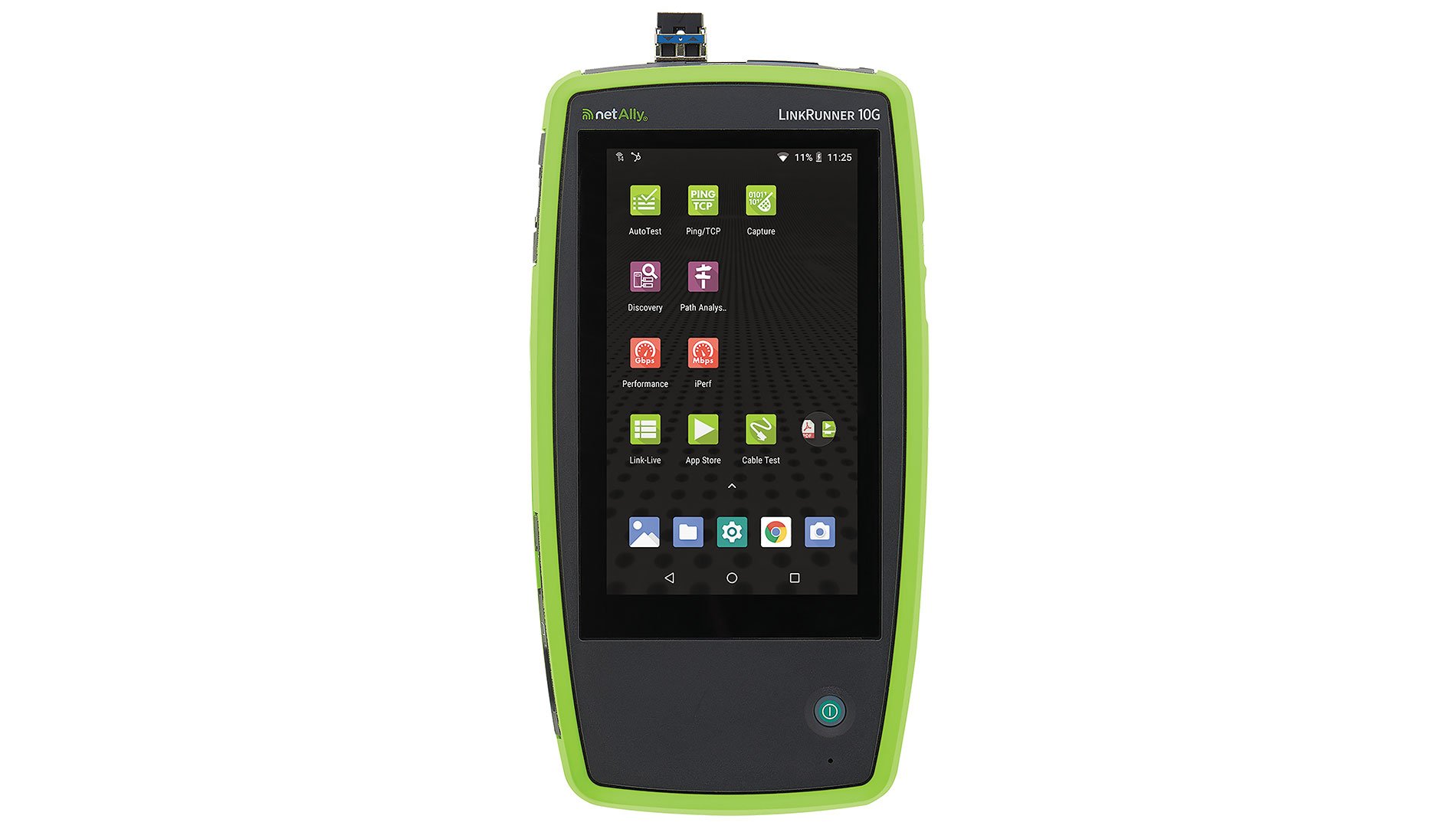 NetAlly's point of view is that in addition to physical layer PoE testing, the tester should have the ability to validate an ethernet link, verify connectivity to network resources, such as IP addressing by DHCP (dynamic host configuration protocol) if present, validate port virtual LAN assignment and view or provision the switch details.
In addition to PoE testers, NetAlly offers a broad line of test and analysis equipment to help manage and maintain today's complex wired and wireless networks and offers seamless collaboration between site personnel and remote experts.