Nashville, the "Music City," has plenty to offer visitors. Part of the Nashville experience is catching a show at the Grand Ole Opry, popping into one of the city's honky-tonks, dancing in the street—a different type of electricity—and so much more. Visitors can also go to some sites where electrical contractors have done interesting work.
MLS Nashville Soccer Stadium
Maryland Electric Co., a woman-owned and disadvantaged business enterprise founded in 1925, was a contributing partner and the electrical contractor on the 30,000-seat Major League Soccer (MLS) Nashville Soccer Stadium. It is the largest soccer-specific stadium in the United States to date.
"The grandeur and magnitude of having been able to build the stadium was both exciting and humbling," said Rita Dancey, CEO of the Clarksville, Tenn.-based company.
"Women and minorities were encouraged to work on the project, letting them know they, too, could build something extraordinary. I am just grateful that with the hard work and dedication of the men and women of Maryland Electric Co. we were able contribute to this phenomenal project," she said.
Circumstances beyond the company's control presented Maryland Electric with a variety of challenges. COVID-19 severely impacted the availability of manpower. The situation was further complicated by COVID-19 unemployment benefits.
"There was and has been a shortage of electricians in general, and then due to the lack of understanding of how to deal with COVID, those shortages increased," Dancey said. "Ultimately, we worked six 10-hour days a week. In some sections of the project, we are still working that pressed schedule due to the lack of manpower still present today. In addition, for the past few months, anytime anyone on the work team got sick, the entire work team had to go home and remain out for an entire 14-day incubation period. We also had to deal with material shortages—conduits, light fixtures—because factories overseas were shut down for months also due to COVID, and price increases of everything from steel to wire to copper were prompted by the closures," she said.
On the project, Maryland Electric successfully used the Trimble 3D modeling system. The company purchased iPads and laptops for their general foremen and the majority of the foremen and also supplied training. In addition, the company created mobile office clamshells so that the entire site and specific sections could be reviewed, and printouts could be supplied to teams while working.
"It has been the most technologically advanced site we have been on to date," Dancey said.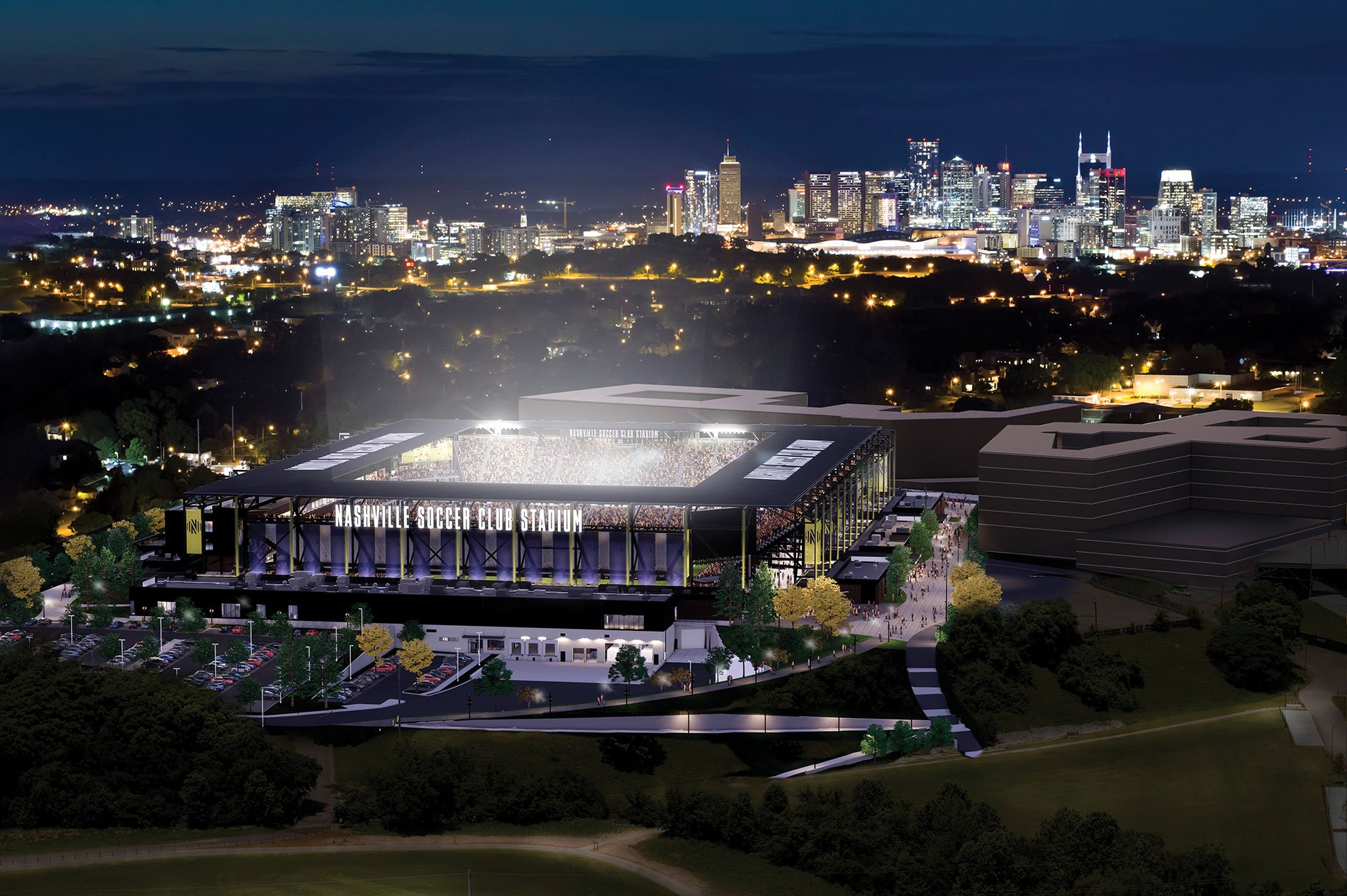 "Another challenge we had not experienced prior to this project was working as small clusters or in small teams, which was required during the pandemic by the general contractor to prevent full trade outbreak," Dancey said. "That required each small cluster or team to have a full set of tools and all the requirements, but without the resources to accommodate those needs. That prompted some creative thinking to meet all the requirements while working safely."
"No stadium is complete without the lights and the sounds, and the Maryland Electric team helped provide those," Dancey said. "For us to be out there and part of this project was amazing."
"And it wasn't just our company. Many others in the local workforce were also employed on the project. Locals often don't benefit from projects like this one, but the beauty of this project is that the community was part of it and will reap benefits from it. I am just grateful that with the hard work and dedication of the men and women at Maryland Electric Co., we were able contribute to the community with our work on this phenomenal project, a project that will put smiles on the faces of many. We are looking forward to that very first moment when all the stadium lights kick on, and we hear the crowd chanting. At that moment we will know we were part of an 'aha' moment," she said.
Nudie's Honky Tonk
Nudie's Honky Tonk is a restaurant, performance space and bar (including the longest bar in Nashville) in a small, 100-year-old building displaying country music memorabilia. It was started by Nudie Cohn, a Ukrainian tailor famed for creating Elvis Presley's gold lame suit and costumes for Johnny Cash, Bob Dylan, Roy Rogers and more.
"When you walk in the front door there is a Cadillac El Dorado hanging on the wall," said Mickey Patterson, project manager at Greer and Associates, Nashville. "It was intriguing to get all of it put together in the space because the building was so old, and it was tricky to work there without damaging the building.
"We put in four panels, a couple hundred plugs, along with ovens, freezers and coolers, and installed 50 hand-crafted light fixtures, a lot of them fragile, others sturdy, but none of them normal fixtures. One was country-western type, shaped like a wagon wheel," Patterson said.
His uncle owned an electrical contracting company years ago where Patterson began working as an apprentice. When his uncle and the partner parted ways, Patterson joined forces with his uncle. His uncle has since retired, and Patterson continued the family business with his wife and their three sons.
Eddie V's
Eddie V's, a restaurant in a new high-rise, is another Greer and Associates' project.
"The restaurant has 5,000 feet of pipe and a wine tower made of glass that extends from floor to ceiling and contains 10,000 bottles of wine. Lights hang from the second floor to the first floor over the bar through a 25-foot hole in the floor. The lights are like giant globes hanging down," he said. "Installing 50 hand-crafted light fixtures involved a lot of technical work. One fixture in the banquet room is a 16-foot chandelier, and another fixture is made of a 55-gallon metal drum cut in half."
"The biggest challenge we faced in working at Eddie V's is that not everything was as it appeared on the drawings. While the usual time for a project is 3 to 6 months, due to the size of the building—150 feet across—our crew of 12–18 worked on the Eddie V's project for 10 months," Patterson said.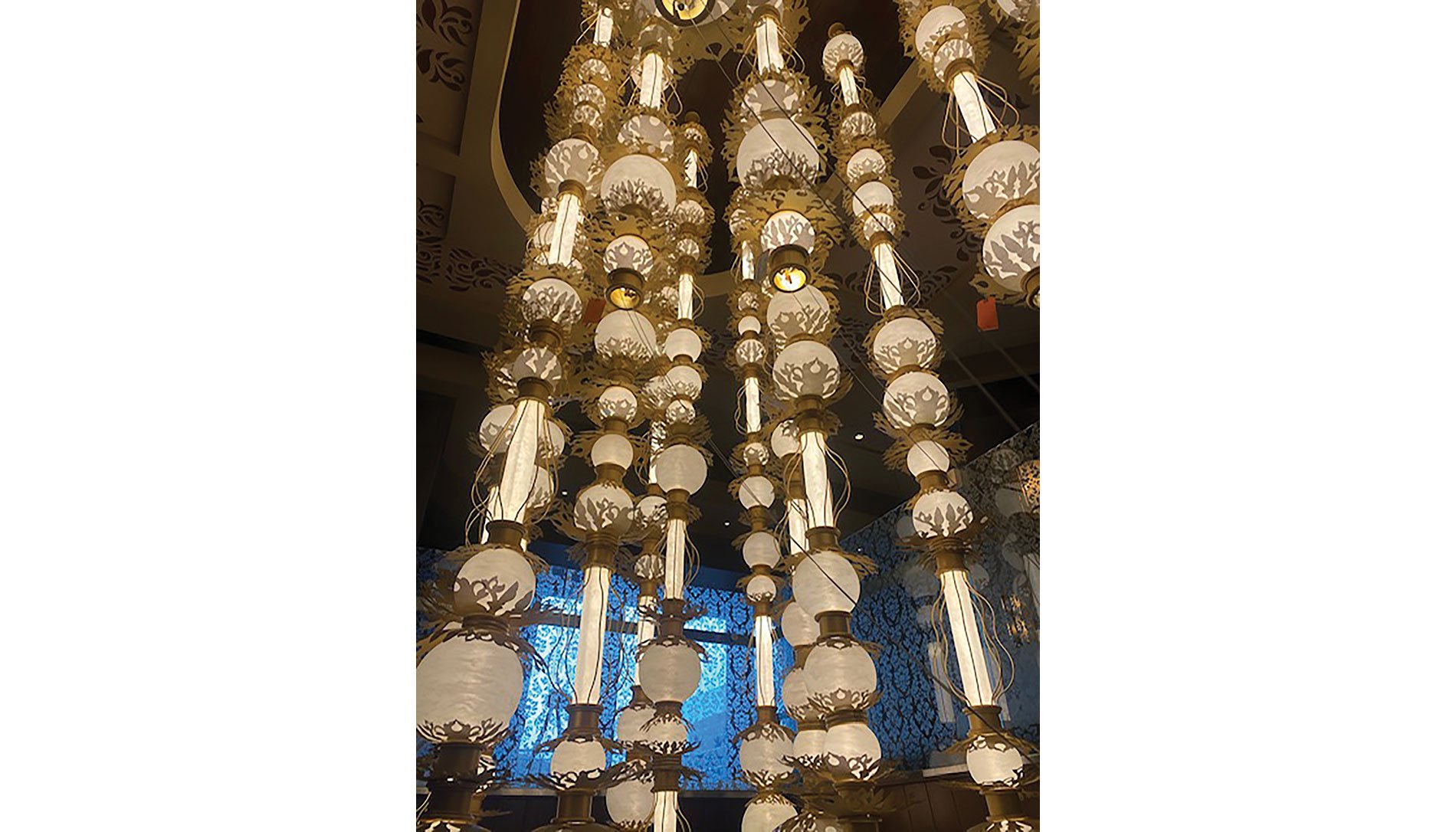 Assembly Food Hall
Assembly Food Hall, a combination dining and entertainment area, opened in June in the new Fifth and Broadway outdoor mall and shopping center downtown. It is a happening place with more than 30 restaurants and bars and Nashville's largest rooftop for live performances. The two-level north side is connected by bridge to the tri-level south side.
Nashville-based Superior Electric Tennessee Valley Co. set up a service panel for each of the restaurants.
"We ran miles of wire for 27-plus individual vendor stalls, including three full-service bars and an outdoor music venue. We also ran the A/V infrastructure for those areas," said Richard Vik, electrical project manager at Superior Electric Tennessee Valley.
"One of the biggest challenges was getting all the power infrastructure across that bridge," he said "Our crew picked up three 2,000A service feeders from the basement of the food hall on the north side and extended those across a co-joined bridge to the south side of the hall in order to access the power for the approximately 110,000-square-foot structure. To span the bridge, we had to prefab a 40-foot-long multitiered conduit rack with 2,700 feet of conduit and set it in place with a tower crane," Vik said.
"It was unique and not just your simple commercial job, seeing that the actual structure was already poured in place prior to us getting there," he said. "The ceilings ranged from 20–30 feet high. Probably 95% of this job was done using man lifts and lifts in general, so it wasn't your typical electrical job."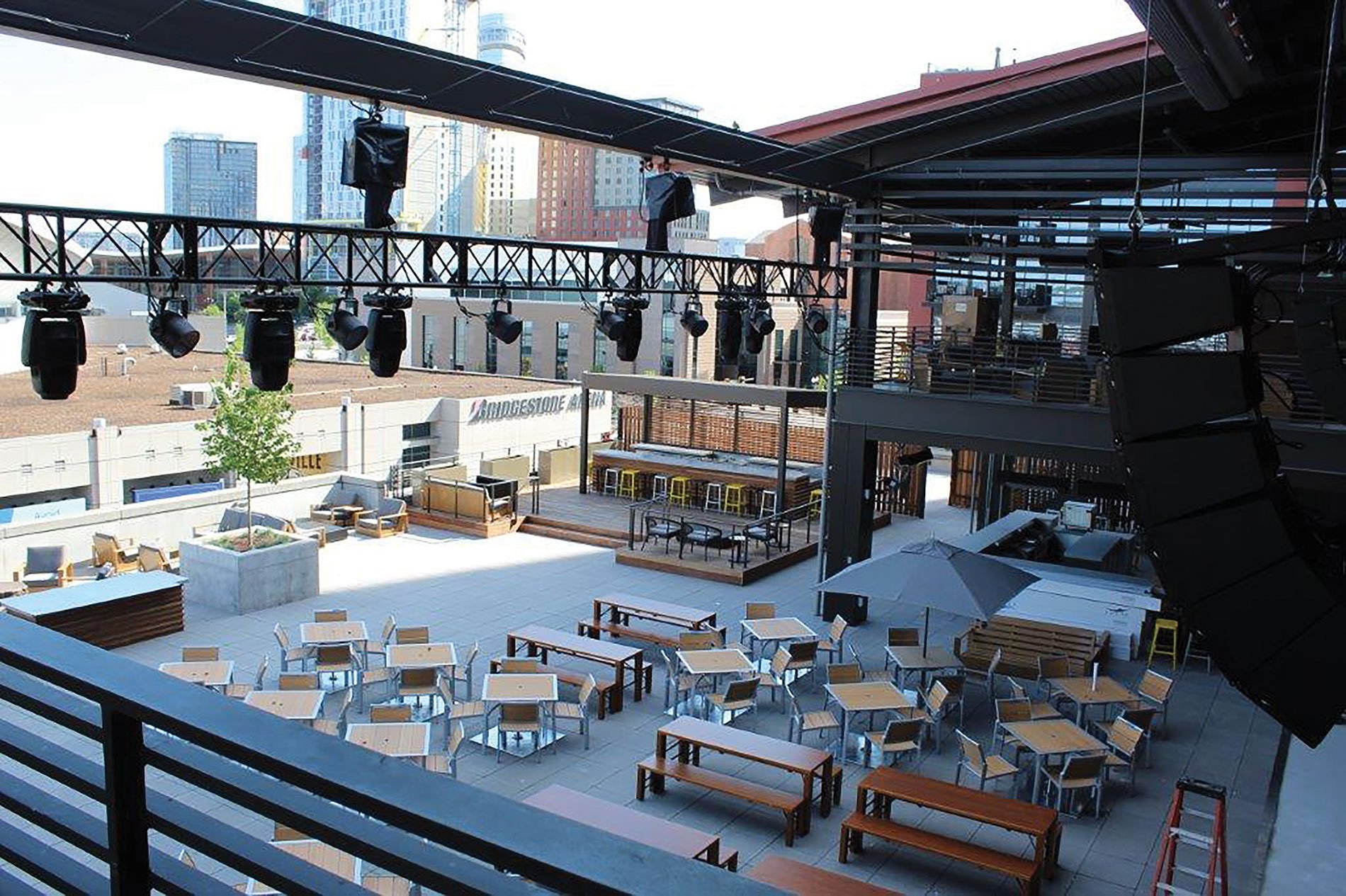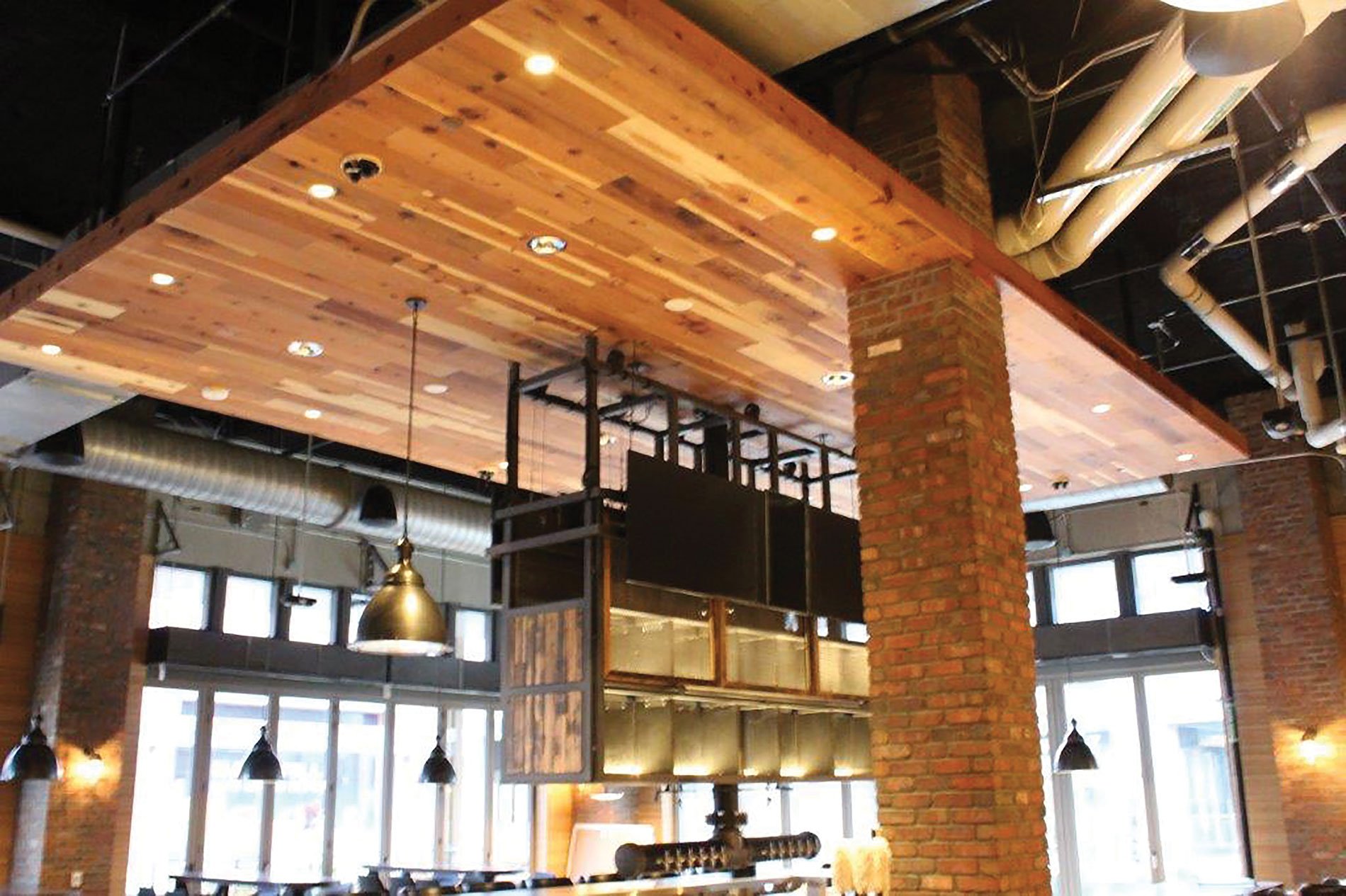 Superior Electric Tennessee Valley Co. also was tasked with installing architectural lighting throughout the food hall.
"A challenging issue during this 18-month project was COVID," he said. "In Tennessee, we were considered essential, so we never stopped working. With no down time, we had to keep the morale up for all our guys and at the same time implement the use of face coverings and face shields in addition to our typical PPE.
"We all know what it is like trying to work as it gets hot and for the crew to try to breathe through masks," Vik said. "We also took steps to mitigate the condensation on safety glasses and face shields. Lastly, it was extremely difficult to maintain the 6-foot safety guideline throughout the project, especially when working in electrical rooms."
"The Assembly Food Hall is fully operational now and it's quite the place," Vik continued. "Despite all the challenges, we know that down the road it will be a staple in Nashville—a place we could take our kids, grandkids, friends and family, knowing that we had a part in the enjoyment that everyone experiences by being there."