Most industrial and commercial projects require work at elevated heights, and electrical contractors today have available a wide variety of portable lift equipment options. They include small, push-around single-person models, self-propelled scissor lifts of various heights and sizes with platforms that can hold tools and equipment, to single- or double-bucket mobile boom lifts.
While large contractors may own several types of portable lift equipment, this product category is a popular rental item. Rent one or as many as a job requires, and return them when no longer needed. Another advantage to renting is that most rental inventories contain relatively new equipment in the latest models (see sidebar on page 94).
Portable work platforms continue to evolve to be more versatile, user friendly, and safe, with features to meet changing workplace needs.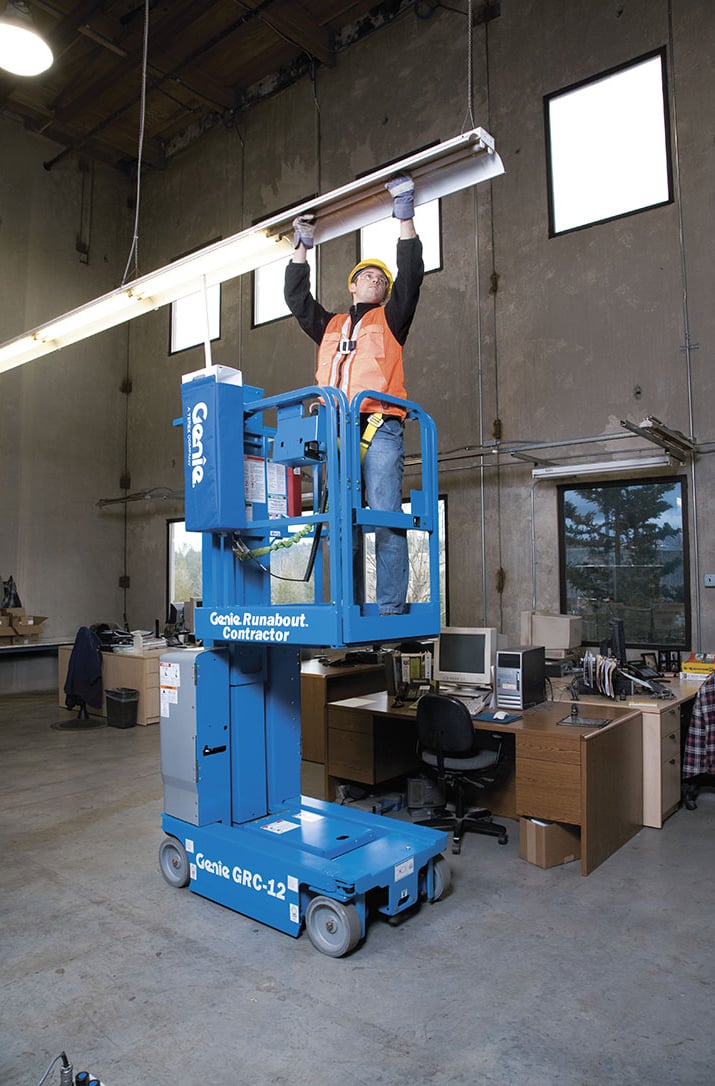 There is a greater focus on low-level access lifts that offer operators a wide array of features and benefits for restricted access applications, said Molly Frank, Genie product manager, Terex AWP, Redmond, Wash.
"At Genie, we have focused on creating innovative ways to meet these needs and fit in the spaces where more traditional methods of working at heights have been used," Frank said. "Examples include narrow-width scissor lifts and vertical mast lifts often used by electricians for working in tight spaces."
Aerial lift customers are looking for safe, efficient and simple alternatives to ladders and scaffolding, said Aaron Haynes, product manager, JLG, McConnellsburg, Pa. Low-level access represents a growing category of access equipment, popular because operators' hands are free to do work safely at height, 360 degrees around.
Also, Frank said when electricians have single-person jobs, manually propelled lifts offer lightweight application with a small footprint that can be transported in a regular pickup truck and loaded and unloaded by one person.
"The footprint of a vertical mast lift is in some cases half that of comparable platform height scissor lifts," Frank said. "Zero-degree turning radius allows easy maneuverability in finished offices and retail buildings; these models are commonly requested in hospitals.
"From a spacious industrial building where the user is working with heavy ridged conduit to a tightly packed data center located in a professional building with more lightweight wire, aerial lift manufacturers offer a large range of products for varied applications," Frank said.
When more work space is needed, scissor lifts offer platforms that can be raised from 15–40 feet.
"If there are access or footprint constraints, narrow 30-inch platform models can fit through single interior doors," Frank said. "Wider 46-inch platform models offer a larger deck and greater work area to optimize production in cases where access and footprint isn't an obstacle. Low noise levels, nonmarking tires and easy maneuverability make them great for industrial or commercial use."
Lifts with platform sizes of 30–32 inches wide by 6–8 feet long offer a good balance of maneuverability. For more capacity and larger platforms where electricians need more tools or multiple people on the platform, models offering 46-inch-by-8-foot platform and 1,200-pound capacity are popular.
For maintenance or upgrades where ECs are working within the tight constraints in existing installation, there are self-propelled vertical mast lifts with a smaller lightweight footprint and platform height from 12–26 feet, with a capacity of 350–500 pounds.
"A major development in technology for Genie products is the new Genie Smart Link control system for scissor and Runabout vertical mast products, which gives users and technicians the ability to troubleshoot problems out in the field quickly and efficiently by displaying detailed information about fault codes," Frank said. "All of the equipment needed to diagnose service issues is built in to the system—no extra tools are needed."
Upcoming changes to ANSI/CSA standards in North America will bring changes to nearly every model of aerial lift equipment, including new features such as load sense systems, as well as smaller alterations such as toe guards on platform entrances.
Finally, Frank said lift users must be properly trained and qualified prior to operating any aerial equipment, and this includes an operator safety training course along with equipment inspection and familiarization. The Genie Lift Pro Online Operator Training course promotes best practices and safe operation of access equipment and stay up-to-date with any changing requirements.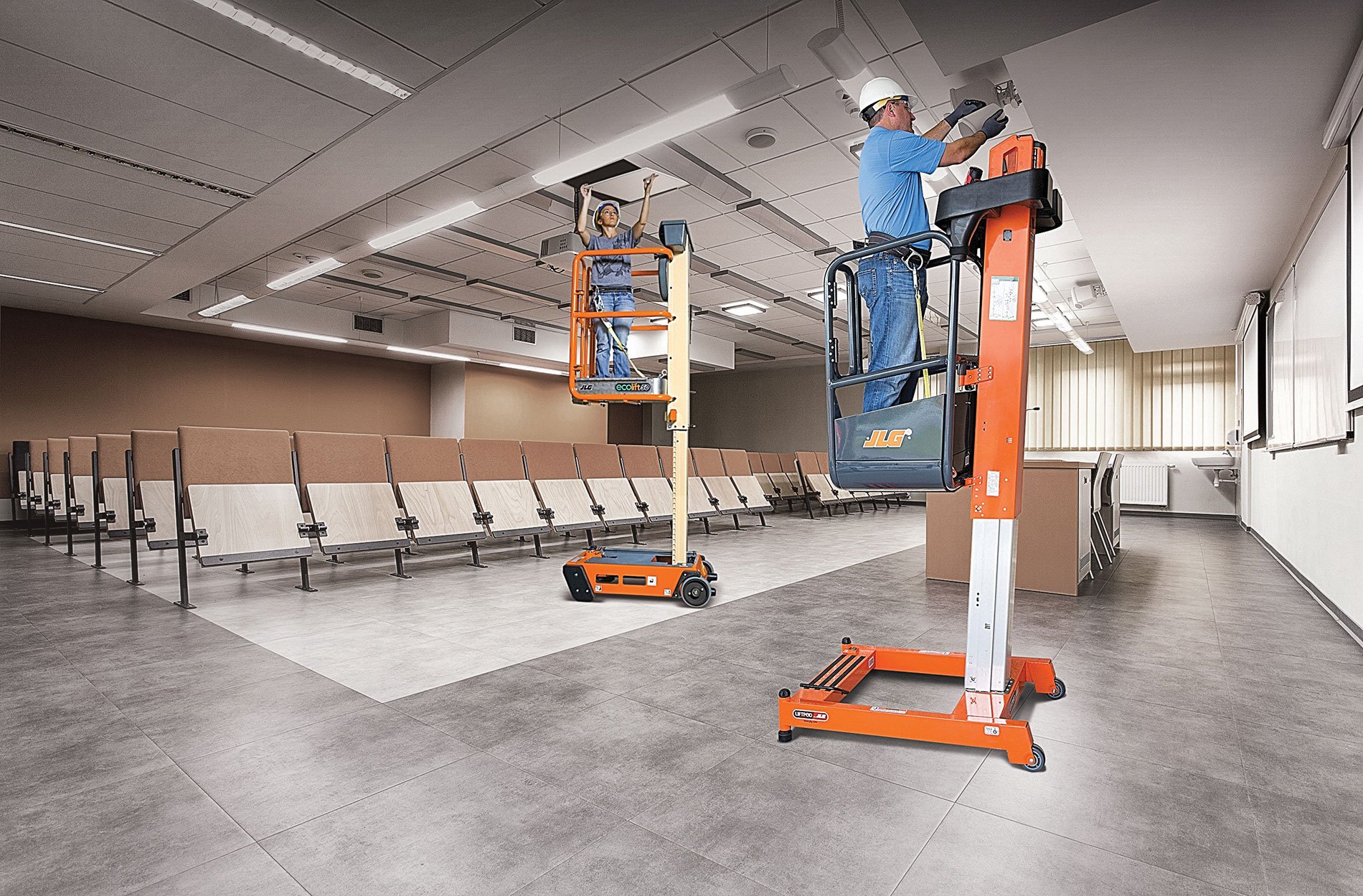 JLG's Haynes emphasized that portable aerial work lifts offer a safer alternative to ladders, scaffolding and other forms of access.
"In addition, these versatile machines also enhance productivity, promote efficiency and provide environmental benefits that are increasingly of interest to operators and building owners," Haynes said.
Low-level access lifts are an attractive option because they can maneuver easily through standard single or double doorways.
"Their popularity stems from compact dimensions, maneuverability and personal portable lifts can be easily assembled and disassembled in just minutes with two people and require very little storage space when not in use," Haynes said. "And, because the equipment is telescopic, it is not as bulky as ladder and can fit easily in the back of a truck or van."
Haynes said JLG products in this category have working heights from 10 to 20 feet with platform dimensions that range from 24 by 24 inches to 28 by 39 inches and capacities from 330 and 440 pounds.
"These attributes, combined with low overall vehicle weights, make these products ideal for electrical and datacom projects," Haynes said.
Personal portable lifts can be easily assembled and disassembled in just minutes with two people and require very little storage space when not in use, Haynes said. JLG's nonpowered line of low-level access lifts includes models that feature a patented stored power lift system that requires no batteries, hydraulics, oil or controls.
Because there are no hydraulics or motors involved, these ecofriendly lifts are leak free and operate quietly, making them a preferred piece of equipment for electrical work in schools, hospitals and other institutions.
"These units also include nonmarking wheels that minimize the impact on sensitive flooring," Haynes said.
The scissor lift is a mobile lift with a larger enclosed platform that can be raised straight up.
"These units are equipped with extensions that typically range from 36–50 inches in length for additional work space and the ability to work above an obstacle," Haynes said. "With a working height of 21–46 feet, they go beyond that of typical low-level access equipment and they have lift capacities up to 1,000 pounds. Yet, these machines are still compact enough to use indoors without having to engage a much larger piece of equipment, and for indoor use, electric-powered models ensure a quieter work area, less dependency on hydraulic oils and zero emissions."
JLG provides training on service, safety and maintenance to effectively train equipment users.
"In addition, we teach users what they need to know to properly operate and service lift equipment, optimizing productivity and minimizing downtime," Haynes said. "Through JLG University, we offer courses in several formats, including: traditional classroom settings, self-paced e-learning where instruction is delivered electronically without an instructor and online training where there is an instructor who facilitates the course electronically."
JLG also has a customer training center and proving grounds in McConnellsburg, where classroom instruction and hands-on learning are combined. The facility has a lift and access to a virtual equipment simulator that employs advanced gamification learning to familiarize students with the controls and operation of equipment. In this VR training, Haynes said, students can practice and learn in a safer environment, improving the confidence and skill of first-time operators.
---
Renting Aerial Lifts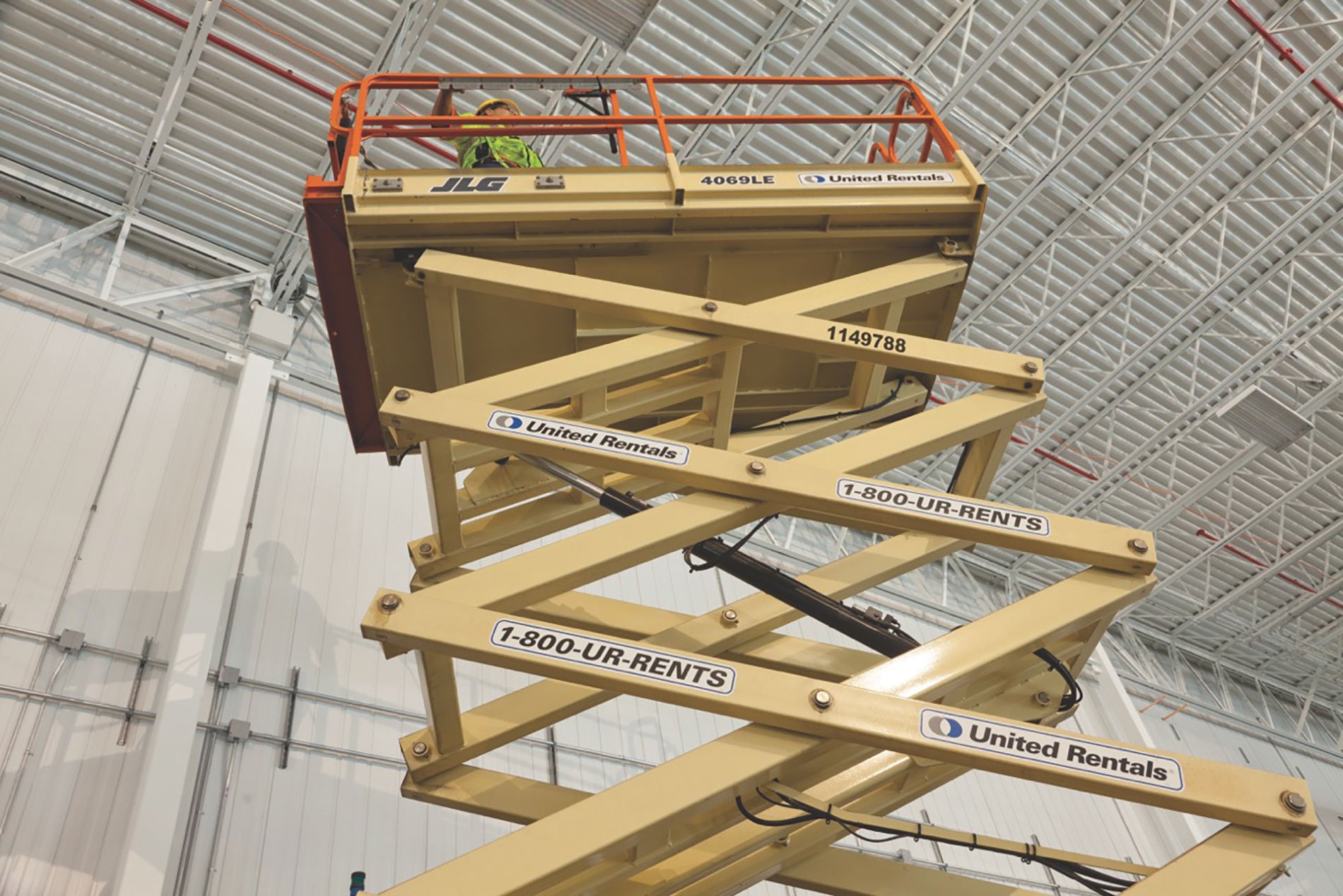 The majority of aerial lift equipment in the market is owned by rental companies, said Molly Frank, Terex AWP.
"Rental offers users, such as electricians, access to aerial lift equipment that fits unique job-site needs without the overhead of owning the equipment," she said. "There is growing demand in the rental industry for tailored solutions and application-driven machines, options and attachments. Increasing demand for taller slab and rough terrain scissors are balanced with the need to not only take an operator up to height but also accommodate additional personnel, tools and materials."
JLG's Aaron Haynes believes the decision to rent versus buy is driven by several criteria, including the specific application as well as the expected frequency of use, or utility.
"If the application is one that is rare or infrequent, rental may be a more suitable option," he said. "Conversely, high utilization may drive the desire to own the equipment. In addition, professionals often prefer to purchase because of affordability and the attainment of a safer means of working at height."
United Rentals, based in Stamford, Conn., has an aerial fleet of more than 85,000 boom lifts and 41,000 scissor lifts, said Brant Kuchynka, vice president, corporate fleet management.
"United Rentals views the electrical contracting market as an important sector with diverse equipment applications, both large and small," Kuchynka said. "A proliferation of indoor work is driving the rental of more compact lifts, and the company has calibrated its fleet accordingly to ensure availability. For indoor work, the self-propelled vertical lifts and smaller scissor equipment are easy to maneuver and very popular. Their value is in the short turn radius, lighter weight and faster cycle time."—J.G.