The nation's late summer flurry of hurricane activity was unprecedented. Within days of the record downpours from Hurricane Harvey that overwhelmed the Houston area for nearly two weeks in late August, Hurricane Irma roared through the Caribbean, devastating the U.S. Virgin Islands and the Florida Keys and flooding cities and towns across Florida. Shortly thereafter, Hurricane Maria slammed into Puerto Rico, destroying the U.S. territory's entire electrical grid and other critical infrastructure, homes and businesses. In recorded history, never have so many catastrophic hurricanes made landfall in the United States or its Caribbean territories in such rapid succession.

With millions of Americans in need of basic supplies, such as electricity, food, water and clothing, contractors and distributors nationwide have rallied to their aid, working diligently to help restore normalcy to these storm-ravaged communities as quickly as possible.

Built for speed

Quanta Services, Houston, is the nation's largest contractor for electrical line resources and pipeline construction. In response to the dire weather forecasts, the company sprang into action.

"We held internal calls several days before the storms hit with all of our operating companies that could send resources as well as with the region's utility companies to let them know what linemen we had available and where they'd be coming from," said Brian Standish, director of emergency response, Quanta Services. "With over 50 operating companies and 30,000 employees worldwide, we have access to many resources. For Harvey, we brought in resources from our companies in the Southeast and Midwest. During Irma, we sourced personnel from an expanded region as far away as California and Canada, delivering over 4,000 linemen between both storms."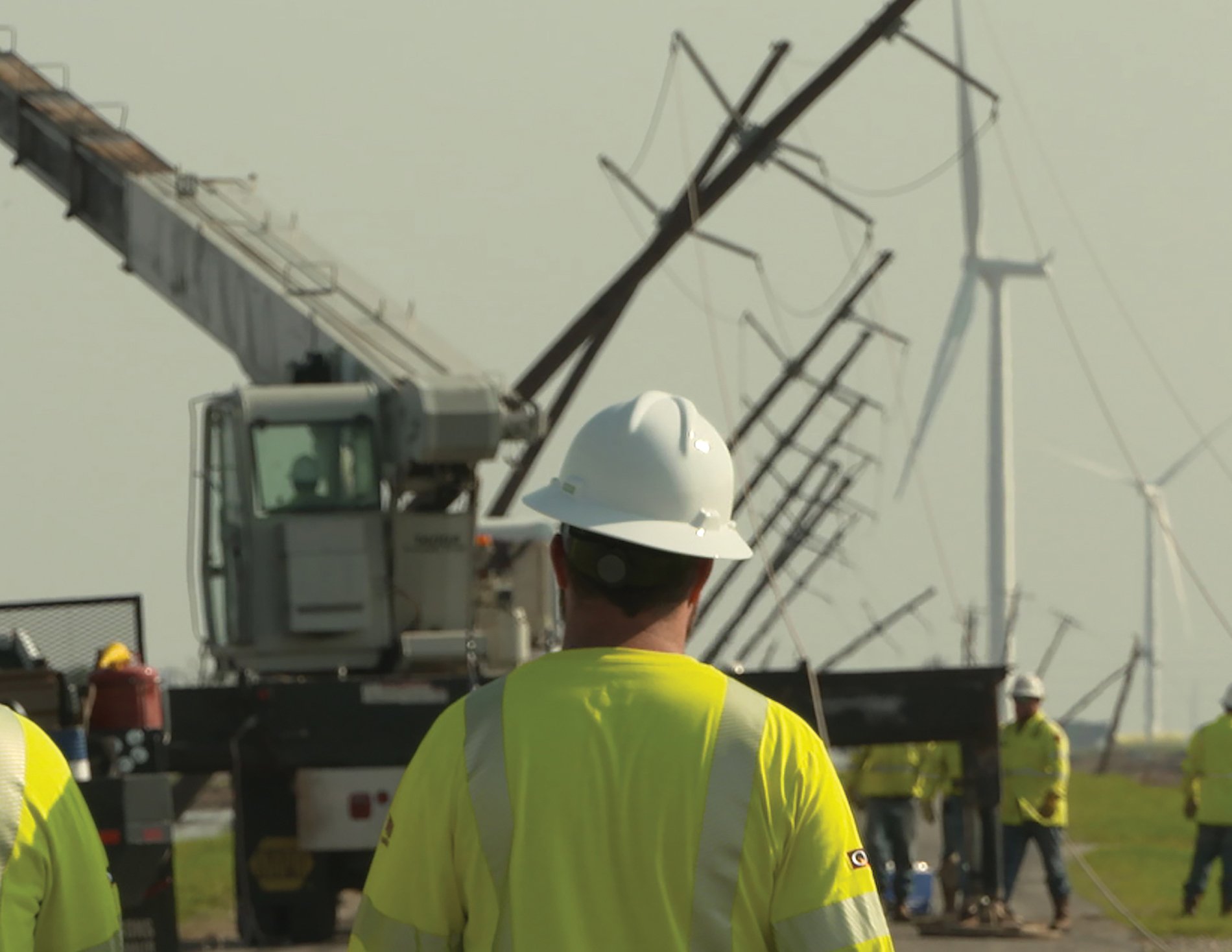 The team also provided a fleet of five airboats and several track and tank-like amphibious vehicles that can transition from water to land. All are expensive and hard-to-find pieces of equipment, but Quanta Services companies mobilize them for these very circumstances.

According to Standish, the company's efforts in Texas, Florida and surrounding states involved everything from rebuilding damaged transmission poles to restoring power home by home.

"The work was extremely taxing, and our linemen worked 16-hour days wherever it wasn't flooded; they then moved onto other hard-hit areas as the water receded. And once the work was completed on Harvey, many of our guys went straight to Irma," Standish said. "Part of the difficulty was also the conditions—insufferable heat and humidity, requiring everyone to stay well-hydrated, as well as standing water, which brings mosquitoes, alligators and snakes. We shipped in a lot of bug spray and snake guard chaps for the men while they were out there."

Workers slept in area hotels, campsites, their trucks or in nearby corporate facilities. 

"Our people live for the opportunity to help others and touch people's lives in a positive way," Standish said. "Utilities nationwide do a great job of preplanning, conducting storm drills and setting up staging areas, and we're here to support them. We work local storms to restore power somewhere every day and are very practiced at this."

Quanta Services employees also have worked to restore power in the hard-hit Caribbean.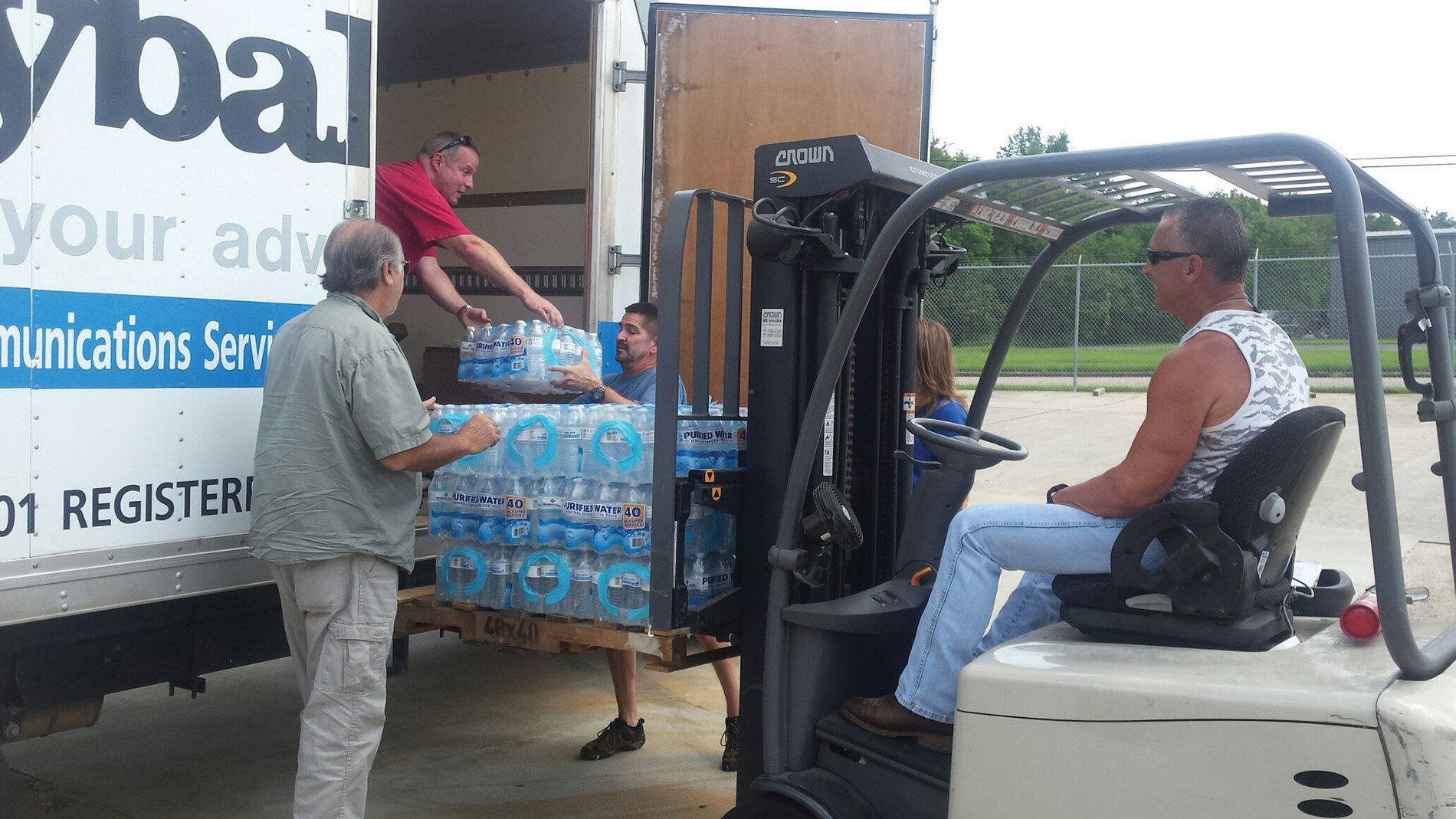 Strong strategic planning

Upon learning Hurricane Harvey was coming, Graybar pulled together the leadership from seven branches within the affected areas in Texas and Louisiana.

"We closed our own facilities to ensure our employees' safety and moved basic electrical supplies like wire, plugs, lighting, residential switches and receptacles so that they'd be easily accessible as soon as the Houston area needed them," said Greg Hochheiser, Graybar's Dallas district vice president. "Upon hearing storm forecasts, we also prebought PVC conduit and other critical commodities to ensure that we had what our contractor customers would need."

[SB]The company set up a command post at the Dallas district office with a fleet of mobile trailers.

"We met vehicles to transfer products, which was difficult because several major highways were cut off due to flooding, making 30-minute trips take as long as four hours," Hochheiser said. "In addition, contaminants, oils, petrochemicals that leached into the water from the area's oil industry created hazardous conditions." 

Along with providing electrical support to contractors, the company used its trucks to deliver emergency goods, such as water and food, to victims from Corpus Christi to Beaumont, Texas, despite the effects some of Graybar's own local team members suffered.

"Our employees used their own personal boats and ATVs to rescue people, and many were also cooking and providing food for their neighbors," he said. "It was a very emotional experience that we're all extremely proud of."

By no means is the hard part over. Though the water has receded, Hochheiser said it is just the beginning of a recovery process that will take years.

"The real work has yet to begin," he said.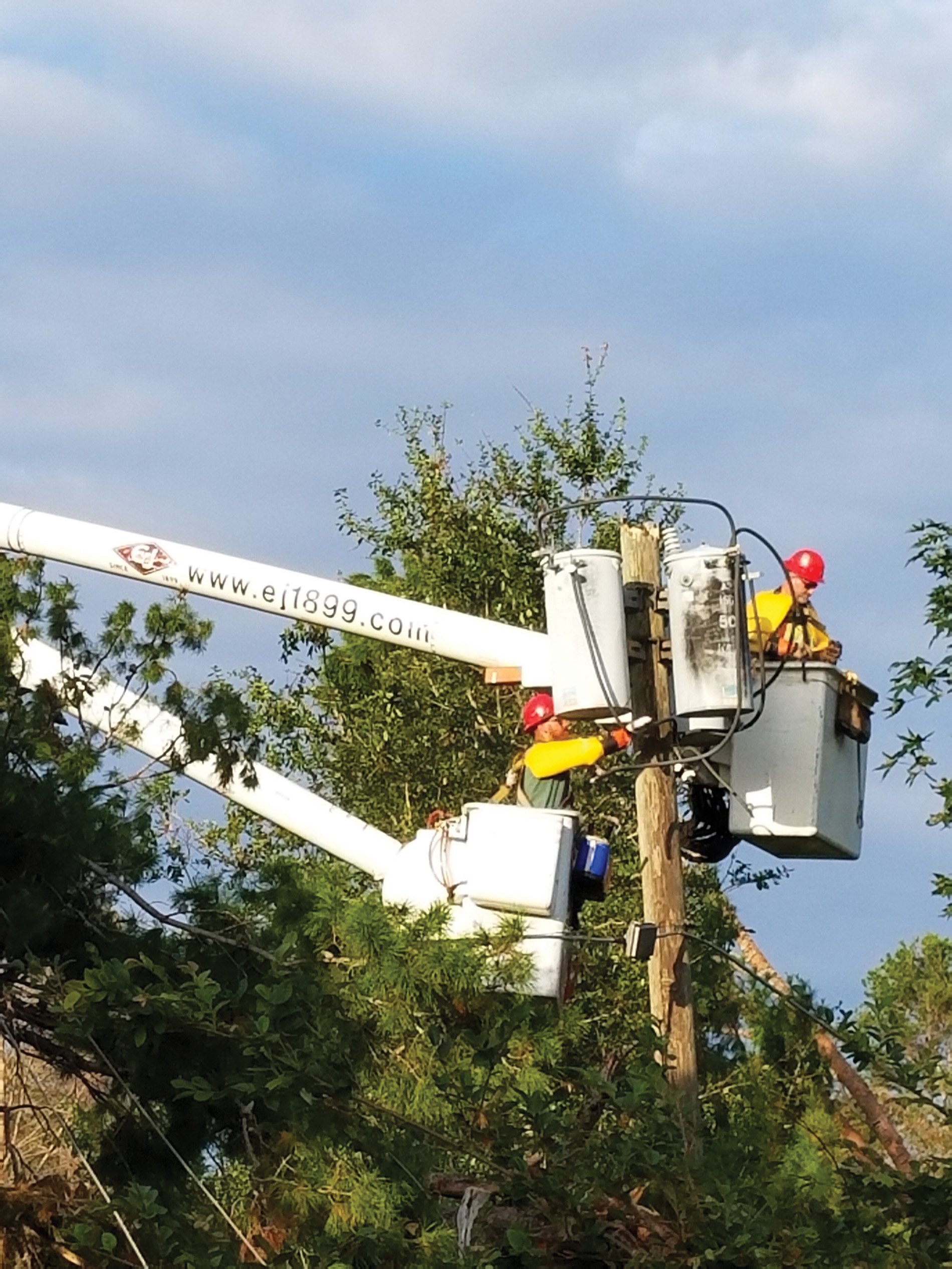 Responding to the need

An affiliate of Long Island City, N.Y.-based E-J Electric Installation Co., E-J Electric T&D launched in 2012 just prior to Hurricane Sandy that October.

"With all of the storms and emergency restorations going on in New York City and everyone in the Northeast looking for crews at that time, our president and CEO, Anthony Mann, saw the need for us to establish this service," said Joe Rubino, general manager, E-J Electric T&D. "With storms getting stronger and more frequent, we established an emergency response team and tasked them with equipping idle trucks, on-boarding new hires, and getting those resources on the road in an expeditious manner."

In the five years since, E-J Electric T&D has amassed 60 bucket trucks and all of the necessary tools to outfit them.

"It involves about $15,000 of tools to equip a bucket truck properly," Rubino said.

The company also has 25 digger trucks and a crew of 125 people and growing. 

"Our first priority is to our customers in the Northeast who employ our services year-round, but we make our services available to other geographic areas when disasters strike and have worked in such other states as Ohio, Michigan, Texas, Florida and Georgia," he said.

After Hurricane Irma, Rubino's crew members worked with Florida Power & Light Co. and Duke Energy. 

E-J Electric T&D has worked in everything from sleet and snowy conditions up north to 100-plus-degree temperatures and alligator-infested brush in Florida. 

"Those are the things you can't prepare for," he said.

For Rubino and his team, however, the customers make it all worthwhile.

"We get so much support from people who want to thank us for what we're doing, from personal and emailed notes of gratitude to offers of food and water, even when those things are in short supply," Rubino said. "It's those countless and heartfelt gestures of appreciation from people that truly keep the team going."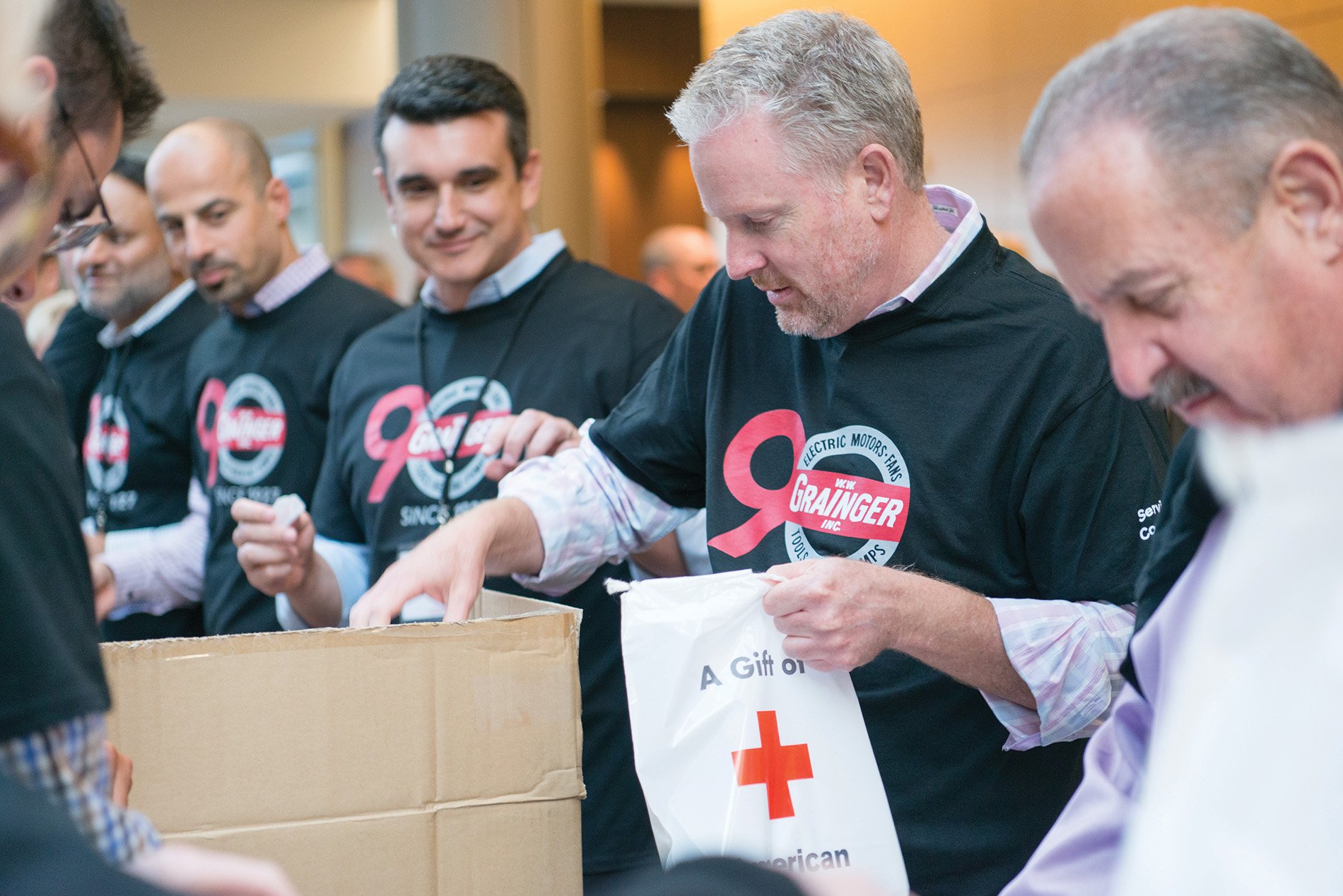 A heart for helping people

Inglett & Stubbs LLC, Marbelton, Ga., supported an environmental services company in Houston that works with the Texas Emergency Management Association (TEMA).

"We set up bases near Houston and Rockport [Texas] and sent 42 of our guys to help during and after Hurricane Harvey," said Buzz Rowland, senior project manager, Inglett & Stubbs.

The team brought generators, light towers, pumps, tents and cafeteria supplies to help get police stations, senior living facilities, water pumping stations, sewage ejection facilities and other critical infrastructure up and running. In late September, the team provided similar services in Florida after Hurricane Irma.

"We have an outstanding group that goes in-theater, headed up by our veteran service truck driver/foreman Tim Mincey," Rowland said. "But, the work is 12 hours a day, seven days a week, and it's exhausting. It requires a special attitude. We've been able to establish a set crew that feeds off of this type of activity; they have a heart for helping people in disasters."

Rowland and his team don't ask for special praise.

"We're not heroes," he said. "We're just trying to make the best of what we have. We're part of a solution and just doing the job that needs to be done."

At the ready

In addition to serving customers virtually around the clock, Grainger Industrial Supply connected with the American Red Cross to leverage its resources, logistics, personnel and technology to help address the devastation caused by Hurricanes Harvey, Irma and Maria. Among their efforts, the company donated $250,000 worth of gloves, shovels, dust masks, trash bags, brooms, sheets and other products (including an industrial shrink-wrap machine and nearly 100 miles of shrink wrap) to the Red Cross.

Grainger team members also packed 1,500 comfort kits containing personal hygiene items for use by those in shelters.

Most of these stories are developing. It will take months, perhaps years in some cases, to restore the affected areas to their status before the storms. Nonetheless, it is inspiring to see Americans come together to help other Americans, and, in these instances, ECs and distributors are in a unique position to help. Those who do are exceptional.