The shortage of skilled tradespeople has been felt by contractors and customers and well-documented by the U.S. Bureau of Labor Statistics. But thanks to its newly constructed, state-of-the-art training facility in Indianola, Iowa, the Missouri Valley Joint Apprenticeship and Training Committee (JATC) is working to reverse that trend and train a new generation of highly skilled electrical workers.
"The Missouri Valley JATC was founded in February 1962 by NECA and the IBEW and covers a seven-state area in the Midwest that includes Iowa, Nebraska, North Dakota, South Dakota, Minnesota, Wisconsin and Missouri," said Robert Foxen, executive director of the Missouri Valley JATC. It is one of nine apprenticeship programs nationwide.
"We were created to train high-voltage linemen for the IBEW, and any apprentice lineman who wants to work in this territory would apply through our JATC and go through our four-year, 7,000-hour program," he said.
"We're federally registered, and our curriculum is recognized by both the U.S. Department of Labor and the Department of Education. Students secure 45 CEUs/college credits for completing the program and also receive a Department of Labor certificate recognized by local unions, which will enable them to be issued a journeyman lineman ticket to work in that craft in the field."
Foxen said the Missouri Valley JATC offers four different apprenticeships—the original high-voltage power line program introduced in 1962, and three newer programs developed to further support local utilities. These include four-year substation and three-year traffic signal/streetlight apprenticeships, both launched in 2013, and a four-year cable-splicing apprenticeship launched in June 2022.
"We're also currently in discussions about launching apprenticeships in tree-trimming and directional drilling underground in the future, as we're hearing of shortages in these skills in the field," he said.
Celebrating its milestone 60th anniversary this year, "the Missouri Valley JATC currently has over 975 apprentices registered in our four different programs—more than double our enrollment of roughly 400 apprentices 20 years ago—and we turn out 125–135 graduates per year," Foxen said.
Another change he has witnessed is the increasing amount of work contractors in the region are doing for power companies.
"While power companies used to have more in-house workers to cover their needs, many of their employees are retiring, and they're not hiring as many people as they used to," he said. "As a result, utilities are looking to our contractors to meet more and more of their demand for such jobs as building and maintaining substations, switchyards and transmission lines."
A state-of-the-art center
"Our former training center was 18,000 square feet and housed three basic classrooms, troubleshooting devices, an indoor climbing facility and demo transmission lines," Foxen said. "Because we were very limited on space, we also had remote classrooms in Minnesota, Wisconsin, Nebraska and Missouri, for a total of six different training locations throughout our seven-state area. As the training arm of NECA and the IBEW, we were always considering how we could provide a better product to our IBEW contractors, and it occurred to us that if we could come together with the funding to build one comprehensive training facility, we could offer a higher level of education and training to apprentices and truly support the field in the highest way possible."
Foxen shared his vision with the six NECA contractors and six IBEW representatives that sat on the Missouri Valley JATC's board of directors, and they all agreed that a centralized new training center would help make their IBEW contractors most successful.
"In light of workforce shortages, the ability to provide large quantities of skilled labor to the IBEW in a timely fashion was key, and we knew that this facility would enable us to meet that objective," Foxen said.
"Starting in 2017, my staff and I looked at college campuses, trade school classrooms and labs, pole yards and other JATCs, and began designing a facility that we believed would promote optimal success for journeymen linemen," Foxen said. "We selected an architect to work with us, and I shared my vision regarding the flow of the building, what we wanted and didn't want, the sizes of the rooms and the electrical requirements in all labs in order to position the project for success early on."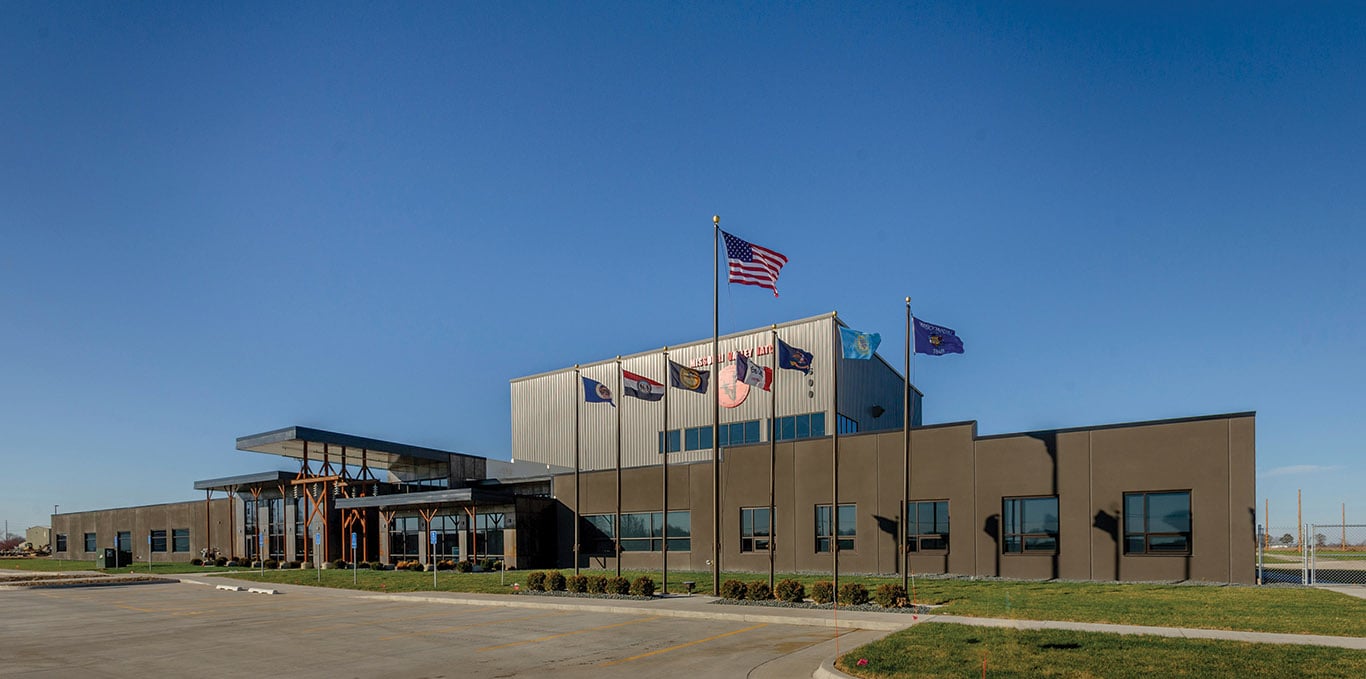 Officially opened in December 2020 and staffed by 10 full-time instructors, the new 50,000-square-foot, $15 million facility has eight classrooms, one of which has divider walls to create three separate classrooms for 20 students each, or that can serve as one big classroom with connected projectors and teaching TVs for 75 students.
"In order to put students in real-life scenarios, we also have three different energized labs with high-voltage power lines in the building, one of which includes a Timpson high-voltage breaker training system, which analyzes the electric circuit every three-thousandth of a second to prevent the risk of arc flash," Foxen said. "We also have a low-voltage hot lab containing every electrical device you'd see out in the field to energize, de-energize or troubleshoot a system, supported by educational handouts that teach students how to work with them.
"Our facility features a 65-foot-high indoor climbing facility that can be outfitted with up to fifty 45-foot-high poles, as well as an indoor rescue vault where confined-space training and rescue activities can be performed," he said. "We also have a lattice tower where we can perform redirect tower rescues (in which you must pull someone away from an energized power line) and a bucket mounted on a 32-foot-high catwalk for training in bucket truck rescues, during which instructors teach students how to rig themselves up and rappel off the bucket to get down to safety.
"In our former facility, we used to train for these activities using a bucket truck outside, but that was obviously weather-­dependent, so we knew that it would benefit students to have all of these capabilities indoors and teach them all of the scenarios they could possibly experience on the job in our safe, controlled environment before they confront them out in the field," Foxen said. "Thanks to these cutting-edge features, we can now stay on a training schedule and students don't have to miss learning opportunities due to weather."
According to Foxen, the future will be even brighter as the new facility undergoes further expansion next year.
"We're situated on 100 acres and are only utilizing 30 acres now, so we're positioned for future growth over the next several decades to ensure that we can meet the demands and future of this craft," Foxen said. "In 2023, we'll be adding another 12,000 square feet to our present footprint, which will include four more classrooms on the student wing and an equipment storage building designed to house five bucket trucks, three digger trucks and a 28-ton crane, as well as excavators and other equipment that students will likely work with. We add more equipment every year to build up our fleet so that we can train apprentices on everything they'll come across in the electrical contracting industry."
Opportunity for all
Foxen confirmed that the apprentices come from a variety of backgrounds.
"Some are right out of high school or line school, while up to half come to us out of college or from a different line of work in search of a career/pathway that allows them to 'earn while you learn,' since apprentices work 40–60 hours a week for a contractor while they go through training," he said. "We start a group of apprentices ahead of work that we know is coming to ensure that they go through a full week of instruction on safety, OSHA regulations, bucket truck rescues, pole climbing, hazard awareness and more; during this training, we put them up in a hotel with full meals at no cost to them and provide all of their hand and climbing tools as apprentice linemen after the first week."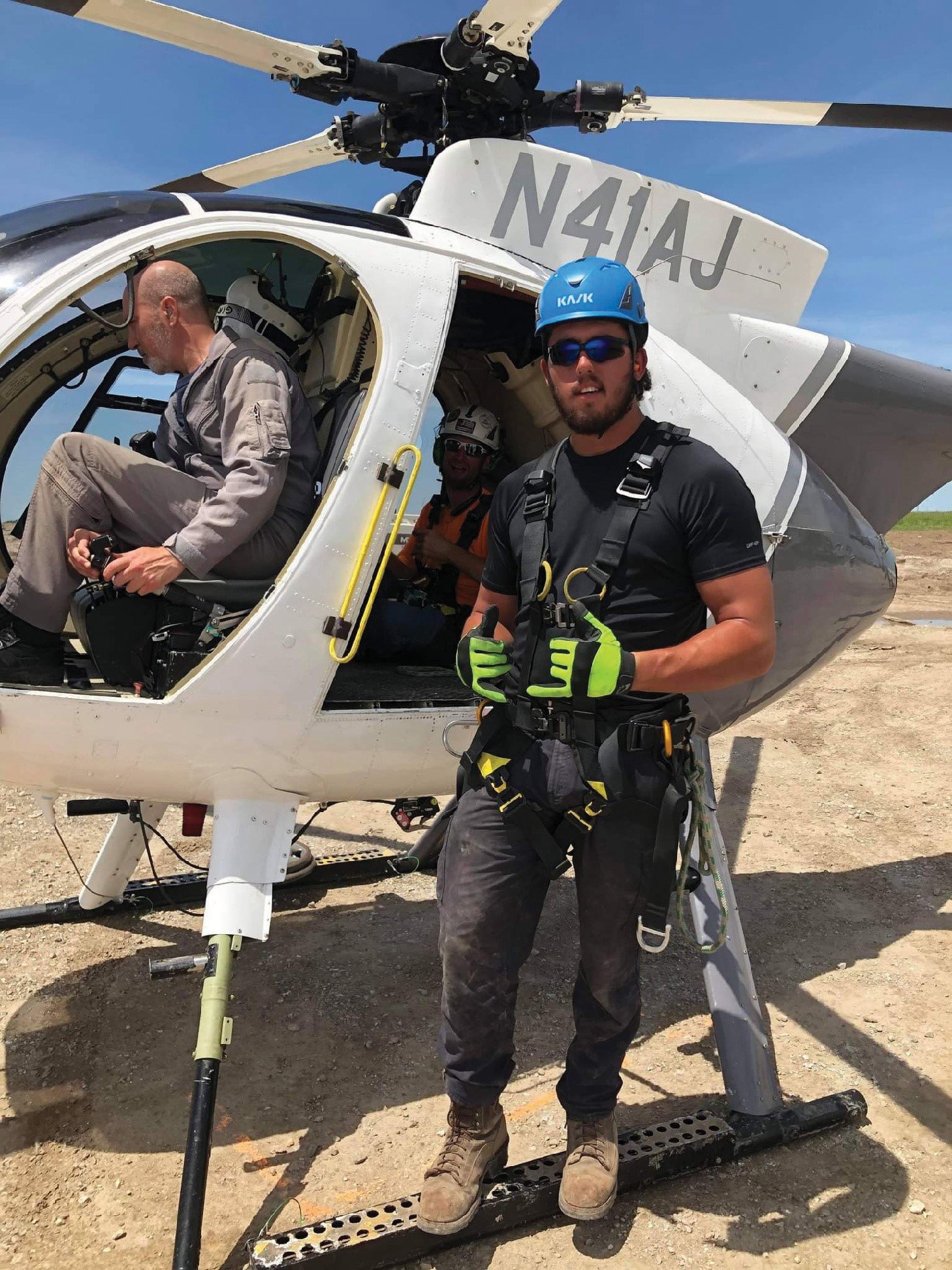 As part of the program, students begin as first-step apprentices, helping to set poles, string wires and support other nonenergized activities.
"They train for two years before they work on energized conductors," Foxen said. "After completing their initial week-long boot camp, they'll go out in the field for six months with a contractor, then come back here for a week of instruction every six months throughout the entire four-year program, which is a combination of classroom and hands-on field training."
With over two decades of experience in the field, Foxen couldn't be a bigger advocate for this apprenticeship opportunity.
"In our area, a first-step apprentice starts out at $29.75 per hour plus full benefits, so it's a good-paying career right out of the gate," he said. "Every six months, students log another 1,000 hours of on-the-job training, which advances them another step and yields them a wage increase, such that by the end of the seven-step program, students are earning $44–$45 an hour. They graduate as journeymen linemen and the union then negotiates their salary with NECA based on the collective bargaining agreement in that area. Annual salaries could then range from $140,000 to $400,000 or more with overtime, and students graduate without any loans or debts, as we pay for all of their tuition fees and textbooks."
As part of the its commitment to promote awareness of this opportunity and recruiting new talent into the field, the JATC partners with organizations such as Helmets to Hardhats and the Veteran's Electrical Entry Program "to help streamline existing and former military veterans into the electrical industry," Foxen said. "We've also developed a work-based internship for interested high school students, which is comprised of field and classroom training to help them better understand the apprentice opportunity."
Promoting the trade
"I've been in the power line industry for 22 years, and our new Missouri Valley JATC facility is among the top training facilities nationwide for high-power linemen," Foxen said. "We're very grateful to our board of directors who shared our vision to grow our educational institution and provide the best possible education to apprentices."
Based on client feedback, Foxen confirmed that the facility is already paying big dividends.
"Contractors to whom we supply workers can't believe the higher level of education our apprentices are getting and the level of safety-related knowledge they're coming into the field with," he said.
Bringing the new training facility to life has been extremely rewarding for him.
"I love putting in the work to better our craft in the electrical industry, seeing the end product, and hearing the great feedback," Foxen said. "Our apprentices have more knowledge than ever and our instructors do an outstanding job."
Looking ahead, "we hope to keep evolving and growing as a training center and apprenticeship program and to continue to positively contribute to the electrical trade," Foxen said. "We look forward to adding more apprenticeship programs, getting more work, and seeing more people come through the Missouri Valley JATC."
Graduates of one of Missouri Valley JATC's week-long orientation classes in summer 2021 pose on one of the facility's H-frame transmission structures. Header image by Missouri Valley JATC.