Computer-based systems track tool and asset locations, but asset management systems are available today that do much more.
Trimble Viewpoint, Portland, Ore., offers Vista and Spectrum, two different enterprise resource planners (ERPs) that have robust equipment management features, said Thom Schoenborn, senior product marketing manager.
"Using one of the many tool tracking systems that integrates with Trimble Viewpoint's ERPs, contractors get a simple way to know who has a tool, and which job they're on. Improved accountability leads to fewer lost or stolen tools and money saved on replacements," he said. "It also saves contractors time lost figuring out what job site has a tool, which Hilti estimates is a day lost per month per job site training, that sends information back to their Trimble Viewpoint ERP and lets a contractor calculate job cost, track product usage to schedule preventive maintenance and more accurately estimate tools and consumables for future jobs."
Schoenborn said when it comes to tools and assets, contractors want to know at any given moment where their tools are and how to allocate costs to jobs, depreciate assets and more. A management system allows contractors to maintain a list of assets, deploy them to job sites and provide financials. Once assets are deployed to job sites, field-based tracking systems enable field personnel to know who has a specific set of assets and where they are.
"The Hilti ON!Track integration with Trimble Viewpoint ERPs is perhaps the most unique solution: it provides field personnel with the industry's best tool tracking and assignment features," Schoenborn said. "As tools are assigned to jobs and employees, that data is enriched and synchronized to the back-office accounting system. There, tool utilization time is automatically job-costed."
Using ON!Track and a Trimble Viewpoint ERP together automatically calculates tool usage for a given job based on assignments and time stamps.
Schoenborn said Viewpoint provides comprehensive online training resources that users can learn from. Trimble also offers training and services through its professional services department. For the ON!Track integration, Hilti will tag a certain number of tools and provide training.
The cost of establishing a tracking/management system is important to consider.
"ERP integrations vary greatly depending on complexity and features chosen," Schoenborn said. "The reason 40% of the leading construction companies in North America choose Trimble Viewpoint for their contractor-specific enterprise software is due to its flexibility and proven ability to save time for both field and office personnel.
"An organization's time and processes are their major investments to establish a successful tool tracking system," he said. "Getting buy-in from the right people in the organization, along with their commitment to use these systems, is an important step in technology adoption. Once implemented, these systems provide savings in terms of dollars and time back to the organization."
It really isn't difficult to manage once asset tracking programs are implemented and widely used in the organization. As more assets get tracked in the systems, it starts becoming easier to manage as data entry and keeping systems in sync reduces.
"Technologically forward companies have adopted tool tracking already," Schoenborn said. "They're seeing benefits like saved time for field teams, fewer lost tools and improved job costing. We see ourselves at the part of the adoption cycle where lots of companies see how well new technologies work and are quickly moving to get on board. There is still a tremendous amount of white space in this area in the market."
DeWalt's Site Manager is available for web and mobile and provides asset management across job sites. Tools and assets are managed with multiple solutions for connectivity, including Tool Connect tools, tag- and chip-ready tools and QR code stickers. These solutions attach to job site assets to track and manage inventory.
"Software tracking and management systems bring information from the field seamlessly and automatically into the platform, allowing users to get the right tools in the right hands, improve crew accountability and locate connected assets across multiple job sites," said Benny Baltrotsky, vice president of partnerships and Go To Market for DeWalt, Towson, Md. "The suite of DeWalt tracking solutions provides automatic customizable audits and location data."
Construction "tool tracking" systems, Baltrotsky said, are primarily designed to monitor and locate tools and equipment throughout a project's life cycle. Their main objective is to ensure proper accountability of tools, maintain a record of their movements and regularly update their status.
"On the other hand, tool management systems offer a more comprehensive approach, going beyond simple tracking. They aim to optimize the entire tool and equipment management process, streamlining operations and improving overall efficiency," he said.
"Key functionalities of these systems include allocation and resource planning to assign tools to specific tasks or projects based on demand and availability, utilization analysis to assess tool efficiency, comprehensive maintenance and repair management with scheduling and maintenance history tracking, calibration and certification tracking to ensure tools meet necessary standards, reporting and analytics for data-driven decision-making and integration with inventory and project management platforms to enhance collaboration and data flow across various processes."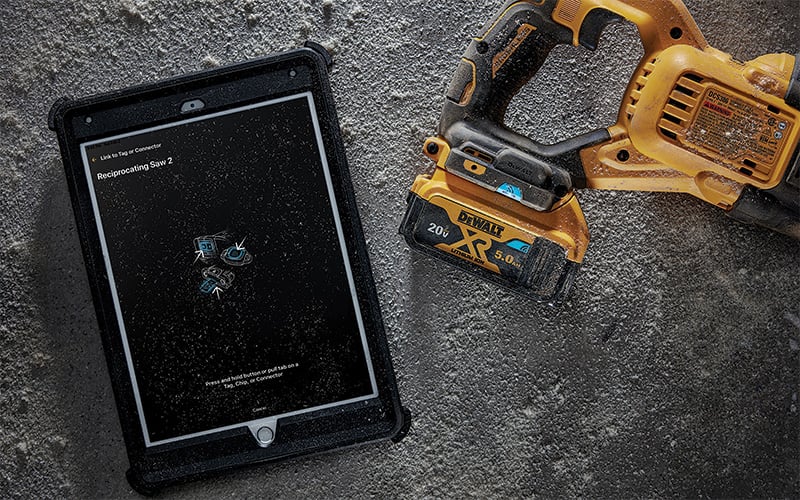 DeWalt Tool Connect
www.dewalt.com
Baltrotsky said DeWalt's system includes these components:
Tool Connect chip, a Bluetooth beacon add-on that allows tools to easily and wirelessly work with the Tool Connect system. Integrating the chip adds tracking capabilities compatible with Tool Connect site manager software. This can be installed in the designated pocket of chip-ready products to protect it from damage and is equipped with a blue identification light, which helps locate and differentiate among identical tools.
The Tool Connect Construction Asset Gateway can be deployed in boxes, vehicles and tool cribs to automatically audit inventory and provide total job site visibility in Site Manager. With the gateway, there is no longer a requirement to use a mobile device to scan for tools and assets. It is ready out of the box to track job site inventory in real time. The Construction Asset Gateway connects the Tool Connect system to Site Manager through a prepaid cellular connection and associated assets to GPS coordinates.
Tool Connect Tag tracks anything on the job site, including equipment, storage, large tools and more. Attach the tag to any job site asset, regardless of brand, make or model, using a variety of methods such as glue, screw or zip tie. Each tag features a blue LED identification light for accurate pairing with the Tool Connect app.
Tool Connect QR Code Adhesive Tag can be attached to any job site asset for a complete inventory management system. The tag's QR code can be scanned by a smartphone's camera and works with Tool Connect Site Manager.
Milwaukee Tool's One-Key is a connectivity platform that hands job site management to the professional user, integrated with industry-leading tool electronics and a custom-built cloud-based program, said Josh Marchok, senior digital product manager at Milwaukee Tool, Brookfield, Wis.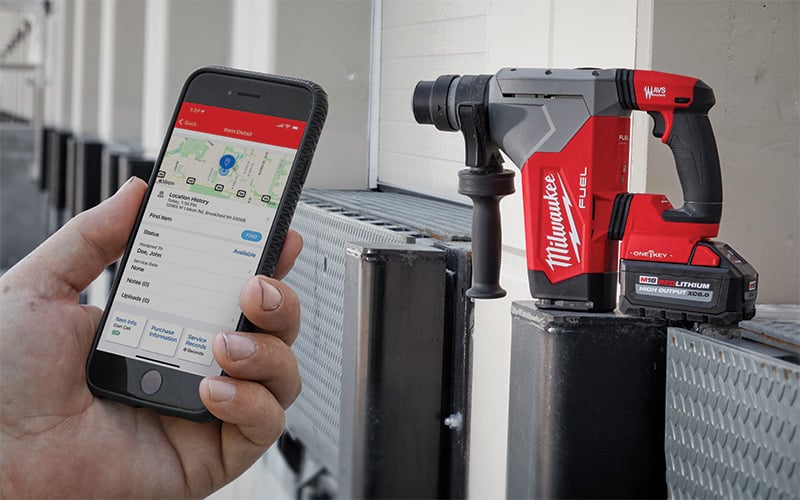 Milwaukee Tool One-Key
www.milwaukeetool.com
"One-Key technology provides a new level of control and access to information that revolutionizes the way work gets done. This technology provides electrical contractors the ability to customize, track and manage through One-Key, fundamentally changing the way professionals interact with their tools. The M12 Fuel 3/8-inch and ½-inch digital torque wrenches with One-Key, for example, provide simple one-button recording functionality to save application data and allow professionals to customize a report of this data, organizing it for the job at hand," he said.
Tracking and management systems are available for large and small contractors.
"It is important to find [the solution] that fits the specific needs of a business. Ensuring a system enhances workflows and operations without complicating organizational management is essential to driving improved efficiency and experiencing the benefits of advanced tool management systems. Many solutions, including Milwaukee's One-Key, provide free accounts to allow professionals ways for free exploration and research to best support organizational needs," he said.
"Milwaukee's One-Key system delivers connectivity across an organizational network by providing advanced tracking and management capabilities," Marchok said.
"Connected smart tools and devices deliver precision and repeatability in application while purpose-built tracking hardware and software help perfect equipment logistics for advanced tool and equipment tracking," he said. "Data and integration capabilities via the cloud reduce manual inputs and information silos, granting access to anyone, while customizable permissions and controls provide additional information control."
The system also provides specific areas of connectivity for unique products, delivering ultimate control and performance to users for their unique task at hand. The M18 Force Logic crimper product lineup, for example, allows professionals to store real-time crimp data, generate professional reports and view historical crimp performance data, syncing the information wirelessly to the cloud for easy tracking and reporting access.
"Investing in tracking and management systems with available training plays an important role in the successful adoption of systems across an organization," Marchok said. Through One-Key support portals, users can access training and support resources if needed beyond the free web or smartphone app setup.

Header image: Trimble Viewpoint construction software, www.viewpoint.com