If one were to list the greatest technologies of the 20th century, LEDs would assuredly rank highly. This century, their profile and potential has only deepened, offering better energy-efficiency, improved efficacy and more. Specifiers now want LEDs to ably handle everything from color stability and light distribution to antiglare. Adding controllability and solid-state lighting (SSL) further expands their list of advantages. It's clear the story of LED lighting is still being written. Clues to where the story will go can be found in the latest rating criteria and the ongoing exploration of digital light.

Since 2011, the DesignLights Consortium (DLC), a nonprofit working to improve energy-efficiency in commercial lighting, has helped define technical requirements within lighting. Its SSL Qualified Products List (QPL), while highlighting the performance of selected LED luminaires, now factors lighting quality execution and has added lighting controls operation. Those on its QPL must meet ever more stringent and expansive metrics.
DLC is made up of members from across the lighting industry including manufacturers, lighting designers, building owners, government organizations, utilities and others offering energy-efficiency programs. DLC's latest SSL Technical Requirements were released as two tandem policies. V5.0 focuses on new efficacy requirements and required dimming capability, while V5.1 addresses light quality, including spectral quality and glare, and new controllability requirements. The requirements of both demonstrate where the LED industry is and where it's going.
Responding to the end-user
While DLC issued V5 in 2020 and 2021, pandemic-related disruptions to business operations, including the supply chain, resulted in a soft introduction, allowing time for listing V4 products to extend a little longer before being replaced with V5 qualified products.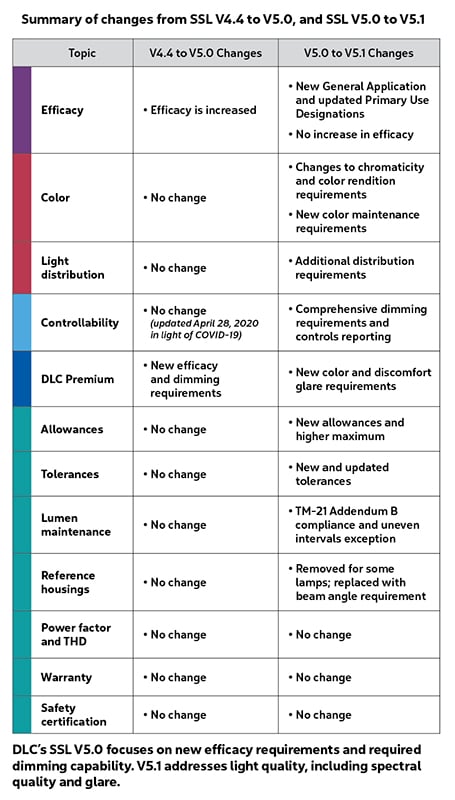 According to Stuart Berjansky, DLC's technical director, "It's not solely about LED energy efficiency anymore. We have a qualified products list for SSL, and now one for network lighting control which can look to the future."
Berjansky referenced the roles that controls are starting to play in peak load management of the electric grid (e.g., real-time pricing, demand response), as well as electrification—from electric vehicles and charging stations to heat pumps.
Focused on commercial and industrial lighting, utilities reference the QPL when offering rebate programs for energy-efficient lighting and controls. To date, fully networked lighting controls (NLCs) represent about 1% of all commercial luminaires domestically, according to the U.S. Department of Energy (DOE). As commercial and industrial two-way grid interactivity (utility/customer) develops, it may be one driver for more NLC adoption. Utility controls rebates have so far focused on occupancy and daylighting sensors.
"Sensors represent only a core level of control, but for the things that the future needs, you will need something like a network lighting control," Berjansky said.
He explained how quality of light drove SSL V5.1: "We've introduced quality of light metrics because our members said that while they could offer gains in LED efficiency, their customers were also concerned about light quality; its color, color shifting and glare. So we went a little deeper with color quality and light distribution. Tackling glare was new.
"We started putting in some metrics around color chromaticity, color temperature shifting and LED life cycle," he continued. "By addressing glare, that revealed light distribution questions, such as how much light should be directed up, how much out. We call these zonal lumens. Maybe you don't want light spilling in some areas."
Visual comfort is another element found in V5.1.
"In trying to get people back into offices post-COVID, or trying to recruit staff, owners may want to create an inviting atmosphere," Berjansky said. "That's where visual comfort comes in. If you've got a glaring fixture, if you've got lights in an office color-shifting, these are the things that we're trying to correct, offering the best performing lighting sources and fixtures in our QPL list. SSL V5.1 speaks to how lighting and controls play together, too."
Metrics used in DLC's technical requirements are derived from existing standards (e.g., ANSI, IES CIE), avoiding the injection of yet another standard for lighting specifiers, installers and others.
Grid interaction and various movements toward electrification are discussion points before the DLC. Though planning hasn't begun, such topics may offer some clues as to what SSL V6 could tackle.
L-Prize seeks out what's next for LEDs
The DOE's Lighting Prize (L-Prize) competition has been opened and restructured in its goal to drive "transformative LED lighting," instead of determining the best LED luminaire on the market. Echoing DLC's more expansive embrace of SSL, the L-Prize looks to award superior luminaire efficacy and exceptional lighting quality. It is also looking at data-driven control and functionality, sustainable design and construction.
Launched in 2021, L-Prize is focused on commercial sector lighting. Reconfigured into three phases, the Concept phase awarded four winners $20,000 each in February. Up to six winners in the Prototype phase will share a $2 million prize. The third and final phase, Manufacturing and Installation, will be a longer phase extending into 2025. Four winners will share $10 million. These entries must be commercially available and installed in real-world applications.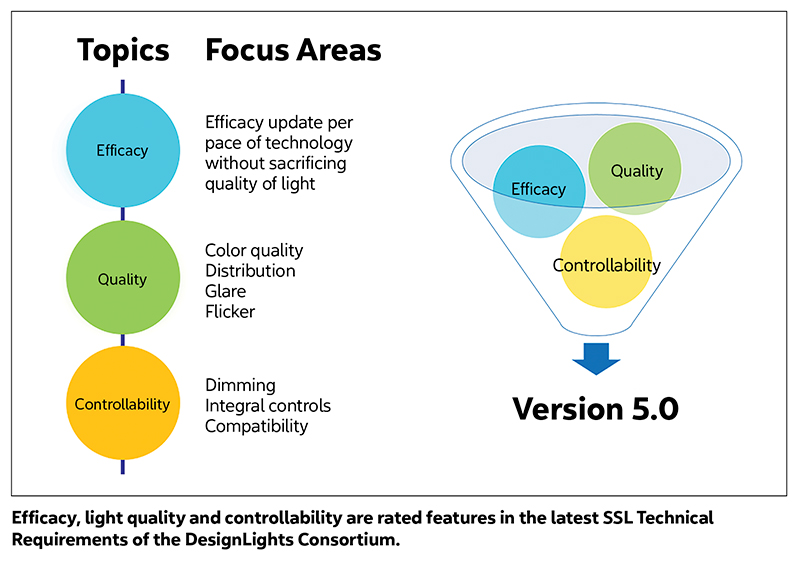 Luminaires are being judged for efficacy, quality of light, connectivity, product life cycle, technical innovation and diversity, equity and inclusion. Connected systems are similarly judged, minus luminaire qualities. Point-earning requirements for connectivity are more extensive and varied, including systems that provide energy reporting and interoperability, are grid service capable and more.
"With this L-Prize, we wanted to reach a wider community, not just the biggest players in the lighting and lighting controls space," said Wyatt Merrill, technology manager for solid-state lighting and building electric appliances, devices and systems for the DOE. "Entrants have included not just smaller companies and startups, but university students. We also want to grow and support domestic luminaire manufacturing and assembly while showcasing U.S.-based design innovation and manufacturing."
Phase 1 winners
"The first phase asked for written concepts and concepts on paper," added Gabe Arnold, senior engineer for the Pacific Northwest National Laboratory who serves as the principal investigator on the advanced lighting team. "Of those submitted and evaluated, we picked four winners."
Project Tango, co-submitted by QuarkStar, Las Vegas, with its LED partner Nichia Corp., Wixom, Mich., is a networked, white-tunable luminaire concept. The L-Prize recognized the concept's innovative optics, ability to deliver superior efficacy and light quality, and precise light distribution.
Arnold also liked its open thread networking protocol (developed by Google). "These open-source protocols haven't really gained a lot of traction in commercial lighting, but I think there's a real need and opportunity," he said. QuarkStar stated its control system's onboard power requirement needs only 100 mW per fixture, 50 times less than many systems on the market.
Orion Energy Systems, Jacksonville, Fla., won for its sustainable and connected troffer retrofit concept. Conceived as an easy retrofit to replace an existing fluorescent luminaire, the LED fixture would represent a high-­efficacy, networked luminaire with advanced controls. Arnold cited the troffer's built-in advanced controls and easy installation (less than two minutes) as noteworthy. Additionally, its modular light engine could allow for upgrades in the field.
The Papaya Modular Lighting Ecosystem, submitted by Papaya, Evanston, Ill., is a modular luminaire platform from designers outside the lighting industry. It would use open source, allowing for ongoing innovation of the lighting platform from anyone. How it would fare in a competitive lighting industry is unclear, but it's rule-breaking approach was noteworthy, Arnold said.
Smash the Bulb, a small startup in Mountain View, Calif., won for its concept of a laterally symmetrical Level 3 engine, using 3D printing to produce a high-performance, semi-indirect luminaire. Its design goal is to deliver high efficacy and long life with no secondary optics. The concept was jointly submitted with Bridgelux, Fremont, Calif., which worked on the LEDs and drivers.
L-Prize judges liked the innovative optical design of the concept that addresses glare, its high optical efficiency and the use of a 3D-printed aluminum housing. Don Peifer, Smash the Bulb's founder, is an enthusiastic proponent of 3D printing and its possible transformative effects on the lighting industry. He plans to take his winning concept and compete in the Prototype phase of the competition.
"We're not designing around the strengths of the technology [LED]; rather, we're designing around the previous paradigm, which is fluorescent lighting," Peifer said. "I try to get away from having all this end-to-end lighting. I wanted to be able to use 20-by-20 spacings [overhead lighting] or greater, supported by even, quality light distribution (up and down light)."
Peifer added that using a Level 3 engine is a cost-saving measure. Fixture replacement would involve simply pulling the engine out and installing a new and possibly higher-performing engine, all on-site without removing the ceiling fixture.
Peifer has some experience with the fixture's 3D-printed aluminum tray, having created a mobile 3D-printing "farm" as a cost-saving, on-demand manufacturing approach. Prior to the competition, his 3D printing focused on pendant shades and linear lighting. He is also exploring finishing materials for improved aesthetics.
In addition, Peifer is working with the Rensselaer Lighting Research Center and Hewlett-Packard to explore extrusion materials for 3D printing. While most of his work involves the mechanical properties of lighting, Peifer is on board to explore next developments with 3D printing and lighting.
"I am looking at doing a 3D-printed optic," he said. "Rensselaer is now exploring such optics, which I find compelling. I'd love my product to be almost completely 3D printed."
Feature Image: shutterstock / luchschenF / Figures Courtesy of Designlights consortium
About
The Author
GAVIN, Gavo Communications, is a LEED Green Associate providing marketing services for the energy, construction and urban planning industries. He can be reached at [email protected]
Email:

[email protected]