Many building owners are interested in retrofitting wireless features into buildings' lighting systems, including daylight harvesting, occupancy sensors and other controls. Energy efficiency, tenant comfort and productivity enhancements
are at the forefront of the benefits. LED lighting can be linked to controls and other added value that extends well beyond traditional on/off lighting.
Controlling and automating lights is key. Commercial lighting retrofits can offer scheduling, scene setting and motion sensing by way of microwave, daylight or passive infrared, in many cases while enabling direct control from a smart device, said Nikki Toigo, marketing manager at TCP Lighting, Aurora, Ohio. With rising energy-­efficiency awareness, costs and demand for convenience and automation, "it is definitely foreseeable that we will see an uptick in retrofits involving smart lighting control systems," Toigo said.
TCP is among the lighting manufacturers rolling out products that offer a range of color tuning and apps. TCP's SmartStuff Pro app is made specifically for commercial and industrial applications.
To serve a market seeking more controls, lighting companies are building fixtures that accomplish much more than illumination. For example, Signify, Bridgewater, N.J., offers a connected lighting system with a dashboard so users can visualize and manage energy use across an entire property or portfolio of properties. Such information can drill down to an individual building or room, enabling users access to historical data to identify operational patterns and how they stack up with a building owner's energy reduction goals.
Lighting retrofits also aid in space management. Users can gain "valuable, data-based insights on [a] site's occupancy patterns, to make better informed real estate decisions," said John Bouls, Signify's end-user marketing leader for the office, healthcare and industry sectors for North America.
He pointed to the example of monitoring how frequently different areas of a building are in use. This information can then be used to adjust the building floor plan, potentially reducing overhead costs.
Additionally, smart lighting retrofits are being used for better workspace management and real-time location services as an addition to existing lighting systems. For example, users can access a digital floor plan of their office from an app. That would then provide content, based on sensor data, that allows them to view or reserve available workspaces or meeting rooms. They could also be guided to office spaces with the resources or tools they might need, such as computers or AV equipment. Beyond that, workers could use the app to control the light or temperature in their workspace.
As employees work from home or have a hybrid work model, Bouls said, it's no longer enough for a commercial building to just be functional—it must also be a comfortable, attractive environment that fosters employee engagement.
Wireless controls in wired lighting
Connected LED lighting and smart controls offer a platform to deliver these benefits. For buildings that have deployed lighting controls as retrofits, statistics show a reduction in costs. These systems have proven to reduce energy consumption up to 75%, Bouls said. That's in part because they can be integrated with HVAC and other existing building management systems for greater savings. In addition, these systems can help property managers schedule building support services more intelligently. For example, cleaning can be focused on spaces that have been used, rather than the whole site, reducing operational costs further.
One example of an app providing further controls to an intelligent lighting retrofit is at the Watt Family Innovation Center at Clemson University in South Carolina. This technology-enhanced academic building was designed to foster student engagement and learning. The university teamed up with Signify to show how connected LED lighting can create a flexible workspace. When connected to sensors and cloud-based software or the internet of things (IoT), Bouls said, the facility's lighting enables collaboration, optimizes space management and delivers energy savings of about 70%.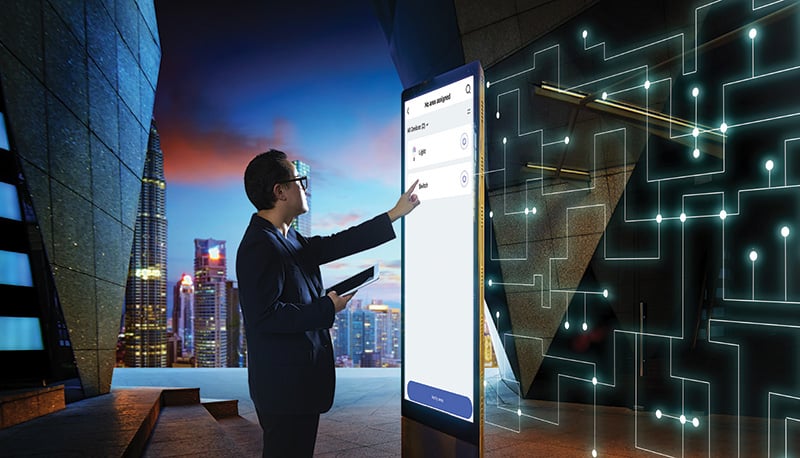 TCP SmartStuff Pro enables users to create light scenes and schedules, and to use Bluetooth technology to streamline the fixtures and devices.

Government incentives also drive smart lighting retrofits. Building managers often find themselves integrating controls to maximize energy savings and comply with local regulations, said Martin Mercier, strategic marketing manager for IoT connected systems at Cooper Lighting Solutions, Peachtree City, Ga. He pointed out that codes are evolving constantly, and lighting controls can keep customers ahead of the curve with a future-ready solution.
"And if the lighting controls help the customer qualify for incentives from their local utility, all the better," he said. Incentives typically result in deeper energy savings because they exceed code requirements. Mercier added that qualifying for incentives offsets the cost of adding control systems, improving the return on investment of an LED upgrade.
A decade ago, lighting manufacturers introduced luminaires with radio devices. Those included Zigbee wireless networks and 4G cellular communication to control luminaires remotely, which created a network of lighting-related devices for transmitting advanced data. That served as a backbone for more innovation.
"The lighting industry is now involved in more connected building initiatives and is thinking beyond connected lighting assets," Mercier said.
Technology such as Bluetooth low-energy enabled devices can connect to Cooper Lighting's platform, for instance, to enable features such as wayfinding or improved building air quality through software APIs. Other application opportunities include shade, HVAC room temperature and plug load controls, all through the lighting system.
Cooper offers a Cat 5, distributed wired lighting control device for individual rooms and connected spaces. It will significantly reduce energy consumption (for a single room or space, up to a whole building), Mercier said, to provide occupancy-based daylighting or manual light control. Devices automatically discover each other and self-commission, while a mobile application enables users to customize installations.
Luminaire-level lighting
Installations are getting easier as technology evolves. A trend in commercial lighting retrofits is to add luminaire-level lighting controls (LLLC) that serve as a distributed control system, typically including the occupancy and vacancy sensor and ambient light sensor connected to a network.
The controls, with a luminaire retrofitting kit, are easy to install. Programming is done with an app.
Mercier said that LLLCs are the fastest-­growing control option in indoor lighting. One advantage of LLLCs for installers is that fewer products are specified and installed, so it's easier to recover and close the project if something doesn't go as planned.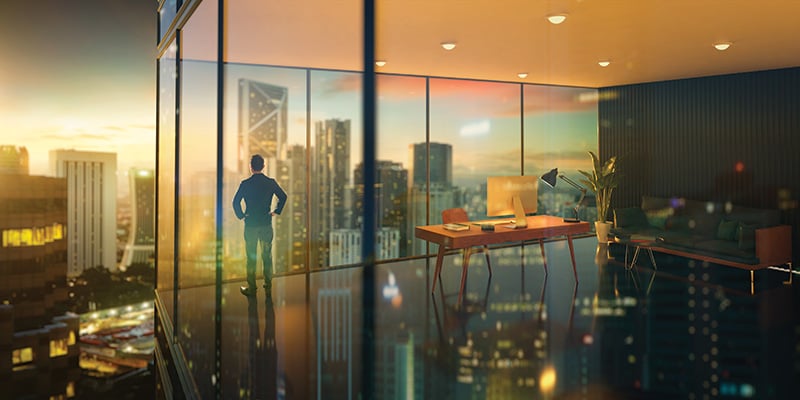 Roles for installers and integrators
"Often, the end-customer doesn't have the resources to support a connected system, which means they won't have a dedicated person or team to leverage the total value of an LLLC system," Mercier said.
That means they may not have local support to help when a change is needed or an issue arises with their connected system, resulting in reliance on an installer or system provider for support.
Integrators are becoming the backbone of connected LED lighting technology installations, Bouls said. The smart building ecosystem features a vast web of technologies, of which lighting is only one component. So integrators play an essential role in bringing these technologies together into one intuitive interface and keeping commercial buildings and businesses up to date on the most relevant innovations.
With that in mind, Bouls said that as connected lighting becomes easier to commission and control, integrators and contractors will increasingly find themselves in charge. And that means not just installation, but helping businesses monitor and manage the technology.
Contractors have many growth opportunities related to control projects, Mercier said. Those in states with energy-saving codes or high energy costs, such as California and New York, can educate customers on how to keep their new controls up to code.
"It can be challenging to understand wireless controls, occupancy sensors, group daylight harvesting and the interaction of controls between luminaires, wall stations and phone apps," he said.
"Contractors should find educational resources to stay ahead of the curve," which can help with avoiding errors or excess time on site. Some manufacturers offer classes and in-office trainings. Industry publications and YouTube are also great resources.
Then, for the installation or construction phase, some projects require preparation, such as assigning the luminaire to gateways to simplify the task.
"Take note of the system setup and be ready to educate the customer about their solution and its functionalities," he said. "A good PDF tutorial or even an in-house video can make a system viable, mitigate errors and be a useful reference for customers' future needs and site evolvement."
Maintaining relationships
Contractors can provide ongoing support, including outside warranty needs for lighting control, which creates an opportunity to grow a relationship and add a business revenue model. Mercier's examples include contractors offering to change control schedules based on new site activities, adjusting timers and occupancy sensor sensitivity or programing new zones for wall stations.
"Contractors will benefit from learning the value of the data provided by these networking lighting control system sensors," Mercier said. Long-term data and analytics can lead to further energy savings.
In the meantime, it's incumbent on the entire ecosystem—including manufacturers, contractors and distributors—to assist customers as they consider the advantages of incorporating a long-term phased strategy.
With the proper support, the system will be deployed in a way that, Mercier said, "ultimately provides lower system costs while future-proofing their investment."
Images: shutterstock / Chones / stock.adobe.com / jamesteohart