Building vertically requires contractors to have a specific skill set. The higher the work is, the more builders and electrical contractors are needed to coordinate, schedule and accommodate.
Today more than ever, skyscrapers pose economic and engineering benefits for a city while forming distinct and iconic skylines. The contractors that bring such icons to life face complexities including safety and staging, transportation for crews traveling up and down the floors and the hazards of working in the middle of a crowded city.
Some of the tallest buildings under construction in the United States are in New York City and Chicago, but buildings are also reaching skyward in medium and large U.S. cities.
Teamwork for Atlanta's Portman Holdings Site
Three electrical contractors in Georgia—Whitehead Electric Co., Mableton, Ga.; United Electric Co. Inc., Marietta, Ga.; and Allison-­Smith Co., Smyrna, Ga.—are helping Atlanta expand its infrastructure and skyline. As Atlanta's economic and residential demands increase, the work to accommodate is visible to anyone who travels interstates 75 or 85 toward downtown.
One key example this year is Portman Residential tower, part of a one block mixed-use project. The site includes two towers for homes and offices and a historic landmark building.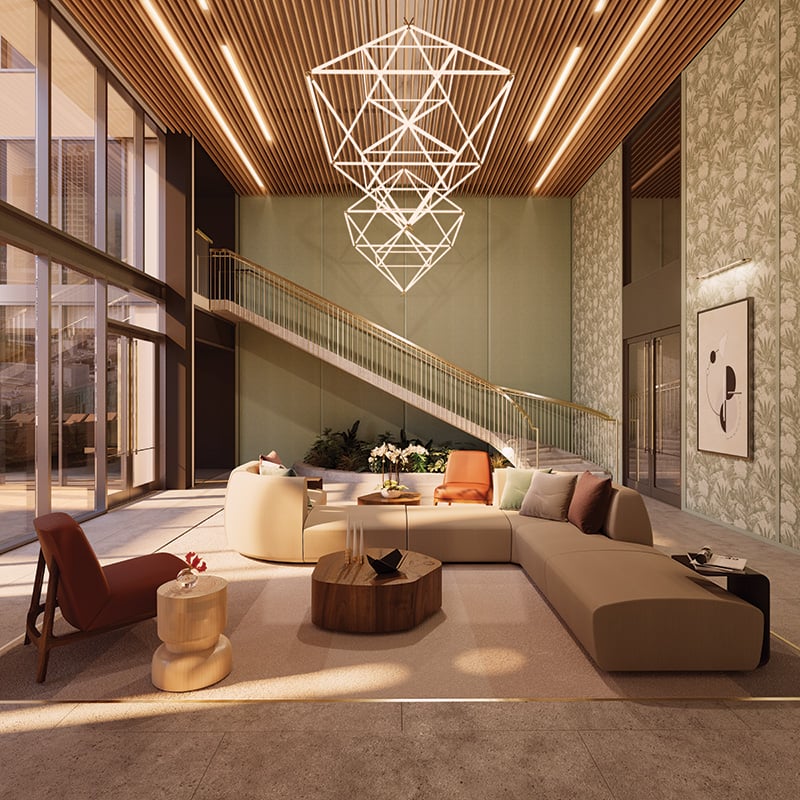 The Portman Residential Tower project includes cutting-edge lighting and data connectivity. Source: Portman Holdings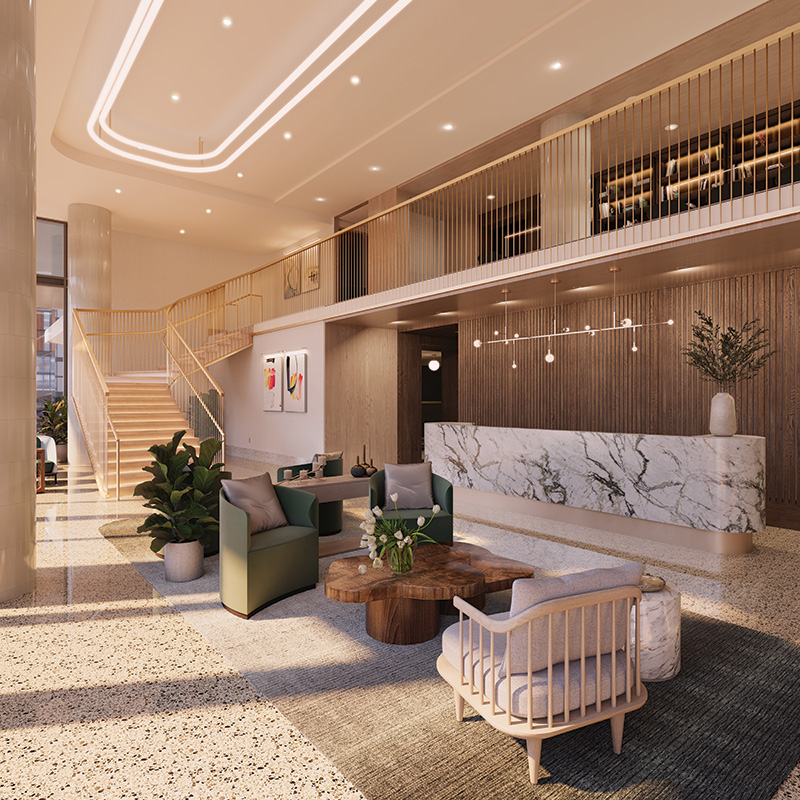 The Portman Residential Tower lobby features linear and LED lighting fixtures. Source: Portman Holdings
Whitehead Electric and United Electric are partnering on the Portman Residential tower. On the same site, Allison-Smith is providing electrical construction for a 30-story design-build office project.
The Portman Holdings $150 million project ($15.6 million of which was electrical) was financed by the National Real Estate Advisors and led by Kansas City, Mo.-based general contractor J.E. Dunn Construction Group, which has an office in Atlanta. Construction on the 29-story, 370-unit mixed-use building began in September 2021 and is scheduled to be completed in November 2023. United and Whitehead installed all electric services, with subcontractors also providing low-voltage for data, security and fire protection. The partnership also installed a generator for backup power.
Whitehead Electric already provides high-rise work throughout the area, including in hospitality, residential and office towers. For Whitehead, the Portman project has been the first of its kind, and a first joint venture with United.
"It's gone well for both of us," said Chris Foster, president and CEO at Whitehead.
The site features no lay-down area, so the companies needed to stage all the material and do prefab work elsewhere. To accomplish this, United and Whitehead rented a dedicated warehouse on the north side of the city. The warehouse, located about 10–15 miles from the work site, takes much of the activity away from the crowded work area. Material is received and stored there, and parts are fabricated before shipping, as needed, to the construction site. Prefab work includes staged bus duct, switchgear and lighting.
"The key is to get as much done off-site as you can," to accommodate staging and work site footprint restrictions, Foster said.
Jerry Hayes, United's president and CEO, said the dedicated site benefits the entire team by allowing apartments to be largely fitted out away from the structure itself. Whitehead and United have been conducting prefab work for decades.
United has a long history in residential projects, including high-rises and other multifamily dwellings, but most commonly, the contractor's work has been converting office buildings to apartments, as opposed to new structures.
When it comes to high-rise work, Hayes said, "building up vertically means that logistics and site management pose other key challenges." But the benefit can be the repeatable nature of apartments that have common attributes.
Many hours can be wasted by workers waiting to be transported up and down a skyscraper under construction. There are ways to minimize the need for transportation, Hayes said. The electrical contracting team has created some solutions that help get electricians and their tools where they need to be, and break options to get them through the day without too many trips to the ground level.
United strives to keep finished components on wheeled assemblies for easy transportation and just-in-time delivery. Additionally, "we have attempted to provide break and lunch areas every third floor, so field guys aren't always going to first floor," he said. That includes wheeled stations with a microwave, fridge and foldable picnic tables, all with a goal to keep productivity at its highest.
United also issued a toolkit to everyone to transport the hand tools they need in a Milwaukee Tool backpack.
Parking downtown for hundreds of workers can be a challenge, not to mention the city traffic. The contractors made arrangements for use of a parking deck one block north of the site.
Today, 1000 Spring St., a small building that had been a funeral home in its previous life, is a historic landmark. As a funeral home, it hosted services for famed Atlanta residents such as author Margaret Mitchell and multiple mayors. It will be converted into a food and beverage space at the heart of the new development. Electrical work is not yet underway at the site.
Chicago and Gurtz Electric
In the heart of Chicago, Gurtz Electric Co., Arlington Heights, Ill., has been working on the electrical construction of 1000M, a 74-story building at 1000 S. Michigan Ave. This skyscraper, which stands 832 feet tall, will add 738 residential apartments to downtown Chicago. Located on Michigan Avenue—as part of the Cultural Mile—the building overlooks Grant Park and Lake Michigan. Construction began in December 2019 and completes in late 2024.
Gurtz Electric specializes in the procurement, installation, start-up, testing, commissioning, operation and maintenance of facility electrical systems. The company has completed some of the tallest buildings in Chicago, including Vista Tower, NEMA and One Chicago. The company has extensive design-build expertise.
The project owner, JK Equities, selected a construction team that would meet the demands of high-rise construction. McHugh Construction, Chicago, is serving as general contractor and providing self-performing concrete. The building boasts a variety of cutting-edge features, including electric and low-voltage infrastructure for smart home technologies, lighting controls with ­dimming to 10%, elevator call through mobile ­application and electric vehicle charging stations.
Beginning in 2021, Gurtz Electric launched its work on the project, according to the company's COO, Mallory Gurtz. The company worked with the design team from the earliest stages to complete the design of the electrical systems, "ensuring we meet code compliance along with new technology and end-user needs," she said.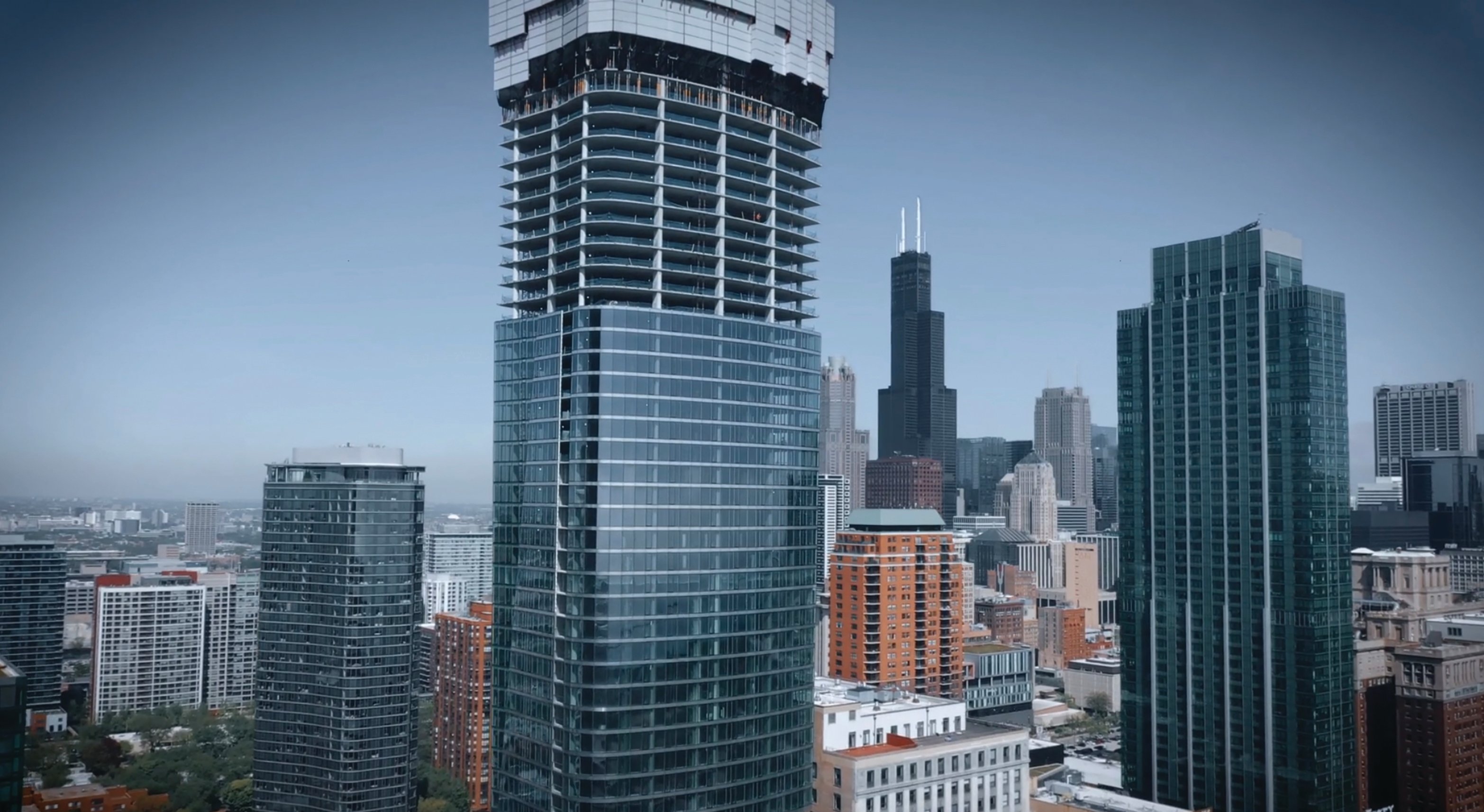 More than 18,000 light fixtures, 150,000-plus feet of low-voltage cable and more than 1 million feet of conduit were installed in Chicago's 74-story 1000M skyscraper. Gurtz Electric Co.
The electrical contractor partners with an engineering firm to deliver engineered drawings for permits and throughout the project's lifespan, Gurtz said. On any project, Gurtz Electric works closely with the other MEP/FP trades to ensure all electrical requirements are met for the mechanical, plumbing and fire protection systems.
"We participate in design and MEP trade meetings throughout the entire project to ensure open communication and seamless coordination," Gurtz said.
In the case of 1000M, size and timeline demanded considerable early planning. A design-build project of this magnitude required the project team to be in step throughout the process. Challenges centered around the building's small footprint, integration of emerging technologies and delays caused by material and equipment procurement due to pandemic­-related supply issues.
Due to the small logistical space, like other contractors, Gurtz Electric leveraged its prefabrication capacity to accomplish much of the construction work at a separate, safer environment, which reduces labor demand at the site.
The building features the latest in technological amenities for future residents, but it needs flexibility as technology continues to evolve.
"Given the rapid pace of technological advancements, we must anticipate future developments during the project life cycle," Gurtz said.
For that reason, the company designs its electrical systems with flexibility in mind, allowing for future upgrades and adaptations. To aid in this effort, the in-house strategy includes staying informed about industry trends and participating in continuous education programs.
Because this project was design-build, Gurtz Electric served as the designer and electrical contractor, which has helped to mitigate any long design and review issues.
"We were able to ensure that electrical equipment that had long lead times was designed, coordinated and released to ensure no project impacts," Gurtz said.
The finished building includes more than 18,000 light fixtures, 150,000-plus feet of low-voltage cable and more than one million feet of conduit.
Across the city, "We have completed more than 15,000 apartment[s] or condos in high-rise buildings from 12 stories to 90 stories and everything in between," Gurtz said.
The vertical construction market requires extreme attention to detail so that the structure can be completed as the design team works through coordinating all the systems, she said.
Case in point: Chicago buildings typically run on a three-day concrete pour cycle, which makes for a very fast turn-around for each floor.
"Working with creative and smart teams at McHugh Construction, JK Equities and Jahn Architects makes a project of this scale possible," Gurtz said. "We're proud to be building Chicago's skyline."
Header image: stock.adobe.com / Colin Cramm / Portman Holdings