There's more to the gender pay gap than women shouldering childcare and working fewer hours to accommodate family needs, according to tradeswomen organizations working to recruit women.

"Women today still earn 77 (to 83) cents for every dollar men earn, in large part because a woman's career choice is still limited by gender stereotypes," said Jayne Vellinga, executive director of Chicago Women in Trades (CWIT). "They're typically relegated to lower-paying jobs."
CWIT's mission is to ensure that women who want to work with their hands and earn a good living have equal opportunities for training and employment. Established in 1981, CWIT has helped thousands of women to gain apprenticeships and retain jobs in construction, manufacturing and transportation. Reaching out and informing women of equal pay in the trades is a key recruitment strategy.
"We let them know [that] a woman will be paid as much as any man for doing the same work," Vellinga said.
CWIT clearly managed to communicate this to Shamanita Gamble. Having earned an education degree from Indiana State University, Gamble was working as an elementary school teacher when she started considering better-paying career options.
"I saw a flyer for a Chicago Women in Trades event in 2015," Gamble said. "I came here and learned the difference between union and nonunion wages and benefits. They laid the foundation. They set the tone."
By 2018, Gamble was a first-year electrical apprentice with IBEW 134, working in the Chicago area.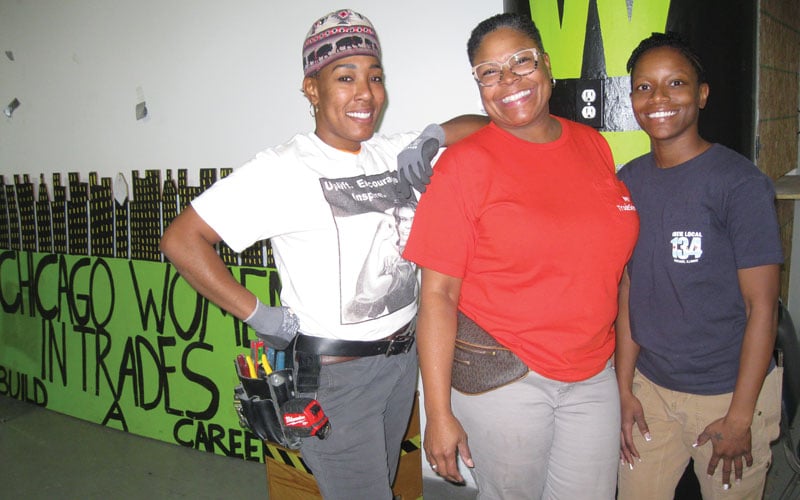 Shamanita Gamble, a fifth-year apprentice; Jennifer Taylor, a journey-level electrician; and Emma Williams, a third-year apprentice, volunteered at a Chicago Women in Trades event aimed at introducing women to the electrical trade.
susan degrane
"And every year the pay has been more progressive than the next," Gamble said, now a fifth-year A-card apprentice. "Plus, my benefits are much better."
Gamble was one of 15 women apprentices and journey-level electricians who volunteered to introduce other women to the electrical trade during IBEW 134's Electrical Training Opportunity Day at CWIT headquarters last November. Here, pre-apprenticeship participants were taught to carry and bend conduit, wire doorbell and light switch circuits, and terminate coaxial cable. They also learned the value of a career in the electrical trades.
"CWIT really helped me," said Emma Williams, another CWIT volunteer and third-year electrical apprentice. "I'm here today because I want to help other girls get the same opportunities as me."
Williams has installed temperature controls, fire alarms, lighting controls, wiring and conduit in office buildings, government buildings, stores, malls and more.
Williams and Gamble wanted participants to know that with CWIT, no other special connections were needed to enter the trade.
"I had no prior experience in the electrical industry and no family or friends in the trade, so I'm a trailblazer," Gamble said.
CWIT received high marks from The Washington Post on Nov. 21, 2022, as a "key player in a vibrant ecosystem" of labor groups working to increase numbers of skilled tradeswomen and retain them. That ecosystem includes trade organizations for women in California, the District of Columbia, Maryland, Massachusetts, Mississippi, New York, Ohio, Oregon, Washington and West Virginia. CWIT's National Center for Women's Equity in Apprenticeships and Employment works to connect these groups with myriad industry and governmental organizations, including the National Governors Association.
Making progress slowly
"Now in particular is a special moment for gaining ground," Vellinga said. "We started 40 years ago with about 0.5% women in the trades, now we're almost at 4%. That's glacial progress. But we see opportunity with a long-awaited construction boom and injections of dollars into infrastructure under the Biden administration."
From January through November 2022, CWIT placed nearly 40% more women into the construction trades than in previous years. Seventy-five have already entered apprenticeships, including 10 IBEW 134 electrical apprentices.
Much of the success is a result of CWIT partnering with the IBEW 134/NECA Technical Institute and working with supporter Powering Chicago—a labor-management partnership of IBEW 134 and the Electrical Contractors' Association of City of Chicago—to establish a new women's pre-apprenticeship program, Women Build Illinois.
CWIT was able to tap into a $25 million state fund devoted to creating a diverse workforce that includes women, people of color and others not typically represented in the trades. The funding created new opportunities to partner with apprenticeship programs to prepare and support women in construction careers, Vellinga said.
Women Build Illinois offers a free 10-week pre-apprentice program. In 2022, the program also conducted two, one-day workshop open houses at Taylor Electric Co. in Chicago that preceded week-long workshops at IBEW 134's training facility.
Taylor Electric currently holds a contract for the expansion of Terminal Five at O'Hare Airport. The company also performs electrical maintenance for the Chicago White Sox at Guaranteed Rate Field and for the Chicago Bears at Soldier Field.
The first black-owned NECA contractor, Taylor Electric recently celebrated its 100th anniversary with female family members at the helm. Taylor's president and CEO, Kendra Dinkins, is a great-­granddaughter of company founder Sam Taylor, and a member of NECA's Diversity, Equity, Inclusion & Belonging (DEI&B) Task Force.
Taylor celebrated its milestone anniversary by committing to bringing more minorities and women into the electrical field by forming Taylor Electric Cares, NFP in 2021. Benchmark events for this effort included the Women Build Illinois workshop/open houses conducted in April and August 2022 at the company's headquarters. Taylor also hosted students for job shadowing, Vellinga said. Approximately 20 women attended the first event.
"We positioned this as a day in the life of an electrician in the trade," said Charlotte Taylor Powers, who leads special projects for Taylor Electric, serves as secretary for Taylor Electric Cares, NFP, and is the granddaughter of Taylor Electric's founder. "The idea was to share information and an experience that would get women excited and motivated about working in this industry."
The plan worked. Participants were treated to breakfast, lunch, Q&A sessions and workshops on construction safety, blueprint reading and conduit bending. Following the first event, four women expressed interest in pursuing careers in the electrical field, and three signed up to take the apprenticeship entrance test.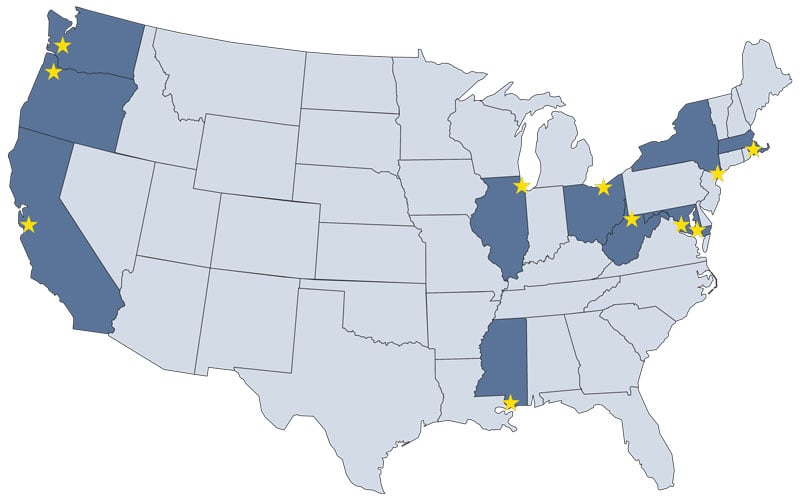 ★Apprenticeship & Nontraditional Employment for Women, Renton, Wash. ★Oregon Tradeswomen Inc., Portland, Ore. ★Tradeswomen Inc., Oakland, Calif. ★Women in Construction, Biloxi, Miss. ★Chicago Women in Trades ★Chicago/Cleveland ★West Virginia Women Work, Morgantown, W.V. ★Nontraditional Employment for Women, New York ★Policy Group on Tradeswomen's Issues, Boston ★Building Pathways, Boston ★Northeast Center for Tradeswomen's Equity, Boston ★Institute for Women's Policy Research, Washington, D.C. ★Transportation Learning Center, Silver Spring, Md.
CWIT's National Center for Women's Equity in Apprenticeships and Employment
"We believe there's value in having women employed at every level and not just in the office answering phones," Powers said.
In addition to employing female apprentices and journey-level electricians, Taylor operates with female project managers and coordinators.
Powers' sister, Martha Taylor, executive director of Taylor Electric Cares, NFP, led the open house events and provided inspiration, having served as president and CEO of Taylor Electric from 1995 to 2015.
"While it was great to have women come and experience what young electricians do, they seemed more in awe of the women managing Taylor Electric," said Elbert Walters III, executive director of Powering Chicago. "There was a young woman who said, 'I cannot change my skin or the fact that I'm a woman, but coming here to Taylor, I feel like I'm home.' She was able to verbalize what many women and women of color need to know: 'I can be here, too.'"
Taylor Electric's commitment to attracting women and minorities to the electrical trade includes mentoring, now considered essential for retaining women throughout their careers, according to a report about women in the trades by the Institute for Women's Policy Research.
"We help the women understand expectations, that they will have to pass a test to get into the apprenticeship program, that they will have to attend classes and work in the field, that they will have to buy equipment," Powers said. "We do supply some things—hard hats, safety glasses, safety vest[s]. For working outside, they'll also need thermal gear, like Carhartts. If they have children, they'll need childcare."
Taylor Electric Cares, NFP, is working to raise money for scholarships to cover some expenses. Leaders intend to duplicate this effort with high school and college students.
Like Taylor Electric, O'Neill Construction Group, Portland, Ore., works hard to draw women and minorities to the electrical field.
"I know a lot of women wouldn't consider working in construction, but there's no reason we shouldn't have 50% women on the job," said Ali O'Neill, operations manager, who co-founded O'Neill as a minority-owned business with her husband, Maurice Rahming. Rahming also serves on NECA's DEI&B Task Force.
Even so, O'Neill is skeptical of U.S. Department of Labor statistics suggesting women are clamoring to the construction industry and gaining ground as 11% of the workforce.
"If those numbers reflect flaggers, low-paid laborers, it's women working at the low end of things, just as they always have," O'Neill said. "That would be a replication of what we see for minorities as well."
Barriers
Having recently finished multiple terms as treasurer for Oregon Tradeswomen Inc., O'Neill also suggested that trade organizations for women are typically underfunded.
Additional barriers to attracting and retaining women must also be addressed. Once hired, apprentices and journey-level electricians must learn to advocate for themselves to receive equal instruction and work assignments while on the job.
Pregnancy also poses a challenge.
"Before the pregnancy leave program, we used to lose a lot of women," said Bridget Quinn, workforce development coordinator, NECA-IBEW 48 Electrical Training Center, Portland, Ore. "It's no longer a stigma for a woman to have a child. The next stumbling block is childcare."
"Many of the women who decide to enter the trades already have a family support system they can count on for childcare, but many wouldn't think of applying because they don't have that," Vellinga said of CWIT. "Until we fix the problem of childcare, it's hard to know how many more women might choose careers in the trades."
Other challenges involve changing workplace culture. Those efforts can involve employing gender-neutral nomenclature, advertising, job postings and instruction methods. Additionally, implementing antidiscrimination, antiharassment and bystander training can be helpful.
To facilitate acceptance among IBEW 48's diverse enrollment, which is 17% women and includes people of color and LGBTQ apprentices, Quinn developed desk name-tents for instructors and apprentices to acknowledge the pronouns each person uses.
Beyond these measures, it's also important for tradeswomen to be able to freely network with other tradeswomen.
Header image: Women learn how to bend conduit at a Chicago Women in Trades event hosted by Taylor Electric.
TAYLOR ELECTRIC CO.
About
The Author
DeGrane is a Chicago-based freelance writer. She has covered electrical contracting, renewable energy, senior living and other industries with articles published in the Chicago Tribune, New York Times and trade publications. Reach her at [email protected].
Email:

[email protected]