Line work requires specialized tools. Because it involves rigging, working at heights, working while exposed to high voltage and electrical arc hazards, the tools lineworkers use are made by specialty manufacturers and are designed for specific jobs.
"Many tools are invented by linemen and made here in the U.S. in small quantities," said Joe Westbrook, owner and president of J Harlen Co., Raleigh, N.C., a major supplier of lineworkers' tools. "Like all craftsmen, lineworkers know having the correct tool comes first, especially when building high-voltage lines. It's dangerous and difficult, and no place for short cuts or compromises."
Some basic hand tools used by electricians may be appropriate for line work, but there are differences.
"For example, an electrician might choose side-cutting pliers designed to cut soft copper and aluminum, but a lineworker needs one to cut steel-core aluminum-conductor reinforced cables," Westbrook said. "Other examples include a lineman's hammer for driving staples and unhardened nails for pole work, or a hammer with a forged, tempered head and the weight to drive lag bolts. And it's easy to find an inexpensive carabiner, but is it rated for human support?"
Buckingham Manufacturing, Binghamton, N.Y., offers a broad line of gear and tools for lineworkers, including body belts, wood pole fall-protection devices, climbers, harnesses, rigging devices and arbor tools for cleaning branches growing around power lines.
"Most of these products work in conjunction with each other to enable lineworkers to climb wood poles, do their job and be 100% fall-protected," said Ryan Tronovitch, Buckingham marketing director. "When it comes to harnesses, they are used as a means of fall protection while working in a bucket truck."
Before any work can start, a lineworker must reach the work area. Bucket trucks can speed work in situations where they can be used, but lineworkers must climb poles and are trained to perform rescues of an injured worker at heights.
Westbrook provided details about these essential linework tools and pieces of equipment.
Climbing tools
Essential climbing tools and those used for safely working atop utility poles are in a completely unique category, and lineworkers must have them.
Climbing "spikes," "hooks," "leg irons" or "climbers" are all terms used when talking about the angled metal devices lineworkers strap to their legs to climb a wood pole. When buying, lineworkers must decide among steel, aluminum and titanium.
Steel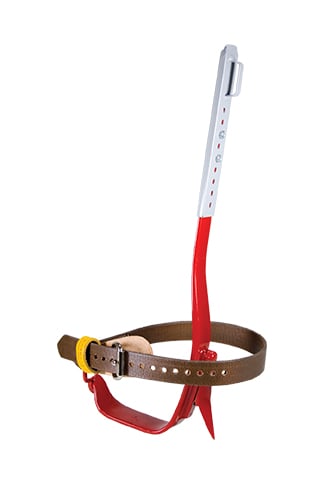 Pros: Steel climbers are the least expensive and are durable. Steel was the original material used to make climbers, and, with proper care, a pair will last many years.
Con: Weight. Steel is a little heavier than the other options.
Aluminum
Pros: Aluminum was first used for the Bashlin BD14 series climbers, and today several designs from Bashlin Industries Inc., Grove City, Pa., and Buckingham Manufacturing are available. Aluminum is inherently softer, so the climbers are designed with more mass. Many lineworkers prefer the way aluminum feels while on the pole.
Cons: Aluminum is more expensive than steel, although it is less than titanium. Aluminum climbers can last for many years, but attention to wear is important. Climbers should always be inspected before each use for any damage or indications of wear as instructed by the manufacturer.
Titanium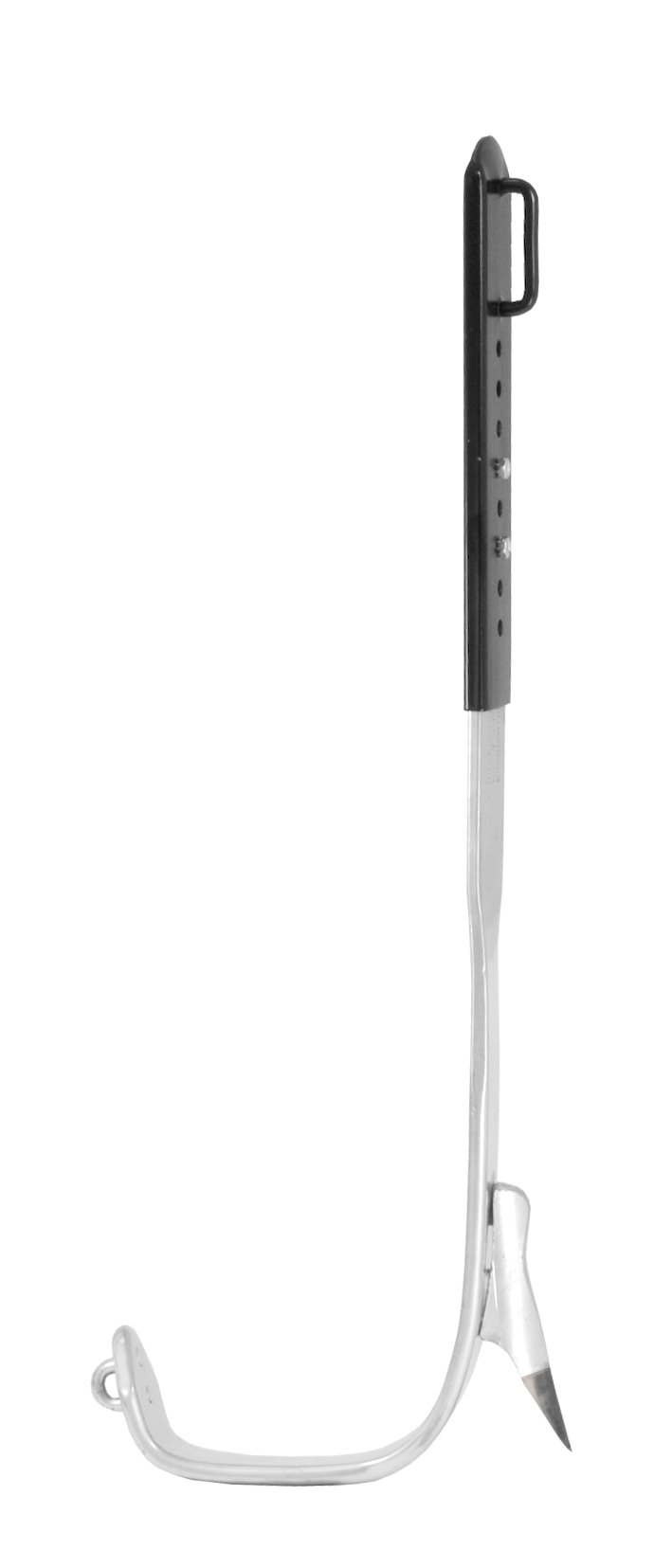 Pros: Lightest weight and very durable. Titanium is inherently strong and lightweight with exceptional durability.
Cons: Titanium is an expensive metal and difficult to manufacture. Buckingham is the only manufacturer currently working with this material, though several models are available.
Climber pads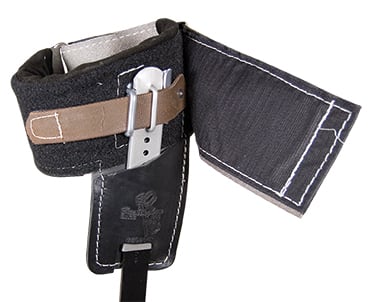 Climber pads attach to the top of the climber sleeve and wrap around the calf for comfort and control while climbing. The first climber pads were simple pieces of leather to reduce chafing, but modern pads add comfort and more control.
Soft wrap pads: Modern leather wrap pads have thick padding for comfort. These pads slide over the climber sleeve and secure to the leg with a "hook and loop," which is the generic name for Velcro. Soft wrap pads are a great value and very comfortable. Examples are Buckingham's 3500C and Bashlin 150V.
Wrap pads with inserts: Many lineworkers prefer pads with metal inserts. Similar to the soft wrap pads, insert pads cup the front of the shin and give additional support and control. Because the pad is attached to the climber sleeve by the insert, they need to be coordinated with the proper climber and are often bought as part of a climber set. Examples of pads are Buckingham Big Buck 3202C, Klein Hydra-Cool 2214 and Bashlin 145ACVW.
L-Pads: The original style leather pad has an "L" shape and uses a buckle strap to fasten. Although there are updated versions (Buckingham 3126), they have mostly been displaced by the wrap pad.
Wood pole fall-protection (WPFP) devices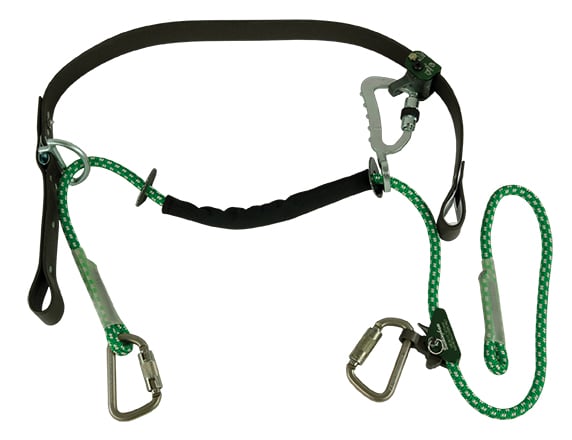 Originally, lineworkers "free climbed" hand-over-hand up the pole, with only a pole strap to secure them once in place. Today, OSHA requires lineworkers to climb with a WPFP device to prevent falls while climbing.
All WPFP devices use a similar concept: A strap encircles the pole and attaches back to the lineman's belt. In the event of a fall, the strap grips the pole and prevents the fall. When used properly, they work very well. Currently, four manufacturers produce these safety devices: Buckingham, Bashlin, 3M Fall Protection and Jelco.
Lineman's belt
Lineworkers working from wood poles use support belts to free their hands for work. Referred to as work-positioning belts, a lineman's belt has two or four large attachment D-rings. A strap or wood pole fall-protection device is connected to the D-rings, which secures the worker.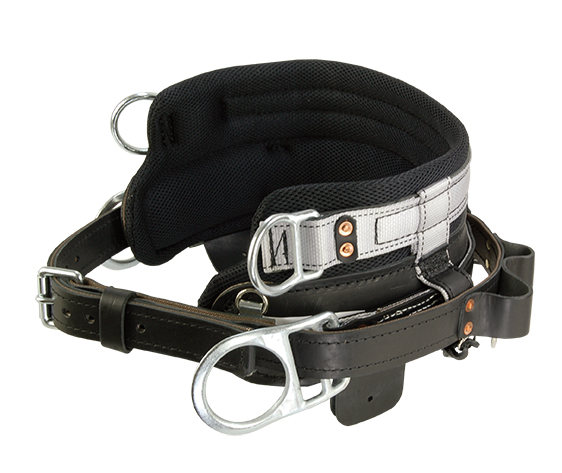 How are belts sized? Lineman's belts are sized by the D-rings. For a proper fit, the rings should hinge at the hip bones. The D-ring size range is typically 20-by-30 inches. Tip: Subtracting 10 inches from that usually provides the right D-ring size.
Two or four D-rings? This is a personal preference unless an employer has a requirement. When using a WPFP device for climbing, an additional lanyard is needed, and four-D belts help keep the connection snaps separate. No one wants to unhook the wrong snap at the top of a 40-foot pole.
One or two straps? Fit and preference drive this decision. The upper belt —gut strap—was originally separate. Line­workers who like wearing their belt lower and sitting back on it used a gut strap to keep it from falling. Taller belts add additional back support and are perfect for four-D belts.
Leather or nylon? Leather is beautiful and who doesn't love the feel of it? However, nylon is durable, lightweight and less expensive. Either choice is good.
What is full floating? Full floating refers to a lineman's belt where the D-rings can shift independently from the belt as the lineworker changes position.
Bolt bag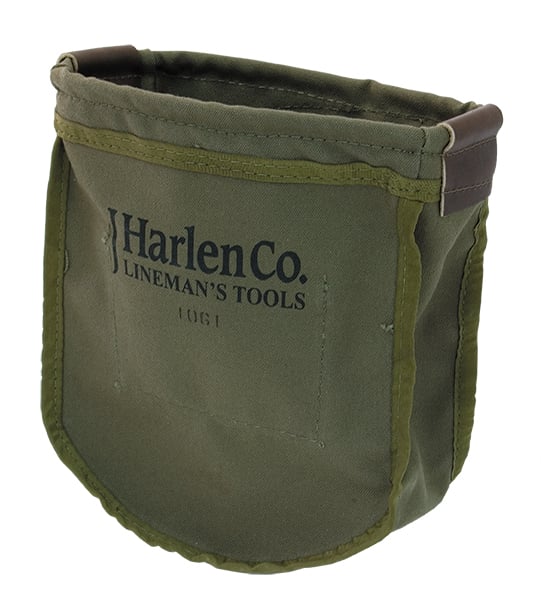 While on the job, a lineworker typically has a tool holster on one side and a bolt bag on the other. Bolt bags, also known as ditty bags, hold loose nuts and bolts while working. Features usually include a wide-opening top for easy access with a gloved hand. Some models feature a magnet for holding small washers and cotter pins. Most are attached with loops and snap and hang loosely from the lineworker's belt.
Tool holsters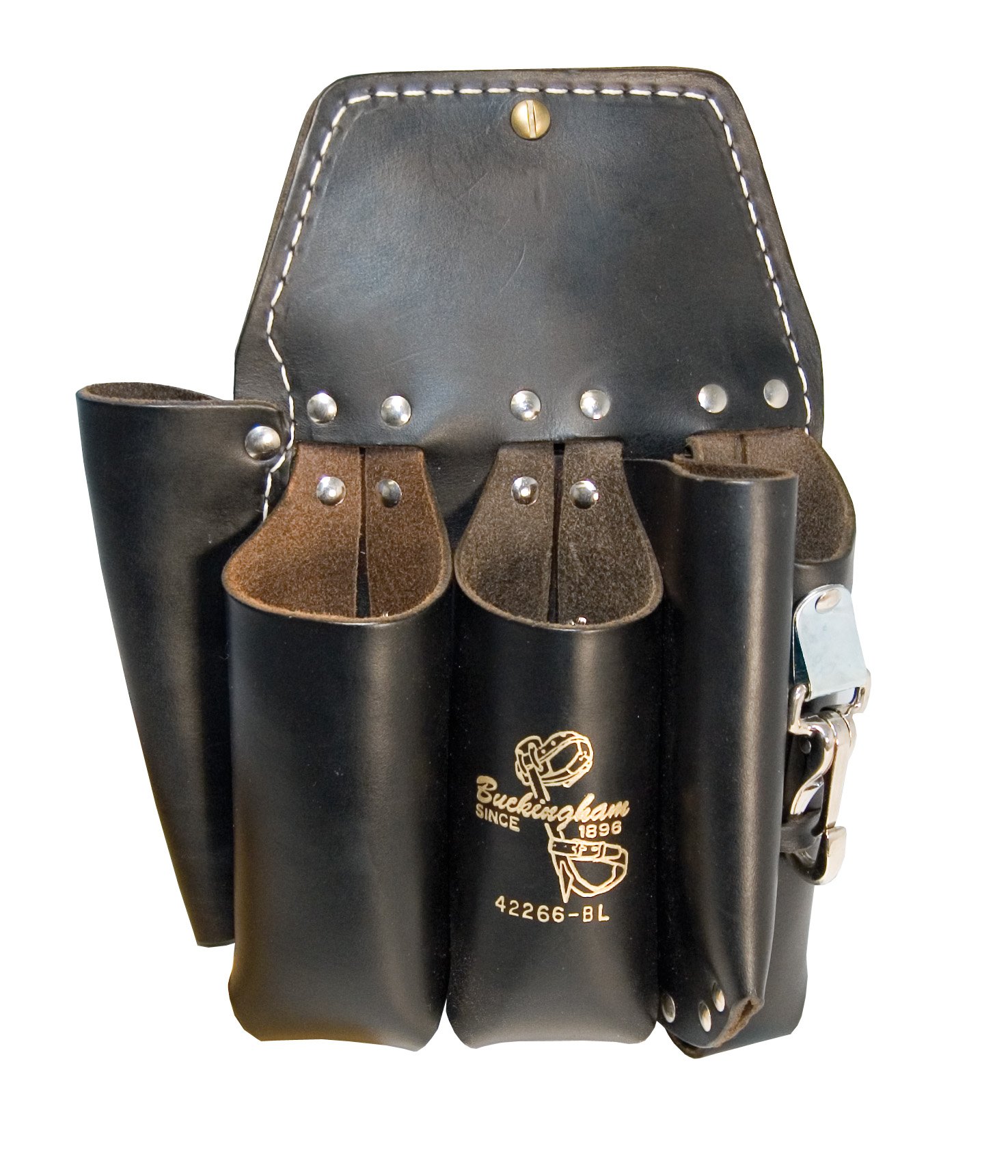 Most lineworkers choose the five-tool holster, but four- or three-tool holsters also are available. The five-tool holster features four front pockets to accommodate lineman's pliers, folding rule, a wrench and more. The side pocket is open on the bottom for an 8-inch screwdriver. Most models come with a skinning knife snap on the front and attach with a single barrel screw to a fob on the lineworker's belt, which allows the holster to swing and keeps tools from falling out when you lean back to work.
"When shopping for line tools, it's important to find a specialty supplier," Westbrook said. "Before online shopping, linemen were limited to a few small catalogs and many new tools were never seen. Today, linemen can shop at distributors like us and find the newest tools on the market, as well as read product reviews from other lineworkers."
Terms to know when shopping for climbers
Stirrup: The section of the climber under the foot.
Shank: The metal part that lays against the leg.
Offset stirrup: This is now standard on almost all climbers being sold today. It refers to a slight jog forward of the stirrup to get the placement under the center of the foot.
Contour: An outward bend in the shank to accommodate the ankle bone. It is standard on most climbers.
Climber sleeve: The part that slides over the shank and adjusts the height of the climber to fit leg length. Longer sleeves are often preferred for people over 6 feet 2 inches. Shorter sleeves also are available.
CCA gaffs: Climbing poles treated with chromated copper arsenate (CCA) mean that CCA gaffs are needed in climbers. They are designed to cut deeper into hard woods. Buckingham CCA gaffs feature a serrated edge, and Bashlin uses a polished cutting edge. Both can be purchased as replacement gaffs.
Header image by Buckingham Manufacturing.