3D printing makes manufacturing endlessly flexible and on-demand. You see it used in aerospace, healthcare and transportation, with everything from mechanical rotors to surgical components to dental crowns. Now, consider applying this technology to lighting. It's already happening with 3D-printed lamp shades. Research and development programs are also exploring fixture components. While traditional lighting manufacturing is unlikely to disappear, it may coexist with printers that customize products quickly based on customer need.
3D printers and the additive manufacturing process go hand-in-hand. Additive material (often a polycarbonate) is extruded layer by precise layer as the printer builds the 3D-designed item or related component. Designing using this approach is only limited by one's imagination. Merits, including lighter-weight materials, durability and even recyclability, drive interest.
Signify, a global lighting design and manufacturer based in Bridgewater, N.J., has its first U.S. factory equipped with 3D printers in Littlestown, Pa.
Matthew Wall, North American product marketing lead for 3D-printed luminaires at Signify, shared how his company is currently creating polycarbonate lighting pendants, track lighting and more. Work commenced in earnest in 2015 through R&D with an in-house startup business called Ventures. That evolved into what is now a Signify 3D-printed lighting division.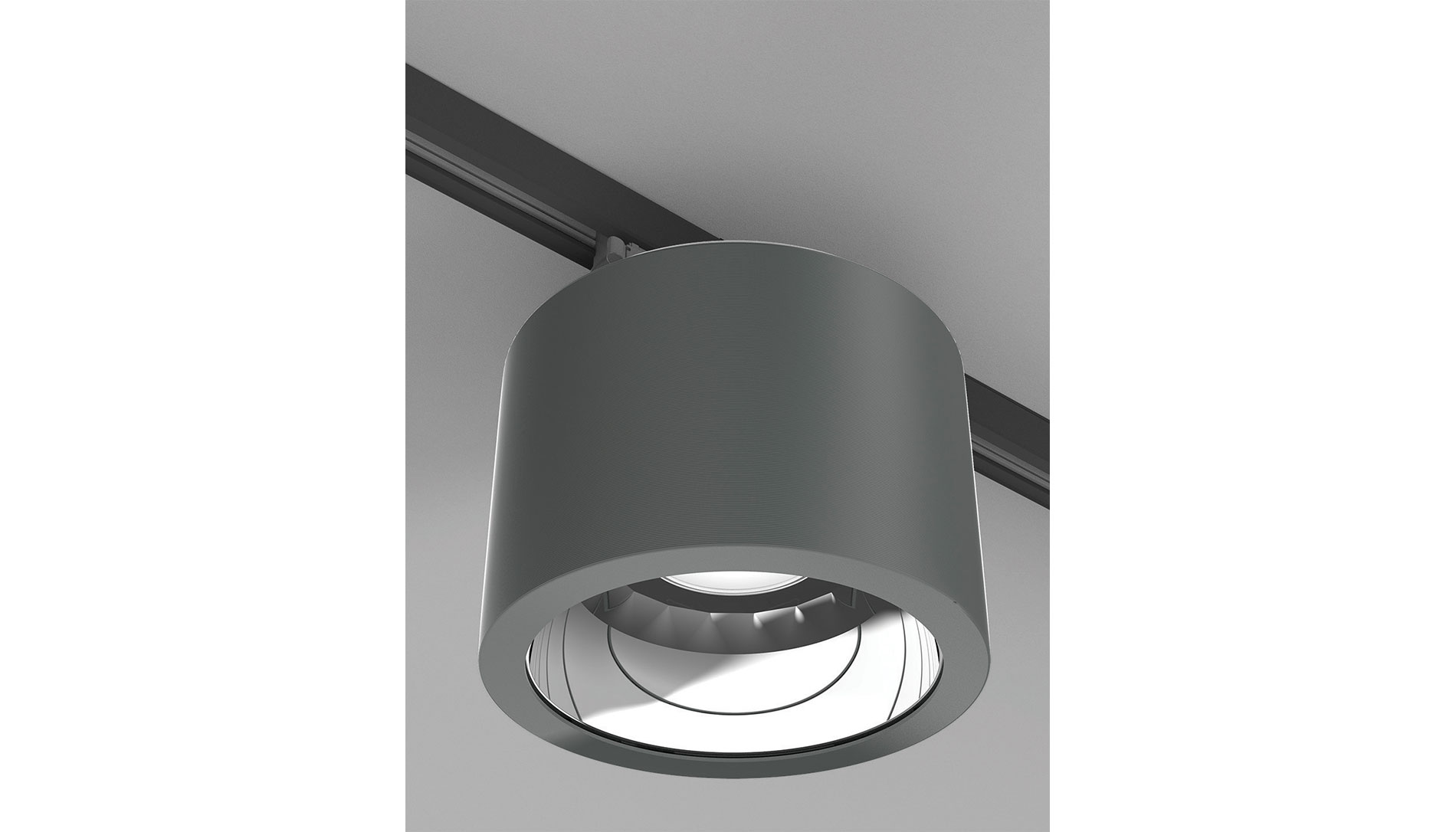 "We have done well in the European market where our initial R&D was conducted," Wall said. "That success allowed us to formalize a North American group in 2019. Using different-sized printers, we went from printing pendant lighting and track lights to high- and low-bay lighting fixtures. Our company optics experts and other disciplines collaborate with us."
Wall explained that 3D printers in general can handle a variety of consumer- and professional- grade materials, including polycarbonate, metal, plastic and even concrete. Polycarbonate seems the material of choice for printed lighting.
"This is not just a cool technology, but it is very quickly avoiding the need for traditional manufacturing tools like casting or injection molding," Wall said. "You also avoid modeling or stamp pressing. With 3D printing, you can design, adjust in real time and custom-produce something in just a few hours. You also have fewer internal pieces and eliminate extra waste. Our low bay has maybe four to five pieces that can be interchangeable and interlocked; no need for metal screws, glues or casts."
At present, the primary markets for Signify's 3D-printed lighting are retail, hospitality and residential. Interested customers choose a luminaire shape or size based on offered selections; pick the material for the fixture shade; select a finish and texture, including color; specify lumens, driver settings and optics; and then confirm their design for printing and delivery.
"Now, we aren't tied to our inventory," Wall said.
Using color change as an example, Wall explained operators simply load a printer with the color filaments needed based on customer specification. There are no costly changeouts as would occur on an assembly line.
"You just have much more flexibility," he said. "One customer was looking at our high-bay 20-foot-by-20-foot fixture, but it was too big to accommodate the shorter ceilings of a building remodel. Using CAD design, we sized down the fixture to a 12-foot-by-12-foot low bay and used 3D printing."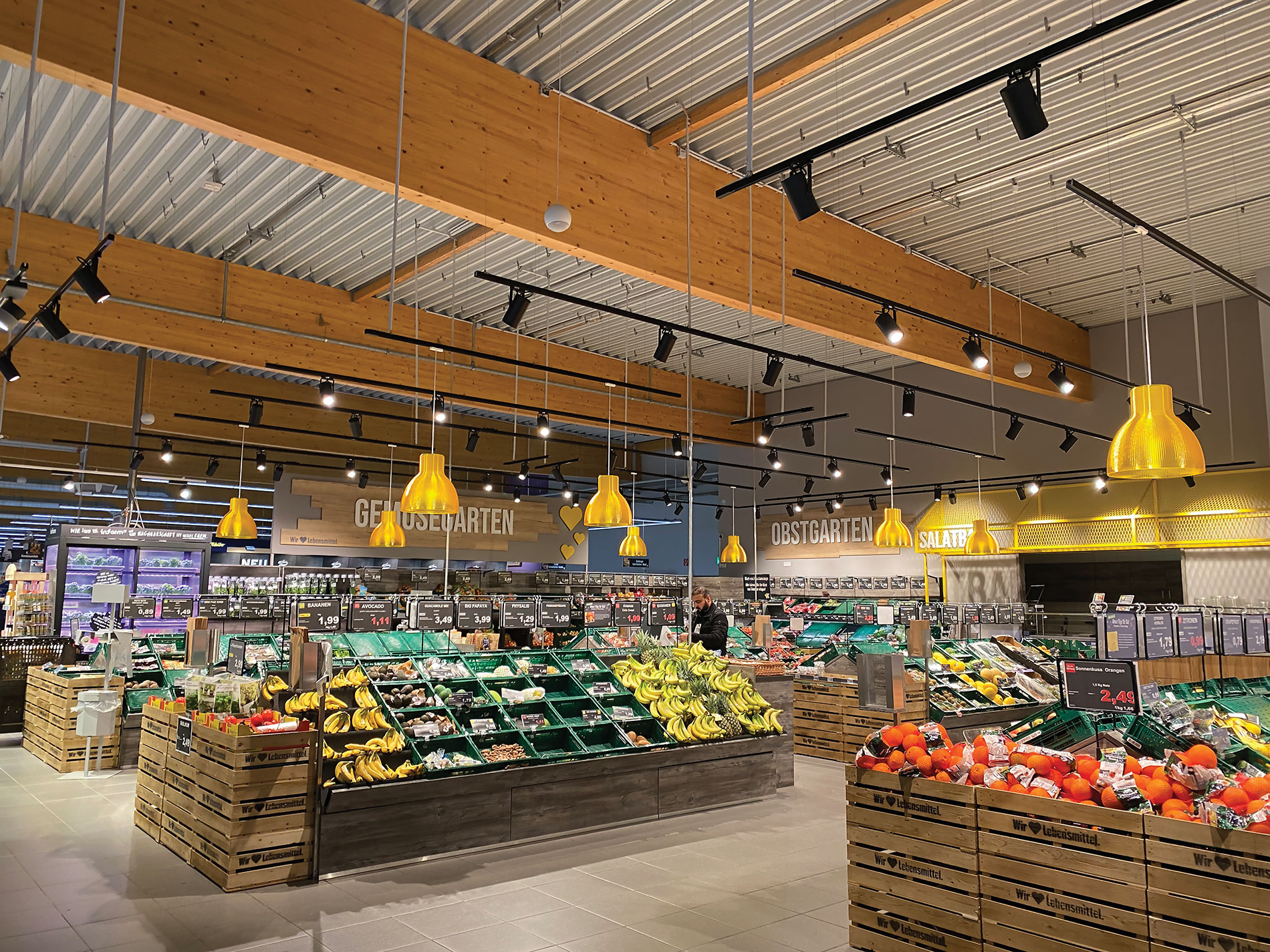 Wall added that 3D printing can manage smaller order customization and larger-volume orders, such as high bays.
Beyond speed to order, there are other financial and environmental advantages. Wall explained additive manufacturing could "reshore" some lighting manufacturing, lessening shipping and transportation used to get a lighting product to U.S. shores.
"We can also recycle the plastic components of 3D-printed fixtures by grinding them down, melting them and reusing the material in new components," Wall said.
Signify is looking at green certifications in North America, such as Cradle to Cradle. Its 3D-printed lighting is also Buy American Act-compliant as of early last year and meets UL, CSA (cULus), IP20 and Restriction of Hazardous Substances standards for North America.
Further exploration
The Lighting Research Center (LRC) at Rensselaer Polytechnic Institute in Troy, N.Y., has been exploring how to 3D-print an entire lighting fixture, components and all. Its seven-year effort includes the ASSIST 3D Printing for Lighting consortium, which consists of members from the lighting, optic design, computer, automotive and other industries. Its members hope to "define, plan, and develop" this technology.
"It might take six months to a year to design a new lighting fixture," said Nadarajah Narendran, a professor and the director of research and education for LRC. "What would change if you could print the entire fixture, its components and have the material at the ready to create it?"
"A lighting fixture is more than mechanical; components are thermal, electrical and reflective," he added. "Applying additive manufacturing to create these components could make sense, especially in terms of cost-effectiveness."
Formed in 2019, the consortium's first pilot study evaluated the performance of 3D-printed LED MR-16 lamp components against traditionally manufactured counterparts. They included a heat sink, secondary optical lens and socket (snap bushing and threaded cap). ASSIST members found that, with the right printing methods and material, components could be successfully 3D-printed, though more research was needed.
"Being a university research center, we see challenges on the additive material side more than the 3D printer itself," Narendran said. "Further research in composite materials that can provide high thermal conduction is important. We looked at plastics that are formable but not good for heat. There are companies exploring composite materials."
Narendran said metal (e.g., heat sinks) may still have a place in some 3D printing of fixtures.
"You could tailor the conductivity of the additive material, for example 10W per meter-kelvin [W/m-K], maybe up to 20W for indoor lighting fixtures," Narendran said. "For outdoor fixtures, incorporating a metal heat sink using copper or aluminum might make more sense based on the size of the fixture and luminaire."
Narendran cited streetlights, outdoor stadium lighting, indoor athletics buildings, warehouses and shipping and receiving bays. In such cases, close to 50W/m-K or more might be better candidates for printer-cut metal heat sinks. LRC and the U.S. Department of Energy (DOE) also explored using metal as the reflector material.
Bigger fixtures
Consortium member Eaton is working to develop 3D printing for industrial fixtures. A global power management company, Eaton was recently awarded a grant from the DOE that will allow the company, RPI and Synopsys Inc., an optical design company in Mountain View, Calif., to further investigate additive manufacturing applied to lighting.
"Eaton has been exploring additive manufacturing in industrial, aerospace and other industries," said Asiri Jayawardena, engineering manager of lighting platforms for Eaton's Crouse-Hinds, B-Line, Oil & Gas in North America. "We were looking at lighting with some DOE support the past few years. Research had included printing electronics on substrates and using printing systems to manufacture the entire luminaire. This new work with the DOE will allow us to further explore the possibility of an end-to-end manufacture using 3D printing. That might require reverse engineering a product to see what electrical and mechanical components lend themselves to 3D printing. If we can advance the 3D printing lighting design aspect and automate it up to the manufacturing process, we are bringing real value to the lighting industry."
Charon Morgan, vice president of engineering with Eaton's Crouse-Hinds, B-Line, Oil and Gas in North America, added, "Having pursued additive manufacturing in other spaces, and our understanding of the lighting market as a provider and manufacturer of lighting, we think we can really advance 3D-printed lighting. You want a fixture that is lightweight, sustainable and can operate in harsh environments that can be highly corrosive or suffer big temperature swings. So, finding that robust additive material is part of our research. The intent of these projects, including our new DOE project, is also exploring the future balance between the two manufacturing approaches (traditional and 3D printed). Additive manufacturing with lighting also supports Eaton's goal of being carbon-neutral by 2030."
Narendran sees advances in the printing side, with printers that can manage ever larger form factors and new printing material. He said 3D printers that could be applied to lighting might range anywhere from a few hundred dollars to $250,000.
Under the new DOE grant, Jayawardena said Eaton and its partners will also work to create a better optical design using 3D printing, a design that could minimize glare and avoid casting shadows.
"For the electrical contractor, 3D-printed lighting fixtures could be easier to install and more serviceable," Jayawardena said. "For the specifier, it is the ultimate specifiable product, isn't it? We are learning everyday as we discover new materials and additives and try them out. The end goal is to create a complete 3D-printable lighting solution and advance the additive manufacturing space."
Education on the possibilities and merits of 3D printing is underway. A two-way conversation addressing R&D advancements and lighting professionals' needs will go a long way to successfully selling a new manufacturing approach.
Today, 3D printing for lighting shades, track lighting and low- and high-bay fixtures is available through Signify. The holy grail of printing an entire fixture, even a driver, is further away. Narendran sees it this way: "3D-printed lighting today is akin to where LEDs were in 2000," he said. "Research is being conducted by us and others, but needs refinement. Advancements will come incrementally. I think 10 years from now, 3D-printed lighting will be widely accepted and adopted in the industry. It will share a space in lighting—a selective space."
About
The Author
GAVIN, Gavo Communications, is a LEED Green Associate providing marketing services for the energy, construction and urban planning industries. He can be reached at [email protected]
Email:

[email protected]