To protect electric service and prevent disruptions, utility companies are improving resilience and preparedness against heavy winds, ice and wildfires. From stronger utility poles and insulated wires to wireless meters and underground systems, power companies have fleets of lineworkers in the field. Some are utility employees and others are electrical contractors that provide the additional support needed for ambitious programs.
The rate of extreme weather events, their severity and cost are increasing. According to the National Oceanic Atmospheric Administration, the frequency and intensity of fires and wind storms has increased in the past few decades—hurricanes occur at three times the rate of the 1990s, with twice the number of wildfires in the same time period. In response, the U.S. Department of Energy (DOE) has provided guidance for climate change resilience planning to help ensure reliable electricity. The DOE tasks utilities with studying vulnerabilities and calculating costs related to climate impacts while creating a plan to improve resilience. That effort can include adding technology to understand and better manage events when they occur.
California utility PG&E is taking a proactive role and enhancing utility lines' safety in an effort to reduce fires, improve reliability and cut down on outages. The company recently reported that about one-third of its electric lines are now in high-fire risk areas. This year the company has targeted 420 miles of lines for hardening.
In the Midwest, the weather challenges require a different approach. Chicago's ComEd—in partnership with the DOE's Argonne National Laboratory Center for Climate Resilience and Decision Science—has begun a comprehensive climate risk and adaptation study as part of the utility's long-term effort to devise strategies to adapt its power grid and operations in northern Illinois. For example, ComEd is using machine learning based on data from its advanced metering infrastructure including phasor measurement units and line sensors.
Every region and state is experiencing challenges with different budgets, funding and goals. The storm hardening in the works across these areas demands support from electrical contractors, including rebuilding, upgrading or adding intelligence to the grid. Across the country, contractors are providing these services and more to help utilities and communities keep the lights on.
Lineworkers for infrastructure construction company Intren, Union, Ill., have been helping utilities upgrade their services according to new, more stringent standards, said Bill Nightingale, Intren's regional director. That means installing stronger poles and more robust types of wires. Certain name-brand semi-insulated wire, for instance, can withstand more damage from wind and ice.
The company is also helping build out a smart grid to provide improved response when power lines are damaged. That means two-way, real-time communication, with sensors and a wide range of controls, so utilities know what is taking place along the wires as incidents occur.
Intren is helping install smart switches—or distribution automation—to detect and then minimize damage by closing off healthy lines. Utilities are also moving toward smart metering to assist with outage notification and tracking.
"The object is basically to isolate [an outage] to smaller areas because they have smart switches strategically placed in areas where they bring the most value," Nightingale said. Intren has been deploying the switches in greater density throughout Northern Illinois.
Intren also responds to storm damage around the country, and Nightingale pointed out just how different the demands for hardened infrastructure is, depending on the region. These investments into storm hardening ultimately create work for contractors.
"So if they want to upgrade and install smart devices on the system, that benefits the contracting world," he said.
Intren also supports renovation and upgrades underway on sub-transmission and distribution lines. Switches and meters are being installed on all voltage levels from 4-kilovolt (kV) to 20-kV or even 34-kV sub-transmission lines.
As the switches have been installed, and the installations expanded over time, Nightingale has seen outage counts drop drastically. ComEd's customer satisfaction survey for 2022 showed satisfaction with reliability was tracking upward, although at a modest pace.
More robust poles
One effort at storm hardening involves preventing wind damage to power lines. Utilities employ workers to replace vulnerable poles with more robust wooden poles. Contractors travel to each pole site, input the size of wire and its voltage through analysis software and calculate the optimal wire measurements for replacement. All the poles being replaced are tested against this metric and upgraded accordingly. In that way, the poles are more likely to withstand stronger wind shears, the pressure of toppled trees and related storm events.
These pole upgrades have faced some challenges, however, including material shortages. In some cases, there is a limited number of heavy-duty poles available for widespread projects. Trees that ultimately become rugged power poles take a long time to grow and there is a limited supply of them.
As a result, some utilities are looking for alternatives to wooden poles such as those made of fiberglass, steel or concrete. The choices are regional. For instance, utilities in Florida often rely on concrete poles that can withstand salt and hurricane-force winds. In Illinois, the impact on power service comes from the strong winds of summer and winter storms, as well as ice.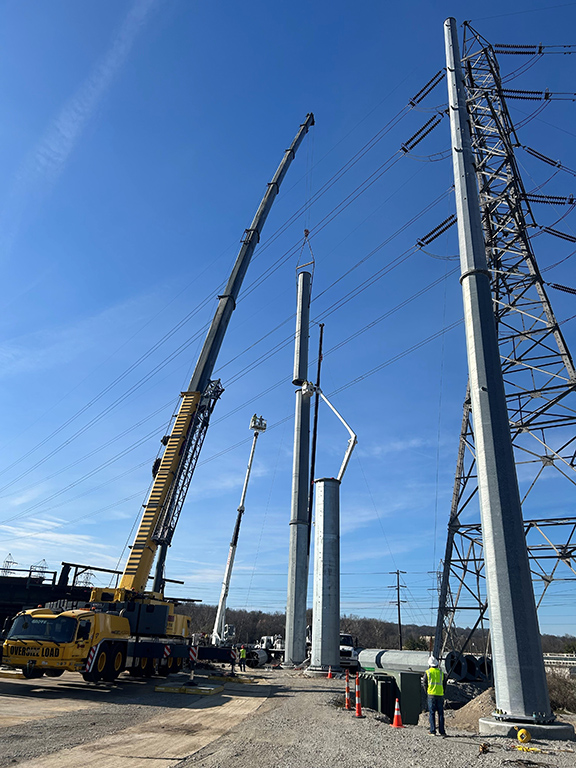 Fiberglass, steel and concrete can be used instead of wooden poles, although these materials are more costly.
Utility Supply and Construction Co.
"They're notorious for ripping stuff down," Nightingale said.
Some line contractors travel the country to provide storm hardening where it's needed most. Hooper Corp., DeForest, Wis., is providing weather-based upgrades from western states to Florida.
In the Rocky Mountain area, for instance, "In areas where wildfires are significant risk, there's a lot of hardening being done to mitigate the impacts," said Jake Davie, vice president of Hooper's electric power division. In eastern states, utilities are focused on hardening their systems for hurricane resistance.
Fire prevention and resiliency
With regard to wildfires, utilities must minimize damage the power lines could be exposed to and try to prevent downed lines from igniting fires.
There are several approaches to accomplishing this. One is to make the overhead systems more robust. With insulated lines and sturdy poles, there is reduced risk that wind events or lightning strikes could bring a power line down, which could cause the sparking that ignites fires.
An alternative, underway by some utilities, focuses on reconstructing power lines underground.
"So there's a combination of two efforts going on and different utilities choose to approach it in different manners," Davie said.
Wind and hurricane risks
In hurricane-prone areas, the increased wind events are leading some utilities to systematically replace their wooden poles with concrete or steel versions, ultimately hardening that system. Such materials are more costly than wood, but are becoming the material of choice where winds are highest.
The storm-hardening work can be expected to continue across the country, with more weather events ahead, funding in place for hardening and miles of power lines that could be made more robust.
"I would anticipate that [work] to continue," Davie said.
With that said, storm-hardening efforts are part of a larger equation that is creating more labor demand on electrical contractors. In recent years, work loads are up for contractors, such as Hooper, and a few factors are driving that trend, according to Davie.
"The industry is in a situation where it needs more manp
ower in general," he said, with storm-hardening efforts being one factor that may be driving that increased demand.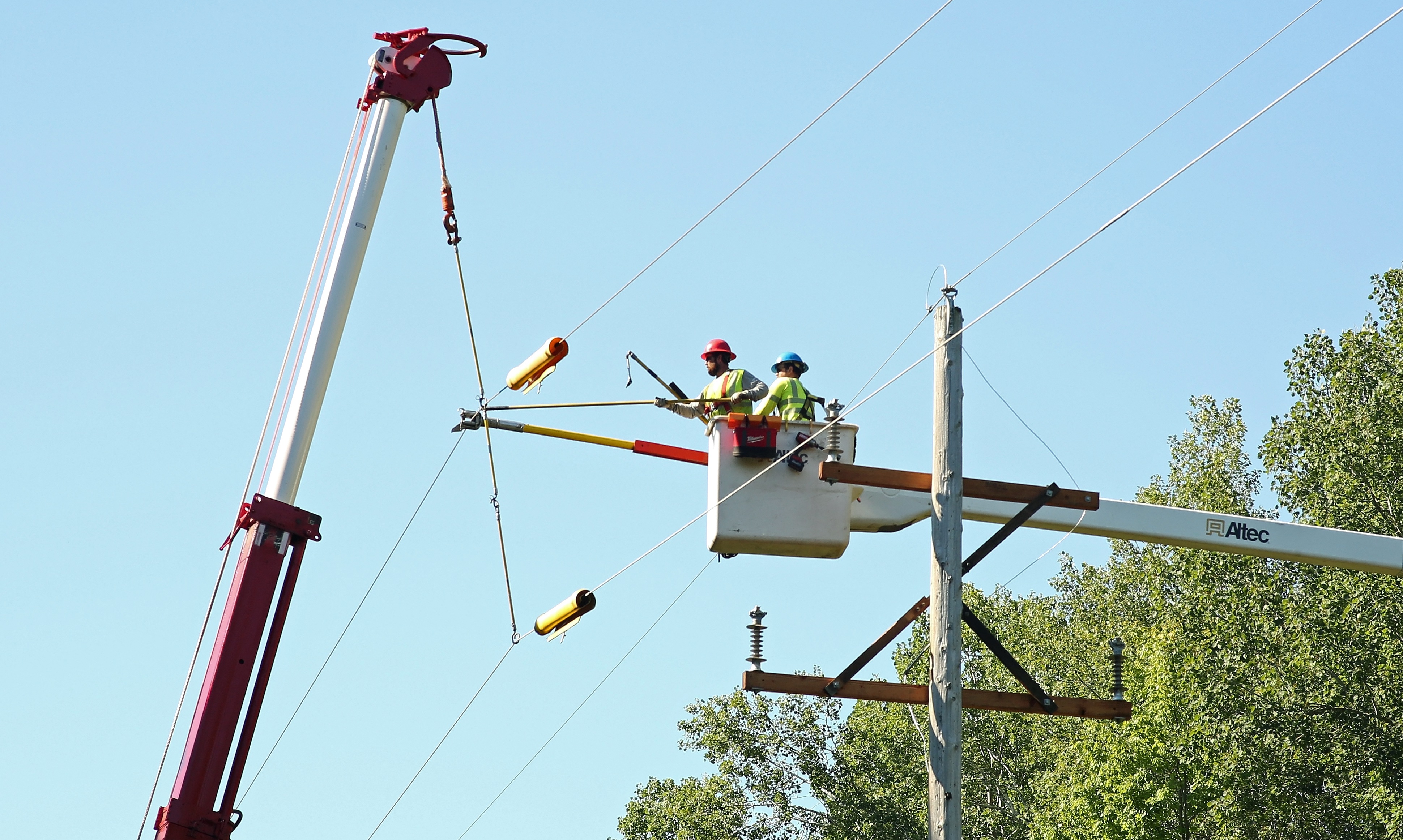 Storm-hardening efforts are part of a larger equation that is creating more labor demand on contractors.
Utility Supply and Construction Co.
Servicing from design to installation
With multiple demands in front of utilities, including hiring challenges and ambitious hardening projects, some contractors are offering not just installation work, but full solutions. Utility Supply and Construction Co. (USC), Reed City, Mich., has developed an end-to-end solution for utilities to strengthen their infrastructure for storms and the upgrades required for alternative energy such as solar and electric vehicle charging stations. The family company, which celebrates its centennial next year, includes an engineering and design subsidiary to help utilities build the resilient infrastructure needed. Another subsidiary, Hydaker-Wheatlake Co., builds and services overhead and underground systems.
"We are seeing a huge focus on infrastructure," said Brad Geer, USC president and COO. "Utility companies have been trying to figure out how to be stronger, how to be taller, how to make their systems more accessible … and how to handle all the growth that the country is experiencing."
The resulting upgrades are taking place from the transmission systems all the way into the residential areas where somebody can set up outlets for their EVs, he said.
In the face of these upgrades, utilities are challenged to find skilled labor and are seeking more support from contractors.
"We call ourselves integrated service providers," Geer said. USC's distribution company, Power Line Supply, furnishes products to utility customers to build their lines. Its pole-manufacturing company, HydroLake Inc., creates the wood poles. USC's Crossroads Mobile Maintenance group provides heavy fleet repair.
With the latest design and engineering company added to the family, "We're doing the whole thing from the design, to the approval, to the permitting and construction," he said. USC has been strategic in building its contractor workforce to help the utility company meet consumer expectations of reliable, affordable power.
Going forward, Geer said, "the next three to five years are going to [see] continued substantial growth in this marketplace."
Header image: Utilities must study vulnerabilities and calculate costs while creating a plan to improve resilience.
Photo by Utility Supply and Construction Co.