Philadelphia—one of the nation's largest and most historic cities—is poised on the cutting edge of key industries in medical research and education, biomedicine and healthcare. The revolutionary city has earned its reputation as a global medical hub with a thriving community of healthcare systems, educational and research institutions, pharmaceutical companies, biotech companies and health IT businesses.
According to the Federal Reserve Bank of Philadelphia, medical work in the City of Brotherly Love provides 13% of all jobs in the local economy. That equates to almost half a million people and 8.4% of the income received in the city. Additionally, 80% of U.S. pharmaceutical and biotech companies have a presence here.
That isn't going away, as new companies enter the region and expand their presence. While electrical contractors in the area are providing services across all sectors, key areas of growth have been centered around the "med and ed" areas the city is famed for.
Charles H. MacDonald Electric Inc.
Charles H. MacDonald Electric Inc., Paoli, Pa., has been serving the Philadelphia tri-state area (Pennsylvania, New Jersey and Delaware) for the past four decades. It's growing at a pace that reflects the area's economic demands.
The family company was launched by namesake Charles H. MacDonald III. He worked at Hahnemann University Hospital and began offering side work out of his pickup truck. He gained clients as the years passed. One of the company's ­biggest and ­longest­-term clients is Saint Joseph's University, which first employed MacDonald 39 years ago. The company still has a presence on the campus today, with 15 electricians serving a range of projects.
Today, the family-run, 12-service-truck company follows a philosophy that originated with Charles: "Build the building and service the client," said Andrew MacDonald, Charles' son and the company's current vice president.
Across the company's coverage area, the projects are about growth, with some very large enterprises.
"The trends we're seeing—from King of Prussia down to the Navy Yard—are new buildings out of the ground, often with big life sciences tenants," he said.
One example is Sparks Therapeutics, a gene therapy company, where Charles H. MacDonald Electric recently fitted out a 48,300-square-foot lab and research space that includes cell culture labs, scientific clean rooms, photocatalytic oxidation rooms and high-volume freezers. To serve this highly specialized space, the company installed a 300-kilowatt diesel generator and main distribution panelboards, distribution conduits and conductors.
The company also completed a $20 million, 120,000-square-foot Sparks Therapeutics cell and gene therapy lab, which required two floors to be fully gutted.
Charles H. MacDonald Electric also works for companies such as Charles River Laboratories, for whom it provided a series of installations and refurbishments including new lighting, power, panels and fire alarm and security systems for a testing facility at an existing building. The contractor also provides on-call electrical repair and maintenance for the testing facility company. Beyond life sciences and biomed, customers are often in the healthcare business, including Main Line Health's Lankenau Medical Center in Wynnewood, Pa., and Paoli Hospital.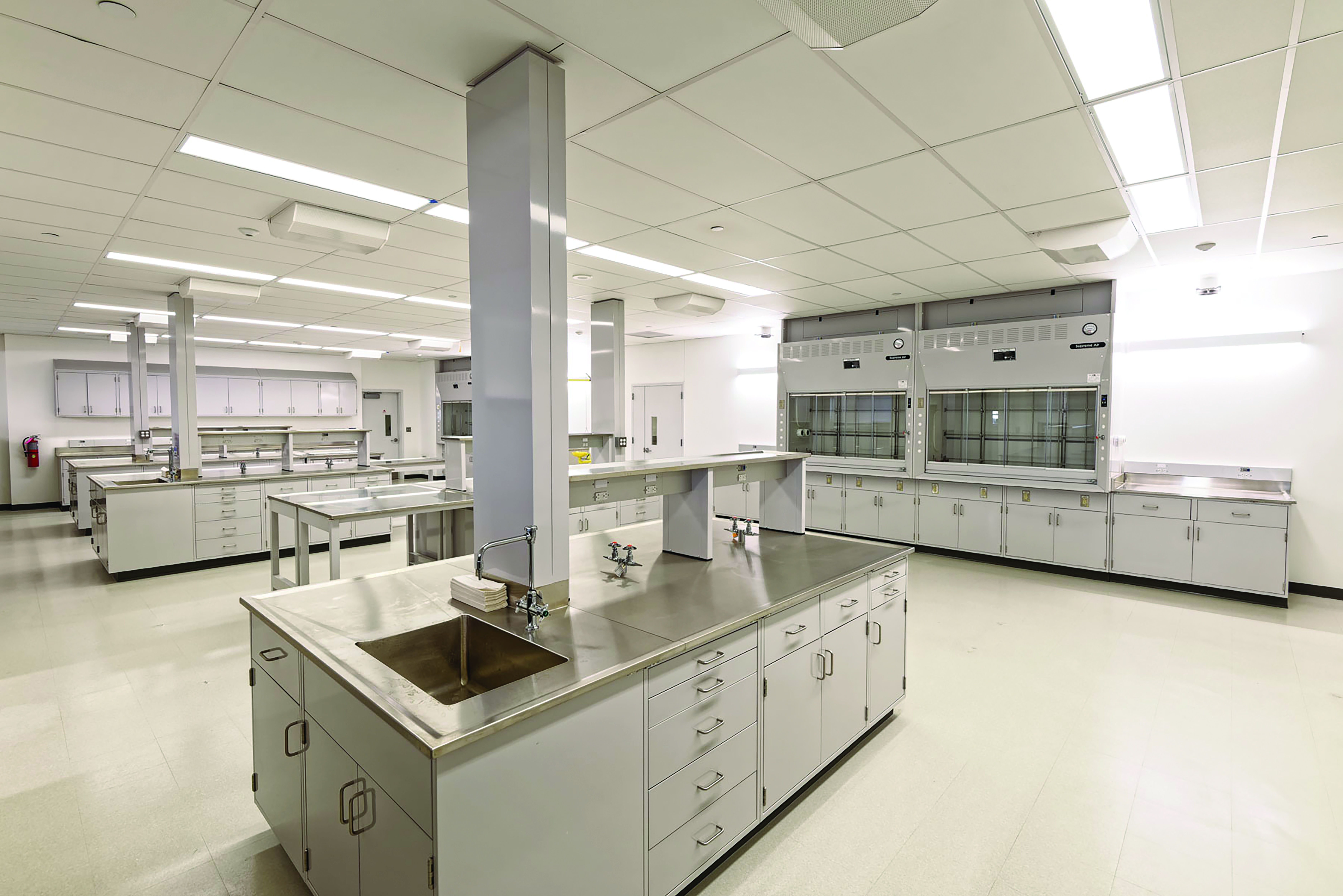 Charles H. MacDonald Electric connects cutting-edge life sciences sites such as this one at Charles River Laboratories. Photo by Charles H. McDonald Electric Inc.
Philadelphia offers electrical opportunities in the growth of commercial space at the historic Navy Yard, where Charles H. MacDonald has had an increasing presence. The location, which was dormant for years, is experiencing revitalization, which means that businesses are repurposing industrial spaces for labs and other services.
Many projects require the expertise of electricians who can work around active laboratories, MacDonald said.
"You have to be cognizant of your areas; there are certain areas you can't work." Beyond working around others, it means accommodating clean rooms and other sensitive work that requires specialization.
Because many labs are leveraging spaces that were formerly warehouses, the high ceilings offer an opportunity for those building infrastructure inside. However, labs demand heavy HVAC and mechanical coordination with the electric system.
"There has to be a lot of coordination, meetings with lab managers and planning how to transition a building's [power]," MacDonald said. "That becomes challenging, because some of these labs have equipment worth a significant amount of money, and procedure needs to be set in place to complete the job correctly."
Linecom Inc.
Low-voltage cabling and network company Linecom Inc., Exton, Pa., has been serving Philadelphia and the tri-state area for three decades. Owner, president and CEO Mike Ryan, father of former Atlanta Falcons quarterback Matt Ryan, said he started the company in 1991 with a commitment of giving back. Linecom specializes in voice, data, fiber, copper, distributed antenna systems (DAS) and AV security, and works with electrical contractors to provide low-voltage services. That means everything but the "parts and smarts," such as integration and commissioning, said Jim Magee, general manager.
As a data contractor, the company installs Cat 6 cable for voice over IP, power over ethernet, mass notification, AV systems and security for a wide variety of customers, Magee said. Linecom specializes in a diverse range of projects. For instance, it provided low-voltage installation for Morgan, Lewis & Bockius LLP, one of the city's largest law firms on Market Street. Linecom also meets the needs of residential construction in multifamily units. And recently, some of the large square-footage office projects have downsized, as workplaces adjusting post-pandemic to fewer on-site workers day to day now require smaller spaces. COVID also led to a spike in medical research.
Expansion is also underway in other areas. Linecom has been most successful in the educational, healthcare and biomed markets. With about 35 employees, Magee said, at least 25 have 10 or more years with the company. Four or five have been with the company since the beginning.
The company worked at The Discovery Labs in King of Prussia, which included low-voltage power for test and wash-down and rinse areas. Linecom accommodates such sites by providing specialty installation with faceplates and jacks that are water-
resistant. Outlets can be capped over when washing down the rooms.
The company also constructs low-­voltage electrical systems for prep rooms where a nurse monitoring station is used with wireless access points. Cameras for safety are often deployed with Cat 6 cable.
Linecom additionally has a presence in the Navy Yard as businesses fill the formerly industrial buildings.
To maintain a business advantage, Linecom is closely connected with the major cable and connectivity equipment manufacturers whose products the company installs.
"That's been an advantage for the company," Magee said. He pointed out that, if a contractor is not affiliated with a manufacturer, they can't produce a warranty. "We finish a job, and whether it's 10 or 10,000 feet of cable, we can offer a warranty. We view it as a necessity: to provide as-builds, and manufacturer's warranty," he said.
Hatzel & Buehler Inc.
One of the longest operating electrical contracting companies, Hatzel & Buehler Inc., Wilmington, Del., dates back to Thomas Edison's early efforts on New York's Pearl Street where the company wired Edison's first lamp in 1884. Today, the contractor has some 18 offices around the eastern United States, including one in Philadelphia. Its low-
voltage subsidiary, Bluestone Communications, also occupies an office at each location. To serve building automation needs, Hatzel & Buehler opened a division known as Blue Sky Controls.
The company's work in Philadelphia is ­65%–70% in the med and ed markets, said Kevin Martin, the company's Philadelphia vice president and branch manager. That's been the case for at least the past six years, as the city's economy has moved further into healthcare and medicine.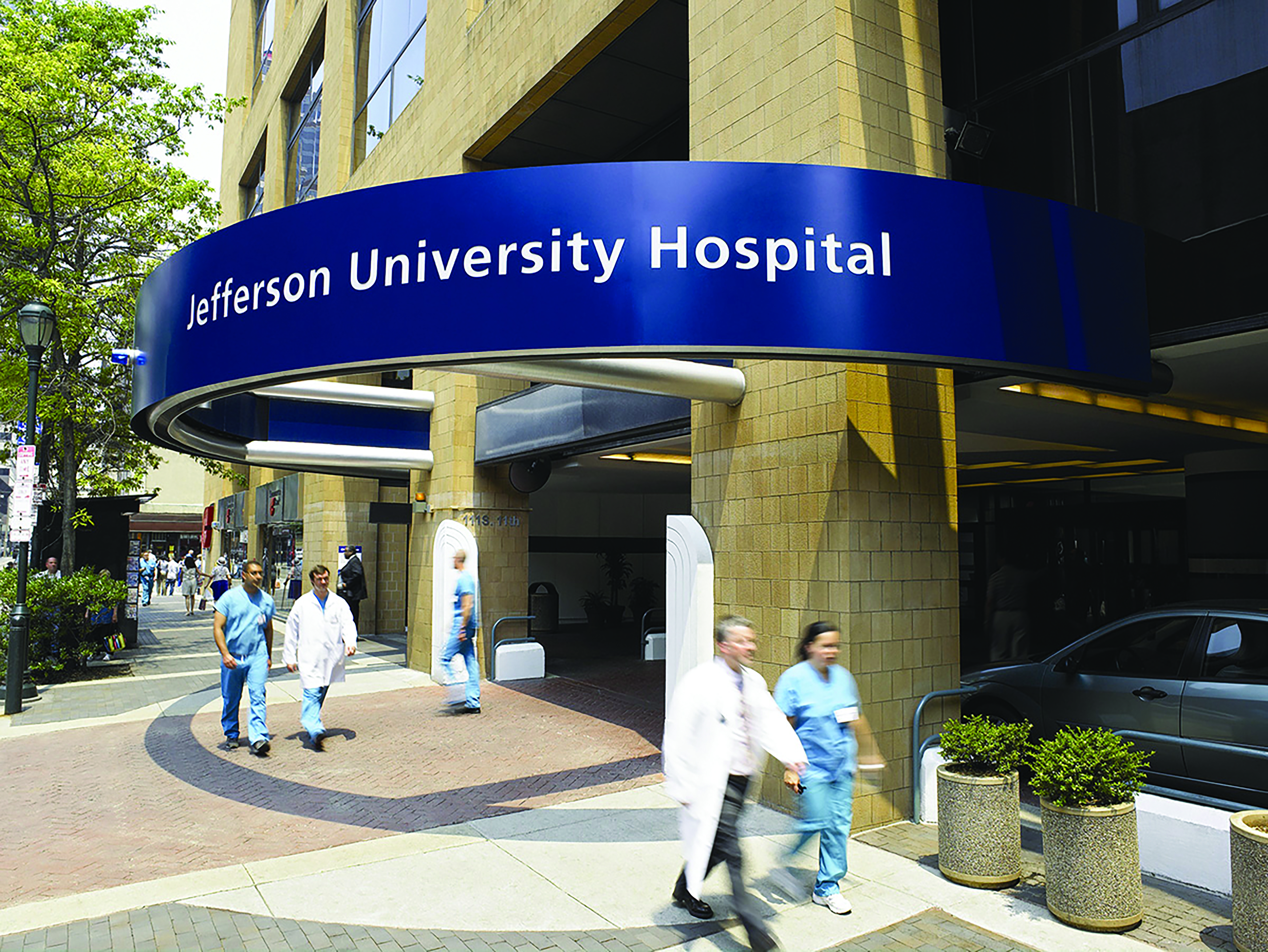 Hatzel & Buehler is providing all electric service for the Thomas Jefferson University medical building, which will serve as a specialty care pavilion. Source: Wiki Commons
Traditionally, Hatzel & Buehler has provided tenant fit-out work, in which companies renovate an existing space for their purposes.
"We're customer-driven. A lot of business is repeat customers," Martin said, including household name corporations like Comcast, Blue Cross-Blue Shield, the Red Cross, Aramark, Wells Fargo and cloud connectivity company 11.11 Systems. "Our goal has always centered around customers. Anyone can bid a bunch of work, but we like to have the mindset of our client," he said. "After the general contractor goes home, we want to be their electrician" when servicing, maintenance or construction is needed.
One example is underway with Thomas Jefferson University and Jefferson Health's high-rise construction in Center City: a 20-story building that consumes an entire city block. Hatzel & Buehler is providing all electric service, while Bluestone provided sound and communications. The newly constructed medical building will serve as a specialty care pavilion, with more than 300 exam rooms, 58 infusion chairs, 10 operating rooms, a half-dozen endoscopy rooms, imaging and a pharmacy.
Additionally, Children's Hospital of Philadelphia (CHOP) is building a new 26-story patient tower known as the CHOP Hub that will also include a physical administration office building for doctors and administrators. Hatzel & Buehler has a full-time crew with about 20 electricians on-site.
The low-­voltage and high-voltage work is performed in office, hospital and educational facilities, requiring the team to work in environments involving patients, doctors, nurses, students and the general public. Some of the biggest challenges in such projects are related to locations where space may be tight, parts of buildings are actively in use or where vertical transportation is time-­consuming. The solution, in part, is prefabrication. This means the contractor is coming to the job site better prepared, creating less trash on-site and wasting less time searching for parts and pieces.
"We try to be as unique as possible in our approach," Martin said. "We look at every project case by case and prefab whatever we can."
Hatzel & Buehler is skilled at coordination with mechanical and plumbing contractors to accomplish proper trade coordination. "That means taking a project as if it's a design/assist, with coordination on the BIM model, to make sure all the trades are working together," Martin said. Clean rooms require so much ductwork, he pointed out, that space is limited for electric wire.
For the coming years, Martin predicts healthcare and life sciences construction will remain strong.
Bluestone Communications
Hatzel & Buehler's wholly owned integrated systems subsidiary, Bluestone Communications Inc., Wilmington, Del., is seeing increased demand for data in the tri-state area and beyond. It recently acquired a new business, Tricomm Services Corp., Mount Laurel, N.J. Bluestone provides technology services, including data and voice networks, DAS, audiovisual systems, Wi-Fi systems, RTLS and ideas for energy efficiency and sustainability in electrical and data communications.
"We follow the same client-centric focus [as parent company Hatzel & Buehler]," said Richard Gibbons, the company's president. Coupled with the client-focused effort is a strategy of supporting quality employees. "That's our approach," he said: properly training, supporting and respecting company staff and, "we want our employees to understand the company is theirs, while still keeping the client's interest at heart."
With that philosophy, Bluestone grew from a single office in Philadelphia to another in New Jersey, then more sites.
"We empower people to bring creativity to their jobs," Gibbons said, and in Philadelphia, the market offers rich opportunities led by teaching hospitals and the technology innovations their work demands. "It's a really strong, vibrant market that's attracting creative talent."
Beyond medical, Bluestone also serves offices such as Comcast's 60-story Technology Center.
The company works closely with the local Joint Apprentice Training Committee to help train the next generation of low-voltage technicians as technology evolves. It provides its own expertise related to what new technologies are coming and how training needs to evolve, Gibbons said.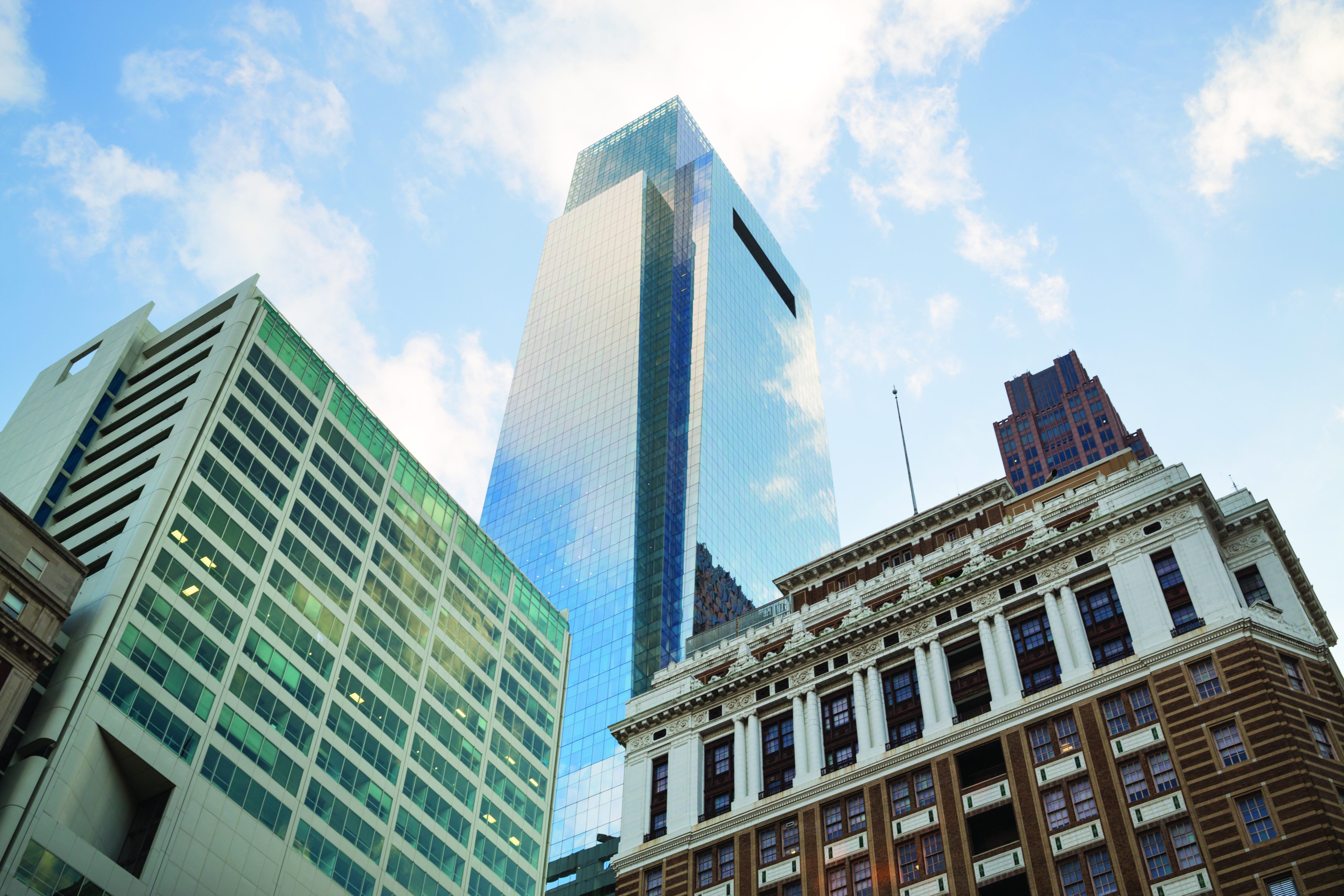 Bluestone Communications serves the 60-story Comcast Technology Center. Source: Shutterstock / Pavel L Photo and Video
Demand for technology-based services is increasing, based on trends Bluestone is experiencing. Gibbons predicts that 10 years from now, every component within a building will be network-connected.
"The technology continues to grow exponentially; we have to upscale our training to make sure we have the best skill sets," he said.
He also noted that projects are getting bigger, and technology evolves fast enough to create challenges for clients trying to keep up. Bluestone strives to understand what keeps customers up at night when they consider their data and network connectivity, and then tries to help them transition to the best technology solution.
Hospitals are an example, he said, integrating rooms to make patients comfortable.
"It's a huge advantage to have the latest technology—the treatment innovation, patient care innovation," all of which is taking place in Philadelphia as healthcare and health sciences evolve.
Header image: stock.adobe.com / Panithan/ VideoFlow/ YouraPechkin