Low-voltage systems in buildings serve communications, data, internet connection, Wi-Fi, security and surveillance, and other devices. Low-voltage voice/data/video (VDV) systems may be built around copper or fiber optic cabling and are constructed and maintained by trained technicians using a variety of special tools.
While the use of fiber for structured wiring systems has increased, copper still is widely used.
Mark Mullins, marketing manager for Fluke Networks at Fluke Corp., Everett, Wash., said customers uploaded nearly 20 million test results last year to Fluke's LinkWare Live cloud service, and the split was almost even between copper and fiber.
"However, the share of each varies dramatically by site. Most facilities (offices, retail, education, healthcare) are primarily copper with a small number of fiber links for the long runs or aggregations," he said.
On low-voltage copper installations, Mullins said, technicians are installing jacks, making snips and using strippers and punchdown tools.
"A mass termination punchdown tool can save a lot of time by punching down all eight wires of a jack at once," he said. "A crimper is necessary for installing modular plugs like those used in patchcords, but that can be difficult and clumsy for an inexperienced worker. It's easier to use modular plugs designed for field installation."
Mullins said installers' common mistakes are connecting cables to the wrong place or mislabeling.
"Other common problems include miswiring, using stranded cabling with connectors designed for solid conductors, or vice-versa, and poor workmanship, which can lead to intermittent performance that can be difficult to diagnose," he said. "This can be detected by testing links after installation. Documenting the work and performance of your cabling, whether it's qualification or full-on certification, protects both the installer and the end customer."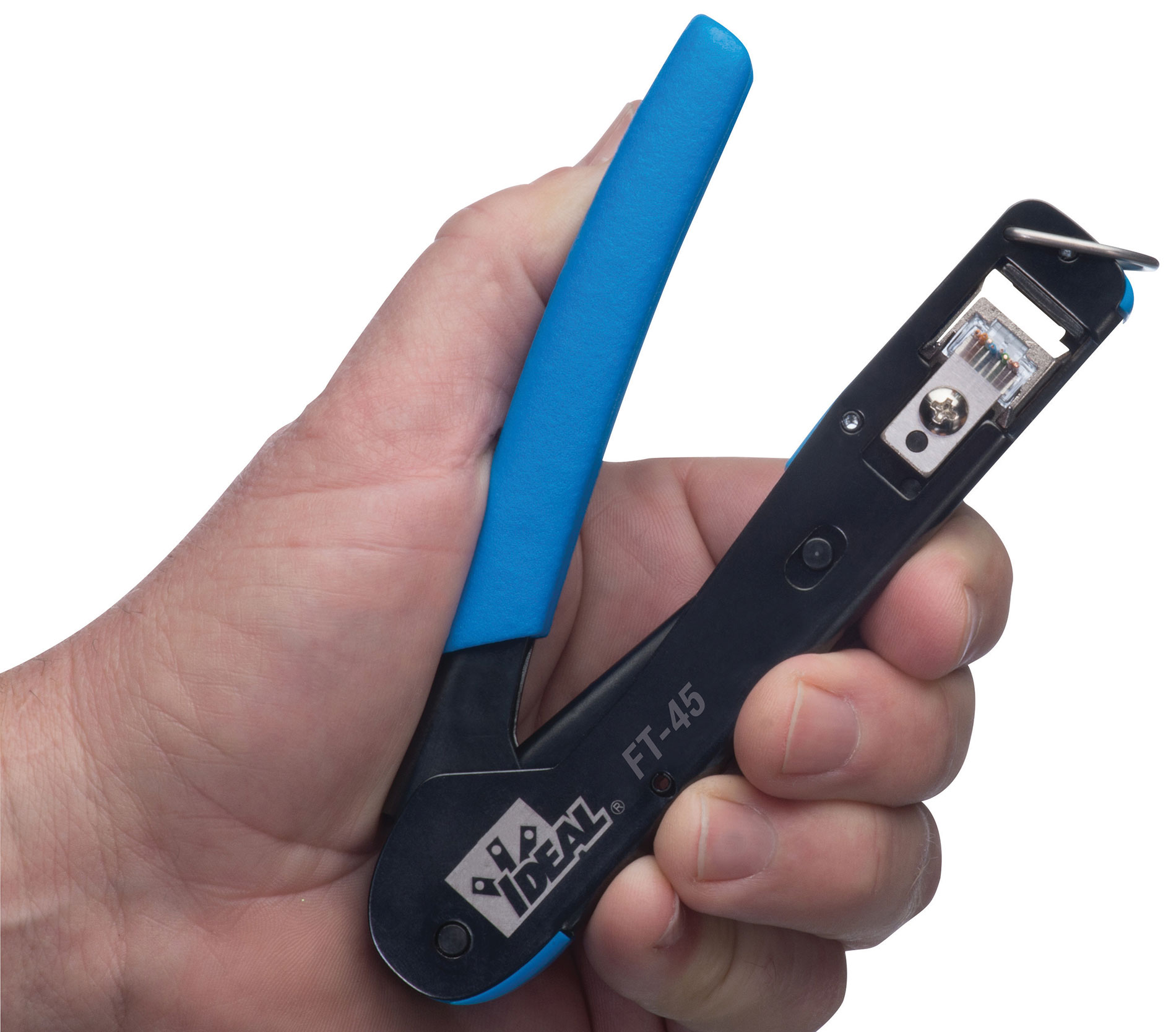 Jeff Meader, business unit manager for datacom/T&M at Sycamore, Ill.-based Ideal Industries, said fiber is the dominant transport medium over longer hauls and building-to-building connectivity.
"In higher-bandwidth and speed-critical applications such as data centers, banking and stock market trading, fiber is being deployed throughout the facility and to desktops," he said. "Copper remains very common and widely used in residential and commercial infrastructure."
For copper connections, Meader said a cable cutter or scissors is commonly used for cutting the cable or removing damaged or failing connector ends.
"Many installers use a knife to remove jacketing from larger multicable bundles. Most twisted-pair terminations for data applications are either to a modular plug or a modular jack/IDC panel. For modular plugs, an RJ-45 crimping tool is the most common tool used for terminating the plug permanently to the twisted-pair cable," he said. "These tools seat all eight contacts of the plug into the individual conductors of the cable through an insulation displacement method. The tool also crimps a tab in the rear portion of the connector, securing the jacket of the cable and minimizing movement of the individual conductors after crimping."
Meader said there are two distinct types of crimping tools and connectors available in the market.
In one termination method, wires are trimmed to length by scissors and then inserted into the plug for termination with the tool. Another does not require the conductors to be trimmed to length before inserting them into the plug. The conductors feed through the end-face of the plug, and excess conductor is cut off and removed by the crimp tool during the termination process.
For modular jacks, cables are cut with scissors, but the twisted-pair cable is terminated to the modular jack or IDC panel using a punchdown tool.
A 110 blade is the most common style used today for data applications. A 66 blade was widely used in conventional voice/phone applications, but use has declined since 2000.
"Most professional punchdown tools are of the impact type," Meader said. "They have an internal spring mechanism that releases an extra punch when force is applied to the end of the tool. This force both seats the conductor in the IDC slot and trims the excess conductor on the outside of the jack."
For coaxial cable, Meader said, a cable cutter is used to cut cable to length or to cut and remove failing connectors.
"Many coax cables have copper-clad steel conductors, so tools rated for cutting 18 AWG steel should be used, or tools that are intended to be sacrificial and the user won't mind replacing or filing the edges after several jobs," he said.
"A cable stripper or prep tool is used to remove the jacket and dielectric at the end of the cable and prepare it for a connector. There are many variations of prep tools on the market, which often depend on user preference and type of cable they are stripping. RG-6 and RG-6 Quad are the most common coax cables today. In most applications, these cables require an industry standard ¼-inch-by-¼-inch cable prep with the stripper for cable correctly inserted into a F-type compression or crimp connector."
A compression tool is the most common coaxial termination tool, Meader said. These have replaced traditional hex crimp tools, as the compression connectors have proven to provide longer and better performance than the crimp counterparts.
Compression tools can be as simple as an F-type-only tool that works with specific brands of connectors or others that have multiple adjustable features and can be used across virtually all manufacturers; cable sizes RG-59, RG-6 and RG-11; mini coaxial to terminate multiple connector types including F, BNC, RCA and RG-11 F; and mini coaxial connectors.
Meader said there has not been a lot of evolution in copper VDV termination tools, but use of feed-through type modular plug tools and connectors continues to grow.
"With RJ-45s being used in an increasing number of applications that supply low-voltage DC and data to a device, installers and integrators that may not have used RJ-45s or a modular plug crimping tool are suddenly faced with the need to terminate these out in the field," he said.
"The feed-through design allows verification of correct conductor order before crimping, so it makes the learning curve much quicker and successful termination rate much higher for newer users of this technology. Electricians who previously didn't do data work have become fast adopters of this technology," he said. "Legacy data installers continue to prefer traditional connectors."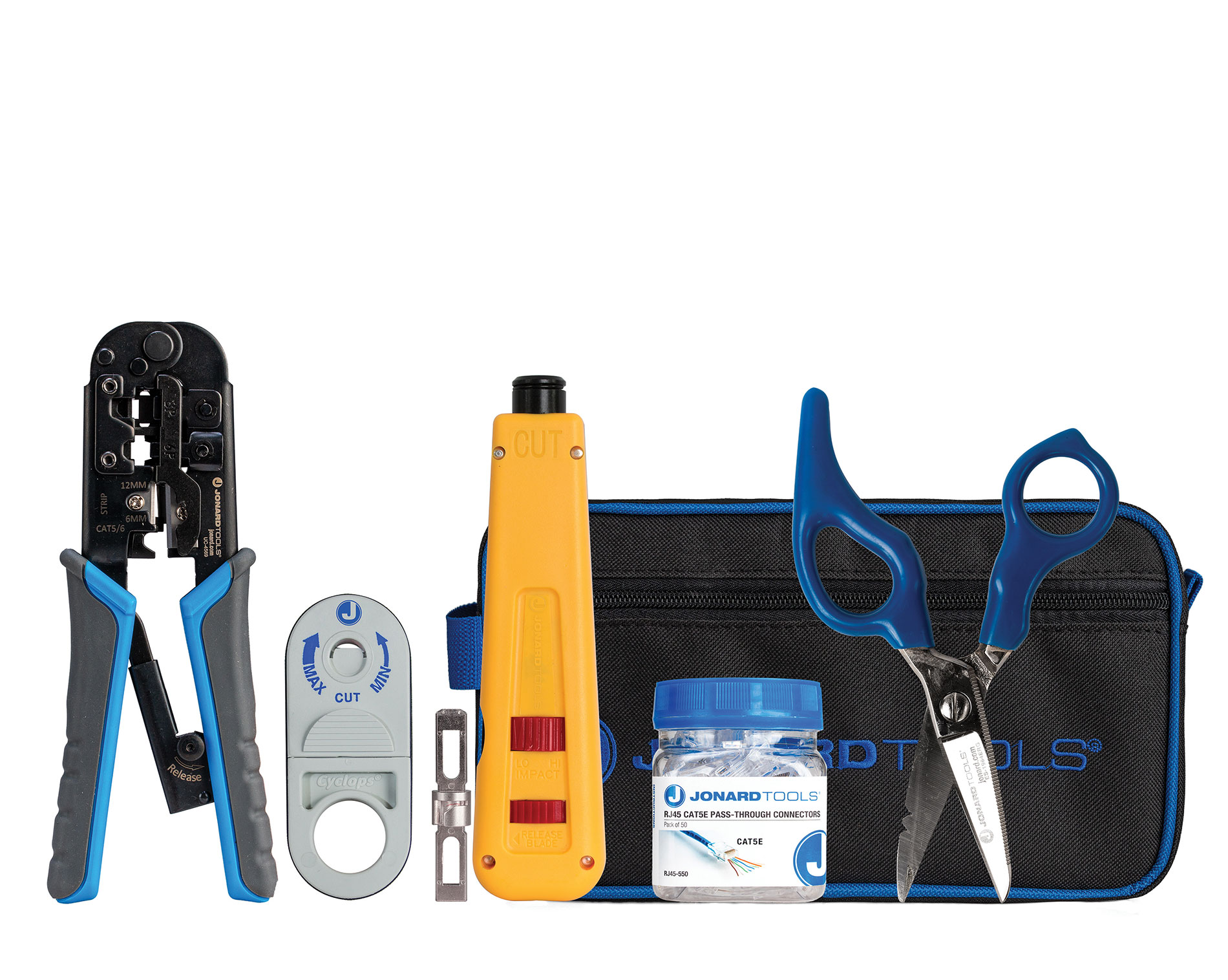 Sean Sheedy, sales engineer at Jonard Tool, Elmsford, N.Y., believes low-voltage tool manufacturers have made advancements and refinements as technologies continue to be integrated within the industry and based on need. Demands to purchase these tools have advanced as technologies penetrated deeper into network structures.
"Fiber tools have been simplified to improve operational functionality by constantly refining tolerances and materials as technology deployment continues to provide a greater understanding of products and applications," he said.
There are many different connection methods for terminating fiber optic cable, and tools needed vary depending on the fiber being used and the connection method.
Sheedy provided an overview of some of the basic fiber tools:
Fiber strip tool: Used to remove coatings and jackets from the fiber
Fiber cleaning solution: Used to clean debris from stripped fibers
Epoxy: For epoxy connections, some require heat to cure
Connectors (based on selected technology): Epoxy style, crimp style, prepolish or splice-on technology
Lapping/polishing films: Used for connector end-face finishing
Polishing plate: Made from specified material for a specific place for polishing film for the desired end face result
Polishing disc: Used to keep a connector in a specific position so technicians can rotate the polishing disc by hand in a figure-eight pattern
Inspection device: Used to view connector end-face results and conditions
Visual fault locator: Used to verify successful light transmission through a connector
Specific assembly platform: Used for positioning and keeping specific manufacturer's prepolished connector products
Specific cleave tool: Used to cleave fiber to a certain length specified by manufacturers for their specific prepolished connectors
"The pandemic has moved up the implementation of many technologies, products and expansion timelines from 5–10 years to 1–3 years. Training will be very important for these technologies and deployments, but training time will remain a finite fit for installers," Sheedy said.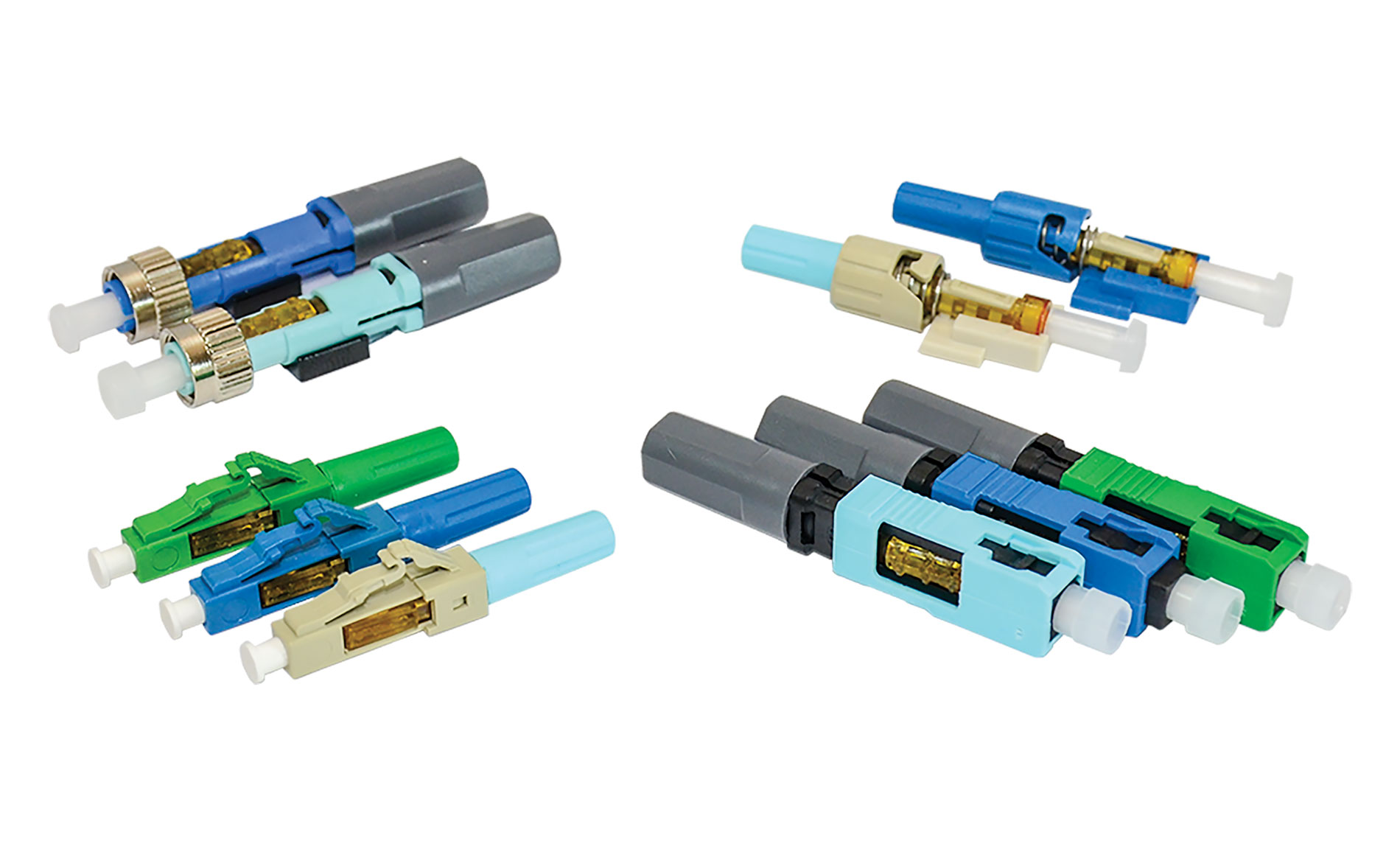 George Jang, product manager at Platinum Tools (an NSI company), Huntersville, N.C., said copper and fiber VDV markets are expected to grow as the internet of things becomes a standard phenomenon.
"The demand for copper is driven by continuing technological advancements with new residential and commercial buildings and the adoption of renewable energy products," Jang said, adding that, "With copper, the most crucial tool is knowledge that the connector needs to be sized to the cable being used. Cable manufacturers have no ANSI/TIA dimension standards to follow. Not just any connector will fit a cable; asking for a Cat 6 connector doesn't guarantee that the connector will fit a Cat 6 cable being terminated."
Once the compatible connector is determined, the most basic tools required for installing twisted copper wire are the connectors, crimp tools for the required connectors, tools to prep the cable ends for termination and testers to ensure that the cable has been properly terminated.
Jang said coaxial cables require specific connectors and crimp tools depending on the type of coaxial cable being terminated. There are several professional coaxial crimpers, depending on need and frequency of use.
JackRapid punchdown tool. Header image by www.flukenetworks.com.