In the future, all contractors—small and large, traditional electrical or systems integrators—will have to deal with convergence and touch "the network." Enterprise IT deals with an organization's hardware and software. Integrating IT systems and applications—from the initial installation through the life of the system—improves efficiency and reduces cost and errors.

IT, OT and ICT
Information technology (IT) is the entire spectrum of technology for information processing, including software, hardware, communications technologies and related services. Operations technology (OT) is the hardware and software that detects or causes a change, through the direct monitoring or control of industrial equipment, assets, processes and event.
OT systems are generally those that are bolted down and have a longer lifespan than IT equipment, such as electronic safety and security, fire alarm, public address, mass notification, building automation/management systems and lighting control. OT systems are typically required for occupancy and usually managed by facilities operations.
"Information technology" is sometimes used synonymously with "information and communications technology." However, ICT is generally used as an umbrella term that covers all rapidly emerging, evolving and converging IT and OT systems, applications and infrastructure.
Convergence, step by step
Historically, voice and data networks were separate systems largely based on ownership. The telcos owned and maintained the voice networks, while the data network, still in its infancy, was installed and maintained by the IT staff of a company, school district, university, etc.
Video, or communication/cable antenna television (CATV), added the cable service provider and an additional type of cabling system. Providing telecommunications services to the end-user was unnecessarily complicated. Maintenance, upgrades, project coordination, etc., of the different systems was inherently inefficient.
The early 1990s saw the start of prolific advances in cabling and connectivity technology. The Electronic Industries Alliance and Telecommunications Industry Association (EIA/TIA) ratified the first industry standards for commercial building cabling for telecommunications in 1991, with the development of the EIA/TIA-568 series.
Manufacturers, designers, installers and end-users would all eventually question the need for separate systems for voice and data. Early examples of convergence saw traditionally separate voice and data systems converge onto a single (data) network.
The emergence of voice over internet protocol (VoIP) in the late 1990s further made the case for delivering voice and data on a single, "data" network. With the advent of power over ethernet (PoE), power for the end device—whether a VoIP phone set or wireless access point—has converged onto the data network. New devices continue to be adapted for PoE, including displays, point of sale systems and even lighting.
The internet of things (IoT) extends convergence to the OT systems.
IT and OT convergence brings physical equipment and devices into the digital realm. Advances such as machine-to-machine communication and IoT sensors and actuators that can be fitted to physical equipment make this possible. These devices can connect to standards-based structured cabling systems to communicate, wired or wirelessly, over standardized networking protocols.
For the electrical contractor who may not be a systems integrator, connectivity and the emergence of smart load centers with connected circuit breakers are affected by convergence by virtue of connected products and apparatus.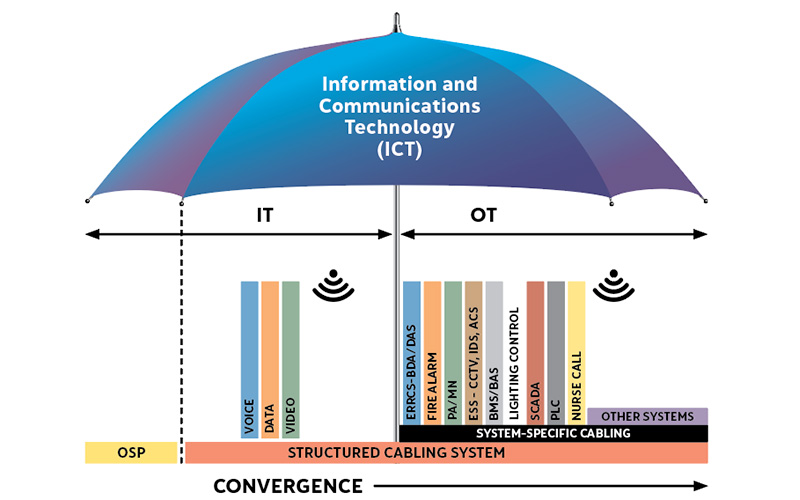 The tactile internet
While many electrical contractors do low-voltage work, they might not be familiar with the high expectations that desktop connectivity could reach 10G in the next five years.
Corning Optical Communication, Charlotte, N.C., which manufacturers fiber optic products, has a near-term road map of technologies with the bandwidth they require. While some applications, such as 5G, are being built out and rolled out, others are already in use, such as 4K and 8K video and augmented reality/virtual reality.
The road map contains a path to the next generation of the internet: the tactile internet. This is a network that combines ultra-low latency with extremely high availability, reliability and security. The key feature is that ultra-low latency enables real-time control of the IoT and human-to-machine interaction while on the move.
Latency is the amount of time it takes to send information from one point to another. In human terms, it is the amount of time between when the brain sends the instruction to the foot pushing down on the brake pedal. The human reaction speed is +/-200 milliseconds.
In an IoT deployment, it is the amount of time between when an IoT sensor starts sending data and when an action is taken on the data. In a self-driving car, it is the amount of the round-trip time between when the vehicle senses a pedestrian in a crosswalk and when the "brains" (onboard computing and the cloud) send the instruction to push down on the brake pedal. The anticipated time is +/-5 milliseconds for human-to-machine interaction.
V2X (vehicle-to-X, with X being vehicle, structure or person) is the most basic example of human-to-machine interaction, with the real-time V2P interaction of a driverless vehicle sensing a pedestrian in a crosswalk. Waymo, Mountain View, Calif., is testing driverless cars in Phoenix and San Francisco. In June 2022, Swedish autonomous electric transport vehicle manufacturer Einride got approval from the National Highway Traffic Safety Administration to operate an electric, autonomous truck on public roads with mixed traffic in Memphis, Tenn.
Beyond AR and VR
Beyond augmented and virtual reality, the tactile internet will introduce more technology and applications that will converge onto the network. Among them are haptic interaction with sensory feedback and holograms.
Haptic technology creates an experience of touch by applying forces, vibrations or motions to the user, like how a gaming system sends vibrational feedback to the gamer through the controller, or how smartphone users feel the keystrokes on the keyboard.
Holograms use volumetric video, which involves filming a subject with multiple cameras and sensors, creating a full-­volume recording. The available data rates for sending real 3D images over the internet will require 20 Gbps or up to 1 Tbps.
WeWork, a provider of co-working spaces, is an early adopter. One of the services it offers is HoloPresence, which uses two-way live communication to connect guests with a 3D holographic presenter anywhere in the world.
Haptics and holograms will have some immediate impacts on the way we live, work and shop.
Education: Teachers will be able to experience students' movements when they test a student's motor skills. Similarly, students will be able to see, hear and feel teachers' movements. Think of virtual hands-on for a remote or mobile workforce, or being able to remotely and virtually train to perform dangerous tasks.
The healthcare industry: Spurred by the COVID-19 pandemic, telehealth usage surged as consumers and providers sought ways to safely access and deliver healthcare. With haptic feedback, physicians will be able to "feel" their patients to help in diagnosis and treatment. Robot-assisted surgery technology is years old. The progression will see the robot and surgeon in different locations, continents even, with recent proof-of-concept testing of remotely performed surgery.
Business communication: Technology that "teleports" the user as a holographic projection, using VR and haptic feedback to simulate in-person communication with far-away colleagues, is expected to be the norm for business meetings.
E-commerce and online shopping: Today you can upload a photo and virtually try on a pair of glasses. The technological progression would allow a user to feel the frame on their face. Online shoppers would be able to touch a piece of fabric or "try on" an outfit before making a purchase.
Industry, robotics and manufacturing: Smart factories, assembly lines, automation and remote operation are some of the use cases the tactile internet will enable for industrial operations.
Internet of senses
Of the five human senses, the telephone transmitted voice and communicated the sense of hearing. The television and the more modern technology of videoconferencing apps, for example, added the sight. Haptics, transmitted over the network, will add the sense of touch.
Smell and taste are yet to be virtually replicated. The 1960s saw an early attempt to bring the sense of smell to enhance audience engagement. The most famous was Smell-O-Vision, a system that released odor during a film so that the viewer could "smell" what was happening. Ericsson, a provider of 5G networking equipment headquartered in Sweden, anticipates virtual taste and smell by 2030 as part of a new era of connectivity, referred to as the Internet of Senses.
The tactile internet will continue to improve immersion and realism of interaction by enriching the sensory experience. It will require the guaranteed delivery of time-critical information. Are we ready?

Image sources: stock.adobe.com / Nuclear_Lily / Jeff Beavers
About
The Author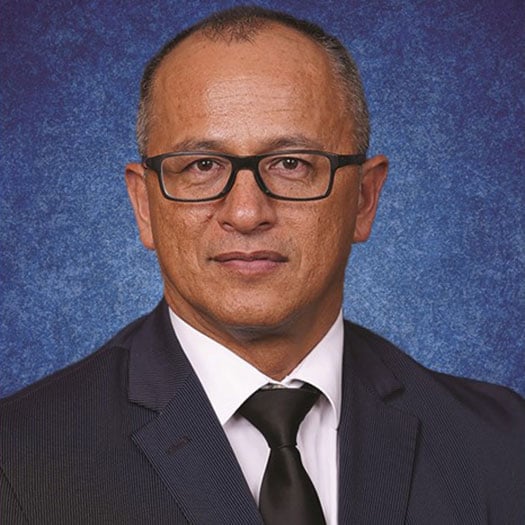 Executive Director of Network Integration and Services, NECA
Jeff Beavers, RCDD, OSP, is the executive director of network integration and services for NECA and has over 30 years of experience in ICT and telecommunications industry. Prior to joining NECA, Jeff focused on design, engineering and integration for Black & Veatch from Oct 2010 to Feb 2022. He also served as BICSI President from February 2018 to February 2020. Contact him at
[email protected]
.
Email:

[email protected]