Female line crews inspire admiration from ­passersby—for themselves and for a 117-year-old company with an abiding commitment to changing with the times.
"I just passed the John Burns Construction Co.," wrote Hugh Williams, a business strategies consultant, on social media during a morning run through Chicago. "Check this out."
Williams' video showed a woman working in a John Burns bucket lift and changing out streetlights.
"It's notable that it's an all-female crew—on two trucks that are going around removing some existing infrastructure," Williams said. "I don't know John Burns, but well done, man! Girl power. Woman power. People power. It's good to see that kind of range of folks working on a job like that."
Chicago 40th Ward Alderman Andre Vasquez also saluted the line contractor by posting a photo of an all-women John Burns crew on Instagram.
The female crews were featured changing out antiquated high-pressure sodium streetlights with new LED fixtures and remote-control nodes for the city of Chicago on a television program showcasing the trades. Completed in 2021, the lighting upgrade includes 297,000 fixtures and is expected to save the city $100 million over 10 years.
John Burns' "Woman up!" Initiative began about 10 years ago, according to Shane Higgins, vice president of operations for John Burns, based in Orland Park, Ill. The company also has operations in Lewisville, Texas.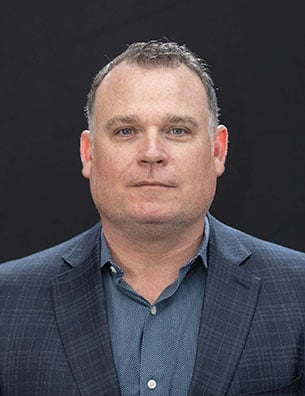 Shane Higgins, vice president of operations for John Burns Construction Co.
"We're putting it out there with an initiative that pushes diversity in our company," he said "Our president, Scott Becker, has pushed to employ more women and minorities with great success. At one point, for one job, we had four different crews that were entirely women."
There's no doubt that having a diverse workforce helps in bidding for public works contracts.
John Burns' clients include the Chicago Department of Transportation, Illinois Department of Transportation, Illinois Tollway and Chicago Park District, utility companies and other customers in Michigan City, Ind., Wisconsin and southern Illinois. For work in the Chicago area, the company employs labor from several trades and IBEW locals.
"We have had good luck recruiting women," Higgins said, who serves on Local 9's apprentice training committee.
The local supplies most of the journeymen and apprentices John Burns employs for maintaining and installing street lighting, traffic signals and electrical infrastructure, including concrete work, telecommunications and installation of 5G and radio towers.
A tried and true recruiting strategy
Setting a new trend, the women at John Burns include more than office workers and first-rung laborers. Of about 75 IBEW Local 9 members, 10 are women, which is about 13%.
Three of the company's 20 foremen, or 15%, are women. And of the company's 37 project managers, engineers and coordinators, seven are women, which comes to 19%.
For attracting and retaining those female employees, John Burns employs a tried-and-true strategy.
"We had a few women working here and enlisted them to help us recruit others," Higgins said. "That seems to work best as far as attracting more women."
That strategy has also worked for IBEW 9, according to Kevin Schuster, assistant business manager.
"When women see that other women are working in this field for equal pay, it makes a difference," Schuster said. "The number of [women] and people of color has quadrupled in the last four years for us. And these are not just jobs; these are well-paying careers."
IBEW 9's membership includes 111 women. Of these, 25 are Hispanic, 21 are Black and one is Asian. Of the local's 2,811 male members, 1,022 are Hispanic, 215 are Black, 16 are Asian and 2 are Native American.
All journey-level lineworkers make a base salary of $120,000, plus benefits. They also don't have to deal with college debt. Foremen earn around $200,000, including benefits.
"What college graduate is making that kind of money?" Schuster asked.
Tomi Dew, a foreman for John Burns, was among the first class to graduate from the training school. She now teaches required crane certification classes at the University Park, Ill., campus.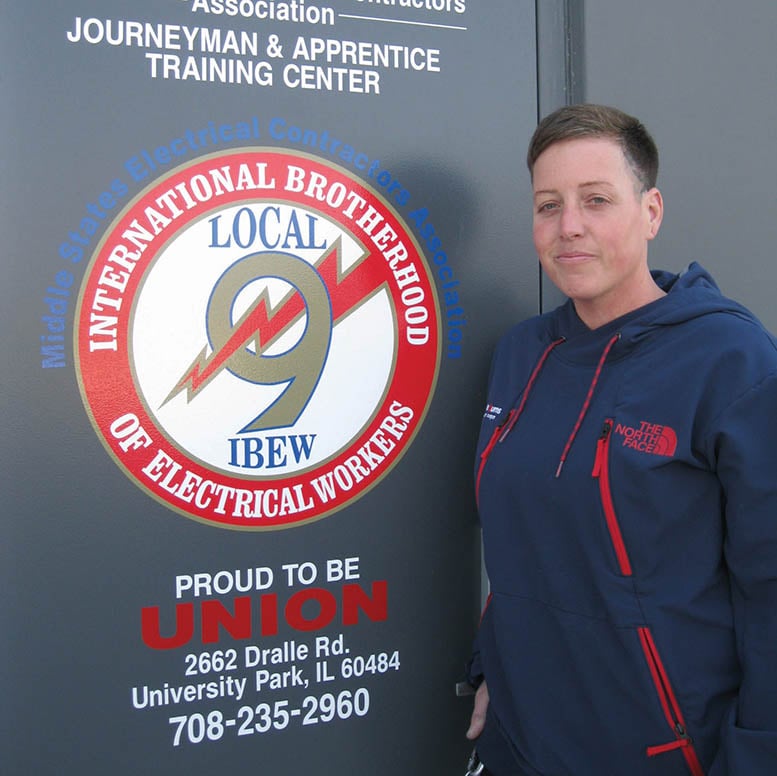 Tomi Dew, crane certification instructor for IBEW 9 and foreman for John Burns Construction Co. | Susan DeGrane
"They have a great work ethic. They do the work and get the job done. We know we can rely on them," Higgins said about Dew and other IBEW 9 female workers.
Schuster made it clear that female journey-level workers and apprentices pull their weight. To qualify as apprentices, all must have a high school diploma or GED, commercial driver's license, be able to work at heights and lift and carry 50 pounds across 500 yards in 10 minutes.
The only modification for testing of potential female electrical apprentices is grip strength of 60 pounds (instead 90 pounds for men), but hand tools make up for this on the job.
Dew is one of at least four female IBEW 9 instructors who came through the local's training program and were asked to teach. Before joining the apprentice program, Dew performed boiler work and worked as a forklift driver and part-time bartender.
"I couldn't see myself doing anything else," she said one day last December while overseeing a crew installing 5G towers and radio signal equipment on a 13-floor condo building in Niles, Ill. "I like building stuff and seeing what you can accomplish each day. Being outside is awesome! Of course, I also like the pay and benefits working union, too."
Women leading crews
Dew and two other female John Burns employees were contending with heavy winds and snow mixed with rain, but they didn't complain. All three expressed appreciation for the work at hand and appeared well-prepared for the weather and any rooftop safety hazards.
They also had no problems starting at 4:30 a.m. and ending around 4:00 p.m., working four days on and three off.
"I like being in a new place every day, seeing different parts of the city," said Sarah Dworak, a first-year apprentice whose father did similar work for AT&T.
Dworak had earned an associate's degree and was laid off from a job as a physical therapist assistant when COVID-19 struck.
"My dad suggested a job in the trades," she said. "One of his buddies worked for John Burns."
She started working as a forklift driver in the Orland Park warehouse and was responsible for clearing snow. She's already earning $27.96 an hour.
"When I saw other women working for John Burns, I thought, it couldn't be that bad," she said. "And no, it isn't. People have been very patient and helpful."
Erin Murphy was working in event and floral sales when she was laid off due to the pandemic. During the downtime, she took stock of her career and decided to go for better pay and a more recession-proof occupation.
When I started showing up at the John Burns yard, I remember seeing six women working in the field, which seemed wild! With Tomi as a foreman, I can see they're not just working on crews, they're running the crews. It's encouraging that a company values that.


—Erin Murphy, John Burns Construction Co.
"I knew I wanted to be union," she said. "So I thought maybe I could be a plumber or welder, but I knew Tomi and talked about her experience with Local 9, and I was OK with working hard and out in the elements for even better pay,"
Murphy accessed Workforce Investment Act funds to pay for the required CDL training and applied to the IBEW 9 apprentice program. She started working for John Burns after being accepted into IBEW Local 9's apprenticeship program in spring 2022.
"When I started showing up at the John Burns yard, I remember seeing six women working in the field, which seemed wild! But it made me feel more comfortable," Murphy said. "With Tomi as a foreman, I can see they're not just working on crews, they're running the crews. It's encouraging that a company values that."
Dew frequently oversees crews installing and maintaining street lighting and signals, digging, pouring and installing bases.
Making a difference
"I prefer working in city neighborhoods on Chicago south and west sides. I've had really good experiences working with more women and minorities," Dew said. "We get noticed a lot."
In some areas, streets only have lights on one side, and the lighting is sparse.
"Many people thank us for making their communities safer and more beautiful with the new lighting," Murphy said. "I like being able to drive the trucks in early, get to work and then see the payoff—the whole block lit up at the end of the day."
That sense of accomplishment is shared by other women working at John Burns.
"When I'm driving with my daughter, I'm always pointing out the window and saying, 'We did that. We built that,'" said Carrie Peel, senior project manager at John Burns. "I love the small successes we have on a weekly basis, like we finished pouring one of the ramps, or we got resolution on an issue."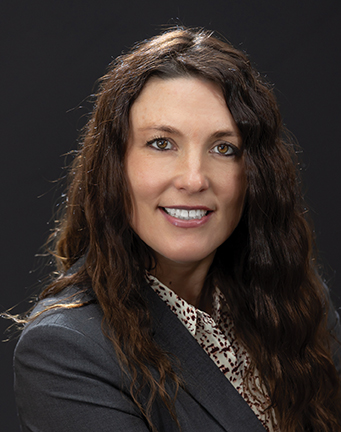 Carrie Peel, senior project manager at John Burns Construction Co.

Peel joined John Burns in December 2019, after working 18 years in the construction industry and having earned a degree in construction management from Purdue University Northwest in Hammond, Ind.
"I've never worked with so many women before," Peel said. "In my college class, there were only five or six of us, and I'm thinking, so this is where they're all working—at John Burns."
Peel oversees management teams carrying out several Chicago Transit Authority Metra projects, including construction and renovation of train stations and bridges along routes to surrounding suburbs.
"It's cool to be a part of a company where women are reporting to other women," Peel said. "But not a week goes by that I'm not boots on the ground at the work sites around town, trying to stay in tune with what's going on."
Header image: Sarah Dworak, Tomi Dew and Erin Murphy, all IBEW 9 members and employees of John Burns Construction Co., take a break from installing 5G towers and radio equipment on an apartment building in Niles, Ill. | John Burns Construction Co.
About
The Author
DeGrane is a Chicago-based freelance writer. She has covered electrical contracting, renewable energy, senior living and other industries with articles published in the Chicago Tribune, New York Times and trade publications. Reach her at [email protected].
Email:

[email protected]