From Syracuse to Sacramento, electrical contractors are doing everything they can to address the skilled labor shortage.
But with more electrical workers leaving the field than joining it over the past 10–20 years, the U.S. Bureau of Labor Statistics predicts there will be nearly 80,000 more job opportunities for electricians than there are applicants every year until 2031—a challenging predicament given plans to upgrade electrical infrastructure and convert to greener technologies and renewable energy sources over the next decade.
Many factors have led to the shortfall, including ongoing retirement by a large swath of baby boomer-age electricians and difficulties in attracting a younger, tech-savvy generation to a career in the trades to backfill this attrition—and contractors coast to coast are reeling from the effects of a shrinking workforce.
At the level of the nation's aging electrical grid, where investor-owned, public and rural co-op utilities alike are making significant investments in the upgrade of America's nearly 6 million miles of transmission and distribution lines, range of substations and other outdated infrastructure to enhance its resiliency and sustainability, the shortage of skilled labor has been especially hard-felt.
Thanks to their out-of-the-box ingenuity and teamwork, however, utility DTE Energy in Detroit; IBEW Local 17 in Southfield, Mich.; and LeCom Utility Contractors in Warren, Mich., a Thayer Infrastructure Sources company, have found a proactive way to offset this trend.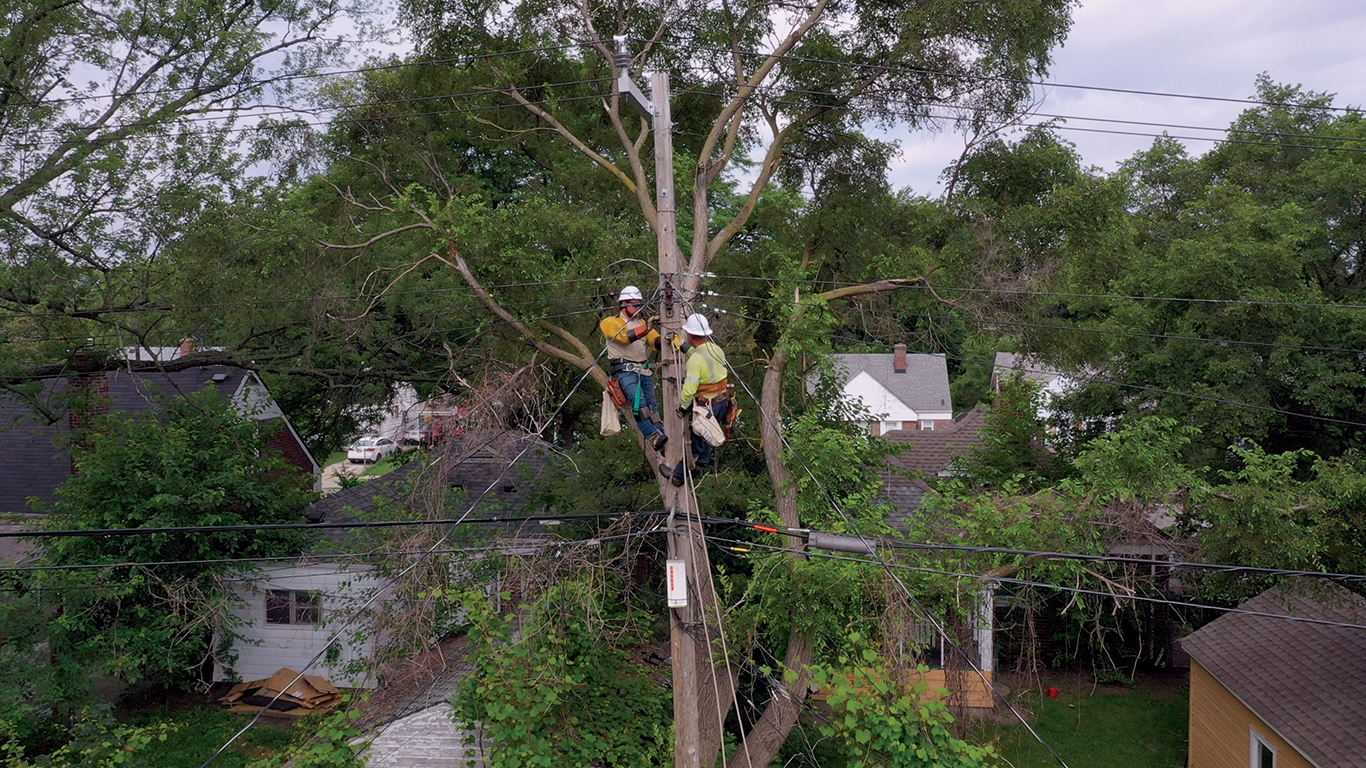 Lineworkers from LeCom Utility Contractors repair an electrical pole damaged by a fallen tree.
Supply and demand
"Southeast Michigan has one of the oldest grids in the country, and we need to harden and enhance the resiliency of the distribution system due to the increasing frequency and severity of storms," said Brian Hill, director of scheduling/capital construction and contracts, distribution operations for DTE Energy, a utility serving 2.3 million customers throughout eastern Michigan.
"In parallel, we also need to upgrade and build the grid of the future to address increasing electrification needs, especially in light of the emergence and adoption of electric vehicles. Our company is headquartered in Detroit, the hub of the automotive industry, so we want to support this new era of mobility."
"As we considered how much labor we'll need to do that work, however, we realized that there weren't enough linemen in southeast Michigan to achieve our goal," Hill said. "We've traditionally relied on traveling electricians coming to Michigan from out of the area to do the work. But this comes at a price premium and the risk of them leaving whenever they want, which clearly isn't a sustainable long-term solution for our company."
"We wanted to continue to build a local workforce that would be committed to working on our grid for decades, becoming part of our community, and contributing to the state's growth."
Nearby, the leadership of IBEW 17, which represents all of DTE Energy's lineworkers, was grappling with similar concerns.
"We didn't have enough skilled people in the trade to bring on or the number of apprentices in the pipeline that we could train to support the nation's future electrical infrastructure needs," confirmed James Shaw, business manager and financial secretary for 4,300-member IBEW 17, which specializes in outdoor and substation construction, line clearance, tree trimming, teledata, roadway lighting and more throughout southeastern Michigan.
"There's a lot of work out there now, and load demand will only continue to grow as the nation moves to install EV charging stations within millions of homes and businesses," he said. "Our workforce needs to build the infrastructure to support all of that."
Hill and Shaw agreed that more apprentices needed to be brought into the labor pipeline to achieve their goals.
"Given the four years of training required to become a licensed journeyman, an apprentice is like a seed that you put in the ground," Shaw said. "It takes time to grow a tree, but if you don't make the investment and plant those seeds now, you won't have enough workers down the road. At Local 17, we've had a steady number of apprentices, but we needed more people to both backfill the attrition and support the increased workload that we're already experiencing."
With 45 years of experience in the electrical contracting world—much of it spent as a lineworker, foreman and general foreman for DTE Energy—Don Bourdeau, former vice president of operations at LeCom and now a consultant for the company, has long dealt with the same issue.
A new approach
"Several years ago, we were sitting in a meeting with DTE leadership, and they said that they needed more people but were looking for a different solution beyond just paying over scale," Bourdeau said. "They suggested that we accelerate the apprenticeship program and create more apprentices in a way that was safe and economically feasible for everyone."
The discussions led to a new approach—specifically, adding a second apprentice as the fourth crew member on the standard three-person team.
Shaw explained that candidates for lineworker apprenticeships apply through the American Line Builders Apprenticeship Training website and get interviewed. Selected candidates "undergo several weeks of basic electrical and safety training, and then begin 7,000 hours of classroom training and on-the-job field training through placement with a contractor," Shaw explained. "We use three-person crews to do most line work—two qualified journeymen working with one apprentice, who must be at the fourth level of their four-step training before they can put their hands on primary and do 'hot' work.
Apprentice training classes at IBEW Local 17 in Southfield, Mich.
"Apprentices who can't do hot work aren't as productive or valuable for contractors to take on," Shaw acknowledged, "but we agreed that if the utility would help cover the cost of training first, second and third-step apprentices, contractors would be willing to put them on as a fourth member of a crew so that they could learn the trade."
"By adding a second apprentice to every crew, there's now a foreman instructing from the ground, a seasoned lineman, a 'hot' apprentice up in the air and a 'cold' apprentice working on the ground and benefiting from the foreman's instruction," Bourdeau said. "We realized that if we could create that format, the hot apprentice would eventually become a lineman and we'd get to add another apprentice into the pipeline—a cold apprentice who would eventually become a hot apprentice and ultimately a lineman—and start a cycle that would promote the exponential growth of linemen."
To help equitably cover the cost of adding a fourth person, given that labor rates were traditionally quoted based on three-person crews, "we developed a formula whereby DTE Energy agreed to cover certain percentages of the first third-step apprentices' cost based on their step, with the contractor picking up their cost when they become 'hot' at their fourth and final step," Bourdeau said.
Progressive apprenticeship
Launched in 2018, the progressive apprenticeship program has been a resounding success for DTE Energy, IBEW 17 and baseload electrical contractors such as LeCom in southeastern Michigan.
"Up through 2018, there were typically about 70–80 apprentices in our training pipeline, and today there are almost 225—the majority of whom will stay right in the area," Bourdeau said. "We've organically grown our workforce and, by paying it forward, are able to minimize expensive per diem and overtime payments to outside workers, which is a much costlier proposition than the investments the utility is making in early-step apprentices."
"When we first started analyzing this in 2016, we realized that DTE Energy couldn't hire all of the skilled trades [people] we needed, but that if our contractors could help invest in equipment and labor, we could grow together," Hill said. "We've already more than doubled the number of linemen working on our property since 2018 and believe we'll be able to increase that by another 30%–40% on top of backfilling the 30% of our current workforce who will be retiring in the next five years."
Unique collaboration
"We all thought that this was our own issue," Shaw said, "but by bringing the contractor, IBEW and utility teams to the table, we came to understand that it was a shared problem that we needed to resolve together in everyone's best interests."
Bourdeau noted that while there are still more qualified apprentice applicants than spots available, the program has succeeded in creating more opportunities to join the union, as well as increasing the overall number of apprentices in their area who will graduate into lineworkers and be available to train other apprentices.
"You can't turn that switch on when you need them," he said. "We now need to train all of the apprentices we can get, and we had to find a way to accomplish that."
At the trainee level, "our apprentices are excited and proud to be part of the next wave of our country's electrification and hope to meet the demand coming up, because the work will be there," Shaw said. "As America moves away from fossil fuels to more renewable energy, apprenticeships are a path to secure, skilled, good-paying jobs, and the attractiveness of these opportunities will help more people gravitate to this field."
Like Shaw, Bourdeau has generations of lineworkers in his family. He remarked that helping "develop a program that can expose more people to the lifestyle that union labor has afforded me and my family is all that I can ask for in my career."
"This program required collaboration and commitment by all three stakeholders to build a labor pool—specifically, contractors who were willing to purchase trucks and equipment, a union like IBEW Local 17 that will work with NECA to recruit, attract and train a workforce of the future, and a utility driving the investment," Hill said. "Our investment in the electrical grid supports our customers and communities and is critical for our state and economy to prosper. This program required the participation of several stakeholders who were willing to work together to build a strategy, and it's already delivering benefits in terms of reliability improvements for our customers."
"Through this unique and collaborative approach to our apprentice program, we're building the workforce of the future needed to build the grid of the future," Hill said. "We're committed to helping accelerate growth in our state and being a force for good in Michigan."
All photos courtesy of DTE Energy/IBEW Local 17 / LeCom Utility Contractors.