The application of luminaires simulating sunlight shows promise in senior living facilities. More testing is needed, but artificial illumination that mimics sunny days has fostered a lower incidence of resident falls, better mood and improved sleep. If studies keep showing repeatable results, there may be a transformation in senior care lighting.
Bad lighting can disrupt a body's circadian rhythm and contribute to lack of energy or sleep. In a senior living space, it could also exacerbate dementia issues. Some attempts at remediation have included bright light therapy (BLT), a nonpharmaceutical approach to treating sleep disorders, seasonal affective disorder and, more experimentally, Alzheimer's disease. In practice, a patient sits in front of a diffused LED light box for 20 minutes or longer while the light box delivers an intense dose of simulated sunlight.
Applying bright light using tunable white lighting fixtures throughout a building borrows from BLT, but spreads healthy glow throughout the day to support a better daytime experience and hopefully sounder nighttime sleep. The senior care industry is taking note.
Artificial light at the right color temperature (around 6,000K), color spectrum (blue) and wavelength (short) approximates daytime sunlight. Tunable white lighting and more precise circadian lighting systems ramp up to these metrics in the morning, then drop back throughout the afternoon and into the evening.
Specifically, blue-white light in the upper 400 nanometers (nm) range, with enough intensity (200 lux or more), elicits sufficient illuminance to reach the back of the eye and trigger nonvisual cues for a healthy body clock or circadian rhythm, which is naturally supported by outdoor light. The goal is to activate cortisol for energy and alertness during the day while suppressing melatonin, best needed at night for sleep.
Wellness lighting and falls
In a recent study looking at falls in senior care facilities, the Midwest Lighting Institute (MLI) and lighting design firm Energy Performance Lighting, both located in Cottage Grove, Wis., studied what effect a tunable white LED lighting system might have on reducing incidents. Four Wisconsin facilities were selected. Two homes served as controls with fluorescent lighting left unchanged. Lighting specialists from Pacific Northwest National Laboratory (PNNL) conducted the on-site studies.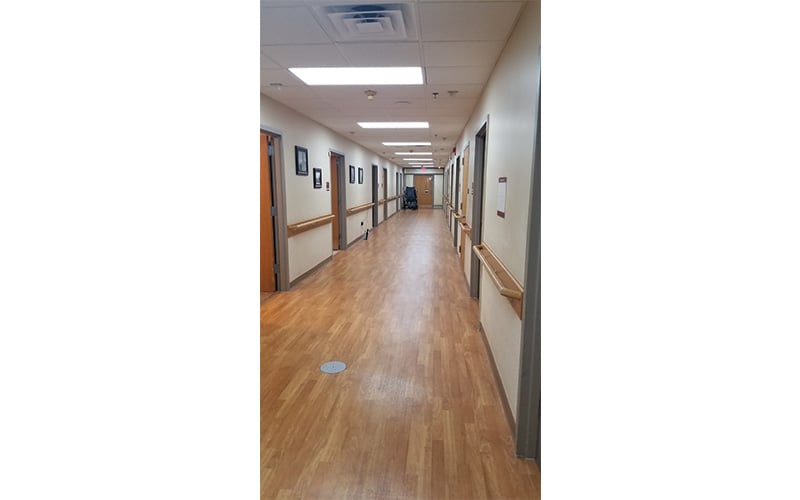 Hallways at Oak Ridge Care Center in Union Grove, Wis., are equipped with Acuity Whisper tunable lighting systems that enable control of lighting timing, intensity and spectrum.
"In the two intervention sites, we used an Acuity Whisper system programmed with its N-Light system to change the lighting timing, intensity and spectrum during the day," said Rodney Heller, president of MLI and founder of Energy Performance Lighting.
"The PNNL team validated the work of our on-site study (light levels and cost savings)," Heller said. "Another partner, the team from Brigham & Women's Hospital, the teaching hospital of Boston's Harvard Medical School led by Shadab Rahman, assistant professor of medicine, then pulled fall data from medical charts for review and analysis. We had to follow HIPAA rules with all our data; it was segregated from all our systems and only one person was allowed to search and compile the results sent to Harvard.
"We delivered light (6,500K) first thing in the morning, typically at 6 a.m.," he said. "Then we increased the intensity at midmorning and brought it back down at midafternoon. At dinner time, we changed the lights to 2,700K and dimmed them down to 10 lux at 10 p.m., enough for safe passage."
The 2018–2019 MLI study found tunable lighting helped reduce falls by 43% for the home's entire senior population, including dementia patients.
"Nursing homes are typically underlit during the day and overlit at night," said Brian Liebel, research director at MLI. "Residents rarely get outside, spending as much as 99% of their time inside. Healthy lighting levels promote a body cycle that resets in the morning, alerts you and carries you through the day, and allows you to sleep well at night. This is important as you want residents to avoid falls. Supportive light at night is low-level, extremely low blue content lighting that can guide residents to and from the bathroom without fully waking them up."
In the study, tunable lighting retrofitted to wall-mounted fixtures over resident's beds was manually changed to daytime lighting (6,500K) and nighttime lighting (2,700K). Other tunable installs were either fixed or programmable. For example, occupied activity rooms had TLEDs set to a constant 5,000K.
"We would have preferred 6,500K, but it is hard to find TLEDS that perform well at that level," Heller said. "The 5,000K setting still helped to suppress melatonin and activate alertness and allowed residents to see better."
Vertical light
The Wisconsin study, reported this year in the Journal for Post-Acute and Long-Term Care Medicine, was also captured in a March 2022 report by the U.S. Department of Energy and PNNL, "Lighting in Senior Care Centers: Comparing Tunable LED Systems to Conventional Lighting Systems in Four Senior Care Centers." PNNL's Jessica Collier, associate lighting research engineer and one of the report's three authors, shared the importance of achieving the necessary vertical light to trigger a circadian response in residents and staff.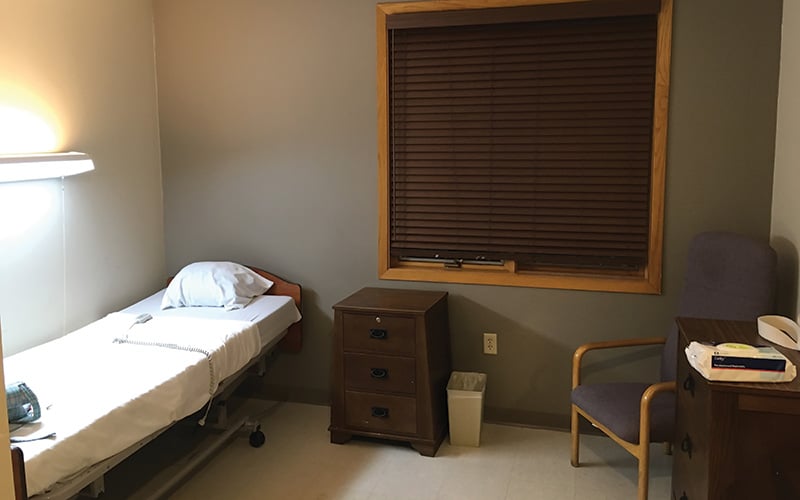 At Oak Ridge Care Center in Union Grove, Wis., residents' rooms were equipped with an over-bed LED luminaire with recessed downlights. It provides cool (6,500K) and warm (3,000K) indirect lighting. Nighttime lighting was set at 2,700K to not disrupt sleep. Photo courtesy of Pacific Northwest National Laboratory.
"Typically, one might measure room light by taking measurements every two feet in a grid evenly spaced across the whole room," Collier said. "But in the vertical plane, you need to stimulate eye levels. In a senior living space, a resident's eye level may be as they sit in a wheelchair. You need to consider what happens in a room, be it a dining hall or activity room. Also, furniture placement should be considered so it doesn't obstruct vertical light."
"Because our eyes are positioned to receive light as a vertical surface, we measure light on a vertical plane … to assess the potential nonvisual effects from lighting," Liebel said.
Wall and floor finishes will also affect the light. The lighter the color, the better to bounce light off walls and ceilings for effective distribution.
"You want bright vertical surfaces, but without glare for visual comfort," Collier said.
For electrical contractors and others, there are resident factors to consider when working in a senior care facility.
"This is different work from retrofitting an office or other facilities with healthy lighting." Heller said. "You need to be sensitive to how you interact with the residents. Smiling and being kind is important. Disruptions should be minimal."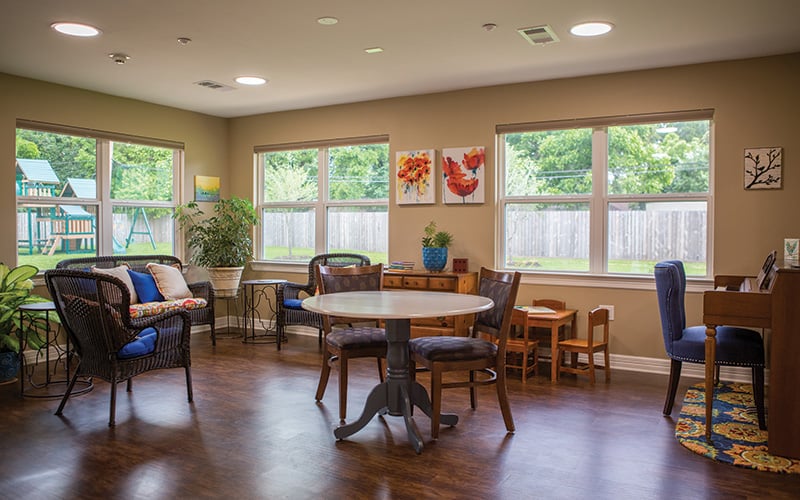 Meth-Wick, a senior living community in Cedar Rapids, Iowa, designed its activity room for ample daylight, supplemented with circadian-focused tunable lighting. Photo courtesy of WalaLight.
Reaching accepted science
Though falls did decrease 43% in the MLI study, more research and other studies are needed to show repeatability and move to evidence-based results.
"Usually when someone has repeated your study and had same outcomes of similar studies, you build a base of evidence," Collier said. "[It's] not there yet with just this study. We need more to reach a steady conclusion on tunable lighting and falls in a senior living space. The MLI study was encouraging and built on some other studies we did, notably how reducing lighting levels at night seems to provide residents with a good night sleep [Brown University/2016]."
"The nursing homes we lit are now very quiet. The residents are active. There has been an incredible difference." —Rodney Heller
"The nursing homes we lit are now very quiet," Heller said. "The residents are active. There has been an incredible difference. It's important to verify on a continuous basis. We expect to see other indicators as Harvard does more with the data in what could be a follow-up study. These could be improvements in mood and cognitive function."
The tunable lighting also resulted in a more than 60% reduction in lighting energy use. More savings was gained through the dimming schedule.
Early adopters
Andrew Zucker is key account executive for WalaLight, a circadian-focused tunable lighting company based in Delray Beach, Fla. Zucker said senior care facilities have been early adopters of his firm's lighting system, which employs wireless connectivity using a Meshtek Bluetooth5 mesh system control. Customers are provided a tablet to manage the system. A wired option also is available using Bruck Electronic GmbH Dali-based intelligent controls.
To address the glare of bright light illumination, WalaLight uses edge-lit panels.
"Edge-lit allows illumination from the side, pushing the light out and downward to help in even light distribution to avoid glare and shadows," Zucker said. "Some of our customers require retrofits on an existing facility. Some are new facilities. Retrofits will usually require taking down existing fixtures and putting up fixtures using the same wiring in most cases. We program on-site and offer commissioning, an important task for biologic lighting systems. The systems handle low-voltage using 100–227V AC input and feature a low-voltage driver or controller."
WalaLight's chosen luminaire chip provides what's described as a fuller spectrum of light. Called SunLike, the chip is a product of Seoul Semiconductor and Toshiba.
"Standards for senior living and memory care can be found in ANSI/IES RP-28-20," Zucker said. "We try to apply those recommendations that address glare and intensity of light in lieu of a standard not yet developed for circadian lighting."
The PNNL summary perhaps articulates best the recipe for effective healthy lighting for seniors: "The goal in effective biologic light in a senior care facility (perhaps other building types, too) is creating good light distribution, the right lumen output, luminaire location, view direction (facing the light), and surface reflectance ... for health and well-being of the occupants."
Research and developing products in the name of good lighting for seniors continues. It may revolutionize this market.
About
The Author
GAVIN, Gavo Communications, is a LEED Green Associate providing marketing services for the energy, construction and urban planning industries. He can be reached at [email protected].
Email:

[email protected]