Electrical contracting work can be fraught with obstacles, which was obvious to the team from The L.E. Myers Co., Savoy, Ill., during its 2020–2021 Gateway to Roxford 345-kV Transmission Line project.
The project involved upgrading transmission lines within a 13.52-mile stretch from Ameren Transmission's new Gateway Substation to its existing Roxford Substation, approximately seven miles of which is located on Chouteau Island along the Mississippi River outside of St. Louis.
With the team's safety-first approach, thoughtful planning, creative, out-of-the-box execution and ability to pivot in the face of unexpected challenges, the project was successfully completed on time and with beneficial lessons learned.
The company was founded in 1891 by Lewis Edwards Myers and is a subsidiary of MYR Group, Rolling Meadows, Ill. MYR Group has 13 subsidiaries with 65 locations and more than 8,500 employees across the United States and Canada.
"Our district is primarily focused on transmission, distribution and substation construction, all of which involves high-voltage operations. Our Decatur location supports projects throughout central and southern Illinois and eastern Missouri," said Dustin Walker, operations manager for the L.E. Myers Co.'s Decatur, Ill., district.
"This project, referred to as 'The Gateway to Roxford 345-kV Transmission Line,' was put out for bid by utility Ameren Transmission and we were the successful bidder," he said.
"Clients often ask us to complete various electrical construction work scopes and sometimes a larger scope of responsibility, and on this project we served as both the general and the electrical contractor."
"Roxford is on the Illinois side of the Mississippi River, just a stone's throw from St. Louis, and we could actually see the St. Louis Gateway Arch from the job site," he said.
Originally installed in 1968, "the project involved the replacement of an existing steel lattice tower transmission line across a span of 13.52 miles from the new Gateway Substation in Venice, Ill., to the existing substation in Roxford," Walker said. "While it had been a single-circuit 345-kV transmission line, we were tasked with rebuilding it as a double-circuit 345-kV transmission line to increase its load capacity and enhance its reliability in light of the continuously growing demands on the electric grid."
Though these directives might have been straightforward on another job, the unique conditions on this project presented an unprecedented set of challenges for the L.E. Myers team.
"As a general contractor, this project involved the demolition and removal of all of the existing COR-TEN lattice towers and pile foundations, so we built this job from the ground up," Walker said.
"Sometimes lattice towers are placed on concrete footers or another foundation on the ground, but Ameren Transmission didn't use concrete because over half of the line was located on Chouteau Island, a natural wildlife habitat and recreational area, which offers trails for biking, hiking and equestrian use as well as fishing and wildlife viewing opportunities."
"Most of the towers were located in a 100-year flood plain and had to be constructed on platforms to ensure resiliency and sturdiness," he said. "We ultimately hired a specialized company to install helical pile foundations, which are steel pipes with a helix on the end that can be screwed into the ground and can then serve as a base upon which to erect the towers."
Challenges abound
Accessing the site with the materials and equipment they needed to demo out the existing line and build 59 self-­supporting lattice towers ranging from 93 to 235 feet tall presented unexpected challenges.
"There was one, single-lane, 22-ton access bridge that enabled us to get some materials to the island, but most of it had to be barged in on the Mississippi River or flown in by a sky crane," Walker said. "If we built the towers elsewhere and transported them in, they'd be too heavy to take over the bridge, and we were restricted from flying them over I-270, the interstate serving St. Louis that ran roughly halfway through our project.
"At the same time, we had restrictions that wouldn't allow us to build the towers on the island itself and leave them sitting in the right-of-way, so there was no easy way for us to address our construction needs," he said.
We've found that creativity is a very achievable leadership skill, one that's built on a desire
to understand and overcome obstacles."


—Dustin Walker
In response, "we decided to establish two build yards—one south of I-270 and the other north of it—for construction of our towers," he said. "This way, we could build them in our own yard and fly them in using a sky crane, a twin-­engine, heavy-lift helicopter that uses a three-person crew comprised of a pilot, a co-pilot, and one rear-facing, aft-stick operator for the external load operations. Carrying up to 10- to 15-ton loads, the pilots fly the tower to the right location and hover while the crane operator and our team members on the structures rig them into place."
Activating the plan, the towers were shipped in thousands of pieces and then constructed into larger body, arm and top sections.
"Once the helical pile foundations were ready," he said, "the tower sections were lowered, crew members on the tower with radios would help guide each section and bolt it into place, and then we'd bring over the next section.
"We did this for 46 of the 59 towers and were able to install seven to eight towers a day," Walker said. "The hard part was getting them all built, but once we did, our rigging systems made them easy to install. Because sky cranes are expensive and in great demand, we were ready for them—we started early in the morning and worked efficiently with them to make the most productive use of everyone's time."
The job was structured in three phases, with construction of towers for the north portion beginning in May 2020 and installed that fall, construction of towers for phase two beginning in January 2021 and installed that spring, and towers for the third and final phase constructed in summer 2021 and erected that fall.
The project called for 59 COR-TEN lattice towers ranging from 93 to 235 feet.
The L.E. Myers Co.
"There were fewer access restrictions on one of the phases of towers, so we only required a sky crane on two phases of the job and were able to use a 350-ton hydraulic crane for the other portion," Walker said.
In addition to some permit delays, the magnitude of the project and its location made for some other extraordinary circumstances for the L.E. Myers team.
"We have large excavators and wire-pulling equipment that was too heavy to be transported over the bridge and too big to be transported via sky crane, so we had to barge in a lot of our equipment through a local barge and crane company in St. Louis, which was a new experience for us," Walker said.
He noted that the process required tight interaction and communication with U.S. Coast Guard gatekeepers regarding what was coming through the locks and when it would be on the Mississippi River so that the gateway could be shut down for loading and unloading purposes.
"Because some of the towers we were working with were over 200 feet tall, we also had to file a Notice to Airmen because towers that tall must have lights on them to avoid aviation hazards, per the FAA," Walker said. "But the towers weren't done yet, so we had to file a notice because we were encroaching on airspace, although that was something we had experience with from previous projects."
Weather, travel, heights
Walker said that the weather was "pretty favorable" over the project's 18 months. Most team members weren't away from home for extended periods.
"We had anywhere from 12 to over 60 crew members and subcontractors working on this project throughout its different stages," Walker said. "There were a few field supervisors and general foremen that we put up because they traveled in from out of town, but the majority of IBEW linemen, apprentices, operators and groundmen were recruited through the local union hall, so they were able to go home each night."
Interestingly, Walker said that team members weren't daunted by the soaring heights at which they were working—in fact, just the opposite.
"The towers were very high, but our guys lived for it," he said. "They long-lined in lanyards and harnesses from helicopters and loved soaring through the air and being dropped down on towers. There was even competition over who was going to get to 'fly' every day!"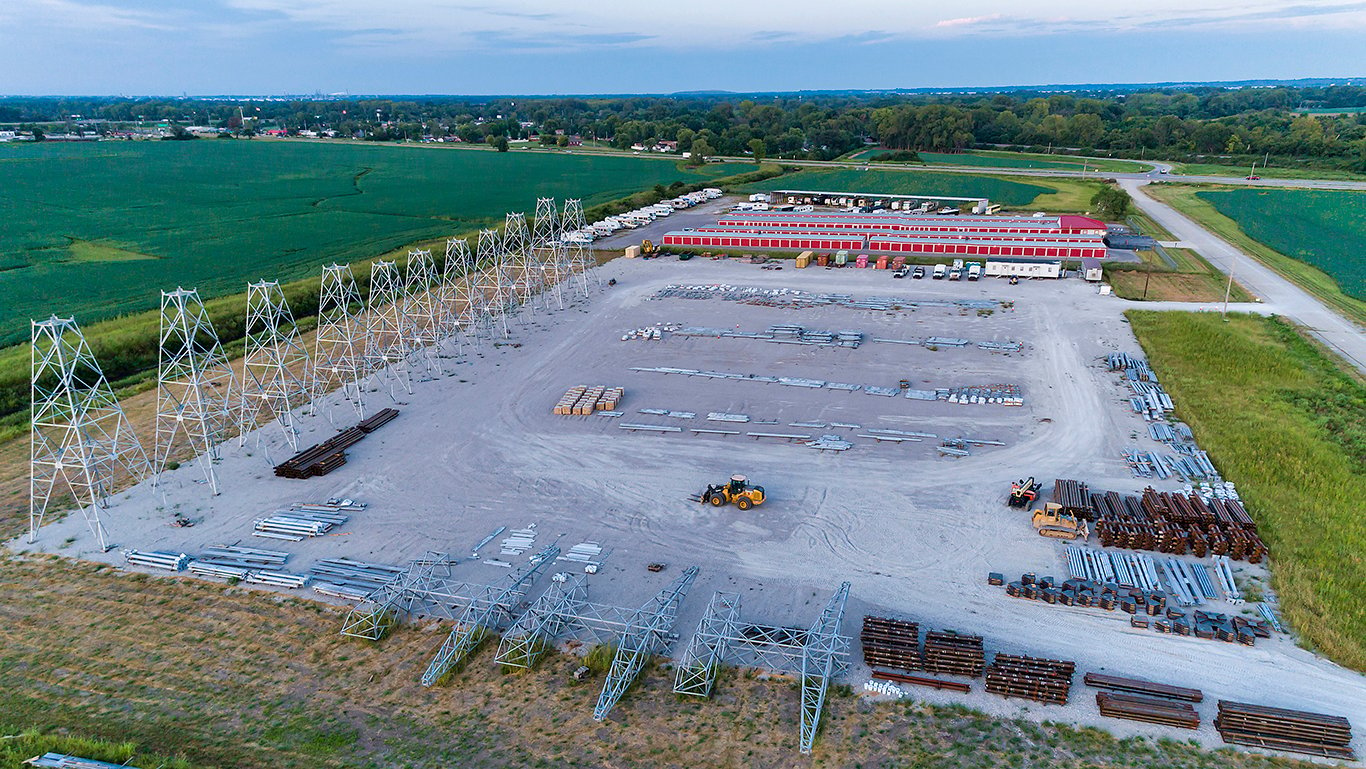 At L.E. Myers' south build yard, towers were constructed from thousands of pieces. Because some towers were taller than 200 feet, the FAA required them to have lights to avoid aviation hazards.
Scott Evers
Lessons learned
"On this job, I managed the scope, budget and schedule—the so-called 'iron triangle' of project management," Walker said, who discussed project details with the team, addressed issues and oversaw all required documentation.
"It was about staying on top of all deliverables amid a constantly changing schedule, keeping on scope of what we were contracted to do and communicating with the project owner (Ameren Transmission) and our own stakeholders, workers and subcontractors."
While some budget adjustments were necessary due to the magnitude of the work and the risk involved, "we successfully completed the scope of work as prescribed and hit the milestones we were contracted for, and the client was very satisfied," Walker said. "They've since won engineering awards for the project, have talked about it in the press often, and feel confident that the new system should offer reliable service for decades to come."
For L.E. Myers' part, "it was a great project to be a part of and learn from," Walker said. "Having more people on a project this complex isn't always feasible, so I can't say enough about the importance of effective communication and the ability to triage issues and problem­-solve on a job this size. I love to be creative and give people autonomy to do their jobs and take ownership because that's motivating and empowering. We've found that creativity is a very achievable leadership skill, one that's built on a desire to understand and overcome obstacles, and it's important for project managers in the construction/contracting field to encourage creativity when addressing issues."
Walker couldn't be prouder of what his team accomplished.
"Winning [NECA's 2022 Project Excellence Award in the overhead transmission category] and having others recognize how complex this project was to oversee and manage was incredibly rewarding and validating and helps ease all of the hair we lost and the heartburn and stress we felt going through it," Walker said. "We were making so many decisions on the fly based on the information we had at the time, and things weren't simple, but we documented everything, did our best to always do the right thing, and then learned from our experiences for the next time."
"We're extremely proud of the project, but the most important thing you can do when it's over is to assess the things that went well and the things that didn't and make sure you don't let those stressors, successes, failures and experiences be in vain," Walker said. "You always want to keep learning from them, rolling with them and bringing them to the next project."
Header image: The team from L.E. Myers used a heavy-lift helicopter to fly tower sections to Chouteau Island, where crew members rigged them in place.
Photo by The L.E. Myers Co.
---
Online Bonus
Watch a short video of a tower being assembled with the assistance of a helicopter:

Video courtesy of Justin Mann.