As workers return to the office, companies are striving to make spaces healthier and more comfortable by creating work areas based on good ventilation, comfortable design and healthy lighting. This offers electrical construction and integration opportunities as building owners re-examine existing lighting and HVAC to meet workers' needs.
Those working in offices today have come out of two years in Shangri-La, pointed out Michael Siminovitch, director of the California Lighting Technology Center and associate director of the Energy Efficiency Institute at the University of California, Davis. With their refrigerator nearby, their pet at their side and music and lighting of their choice, workers were the owners of their space.
Returning to the office means workers are now comparing the environment around their desk with that of their own home. Building owners are striving to meet the challenge with the best features of a public and communal workspace, with a healthier and more natural environment.
Lighting can help because luminaires can do things today that weren't possible in the past, Siminovitch said, with solid-state technology and the introduction of controls for energy savings. Most spaces have transitioned from incandescent and fluorescent lamps to LEDs. Gone is the flickering white light from fluorescents, replaced with the steady and bright illumination from LED fixtures.
The question now is how to make the best of the energy efficiency and flexibility of today's lighting for human benefit.
"Today we're starting to discover the full color capabilities of LED technology to create a very broad sunlight spectrum, which makes us look and feel good," Siminovitch said.
Of course, the best light source of all is the sun. The challenge, then, is partly architectural in nature. Many buildings in the past were constructed during the low-cost electric lighting era and often built with little or no access to natural light.
That's a challenge for any worker because good lighting helps ensure some circadian health.
"We need to rediscover this," he said. "Quite frankly, we can solve most of our lighting problems in our buildings just by simply using daylight," while artificial lighting is still imperative.
That means some systems benefit from daylight harvesting and advanced controls that can dynamically ratchet back the electric lighting, when appropriate.
In this day and age, Siminovitch argued, "if you're not designing a building to use daylighting inside a space, you should be required to explain why."
So the future focus will be on retrofits and addressing problems in existing buildings without requiring complete rebuilds. For electrical contractors, that means a new opportunity in rehab work.
"This is where we can have tremendous impact, where we can put in high-quality lighting even if the building itself is not readily designed for daylight," including adding high-quality LEDs with good color spectrum and dynamic dimming controls, he pointed out.
Some facilities are pushing the boundaries of how a physical space can improve health and well-being. Interior architect and lighting designer Gordana Jordanovska, founder of Studio Goga, San Francisco, designs workspaces for organizations such as the restaurant company Bon Appetit Management Co., where the trend is an environment that is comfortable to visit, dine, work and cook in.
She sees a commonality in the need for color-rich, high-quality lighting in offices, homes and public spaces.
"What I see a lot is how much each type of project complements another" across all these venues, Jordanovska said.
Today's LEDs
The quality of LEDs has improved at a time when people could benefit from better, more comfortable lighting in any environment or structure. While lighting can get pretty technical, conversations with her customers often start with human emotions.
"I look to educate my clients to choose the ideal lighting for their space, from the light source to color temperature and CRI-rated light fixtures," she said.
Jordanovska often works with the customer to help them understand what they need, not what the latest technology is.
"I don't feel lighting should be a trend," she said. "In fact, a good lighting design should be timeless … and the tools I have to work with now are leaps and bounds from what I had available in previous years."
An example is the new Zuckerberg Cafe at Zuckerberg San Francisco General Hospital and Trauma Center. The project was several years in the making and includes all facets of architectural design, Jordanovska said.
Prior to renovating the space into a new cafe for hospital staff and visitors, designers asked those who used the predecessor cafe what they hoped to see there. Respondents described the stressors of work in emergency rooms and the daily challenges and efforts that were part of their work.
"They didn't a have place to decompress, a lot of them were taking lunches back to their desk," since there was no inviting space for them. Jordanovska worked with Fidele Bauccio, CEO and co-founder of Bon Appetit Management, to create a healing environment in this space for healthcare workers and visitors.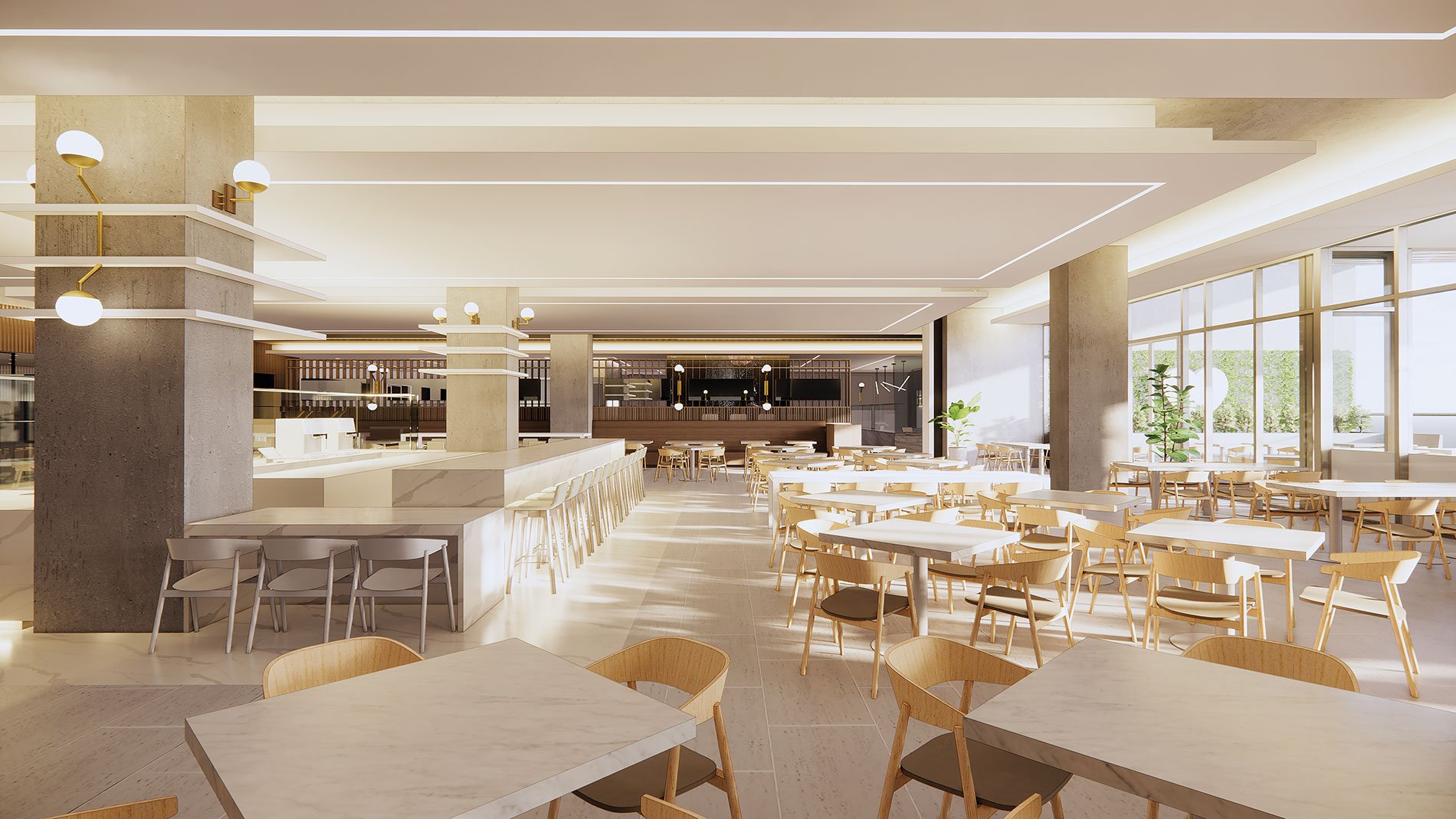 Buildings are striving to meet the challenge with the best features of a public and communal workspace, with a healthier, more natural environment.



The PureEdge Lighting lines Jordanovska chose provided an experience she likened to painting with light. Windows stretch from the floor to ceiling, accenting the site with natural light, while there is access to a terrace and herb garden for fresh air. LED lighting accents the daylight, flowing up and down walls and across ceilings. It also features halo-shaped pendants for a warm glow over the dining area.
"We tried to create a space that gives them a chance to take a breath," she said. The site also includes space for community programs, with healthy cooking classes offered to local families.
Those who design and install lighting systems will benefit from evolving, learning and inventing, Jordanovska said. A healthy workspace ensures that individuals return to the office can regain the best part of prepandemic work: in-person collaboration.
"People love the sense of community and, people can only work at home for so long before creativity is hurt, now we can get back to working together in a safe way," she said.
Upgrades in space and lighting often lead to new opportunities. By providing a mobile app to order and pay for food at a cafe, less space is needed for queues at a payment terminal, and that means refocusing that available space.
Taking advantage of the best of LEDs
According to Nikki Toigo, Aurora, Ohio-based TCP Lighting Solutions' marketing manager, LED technology has flicker-free solutions, so users can avoid the flickering and eye strain from fluorescents that can trigger headaches or migraines.
That being said, too much of anything can create potential risk factors—and lighting is no exception. Overexposure to the high blue peak found in traditional LED spectrums contributes to eye strain or sleep disruptions.
"This is why it's important for individuals to limit their consumption of blue light and choose the correct lighting that is conducive to tasks at hand," Toigo said.
Upgrading to LED lighting provides energy and cost savings (with minimal heat emission and reduced exposure to toxic chemicals) and also allows selections to be more purposeful, Toigo said.
For example, the lights in a lobby have a different purpose than those needed for task-intensive activities. Because LED provides options for omnidirectional and directional or focused light, multiple color temperatures and control systems, contractors and their customers have more flexibility in choosing the correct type of light necessary for any given space.
"Due to the global material shortages we are all currently dealing with, many lighting manufacturers are discontinuing the production of fluorescent products," Toigo said.
This will also contribute to shrinking that gap and getting more individuals and organizations on board with switching to LED.
Leveraging controls
A successful workplace also needs the flexibility to handle change and continue to add value over time. What enhances well-being in an office this year could be very different in the future. With that in mind, flexible lighting systems are essential to resilient building, said Craig Casey, senior building science engineer at Lutron Electronics Co., Coopersburg, Pa.
Wireless lighting control systems are an option that can be installed and programmed without requiring new wiring, which is especially important in retrofits.
Casey pointed out that occupancy sensors, daylight sensors and time clocks help a building owner meet code and provide the right lighting for tenants at the right time.
"Wireless systems offer reassurance that when the client wants additional control locations or needs to add wireless sensors for touchless control, the contractor can deliver without having to reinvent the spec, or worse, replace the system," he said.
Wireless control can also contribute to more efficient space management by helping to identify and evaluate occupancy patterns and work in concert with scheduling and room-reservation software.
Smart solutions that integrate lighting and shading control, such as Lutron's Athena dynamic lighting control system and Ketra natural light, can enhance comfort and foster a connection to the outdoors to balance the human need for interaction, even while accommodating social distancing needs.
According to a 2018 Harvard Business Review story citing a Future Workplace survey, access to daylight and views are one of the amenities employees most want.
"Many people feel a workplace that embraces daylight may be more attractive to tenants, and more valuable to the building owner," Casey said.
Connected, wireless lighting controls give designers the freedom to create lighting designs that flex over time to ensure lights evolve to meet the current and future needs of any space.
"The past two years emphasized how hard it is to predict the future, and how important it is to embrace building systems that can easily and seamlessly adjust over time to whatever comes next," Casey said.
All images courtesy of Gordana Jordanovska.