The nearly universal migration to LED lights and labor shortages around the COVID-19 pandemic are creating some challenges and opportunities for temporary lighting installations. Electrical contractors also have choices—designing temp lighting in-house or subbing out that work, buying longer-term lighting that suits the needs of multiple projects and finding storage space that ensures the lights are undamaged and ready for re-use.
When a construction project is complete, and contractors show off their finished work, the temporary lighting system has long been dismantled and removed. Temporary lighting rarely gets much fanfare, but the illumination that makes construction possible serves a critical role. Just as technology has changed indoor and outdoor lighting, automation and other electrical systems, temporary lighting has also been evolving.
Case in point, low-cost metal halide lights have been replaced by higher-value technology that lasts longer but can be more challenging to manage. To address new realities, some companies provide temporary lighting equipment and services to help contractors get the systems installed.
Milwaukee Tool, Brookfield, Wis., has gotten more requests for temp lighting configuration in recent years.
"We're seeing the market shift to plug-and-play systems with the ability to install it quick and be done," said Jason Isaacs, Milwaukee Tool's director of product management.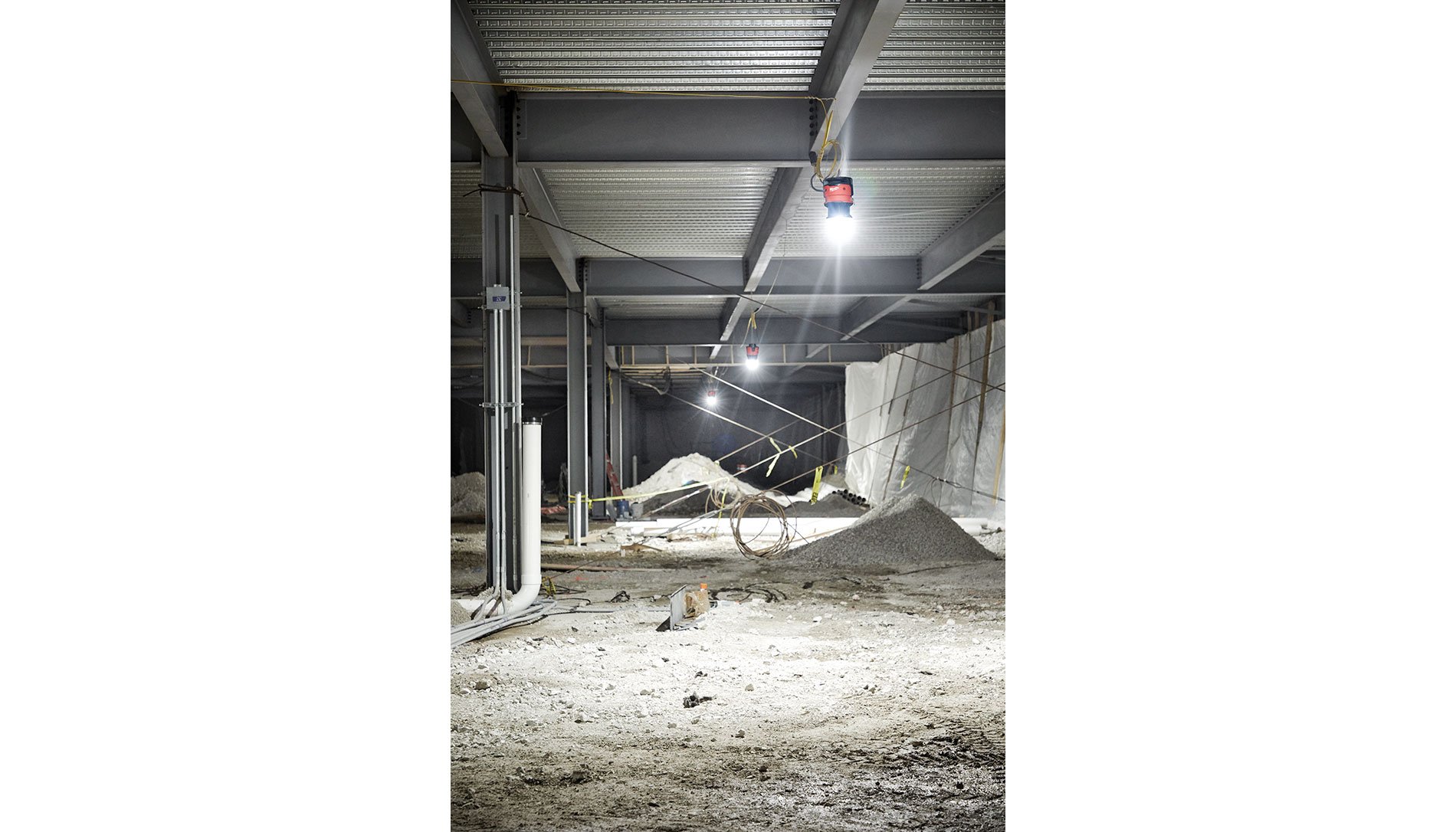 Milwaukee Tool has been focused on selling high-quality temp lighting solutions, Isaacs said. He recalled a time when temporary lighting could be used as little as once on a single job site. Fragile metal halides were easier to dispose of than they were to transport and store, at times.
"That process is starting to go away," Isaacs said.
There is no financial advantage to throwing the products in the dumpster, which is good news for companies such as Milwaukee that aim to make long-lived, quality products. This has meant modifying products to make reuse a simpler prospect, too. The company started to see issues for contractors around temp lighting storage, so Milwaukee builds lights to be easily stacked. Products that are trapezoid shaped may not lend themselves well to stacking.
"We look at it as an organizational investment; [contractors may] pay more upfront on a job, but" they can then reuse the lights multiple times, Isaacs said, adding that, "we've got contractors buying the [temp lights] since 2018 or 2019 and they are still using the same product."
The company builds its temp lighting products with optimized beam pattern to meet OSHA minimum requirements, Isaacs said, and the goal is to provide better lighting with fewer fixtures.
Products built in such a way can reduce deployment costs. By optimizing the beam, Milwaukee intended to meet lumen requirements with fewer fixtures, meaning reduced labor and power demands.
The company claims that compared to more typical LEDs, the latest Milwaukee temp lighting products can reduce power consumption by 50%, which also means less inventory to store, Isaacs said.
Hilti, Plano, Texas, offers the SL 6-A22 area light for temporary lighting, said Robert Chetelat, senior product manager. The cool LED is safer than metal halides, which can get very hot. Mounting configurations include standing, hanging from pipe, conduit or angle iron and can be mounted on /₈-in.-thread tripod. The SL 6-A22's LEDs are designed to provide seamless light, without shadows from poor design or guards. It can be folded up compactly and reused job after job, as Hilti covers wear and tear for two years.
For some projects in specific regions, theft is a growing concern.
"Everyone upgraded to LED, so that means a more expensive light," which makes them more desirable to thieves, said Tom Godsell, lighting product manager for tools and assembled products at Southwire, Carrollton, Ga. Battery work lights for service crews, as well as lights on building sites, are going missing at high rates. Ten years ago, job sites were populated with metal halide lights valued at $10 or $15, but "now you've got a $200 LED stand light with a battery, and someone is much more likely to steal that," he said, adding that, in fact, some contractors won't buy a product that looks overly expensive. "The more old-school it looks, the more they like it."
Flexibility is another issue that contractors can think about when selecting their systems.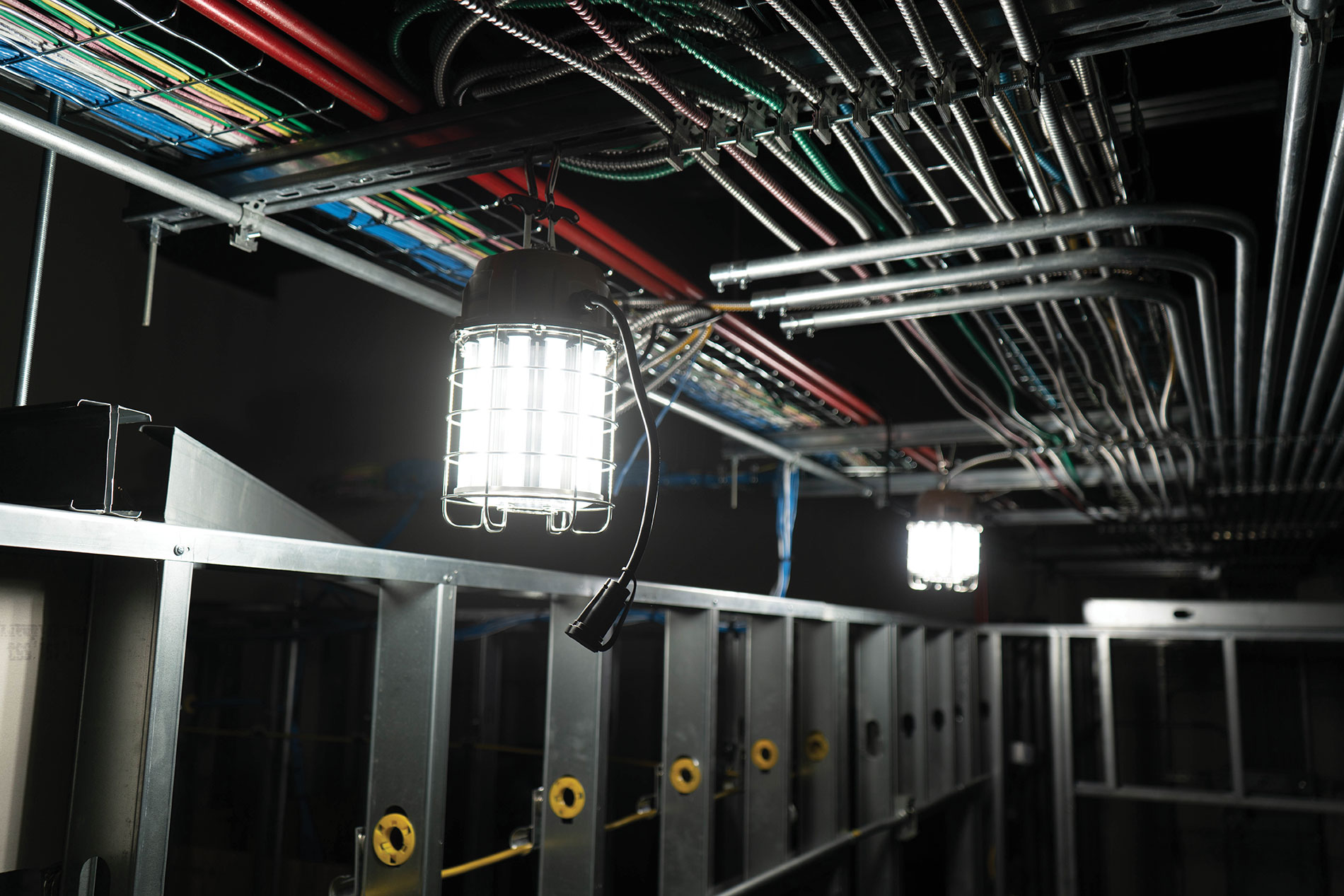 "We're giving customers capabilities to configure different ways. They can be plugged into an outlet or extension cord, while we've also given capabilities for MC cables or metal-jacketed cables," Isaacs said, adding that this can thwart thieves because anyone attempting to take the lights would need to cut into live power.
"Along with that, we've implemented a lock in the product" to clamp the fixture into place so that it can't be easily removed, Isaacs said.
When planning the temp lighting system, "what's most valuable is thinking from a long-term standpoint. Rather than just expense, is the payback over time," he said.
Contractors increasingly need to have room to store the products. Shortages caused by the supply chain problems further the need to retain and reuse. Product availability may be a problem over the next year, Isaacs said. Thus far, companies with less purchasing power are seeing the shortages.
The COVID-19 pandemic impacted contractors' temporary lighting stores and nearly every other facet of business.
"We've found 2020 and 2021 contractors had large jobs close and suddenly had 2,000 extra lights in their warehouses." Godsell said.
As work resumed, those supplies have been coming out of storage.
Today, few halogen lights are being manufactured, while LED assembly is continuing to grow in capacity. That has meant cost has gone up 40% in the past year for metal halides, while LED cost increases are closer to 15%, estimated Godsell.
"That's not to say we don't still sell the metal halides," he said.
Customization
In a difficult couple of years, due to pandemic slow-downs and labor shortages, some contractors are looking for temp lighting configuration from partners. Many prefab sites are less heavily staffed than before, and meeting deadlines requires support.
"Customization has increased, especially for overhead temp lights," Godsell said. "We have a full assembly line and can do that custom assembly so that's been one of our fastest growing areas."
Southwire has sites in Chicago and California that can build temporary lighting systems. At times, they can meet a contractor's requirements in a matter of days.
"I had a job where the contractor picked it up at the end of the day," Godsell said, adding that companies all fare better when there is lead time for the lighting layout.
"They send us their drawings, we say 'this is how many lights you need, this is where you need them, types of lights and the cost,'" Godsell said.
The company also provides a template for very basic layouts where contractors can simply input dimensions.
Other contractors are meeting the needs internally. Temporary lighting is highly specific to the job you're on, said Bill Mazzetti, senior vice president for innovation at San Jose, Calif.-based Rosendin Electric. A warehouse fulfillment center or data center has a very different temp lighting requirement than a hospital or a laboratory building.
"Like anything else in construction, planning is key here. Planning supersedes basic assumptions," he said, adding that when planning is done right, it "results in a correct and proportional application."
Typically, Rosendin's field supervision drives the design work, but they will occasionally work with the company's engineering team to provide temporary lighting solutions in more complex spaces.
Use and re-use
Metal halides and standard socket stream lights aren't as durable from job to job as today's LED versions, and that means the new systems can provide the necessary lighting for many more jobs. The temp lighting systems are 100% reusable, much like the spider boxes and cord sets used for tool power, Mazzetti said.
On any job there's a natural point where the temp lighting is replaced by the permanently installed lighting system, but rarely does temp lighting move directly from one job to another for two reasons, Mazzetti said
First, the timing of projects rarely, if ever, matches closely enough to move a system from one site to another. Instead, Rosendin team members return the lights to the yard for repair, inventory or storage and then get them ready for the next job.
"The next job will never have the same system—unless it's the same building, such as on a data center campus with several identical builds—so the temp lighting application isn't the same and isn't routinely a 'copy and paste,'" he said.
Therefore, returned fixtures end up in storage and are (hopefully) pulled from inventory and used for the next project.
To accommodate each site, "Sometimes, we need to get specialty lighting or more systems, such as towable lighting stands, that we might not have on hand or are specialty lights required for a given project," Mazzetti said.
LEDs can typically operate for more than 20,000 hours before reaching their end of life. This equals a much longer life with less-­frequent replacement than fluorescent and LED fixtures. For Rosendin, Mazzetti said, a fixture kit may run through one of several jobs, depending on what's in the building pipeline.
Changing requirements
Another challenge in some parts of the country are the demands of local inspections, with requirements that vary among regions. Inspectors each have unique perspectives and interpretations related to minimum foot-candle readings, for example. Vendors filling orders for the projects notice the distinctions.
"We'll have an influx of requests from a particular city, because there's a new inspector in town," and usually its around minimum foot-candles, Godsell said. "It can be very regional."