On Aug. 29, 2021, Hurricane Ida bore down on Louisiana with intense Category 4 strength, officially becoming the second-most damaging hurricane to make landfall in Louisiana—coincidentally, 16 years to the day after the area's most damaging storm, Hurricane Katrina, hit in 2005. Hurricane Ida's brutal 150-mph winds and extreme storm surge decimated many coastal towns across multiple states, leaving more than 100 people dead and more than $65 billion in damage in its wake. The storm also devastated the power grids in Louisiana and Mississippi, knocking out electricity to more than 1 million customers (including all of New Orleans) as temperatures soared during the height of a late summer heat wave.
Despite the difficult conditions, the team from Wallingford, Conn.-based E-J Electric T&D LLC answered the call and deployed crews to the affected areas for two months to support local utility company Entergy Corp. in restoring power to residents and bringing a sense of normalcy back to a region left battered.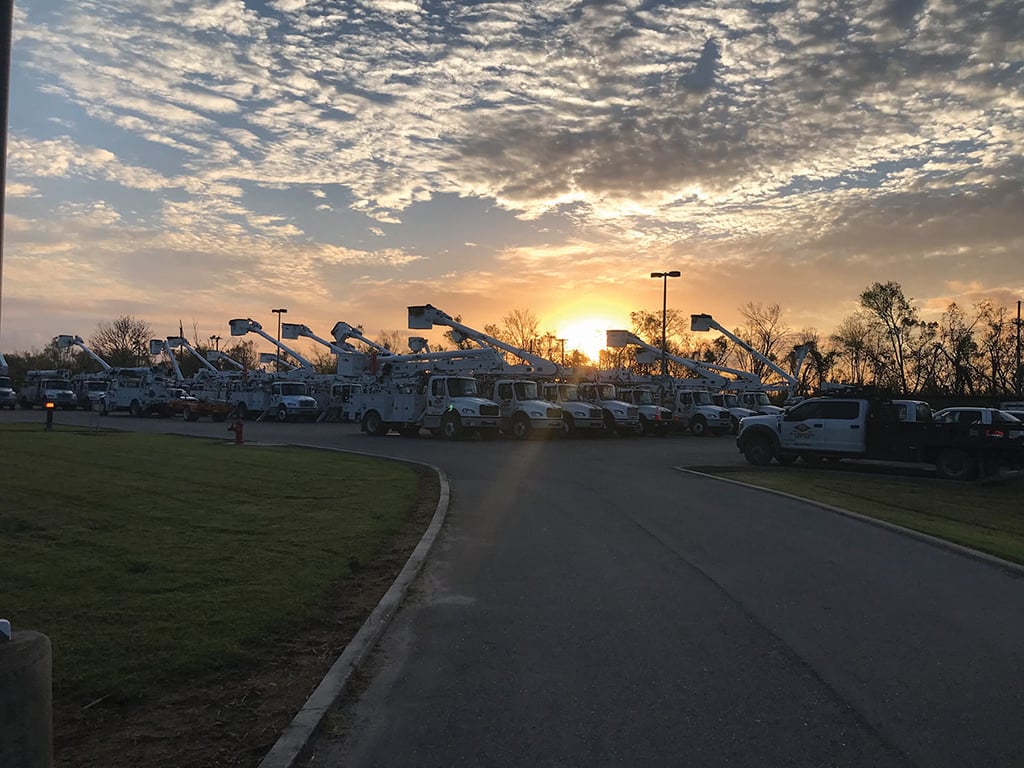 I spoke to Joseph Rubino, vice president of E-J Electric T&D, who shared details of his team's experience, the critical work they performed and the heartfelt responses the crews received from area residents, which made their challenging first-responder efforts all worthwhile.
How many E-J crew members were deployed, and when and where were they sent?
We mobilized our crews on Aug. 29, and they continued working in the affected areas through late October. We sent crew members down in two waves—a large first wave from Connecticut went straight to Louisiana, and a second wave from New York worked in Mississippi for a week before being released to support more hard-hit areas in Louisiana.
At the peak, we had nearly 300 crew members in those areas, including 250 lineworkers, along with safety professionals, material coordinators, logistics personnel and office staffers covering functions such as payroll, loading, meals, and the coordination of fuel every morning because fuel pumps didn't work and we had to get tankers in. Our crews were situated in 15 towns throughout Louisiana, including Thibodaux, Houma and especially Port Fourchon, where the majority of the damage occurred. We were one of many contracting crews there; there were probably 1,000 lineworkers working in the area in total, including Entergy's own people.
What resources did you equip your crew members with, and what was the scope of your work?
While Entergy supplied all of the pole hardware, we sent down tooling and equipment, as well as 120 bucket trucks, 12 digger derricks for pole setting and an array of wire trailers, pole trailers and miscellaneous material trailers to bring in replacement transformers for those that were lost to the storm.
To keep our operations efficient, our material people on-site helped organize everything and get it out to the lineworkers as they determined what they needed. There were no "work orders," per se—our people assessed the situation in each locale, created a material list, requisitioned it and then went out and made the repairs. A lot of the repairs involved removing old, damaged poles and hardware, although we reused them where we could because Entergy didn't have backup inventory to replace that much material. Many of the areas we supported were off the road and inaccessible with our equipment, so our teams had to physically climb the majority of the structures. Most of the work involved setting poles, stringing new conductors and building new lines where old lines had washed away. Also, some areas near hard-hit Port Fourchon had poles in the water, so we had to load poles on a barge to reset them.
You and your teams have supported many areas hard-hit by natural disasters. From your experience, how bad was the damage you witnessed after Hurricane Ida?
It was by far one of the worst events I've seen; the poles and wires were simply lost. There are a lot of wetlands and swamps in Louisiana, and the poles were just lifted up and carried or washed away—just wiped clean, along with homes and property. I remember seeing a houseboat sitting on some distribution wires a good half-mile inland. Despite that, the area residents were some of the most supportive, encouraging folks I've ever met. To be without power for 4–6 weeks and to have the demeanor they had—opening up their homes, barbecuing food for our crews, getting us coffee, sending us nice notes—they were just the nicest and most gracious people.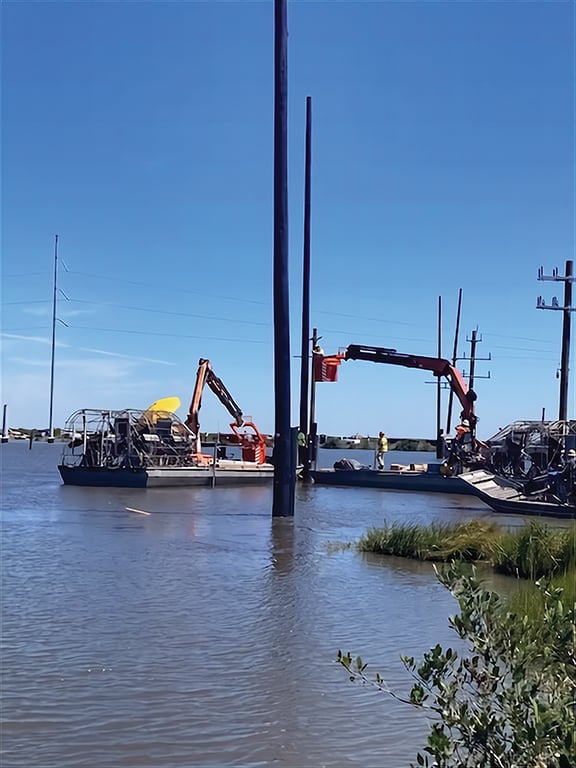 What conditions did you and your crews face when you arrived there?
We saw it all—floods, power outages, destruction and evacuations. In the first few days of our response, our people slept in their trucks; afterward, they stayed in a range of hotels, some more than an hour away, and then cargo ships were provided for our crews, and we stayed on the boat. I was there every other week and would stay for 3–4 days at a time, visiting our crews to assess the situation and ensure that they were OK and keeping up with safety protocols. There were wires and transformers on the ground, and people trying to backfeed the line with generators, which can create dangerous conditions for our lineworkers, so we were always reminding them to stay attentive. Keeping everyone hydrated was an issue because water plants were down; our people couldn't even brush their teeth with the local water because it wasn't safe for human consumption. We needed to bring in bottled water, and a lot of it, because it was over 100°F most days and extremely humid. It was also difficult to source food, but our staffers, along with the amazing communities we worked in, banded together to track down, feed and serve our crew members.
What's the status of your restoration work in the affected areas today?
The areas are now 100% operational with power; however, we believe that there will still be some "feeder hardening" work required. Specifically, in the efforts of emergency restoration, some repairs had to be done using old materials, so some will need to have final repairs made or be further assessed to ensure that all repairs were done correctly and to the utility's standards from a permanent restoration standpoint, while strengthening the poles for future events. Entergy had been in the process of updating transmission lines and strengthening the energy infrastructure in Louisiana before the hurricane even hit, although there's little any utility can do to prepare when a hurricane of Ida's force comes through.
What is E-J's approach toward supporting areas of the country that get hit by natural disasters, and how does the company allocate its resources to support other regions while still ensuring its own local coverage?
E-J has more than 600 trucks and, based on peaks and lulls in our standard work, we allocate appropriate support where it's needed. We work with utility partners to determine the size and makeup of our response team (e.g., apprentices, senior foremen, etc.) to ensure proper coverage. We also prepare for these emergency events by having tooling and equipment available in various locations throughout the Northeast. Especially after our experiences in 2017 providing emergency restoration services in Puerto Rico following Hurricane Maria and in Florida after Hurricane Irma, we're prepared to mobilize for emergency response and storm work. We have a team of people who are at the ready and who will go with us to respond to any of these larger events, and we keep a collection of diggers, bucket trucks and tools on standby should we be called for an event so we can mobilize quickly. Other contracting teams provide this support as well, but storm preparedness and response is one of our specialty divisions at E-J because these types of events seem to be happening more frequently.
What did you and team members find most rewarding about supporting the communities devastated by Hurricane Ida?
We were blown away by how the local residents came together to help, feed and appreciate our lineworkers. The communities couldn't have been more supportive of our crews; families prepared warm meals and dropped them to our workers, some even welcomed us into their homes and children drew pictures of our crews at work and gave them to us. With our crew members being away from their own families for weeks on end, this meant everything to them. Some residents even remained connected with us through Facebook to see if there was anything our crews needed. All we can say is that southern hospitality is real.
What final comments would you like to share about your recent experience supporting communities affected by Hurricane Ida and the role E-J plays in helping to restore areas hit by natural disasters nationwide?
We were so grateful for the support we received from the communities we helped restore. In addition, Entergy was an absolute pleasure to collaborate with; they helped expedite the onboarding process and ensured a smooth transition so that our men and women could get to work right away.
No matter how many events we respond to, it never ceases to amaze me how unselfish our workers are—leaving their own families for up to two months and spending time to help others. It's very selfless work, especially in the tough conditions they endured. Though it's truly exhausting work, it's extremely satisfying knowing that you can go out and help others, especially with everything going on these days. The bottom line is you've got to have power. //