Saws are basic tools. Tool makers are actively promoting the latest models of cordless saws, but there is still a place for corded models, and it's likely one or more manual saws will always be in electricians' tool kits.
Indeed, many lists of the basic tools apprentices need include a hacksaw frame that can accommodate blades to cut metal and PVC conduits, sheet metal, plastics and other materials. Easy-to-carry keyhole or jab saws are excellent for quickly cutting wall board. Manual saws are also good for cutting rigid foam insulation with much less mess than a power saw.
"Manual saws are great when there is no power or a battery dies," said Aaron Jones, senior product manager at DeWalt, Towson, Md. "Electricians often use jab/drywall saws for remodel work such as adding lights, switches and outlets to existing structures. Hacksaws are commonly used for cutting conduit. Because they tend to be smaller and lighter, they are a great primary tool for making a few quick cuts, or when there's a need to be very mobile. Moving around the site, it is a lot easier to keep a 3-ounce jab saw in a pouch to quickly open up a hole in drywall than to carry a power saw on the hip."
Reciprocating cordless saws powered by lithium-ion batteries, and many with brushless motors, have become lighter without sacrificing power. Compact cordless band saws have achieved immediate popularity.
"Innovation in cordless battery cells, electronics and brushless motors have taken the cordless world from its early stages to now where we see entire job sites going cordless only," said Nate Pellerin, vice president of marketing for the power tools group at DeWalt. "This has helped reduce the need for temporary power setups, gas generators and air hoses and cords, which can be costly and create tripping hazards on a job site."
Reciprocating saws have changed over the years, offering different styles and sizes. The DCS367 uses a compact design that enables users to work easily in between 16-inch on-center studs, and smaller, one-handed products such as the DCS369 offer greater flexibility in spaces where these tools can be used. Power always is something users ask for with reciprocating saws because of many demanding applications.
"Our newest launch of Flexvolt Advantage reciprocating saws offer more power when paired with the Flexvolt range of batteries for those tough applications," Pellerin said.
Size and weight are top considerations with portable band saws.
"Manufacturers are beginning to offer multiple sizes of portable band saws, depending on the size of the material being cut, and users can choose a smaller or larger band saw to cut weight and cost out of the tools they purchase, while still getting high quality," he said.
Portable band saw improvements have most recently been seen in the realm of user protection. An identified issue with portable band saws is the potentially dangerous practice of trying to operate a band saw using one rather than two hands.
"Our response was the launch of a dual-hand band saw that requires the user to pull two switches for the tool to operate. This always helps to encourage the correct behavior by requiring both hands on the tool for it to operate," Pellerin said. "Coming this year will be a smaller 1¾-inch band saw specifically designed for one-handed use while cutting smaller materials."
Artie Reams, product manager at Hilti, Plano, Texas, said band saws, reciprocating saws, oscillating multitools, metal cutting circular saws, nibblers and chop saws are the saws most used for electric work.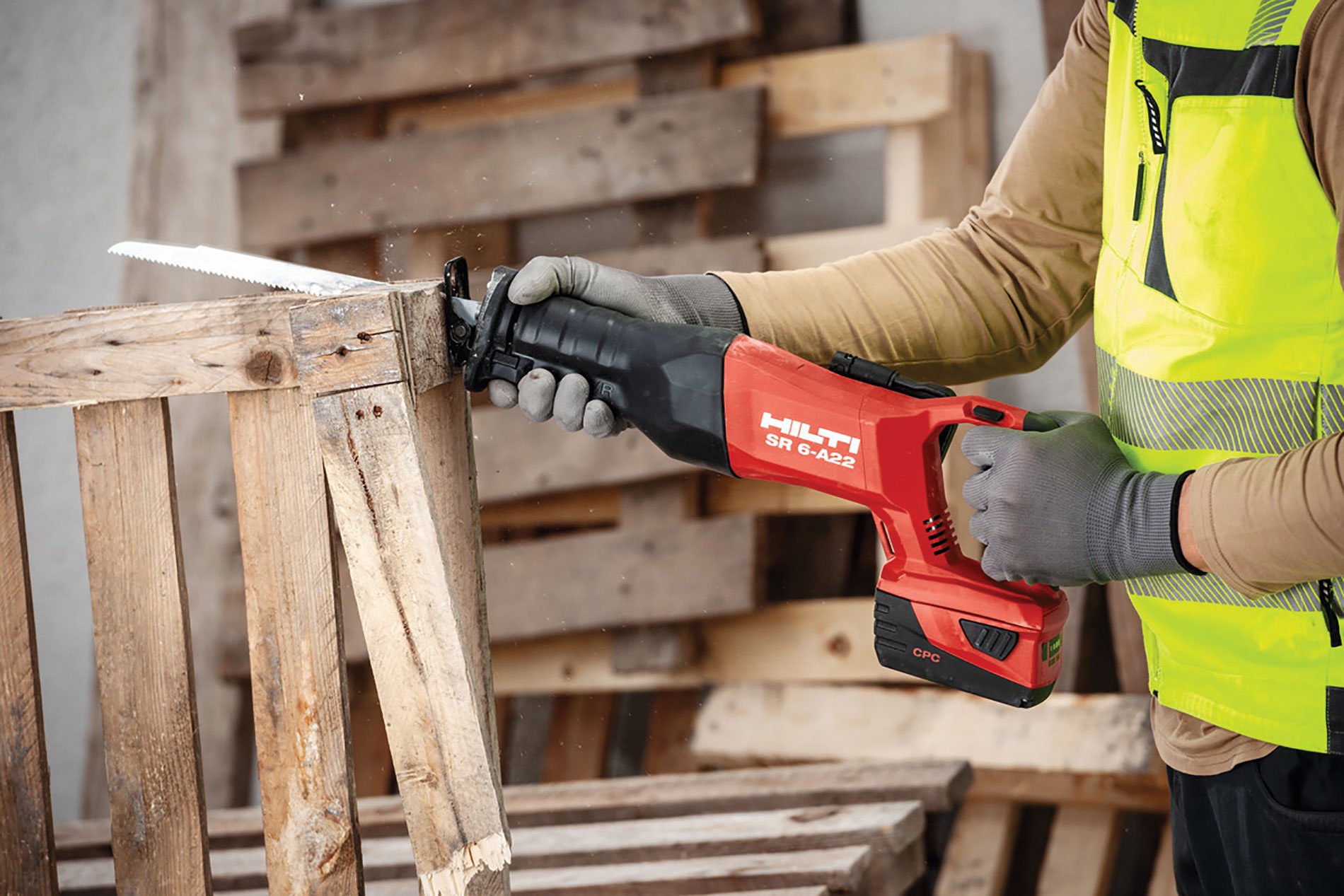 "Electricians cut everything from EMT, strut and threaded rod to drywall, metal deck and plastic pipe, so the need for a diverse set of tools is constant," Reams said. "Band saws allow for clean cuts in hard-to-reach locations. Reciprocating saws are a workhorse in any demolition project. Oscillating multitools provide the convenience of a single tool with the ability to cut multi-base materials. Metalcutting circular saws are a go-to saw for handling the most common small-diameter materials. Chop saws make cutting large quantities or large-diameter material faster and more productive."
Reams said improved electronics, sensors and controls have introduced features such as blade brakes and vibration reduction. Combined with better use of the power source, electricians can be more productive while working more safely than in the past.
Cutting accessories must be matched to the tool and application.
"Today, many saws can cut a variety of base materials," he said. "For example, reciprocating saws are a utility tool that cut plastic, metal, wood and masonry. However, using a wood reciprocating blade on thick metal would not be very effective and would waste a lot of blades. As with any tool, having the best system (tool plus proper battery plus correct accessory/insert) helps ensure the most productive usage and best overall experience."
Accessories/inserts continue to evolve to take advantage of more powerful tools. Better accessories/inserts mean tools don't work as hard (prolonging battery life) and still get the job done productively.
Are corded tools still needed?
"Thanks to the evolution of batteries and smarter tools, greater power and reach have made many corded tools obsolete," Reams said. "For serial bulk cutting, like bundles of strut, cutting stations with corded chop saws are still one of the most productive methods used."
Cordless power saws are the standard on the job site, he said. The tools are lighter than ever, and the newest batteries keep personnel working instead of walking back to the charging station.
Brian Alves, group product manager for Brookfield, Wis.-based Milwaukee Tool, said power saws most often used by electricians are primarily reciprocating, band and metal-cutting circular saws.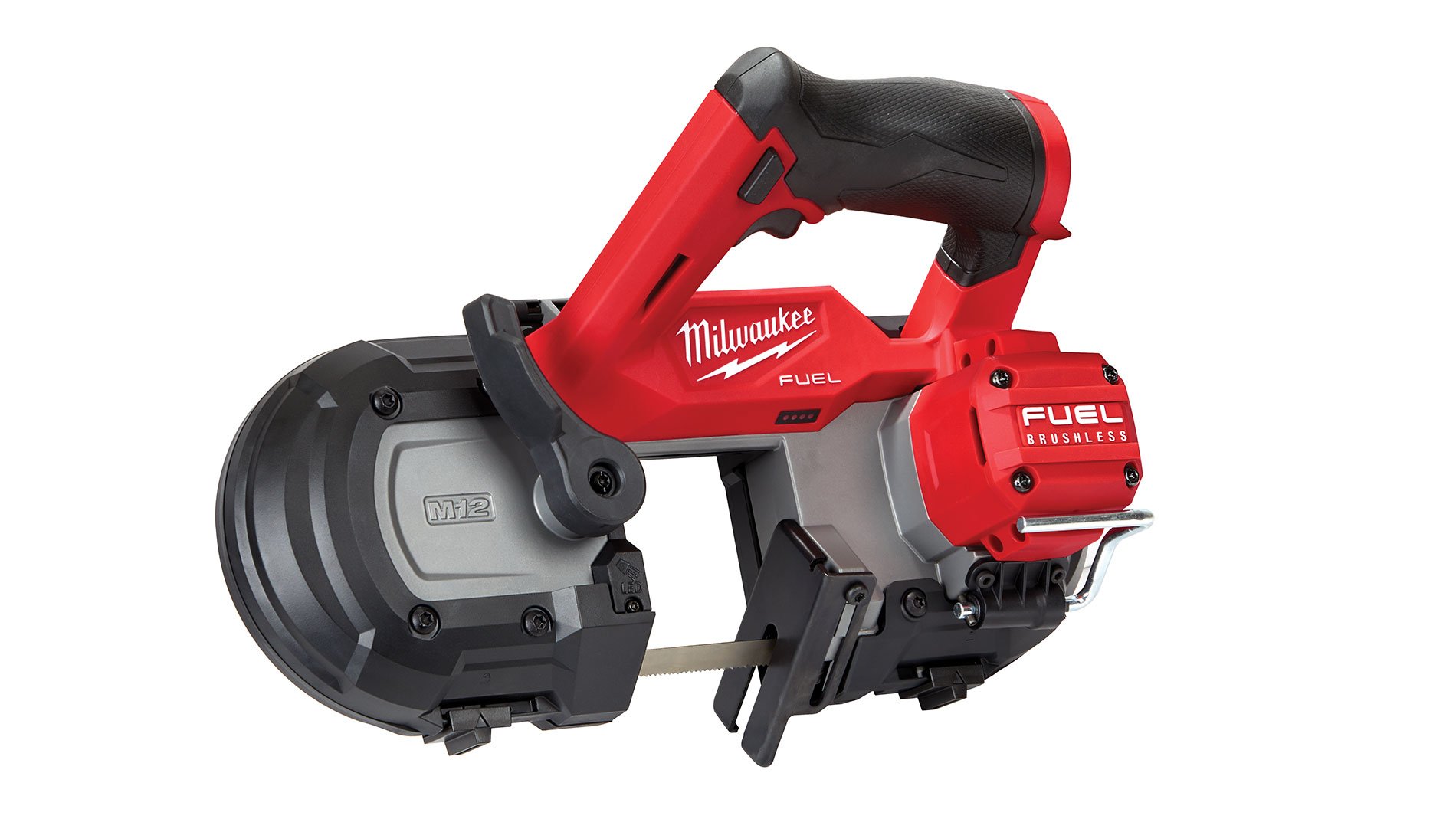 Reciprocating saws can make easier cuts in tight spaces in between other materials. They're a good option for cutting EMT, threaded rod, non-metallic conduit, metal studs and unistrut when installing electrical systems. They are also useful in demolition applications.
Band saws are ideal for cutting EMT, threaded rod, conduit and unistrut when installing electrical systems. They're a good choice for making cuts overhead, flush to a wall or cutting material in a vice. The band saw is especially popular due to its clean and consistent cuts and ease for the user. The downward momentum of the tool does almost all the work for the user.
Metal-cutting circular saws deliver fast, burr-free, installation-ready cuts, and they can be used in a wide range of demanding cutting applications, from sheet metal to plate steel and everything in between. The ability to make cold cuts—unlike grinders and band saws—means the user can work with the material immediately after a cut is made.
"Performance, durability, and ergonomics remain driving forces in the development of cordless saws," Alves said. "We now are able to design compact saws that provide not only great power but also are very maneuverable and can withstand the harsh job site conditions. A good example of this is the M12 Fuel compact band saw. Weighing only 6 pounds, it not only is the lightest band saw in its class, but it cuts faster than 18V and 20V competitors within the 2½-inch cut class."
Evolving safety regulations influence tool design and the choices tool buyers make.
"Safety directors have started to require two-hand activation band saws," Alves said. "The M18 Fuel deep-cut, dual-trigger band saw and the M18 Fuel compact dual-trigger band saw deliver solutions that can be used to safely cut a variety of job site materials."
Alves said advancements in technology have allowed tools to become smarter, as seen with the M18 Fuel Sawzall saw.
"For example, with our One-Key app, users can adjust the speed of their Sawzall saw for smoother cut starts, engage an automatic cut brake to help prevent accidental cuts and optimize cutting for longer blade life," he said. "This gives electricians ultimate control to specifically set or adjust the speed beyond the variable speed trigger to prevent blade chatter when starting cuts in EMT and unistrut for smoother cut starts. Users can also track and manage the tool with Bluetooth from a mobile device."
For any cutting tool, using the right cutting accessories is key to tool performance and life.
"Advances in power tools often lead to the need for advances in cutting accessories, not only to maintain productivity, but also to reduce overall costs," Alves said.
The continuous upgrades in speed and power often result in more stress placed on the accessory in the form of impact, heat or other forces that may limit the accessory's performance.
Alves believes cordless technology will continue to rapidly push the potential in categories never previously thought of as viable cordless options.
"For tool users everywhere, this is good news," he said. "Advancements in performance, technology and design will fundamentally change the way professionals work and make a significant impact on overall job site operations and efficiency.
"We firmly believe our cordless systems can deliver the performance of AC corded products and provide the run-time needed to get most users through their entire day, thus minimizing the need for corded solutions. We are continually working to close the gap on the final remaining heavy demand situations where a cord is truly needed," Alves said.