The National Electrical Contractors Association is a strong and vibrant organization. I see it every day in my interactions at Rosendin Electric and with the committed NECA staff around the country. Our progress over the past year comes from a foundation of steady management and the hard work of the many dedicated people who make up our association. I am proud to be part of an organization that so effectively represents all of us and is truly looking for ways to improve. We are NECA.
As the electrical construction industry faces change, it's clear that now is not a time to rest on our past successes. The recently published 2019 NECA Annual Report details the progress we have made to date and demonstrates how we will remain the class leader of specialty contracting associations in the United States. At NECA, a new leadership team is in place, with many more changes on the way.
Make no mistake, we have a lot of work to do, but NECA is going in the right direction. There have been many high points. NECA members' involvement has surged in recent years, as attendance at many of our meetings set records. In fact, registration for NECA 2019 Las Vegas far exceeded previous comparable figures. It is encouraging to see such high enthusiasm for NECA events, and it's a testament to our exceptional national staff and chapters.
I also take pride in what our members are doing around the nation. This month, 17 electrical construction projects spearheaded by NECA members were honored as 2019 NECA Project Excellence Award winners. Please visit www.projectexcellenceawards.com and take a look at the recipients' stellar work. Their creative use of technology and commitment to their craft is simply inspiring.
NECA's future looks bright, and I am confident about the path we are on. Growth requires collaboration, and I know the involvement of industry stakeholders at every level is crucial to keeping our momentum going. Together with all of our industry partners, we will make a difference. I welcome your questions and feedback as NECA charges ahead.
About
The Author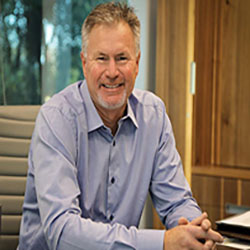 Larry Beltramo was the president of the National Electrical Contractors Association (NECA) from April 2019 through December 2021.