There were plenty of obstacles to completing the new home for the New York Islanders hockey team in Elmont, N.Y. However, the COVID-19 pandemic, harsh weather conditions, staging challenges and a looming deadline didn't deter the contractors. UBS Arena, which replaces the Nassau Coliseum, opened its doors late last year in time for National Hockey League games and multipurpose use.
Despite a schedule shortened by lockdowns and weeks when workforce or management were sick or quarantined, the band Chicago performed on time the night before the 18,000-seat arena's in official opening. Electrical contractors included two Farmingdale, N.Y.-based companies: Bana Electric Corp., which provided full services to the arena, and Advance Sound, an audiovisual (AV) subcontractor that installed the sound and video system.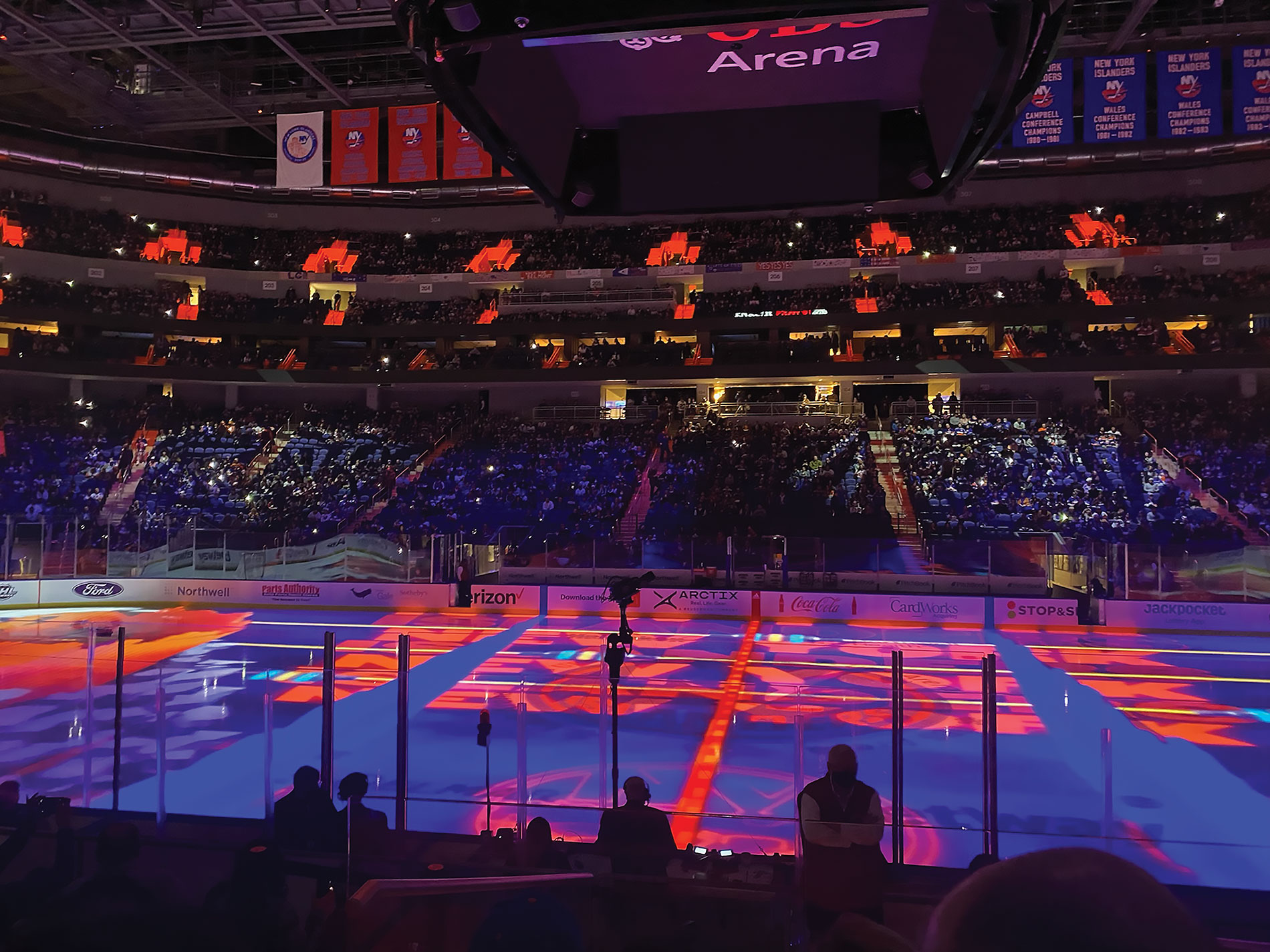 Long Island has waited years for a new arena. For decades, its hockey team played at the aging Nassau Coliseum, which was the second-oldest and second-smallest facility in the NHL. Although it was renovated multiple times, Nassau County outgrew the space.
The new $1.5 billion facility was developed by New York-based Oak View Group to house a variety of venues. It will host more than 150 concerts and festivals this year alone in addition to hockey games. New York-style architectural features are inspired by iconic landmarks. The grand atrium, for example, is modeled after the old Grand Central station. It has eight bars and houses a massive video board, which is the largest arena scoreboard in New York State. It includes VIP suites and clubs with AV accessibility and a 7,000-square-foot terrace overlooking Belmont Park, not to mention an indoor loading dock that can accommodate up to 16 trucks at a time.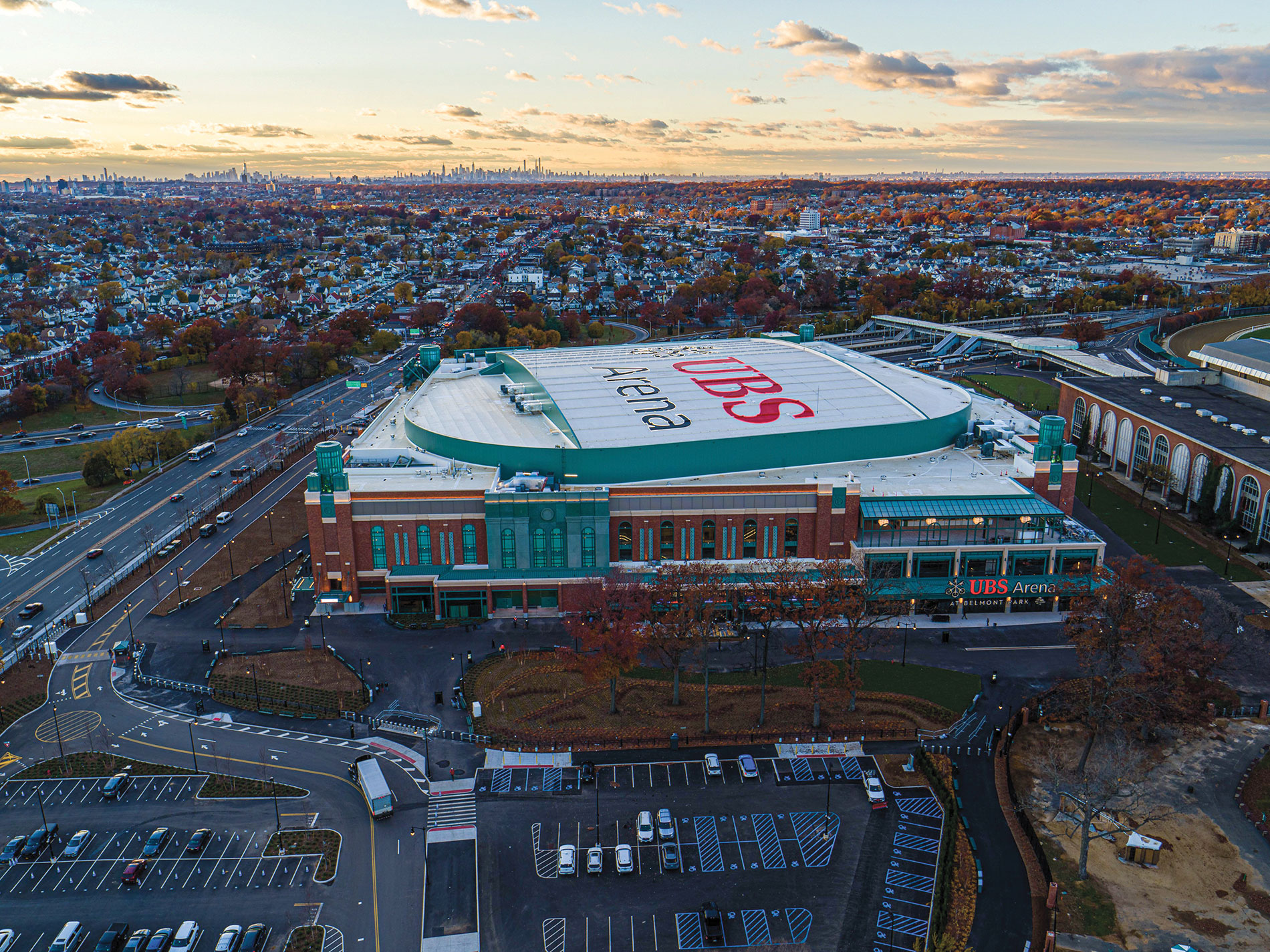 Building the electrical infrastructure required a team of ECs with varied responsibilities. In addition to Bana Electric and Advance Sound, ASR Electrical Contracting Inc., Plainview, N.Y., provided lighting and B&G Electrical Contractors of New York Inc., North Amityville, N.Y., worked on low-voltage and data. The facility boasts state-of-the-art lighting and sound as well as two levels of high-resolution LED ribbon boards to display the game wherever fans are in the arena.
At the foundational level, Bana Electric provided all power—starting with the incoming 15-kilovolt (kV) feeder for high-voltage service, as well as the electrical distribution, emergency power systems, automatic transfer switches and emergency power distribution, said Stephen Bender, Bana Electric's president. Bana also provided sports lighting, which features television-quality light and aisle illumination inside the seating area. Bana was responsible for the structure's life safety systems, including fire alarm, area of rescue, emergency radio responder systems and smoke management. Bana also provided all branch power and raceways for the low-voltage system, including conduit for cameras as well as data and point-of-sale in the dozens of vendor installations.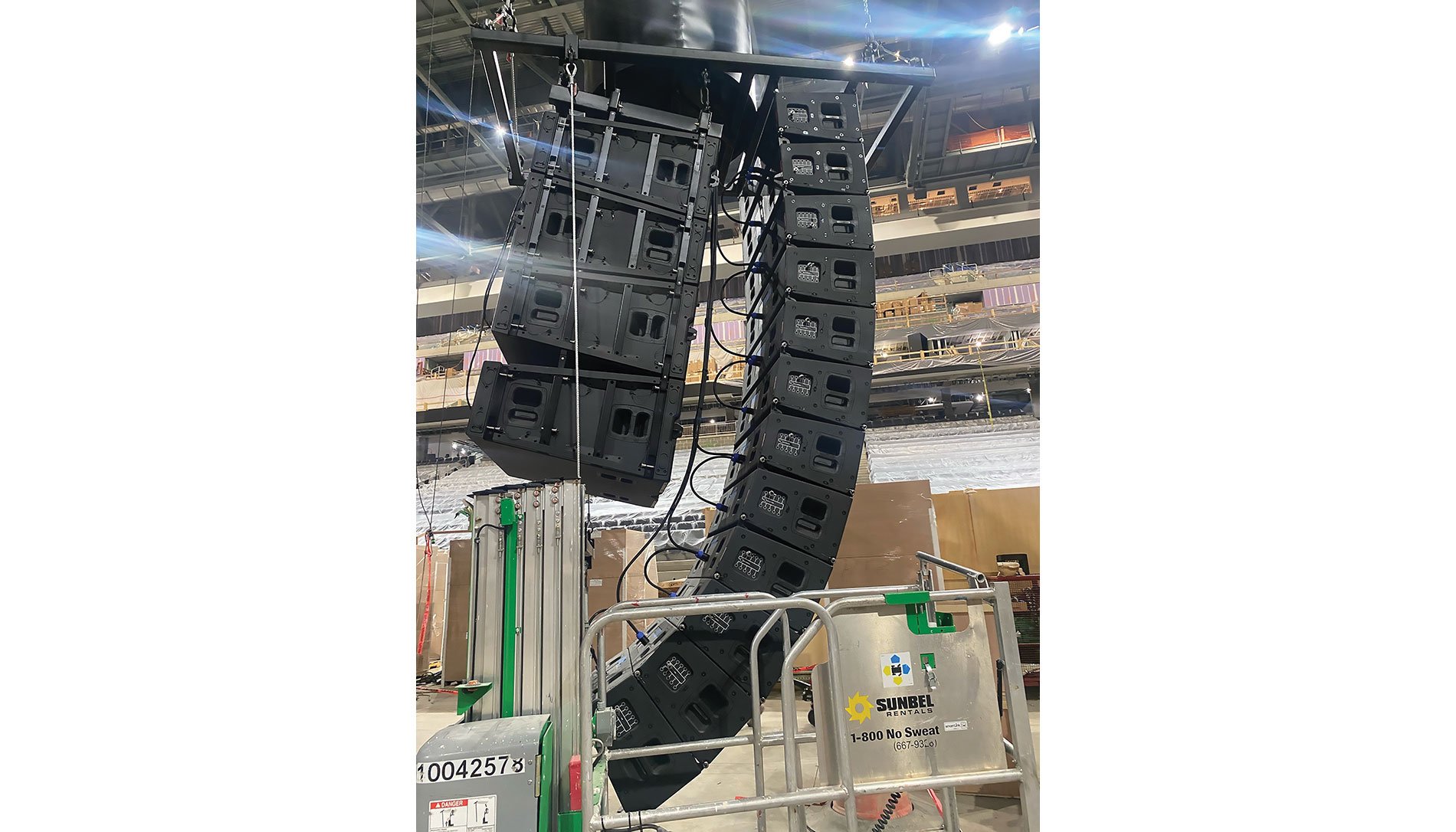 Puck drop
Work started in 2019. Bana arrived on-site in the early days of the project, around June of that year. But, from the beginning, this project would have a series of challenges, the most significant of which loomed six months beyond the project's opening when the COVID-19 pandemic arrived in New York. Work stopped in March 2020 for 60 days. That shutdown came at the worst possible time, Bender recalled, when spring offered a long stretch of good weather for the most productive part of the project.
The pandemic threw multiple other barriers into the mix. There's a matter of momentum in a project of this size.
"Once a project is moving along, it has its own inertia; when you stop it, that inertia is lost," Bender said.
That meant the effect of a 60-day shutdown can last longer than that as crews start activity again. Another challenge was loss of personnel due to sickness or quarantines. The electrical work was highly complex, and losing someone such as a key supervisor for a few weeks had a huge impact on productivity.
"We had at some points as much as 90% of supervision out with COVID, through a series of waves," Bender said.
As with other contractors, Bana was affected by hiring shortages. Finding qualified electricians was difficult. With 165 electricians at peak, they needed all the experienced staff they could get.
In the meantime, supply-chain delays meant that plastic products, then wire and circuit breakers, were hard to access and costs were up.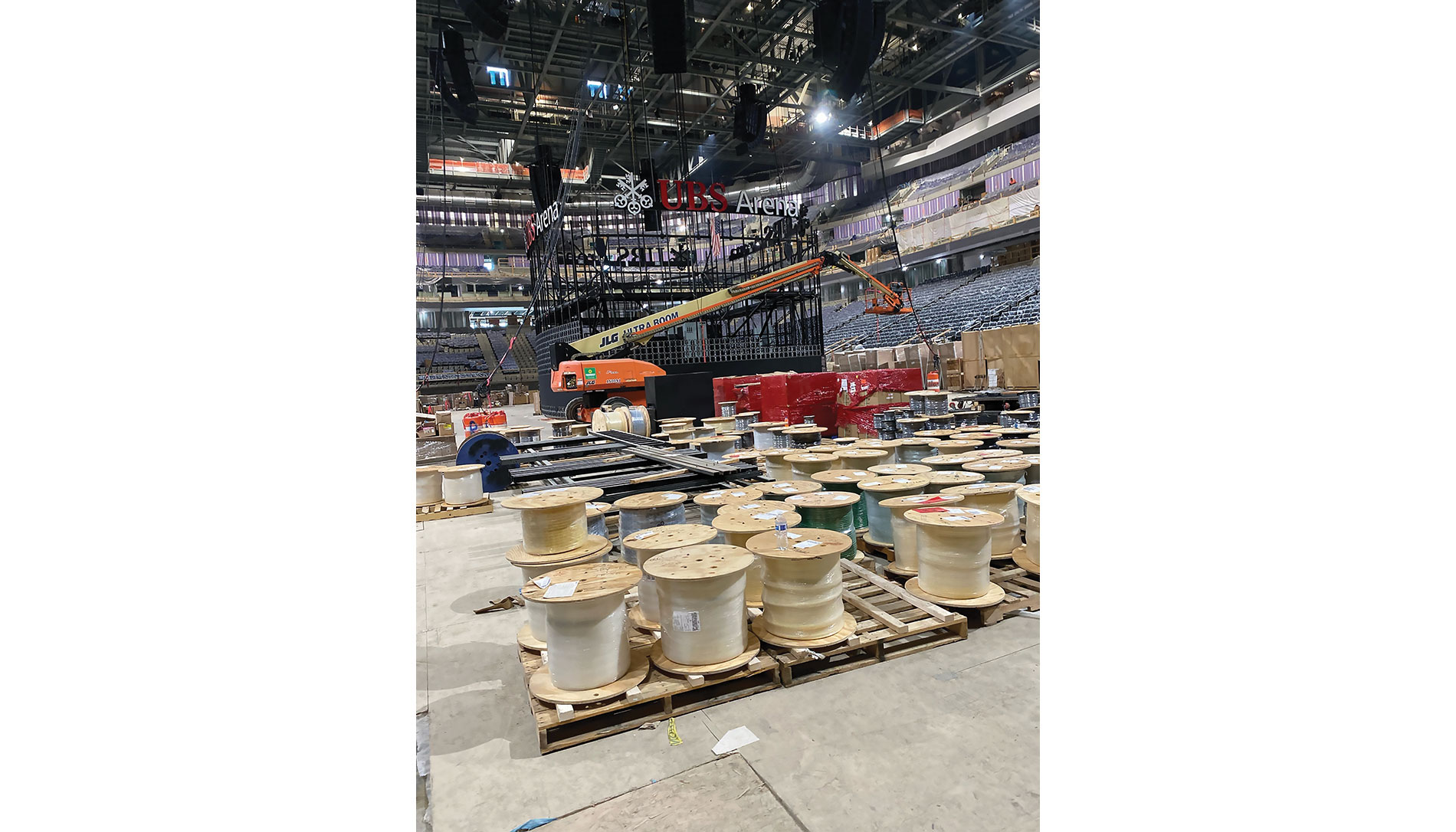 Staging was another challenge, as there was no fixed laydown or staging area dedicated to contractors throughout the project. Bana and the other electrical contractors found themselves staging and restaging at least two times.
Other difficulties were weather-related. A series of winter storms affected work, especially with a lack of water-tight space to work in. Until May 2021, Bender said, it was raining in switchgear rooms because of delays in enclosing the building.
Nevertheless, none of these challenges prevented a successful installation from on-time completion. The original deadline was first pushed out from Oct. 20, 2021, to Dec. 20 due to COVID-19. Then in April 2021, the construction team made the decision to accelerate the project by four weeks. The new completion date was Nov. 20, with concerts and hockey games scheduled almost every night from that date forward. There would be no time to spare.
"There was a tremendous effort the team put in, and I can't say thank you enough to them. Everybody stepped up. We all worked very long hours." Bender said.
Altogether, Bana Electric installed eight uninterruptible power supply systems, 48 emergency distribution system switchboards and panelboards, one main service, double-ended 15-kV switchgear lineup and four double-ended 4,000A power distribution substations.
Bana put in four 2,500A bus duct risers and 365 distribution and branch switchboards and panelboards. As part of its emergency system, the company also installed an emergency responder radio communication system for police and fire departments and a complete building fire/smoke management system. Additionally, one complete building alarm system with nine data-gathering panels was provided by Bana, with one main command center and one firefighter smoke control panel. Bana installed 1,500 fire alarm devices and 135,000 feet of ¾-inch fire alarm conduit. Finally, the company mounted 226 sport lighting fixtures, 338 tile lights and one master sport lighting control panel.
When it comes to cable, Bana installed 15,000 cable trays and 125,000 feet of distribution conduit. There were 785,000 feet of branch and low-voltage conduit and 10,015-kV power cable. In addition, Bana installed 2.9 million feet of branch cable and 650,000 feet of power distribution cable. There were 6,400 wiring receptacles and 600 fuse disconnects.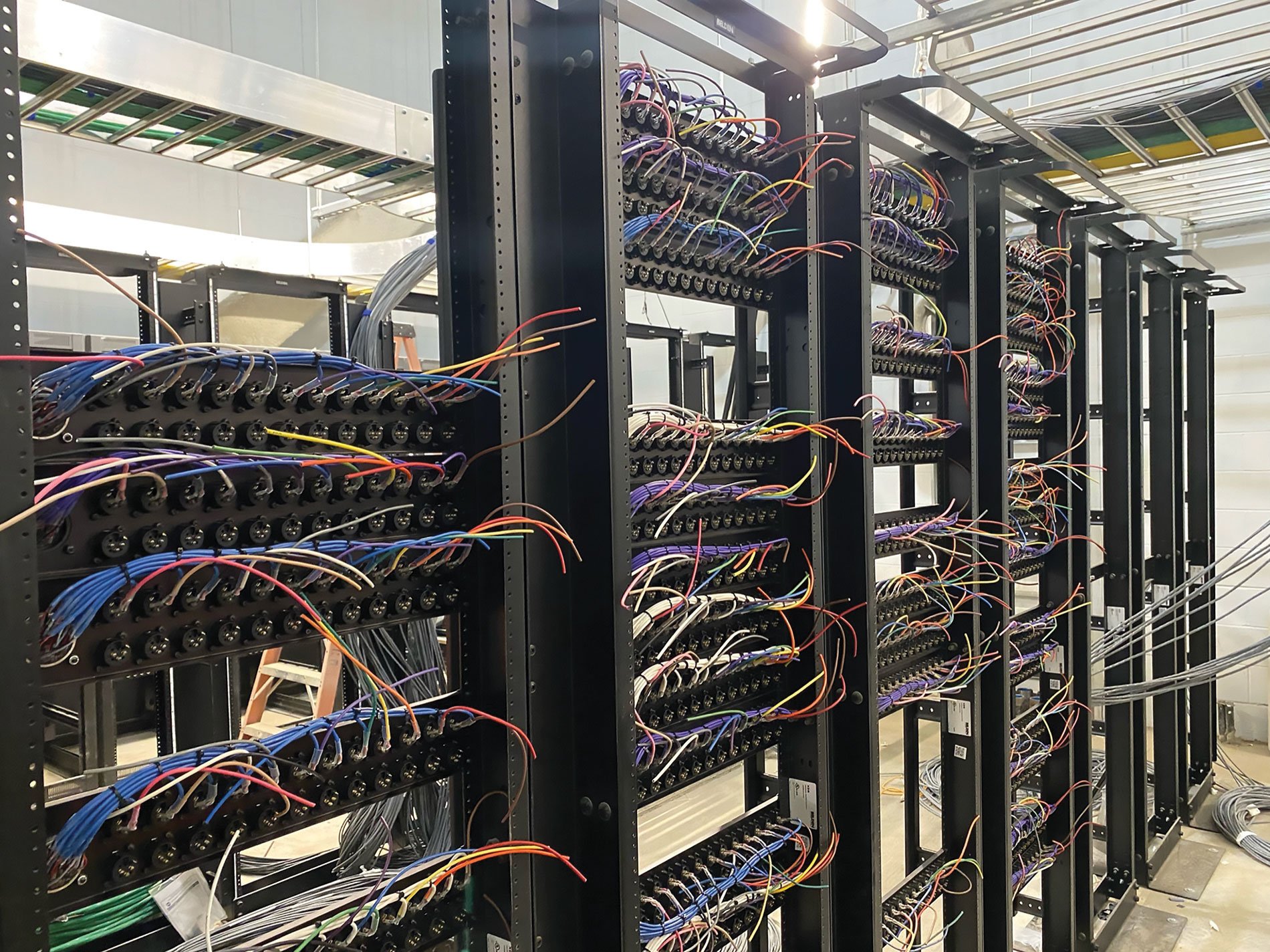 State-of-the-art sound
Advance Sound, which works in the Tri-State area, provided the arena's sound technology. Advance Sound is no stranger to stadium work; the company has more than 50 years experience providing AV systems, said Thomas DePace, COO and senior engineering manager.
For UBS Arena, the company installed all audio system cabling, including the fiber infrastructure for the Daktronics lighting system, low-voltage cable tray install and fiber. Due to the size of the stadium and its demand for AV and broadcasting lighting, the company installed more than half a million square feet of cable. For DMX lighting, the crew provided short jumpers to connect each fixture, DePace said.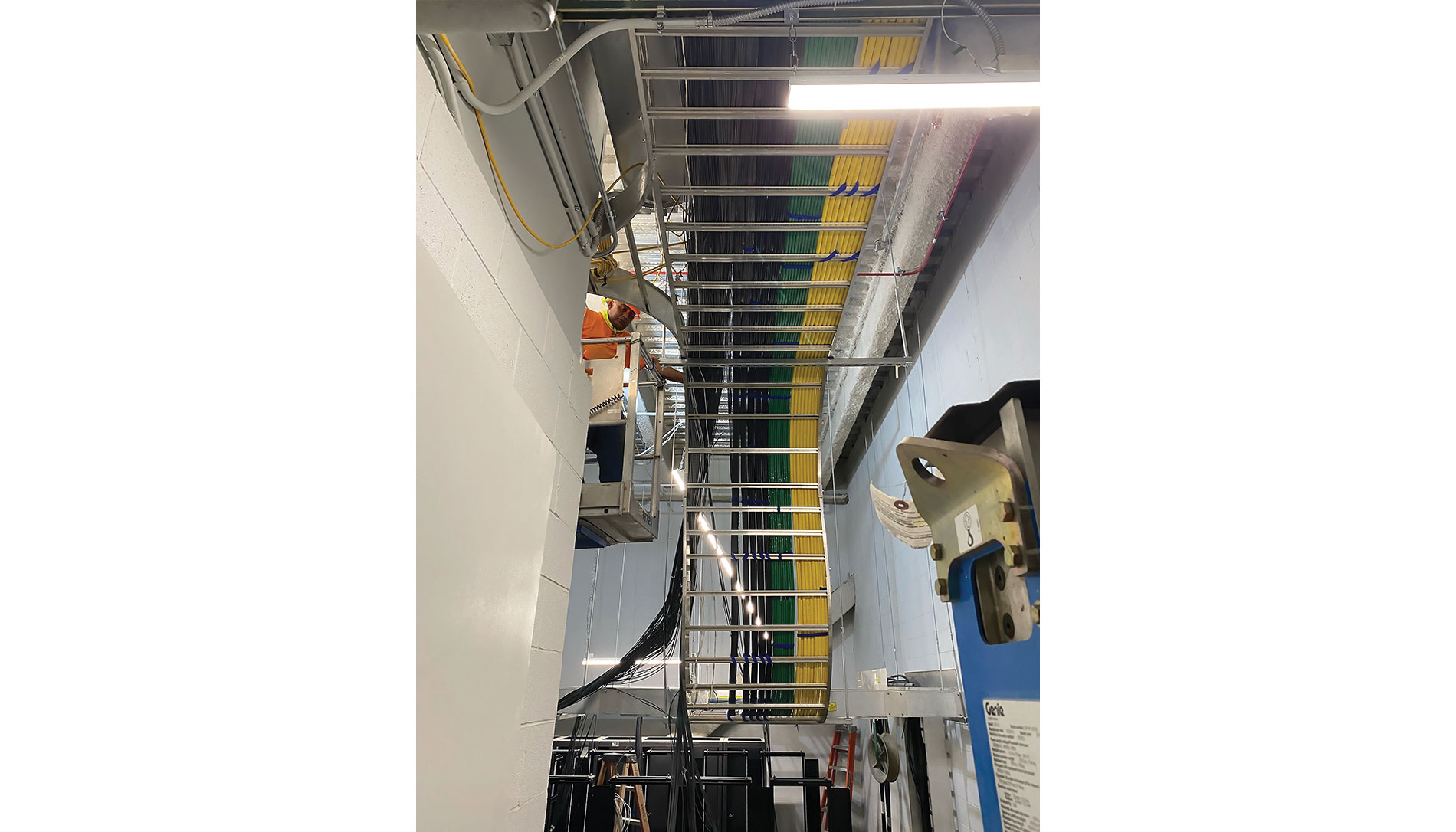 UBS Arena is at the forefront of technology in terms of audio and video, while also mitigating future changes in the broadcasting industry to be backward-compatible. The existing AV system can link in broadcasting trucks, but also accommodate the new and upcoming 8k and 16k video sources of the future.
"It's a mix of both," in the broadcasting world today, DePace said.
This arena includes its own broadcasting studio for the highest resolution video from end-point to screen around the facility and for sending video out to TV stations.
That kind of technology used to be a luxury, but it is now a requirement for arenas, DePace said. In fact, there's been an evolution for AV systems in these kinds of venues. In the past, AV and integrated field experiences were an afterthought in construction, but "now it's become a budgetary line item. Part of the total cost of the project," he said.
For this project, Advance Sound leveraged electricians from across the country. At peak, they had 37 technicians on-site.
"We pride ourselves on the great networking connection training" Advance Sound's electricians have, DePace said, adding that this allows for a low failure rate on projects such as this one where the timeline is so short. The company was fortunate, however, to miss the COVID-19 shutdowns in early 2020, DePace said. The company started working in May 2021 with an end date of Nov. 20.
"It was a really quick ramp-up," he said.
For Advance Sound, staging issues meant that storage was sometimes a half mile from the project site, so logistics were critical. The AV company assigned one individual dedicated to logistics.
"On a stadium project like this, with different sponsors and different restaurants," including 17 different bars, each with custom speakers, tight equipment coordination was essential. And with supply chain challenges, many manufacturers pulled together to get products and meet the deadline, he said.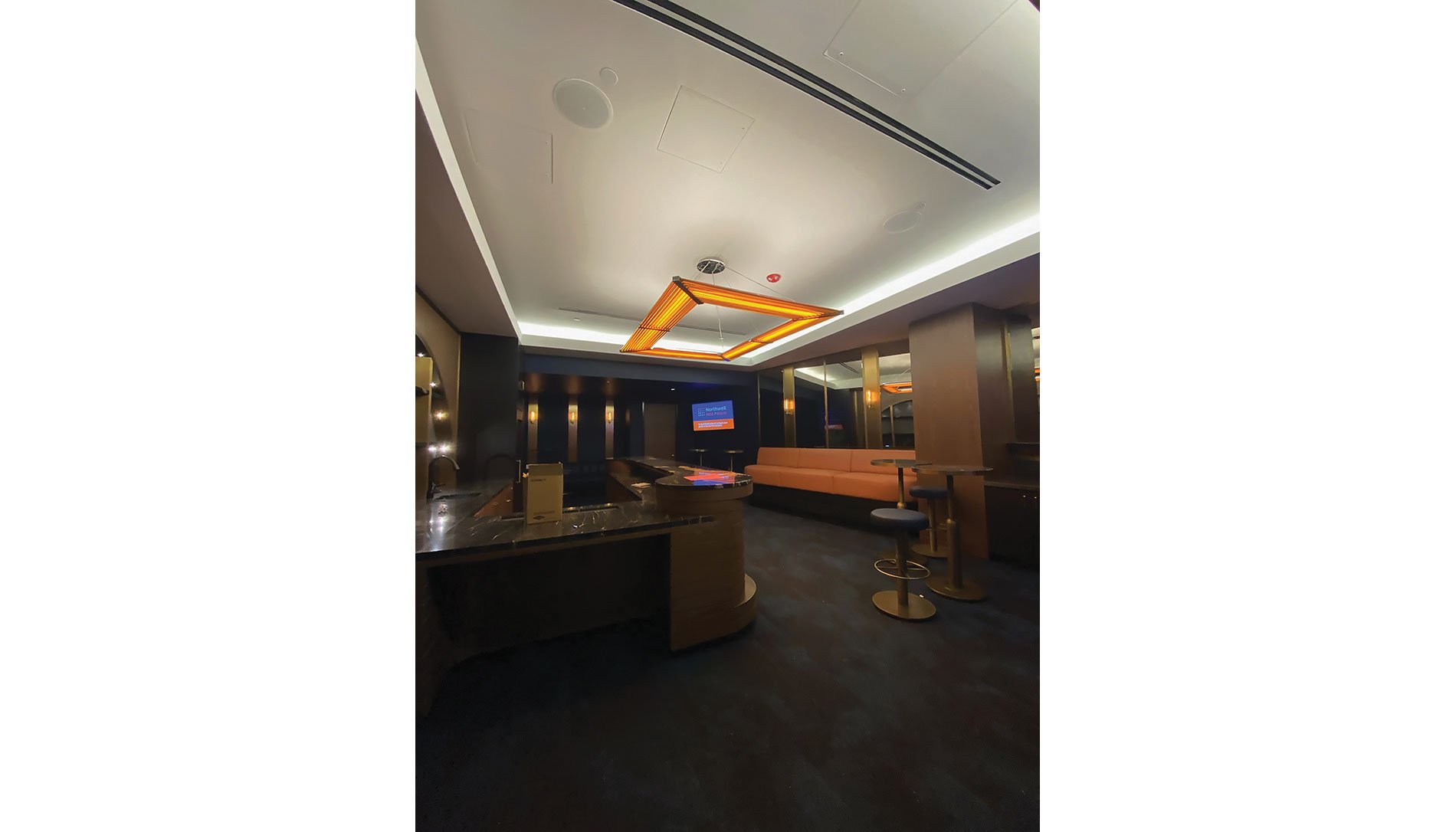 "It's really everybody working together in a coordinated effort, so you know the problems early and you address them,'' DePace said. The company leveraged BIM 360 and used Procore in its office and automated asset management for tools.
"It was a very large ramp-up of staff, so being able to do some asset management for our tools and product was really important," he said.
With the system in place, the arena offers viewers the highest resolution video from end-point to screen—something audiences will come to expect in future stadiums.
"Its been a really great experience," DePace said.