On Sunday, Oct. 16, 2022, apprentices gathered to celebrate Apprentice Appreciation Day at NECA 2022 Austin, sponsored by Milwaukee Tool and the Electrical Training Alliance. The event featured special programming with speakers for apprentices working at all levels of electrical construction.
Following the morning's presentations, apprentices were offered free admission to the trade show floor and all 36 trade show education sessions.
"The apprentices in Austin are looking forward to Apprentice Day at the National Convention," said Don Kanetzky, manager for the Central Texas Chapter of NECA. "They appreciate the full employment for apprentices and the opportunity to work as many hours as they desire. We have a great training program with excellent facilities.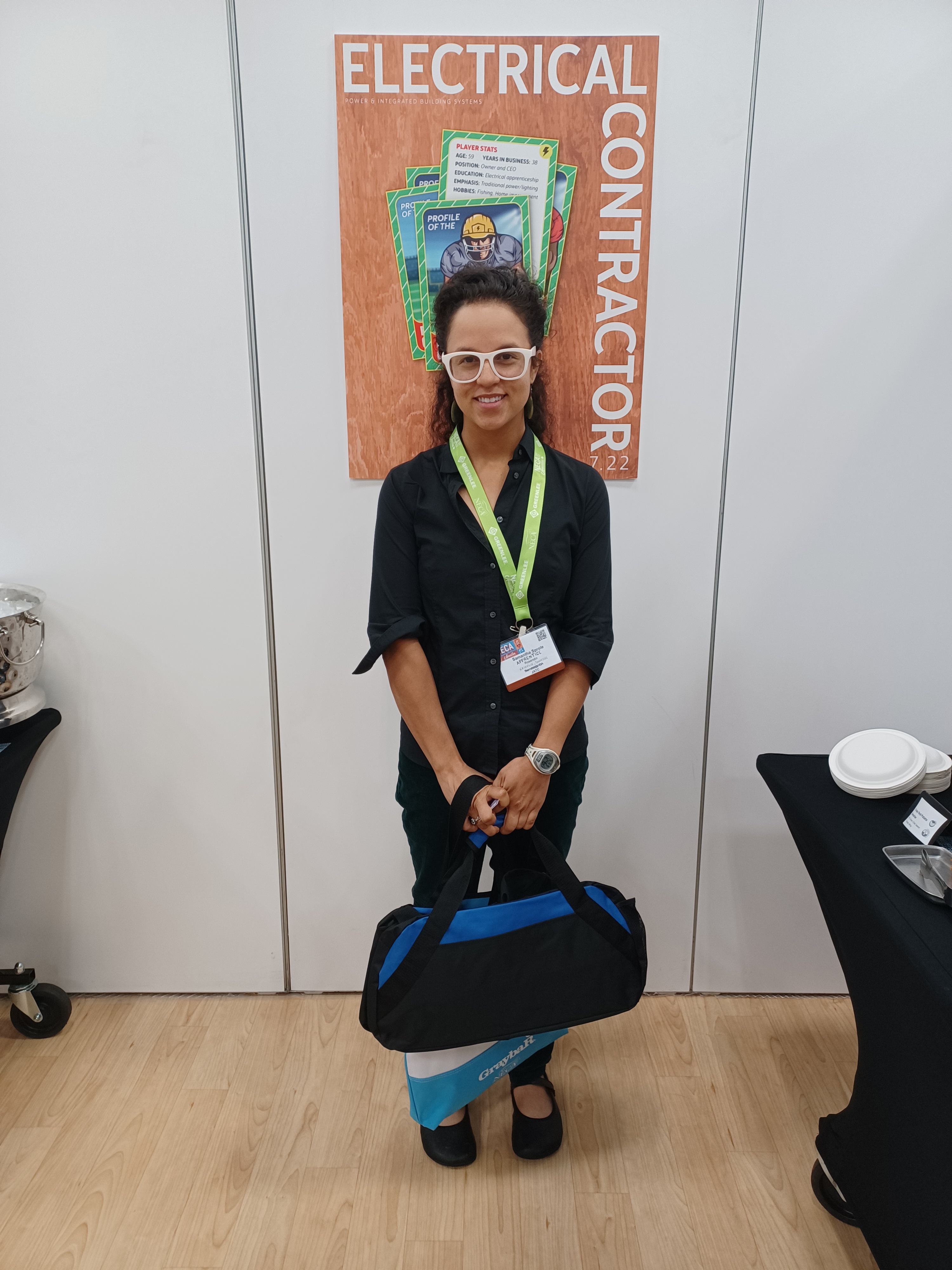 Samantha Sprole, an apprentice with Rosendin, poses in front of a poster of the Profile of the Electrical Contractor cover. After attending a pre-apprenticeship construction program in Nashville, Samantha decided to join the IBEW's electrical apprenticeship program and began her training in April 2022. She also holds 2 master's degrees.
Photo by Colleen Beaty
"The NECA-IBEW apprenticeship programs are the life blood of our industry," said Kevin Tighe, NECA's vice president of labor relations and field service. "As we strive to expand our industry, the NECA-IBEW apprenticeship programs will continue to fuel that growth.
While apprenticeship programs continue to face the challenge of attracting new talent, each program has its own unique way of overcoming barriers to recruitment.
"One problem for attracting applicants is that we have a 5-year program versus the 4-year program that the competitors have," Kanetzky said. "We strive to overcome this with a better program, full time employment, better wages and excellent benefits. Our program doubled the first-year class in 2022 because of these reasons."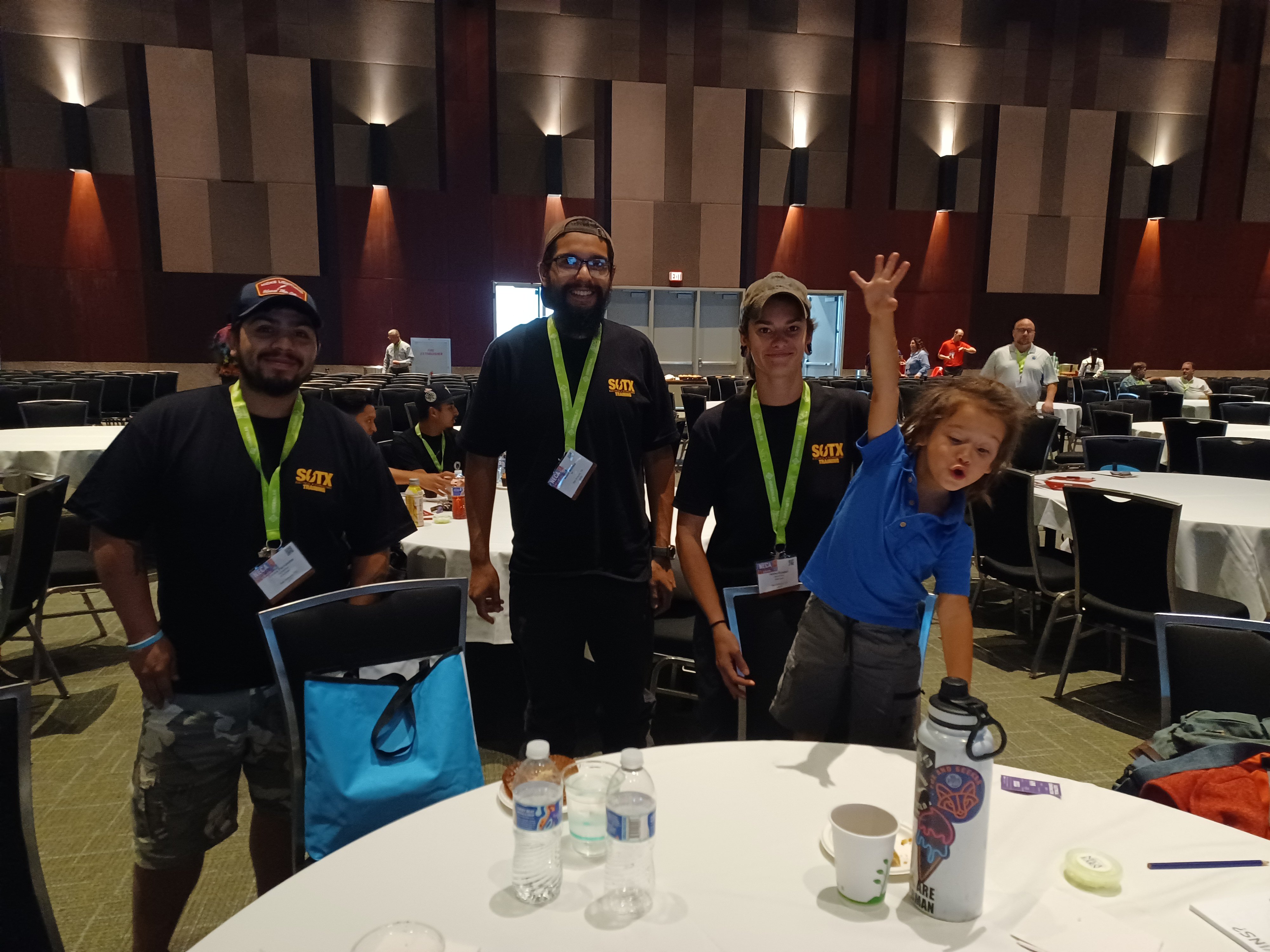 Three apprentices from Alterman Electric, (from left) Carlos Fernandez, Adam Montes and Hailey Braden - and Hailey's son, a very enthusiastic future electrician - are currently training with the South Texas JATC in San Antonio.
Photo by Colleen Beaty
Tighe explained that aiming for diversity when recruiting for apprenticeships is necessary and valuable for boosting recruitment rates.
"With the NECA-IBEW apprenticeship program, our industry has created new pathways to employment for traditionally underrepresented talent that were overlooked before. The NECA-IBEW team wants to reach diverse, untapped talent pools previously omitted from our recruiting strategy and expand our organization's pipeline for entry-level workers. The investment in our apprenticeship programs helps our industry recruit untapped talent and provide apprentices with skills-based training in high-demand, entry-level positions within our member companies. We continue to build sustainable, diverse talent pipeline through apprenticeship programs," he said.
Header image: Lonnie Stephenson spoke to a full house about a number of topics, including how he sees the industry growing more diverse with each new group of apprentices, and "that's a good thing." | Photo by Colleen Beaty
About
The Author
Colleen Beaty is senior editor at ELECTRICAL CONTRACTOR magazine. She has been writing about topics such as outside line work, wildlife and habitat conservation for more than 15 years. Reach her at [email protected].
Email:

[email protected]