The basic mechanics of switchgear may not have changed, but digitization has transformed gear operation, safety and upgradability. Welcome to a new era that will benefit from contractor collaboration supported by education and training.
The advances in switchgear have been applied across the board to small, medium and large power applications. The American National Standards Institute and Institute of Electrical and Electronics Engineers standards define low voltage as up to 600V. The 2014 National Electrical Code expanded the definition up to 1,000V. Though used by utilities, it can be applied in industrial, manufacturing and water treatment facilities, as well as healthcare and data centers. Medium switchgear can be found in the same markets, generally providing 600V/69 kilovolts (kV). Large switchgear provides between 69 kV and 230 kV—think substations.
"For the industry, advances in gear efficiencies and safety have been very influential," said Mike Carroll, product category manager for Graybar, a North American distributor serving the construction industry based in Clayton, Mo. "Artificial intelligence and sensors are helping with safety and maintaining equipment. You can stay ahead of the preventive needs of power and switching equipment; be predictive as to its operation based on data gathered from sensors. This is labor-saving, too."
Schneider Electric, Andover, Mass., partners with Graybar in supplying switchgear and playing a collaborative role through project management and training.
"Our comfort with [the] digitization of our homes is becoming a digitization expectation outside the home," said Richard Tanner, global offer manager for Schneider Electric. "This has certainly extended to power distribution components. I think being able to read how equipment is operating and performing is the biggest advance for switchgear, and a worthy one. Edge control software and cloud data storage are also valuable developments."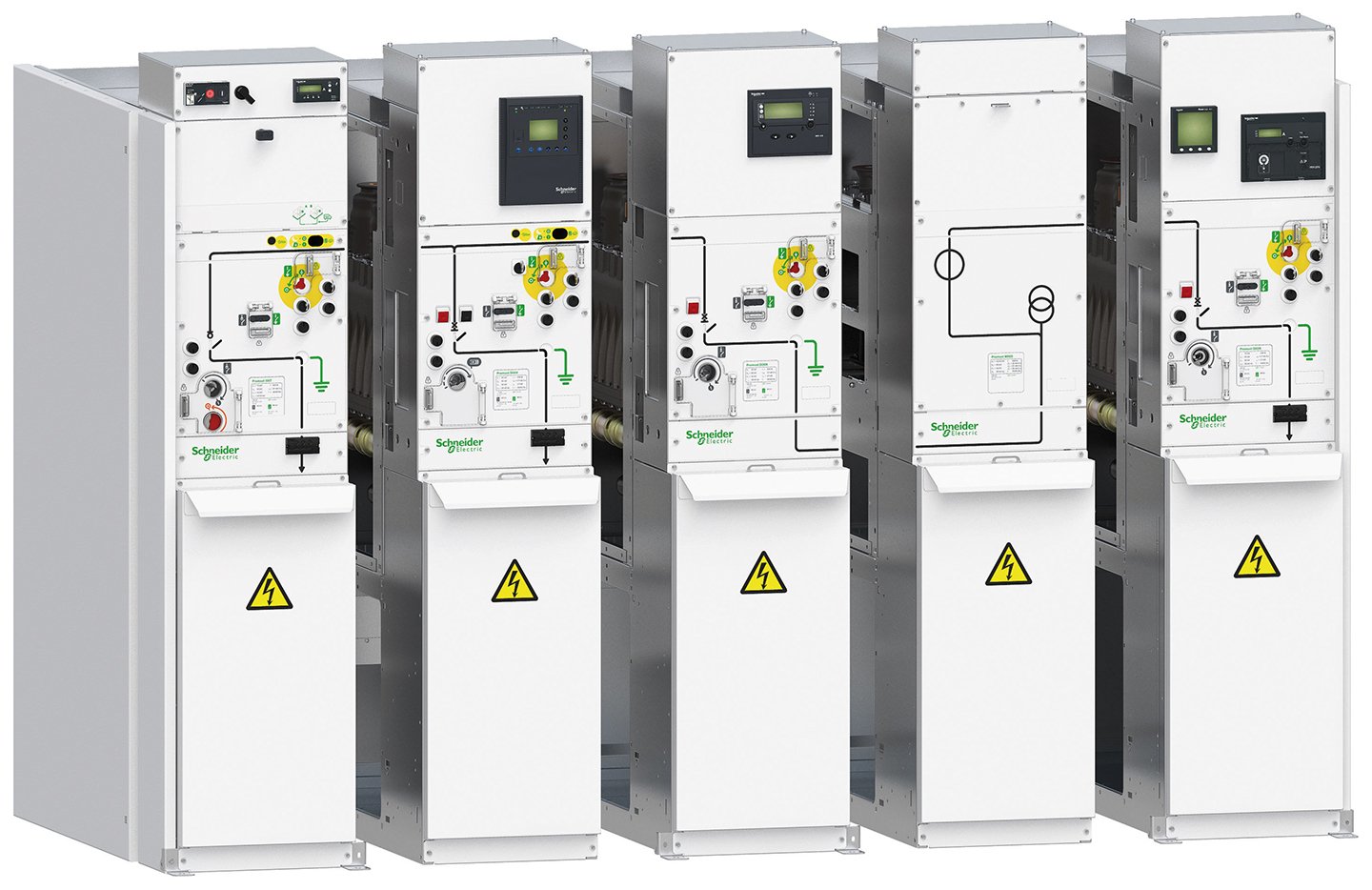 Often, the end-user is unaware of today's switchgear improvements. That is where education comes in, be it from the manufacturer, distributor or instructor training future electricians.
"I was at a customer location, suiting up to get this breaker inside a piece of equipment," said Thomas A. Domitrovich, vice president of technical sales for Eaton, Moon Township, Pa. "I mentioned, 'You know, with today's technology you could open that breaker from your computer.' That came as a surprise. The safety merit was immediately recognized as we stood before the open cabinet box in our protective gear."
Easier and with more options
"There are more and more options for contractors," Domitrovich said. "From a safety perspective, there is arc quenching, remote management and other tactics. Using wireless or ethernet to communicate with the equipment is becoming more important. I want a notification on my phone if something is up with my switchgear."
"Commissioning of the equipment is now easier for contractors," Tanner said. "You have more intuitive tools like augmented reality or devices walking you through procedures to restore power or brief you on the equipment itself. Paper documents are fewer."
Though gear can last 20–30 years, it will eventually age out, needing replacement or refurbishment.
"Think ahead," Domitrovich said. "Can I even use this room where the present switchgear resides as I upgrade the power, create a new configuration or install new units? If I need more power and more space, maybe I move some gear outside. Maybe I find an additional location in the facility (e.g., storage room) that can accommodate smaller switchgear. Maybe I install [a] copper busway that features lower impedance for lower-voltage taps to distribute load elsewhere in the building. Refurbishing existing equipment can be a resolution, too. You use the old gray box, but retrofit with the newest components and switches."
Usually found on the secondary side of a power distribution transformer, low-voltage switchgear might feed motor control centers, switchboards and other branch and feeder circuits.
Engineering gaps
A career in electrical engineering is not as popular as in years past. With fewer engineers to draw from, power delivery project partners must sometimes fill the gaps. Graybar started adding more technical expertise to its staff to better advise design choices and improve installations for overall project success.
"When you consider there are maybe 180,000 licensed electrical contractors in the country, as many as 80% might be considered small contractors," Carroll said. "The larger contractors may have the budgets to handle an in-house staff featuring electrical engineers. Hard for smaller firms to justify. In fact, I think the industry (construction) sees technical staffing as an expense. This is a shift."
Carroll described Graybar's transition over the last eight years as one that, in part, tries to fill that engineering disparity.
"Some of our staff has come from manufacturers and some were on a second career looking to become an engineer," he said. "Staff can ask important questions that will clarify the project and the design. 'Have you considered this? What needs to be done for the project to succeed?' We speak to the manufacturer, designers, electrical contractors and architecture or engineering firm. You want to build trust between all parties. Everyone needs to know what is in the design, equipment availability and how to meet the construction schedule. This process may take eight weeks before an install."
Domitrovich qualifies the term "electrical engineer." He sees an industry short on "power system engineers."
"At high schools, we work to cultivate interest in the power delivery field," Domitrovich said. "We present a career that needs problem-solvers and applies technology. We get involved at the college level, too. We also collaborate with the Electrical Training Alliance. I teach and write curriculum regarding codes and practices, and safety. I have helped with the development of the alliance's upcoming medium-voltage program.
"I also believe in hands-on education and working on actual equipment. We have literally blown up switchgear boxes to show what happens when you wrongly configure or wire. Of course, we follow up with how to correctly wire. Often, training and classroom discussions lead to better ways to do things," he said.
One deficiency, due to a lack of power system engineers, is working with incomplete plans or line drawings.
"In the mid-'90s, I never looked at drawings as a distributor unless they were 100% complete," Carroll said. "Today, a drawing is maybe 40% completed. You see a line drawing that does not reflect power distribution throughout the whole building. Some contractors must then start from scratch and create full drawings, sometimes leaning on outside help."
Domitrovich believes applying building information modeling (BIM) in power delivery projects makes more sense.
"I have been in training where you must lay out a power distribution system," he said. "It is not easy. We must leverage technology. Our future in the classroom will be formed by the available technologic tools."
Carroll agrees BIM may help provide more complete drawings and encourage other trades to participate through the BIM model, but not enough is being done in the BIM space when it comes to power installation.
"We still are left with power installation drawings only 40% complete," he said.
Applying BIM to help size installations has been a help. In an interior room, gear must fit comfortably.
Retrofit applications "sometimes have a spacing issue when you upgrade a switchgear system in an existing space," Tanner said. "Some of the new technologies can allow you to change the shape of the system. New switchgear has downsized a bit as well. That helps in tight spaces. We have squeezed down capacity and breakers."
While the need for power system engineers remains real, today's switchgear has lessened their job to a degree.
"Switchgear and power distribution have moved to more standardized power schemes, less customization and more repeatability," Tanner said. "Repeatable design allows you to innovate in other areas. Younger folks entering the workforce find installation is more self-guiding and easier. Tablet and mobile devices can now be used. There is a consistent interface. It is simpler. There are also technologies that provide future-proofing to an install. Instead of retrofitting gear with breakers to accommodate additional data, preinstalled communicable modules can be digitally activated when needed. You can activate or download a firmware upgrade to a breaker, too."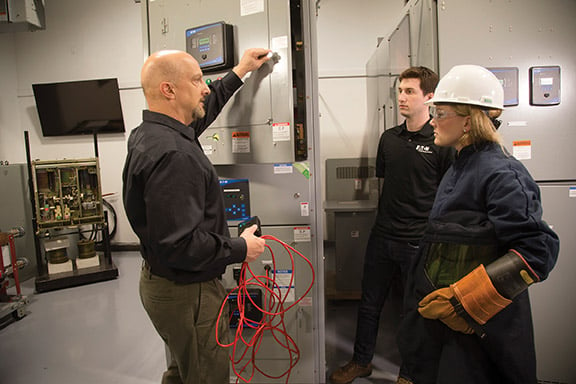 Stepping up your game
Demands to shorten project timelines and come in under budget are real pressures. Carroll noted that while a good gear install design can answer project goals, the execution of the design must be spot on. Being nimble is important for all team participants, from the EC to the distributor.
"When Schneider is developing a new product, we have brought in contractors," Tanner said. "They try to install and wire the gear and then give us feedback at the front end of its design. It helps us achieve new features for easier wiring, conduit space and other improvements," Tanner said, adding that the process can lead to lower costs and a faster install.
Closing knowledge gaps can take many forms. There is the issue of trained building operators who leave their jobs. Knowledge gaps can also arise if the building changes hands.
"What happens if expert staff move on?" Domitrovich said. "Retiring staff is knowledge out the door. Is there any kind of succession? I am a big proponent of having succession training in place."
A service program that addresses succession could be a smart move for the EC.
"Understand the technology you leverage," Domitrovich said. "For example, wireless communication will require the right mix of people to be involved in your power delivery. You will need to marry the tech-savvy hire with a world of big gray boxes equipped with breakers and often complex wiring."
When a project team locks into the intent of the power delivery project, goals can be met or even exceeded. Today's switchgear advances will help get you there in terms of reliability, innovation and choice, and you may even get an easier install.
Manufacturers share power distribution concerns. Header image by Eaton
About
The Author
GAVIN, Gavo Communications, is a LEED Green Associate providing marketing services for the energy, construction and urban planning industries. He can be reached at [email protected].
Email:

[email protected]