A drive for sustainable work is underway in the construction industry, and some electrical contractors are finding ways to make it profitable. Despite the costs related to changing work-site practices, equipment or materials, contractors indicate that a more sustainable work site often leads to a more efficient and potentially lower-cost one.
Boosting sustainability can start with planning and streamlining activities on- and off-site, which can cut costs, better accommodate labor shortages and help meet deadlines. Some also are taking advantage of bragging rights after implementing sustainable practices that attract customers and general contractors.
Where to start?
Data and communication are places where sustainability can help prevent mistakes or extra work. The effort is fueled by public and corporate awareness and demand from building owners around sustainability, said Bryan Williams, portfolio manager at industrial technology company Trimble, Sunnyvale, Calif.
Drivers for change include the rising cost of goods and fuel and the expenses around disposal. Williams said that the movement toward prefabrication already helps electrical contractors keep their work more sustainable. Building large pieces such as electrical panels off-site means less materials and fewer workers on-site. But that creates the potential for communication problems when work is happening at several locations.
"If you start constructing and things change a little bit," that's where the problems arise, he said. Communication breakdowns lead to extra labor, wasted materials and delays.
Trimble addresses these communication challenges with tools that help connect the dots between sites, including 3D scanning to create a digital representation of what's required at the work site, and software can then help manage the flow of data.
Construction can be one of the most wasteful industries due to the high volume of material—often relatively low-cost—at a temporary site. A 2x4 board offers an example: if someone cuts off half of it, the other tends to be discarded.
"In the moment, it's easier to be wasteful," said Jake Van Dusen, VDC and BIM manager at Dick Anderson Construction, Helena, Mont.
But waste comes at a cost. At the end of the day, electrical contractors need to earn a profit.
"I think for all of them, efficiency is the number one target. Any way you can cut the fat, remove inefficient processes, you're going to be miles ahead," Van Dusen said.
Beyond reducing material waste, preventing errors is a key strategy for achieving a sustainable work site. The more often a process is repeated, the less sustainable it is, he said.
For Dick Anderson, "We kind of backed into sustainability, not with an objective to necessarily be sustainable," Van Dusen said. "We definitely want to do our part and not be wasteful, and we find that sustainability can be achieved by addressing inefficiencies in labor."
To make that change, ECs need an organized effort to improve communication and planning. Van Dusen said that contractors benefit from preconstruction coordination through BIM and 3D modeling. After all, he said, "doing something wrong has a big impact."
Operating sustainably requires an ongoing companywide effort. That may mean identifying areas where waste has occurred on a regular basis, even if it's just a matter of unnecessary trips in the company vehicle.
"To make improvements on how we're handling the work site, we can't have conversations on a project-by-project basis, we have to have them as an organization," he said.
Van Dusen said he envies the benefits subcontractors can gain from these changes. When it comes to the paid workers on a job site, "Subcontractors have all the labor, so they're the ones that really can benefit from some of these process improvements," he said. "For us to limit rework, we're limiting the impact on our schedule, but it's usually not our labor or our material that is directly impacted, it's our electricians."
Opportunities in all-electric work sites
Some builders and their clients are looking beyond error and waste prevention toward the future of all-electric work sites. The sustainability will come from use of electric power and elimination of fossil fuels such as diesel, said Steve Clem, senior vice president and regional director of preconstruction at Skanska, New York.
"Having a system that you plug in and it charges by itself overnight, versus sending out a diesel-powered truck" reduces carbon emissions and can lower the cost of overall operation, he said.
Skanska has piloting underway for some electric-powered equipment and is planning to purchase electric trucks, which could help eliminate the need for diesel. With that effort in mind, the company is making a point to encourage trade partners and contractors to do the same, "to prepare for the electric future of work sites," Clem said.
In the long run, Skanska is pushing for a zero-emissions construction site.
"Anything we can do to electrify the job site" is of interest, Clem said.
For ECs, that effort is going to mean a broader demand for temporary power. As a result, "electricians will be integral in an all-electric site," he said.
That could mean electrical contractors providing transformer skids or portable power distribution (spider boxes), while in the future they may also be installing charging stations or battery banks for heavier electric equipment. One challenge around electric tools and equipment is the need for battery power throughout the workday, without experiencing downtime as tools are recharged. Most companies can't afford to wait for charging, so one solution may be providing more batteries to swap out.
However the infrastructure for temporary power is provided, "The future is electric—whether that's a saw or a light tower," and someone needs to provide that power, he said.
Skanska's civil group will be piloting an electric piece of heavy equipment that would be powered by batteries, but the construction sector has already been running electric forklifts.
"They have slightly more opportunity for charging during downtimes," Clem said.
As Skanska modernizes its fleet of pickup trucks to electric, there will be demands on vehicle charging stations.
"One logical place for charging would be at the job site," he said.
The source of electricity is changing in parallel, which could affect work sites even further. Over time, Clem said, the grid is getting cleaner as the percentage of renewable energy sources grows.
"From an electrical contractor's standpoint, their electricians are working on wind turbines and solar farms, and then you've got electricians working on the job site, so they're on both ends of the transmission spectrum," he said. That's a great position to be in.
Sustainability practices
Construction companies—such as national general contractor Hensel Phelps Construction, Greeley, Colo.—are in the process of developing formalized, companywide sustainability plans. Already the firm has constructed high-performing projects across multiple sectors using an array of sustainable practices, said Mark Rothman, the company's design manager.
The initial goal focuses on measuring emissions.
"We have a pilot project that is tracking carbon emission on the project site so that we can learn how to reduce our carbon footprint on client sites," Rothman said.
In addition, the company has another pilot tracking embodied carbon of the materials on a work site to make better decisions on the products that are specified and installed.
"This is largely focused on concrete and steel now, but will continue to expand across all trades," he said.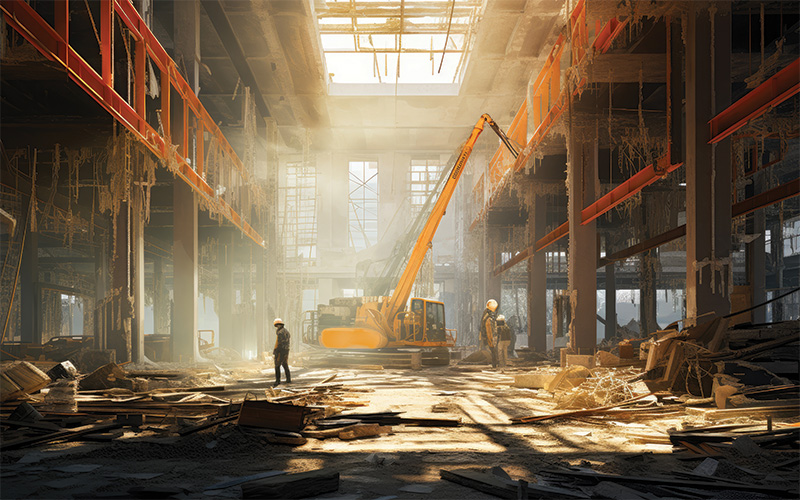 stock.adobe.com
With measurement in mind, contractors should be thinking about tracking their carbon footprint on and off a project site.
When it comes to electrical and other subcontractors, "Our trade partners will play a large role in helping Hensel Phelps to meet our sustainability goals, in addition to our clients' sustainability goals," Rothman said.
Since subcontractors put in place so much of the work, their role in sustainability will be key to the overall success of meeting sustainability goals—whether it be Hensel Phelps' or the client's.
"As climate change continues to impact our lives, more and more of our clients are demanding more of us and our trade partners," he said.
Measurement in mind
With measurement in mind, contractors should be thinking about tracking their carbon footprint on and off a project site, Rothman said. If they aren't doing it yet, he predicts most GCs will be asking for statistics on fuel use and the environmental impact of the materials being specified and installed. They will also be seeking improved waste tracking and innovative ways to improve the construction process.
Job sites will be dramatically different in 10 years, particularly in states that have passed laws to aggressively tackle climate change. Waste tracking will continue to improve. Tracking and selection of materials low in embodied carbon will eventually be standard practice, Rothman said.
Similar to the introduction of LEED projects decades ago, there will be pushback, Rothman said, and growing pains. But the industry has evolved, and some of what was predicted to be too expensive in the past has become standard practice today.
"While LEED and other rating systems were initially focused on buildings, over the next ten years the focus will be on the materials and processes we use to construct buildings," he said.
Even more incentives may be on the way. One key difference between LEED or other ratings systems and sustainable work sites is that LEED was primarily a voluntary effort (now required by some states and municipalities). Carbon reduction, however, is being legislated, and "regardless of the politics, more and more clients will demand more sustainable job site practices. So eventually they will become widespread even if not required by law," Rothman said.
stock.adobe.com / bonotom studio inc.