Research documents steady growth in the use of solar technology to generate electric and thermal energy, which has brought new opportunities for electrical contractors.

Will White, solar application specialist at Fluke Corp., Everett, Wash., calls solar a specialty in the electrical contracting field that has been an easy transition for many.
"Solar is great for boosting profitability as it's the fastest growing sector in the world, where some 700,000 new jobs are created every year employing both new and seasoned professionals," he said. "Electrical contractors have found training [for solar] to be highly beneficial as they transition from focusing on AC to DC systems."
"Solar installation today is one of the fastest in terms of renewable energy infrastructure. In the United States, a PV system is installed almost every minute, according to the Solar Industry Association," and solar's popularity has skyrocketed due to increased affordability, White said. "In addition to the profit potential for electrical contractors, solar comes with environmental benefits, making it an appealing industry for those who want to see their work make a difference in the world."
White said that, depending on the type of system, electricians can have different roles on a solar job site.
In each case, electricians typically install the wiring from the array to the inverter and from the inverter to the point of interconnection. On some installations, such as residential, they may also be installing the mounting rack and modules. On larger commercial, industrial and utility-scale systems, installation crews typically focus on racking and module installation, while ECs focus on the electrical portion of the facility.
"Testing is often conducted throughout the installation and commissioning process," White said.
"During installation, it's common to perform insulation resistance testing to ensure the integrity of the conductors before they are terminated in the electrical equipment. Once the system is installed, each PV source circuit is tested for proper voltage and polarity.
"Ground resistance testing may be conducted to ensure the noncurrent-carrying metal components like module frames and racking are correctly bonded to ground. Technicians may also perform an I-V curve trace of the module strings to ensure they operate properly," he said. "Once the system is running on larger installations, technicians will often conduct baseline testing using thermal imaging cameras on both the modules and the electrical components."
The most common tests performed on solar installations can be done with standard test equipment with the proper ratings, such as digital multimeters, current clamp meters, thermal cameras and insulation resistance testers, White said. I-V curve tracers are a tool specific to the solar industry and test the solar modules' function. There are dedicated solar tools combining features of digital multimeters, current clamp meters, insulation resistance testers and I-V curve tracers.
"Tools like the Fluke SMFT-1000 multifunction PV tester can run multiple tests simultaneously, allowing the electrical contractor to carry fewer tools," he said.
Thermal imaging cameras are used in the solar industry for preventative maintenance, identifying issues in electrical equipment and the solar array. Once a problem has been located, technicians often use other tools to diagnose the cause.
"Many of the general skills that electricians have are used during the construction and servicing of solar installations," he said. However, "the DC side of a solar installation is unique in the electrical trades" and requires specialized training.
Kelly Brodbeck, product management executive at Teledyne Flir, Wilsonville, Ore., said an electrical contractor's work on solar systems starts at the permitting phase and moves through inspection, approval and installation. Testing is important for maintaining a system.
Brodbeck said manual electrical testing is the main way operators inspect, manage and maintain solar farms. These tests are performed by highly trained technicians.
"Typically, this is performed using hand-held electrical testing kits that require ideal environmental conditions for conclusive test results and requiring the operator to manually walk to each string of PV models to be tested, making it a labor-intensive and time-consuming process. The technician measures the output from that string and compares it to the expected results," he said.
Technicians look for several faults that affect the modules and strings, including internal shorts, shunt/mismatch losses, reduced current and reduced voltage. There are many causes for issues, ranging from soiling and shading to built-up resistance and module or string mismatch.
"At the most basic level, operators are looking for heat differences that may indicate a problem," Brodbeck said. "Aerial thermal imaging kits are capable of detecting hot spots from 50 m above the ground at a 300-kW level power station, assuming the panels are subject to at least 600 W/m2 irradiance.
"A trained thermographer can view the thermal images taken from the drone in real time, or they can record the imagery and conduct post-flight analysis to identify areas for further inspection. The pilot can also locate cluster defects by looking for discolored or higher-contrast temperature differences, versus what they normally would expect, quickly identifying abnormal areas. Early discovery is important, especially for cluster defects that may cause a 33% power reduction in a solar panel," Brodbeck said.
However, a thermal-equipped drone "simply is the most time-efficient way to inspect a large area or solar farm," he said. "Operators can find heat anomalies in a fraction of the time it would take compared to a team of inspectors utilizing handheld equipment on the ground.
"Aerial thermal imaging makes it easy to quickly inspect a large target area and pinpoint solar panel problems from the air. Problem areas can be quickly identified for further inspection, because solar panels with faults will have a different temperature signature compared to panels operating properly," he said. Ground team inspectors can then conduct closer inspections of problem areas first identified by aerial drone.
An expert thermographer is critical to the success of these inspections to adjust camera settings, such as emissivity, and ensure that the camera captures enough infrared pixels on target to get accurate temperature readings. Other considerations that can drastically affect inspection accuracy include the time of day and weather, including wind speed, temperature and irradiance.
Inspectors also will need to learn how to get the right angle and altitude, find a balance between the look-down angle of the camera, the panel angle and the sun, with a goal of minimizing sun reflections from the pane.
Teledyne Flir offers the thermal-equipped Siras drone for professionals to help reduce inspection time with aerial imaging.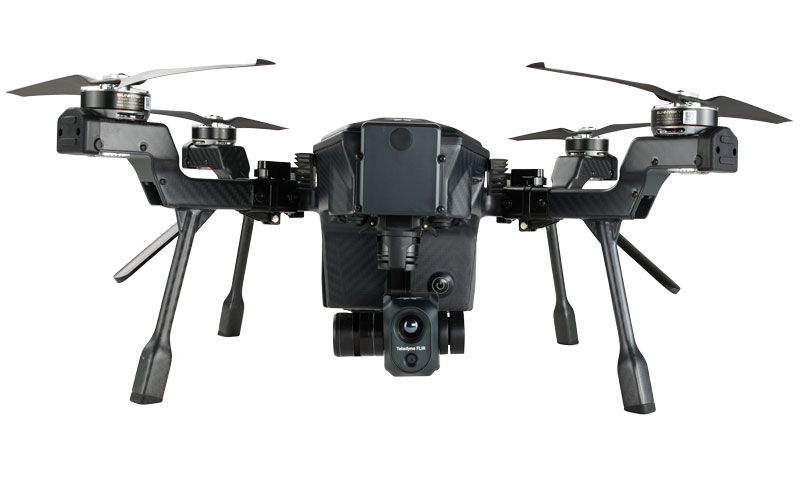 Teledyne Flir Siras drone equipped for thermal imaging
www.flir.com
"Incorporating thermal inspections into a routine maintenance plan will reduce inspection times from weeks to hours when using an aerial thermal imaging solution," Brodbeck said. "The work can also be completed more safely during inspections by reducing personnel exposure to the elements and high-voltage equipment—all designed to improve overall efficiency.
"For thermal-equipped drones, it is important to have the proper training on both how to operate the drone, and properly analyze the thermal data it produces," he said. "This sort of training is typically provided by the technology provider. For instance, at Teledyne Flir, users can enroll in the Infrared Training Center for a course on drone thermography, which includes training on drone thermal inspections and solar fault identification."
Brodbeck cited the estimate that solar farm management costs the industry approximately $1 billion per year in labor.
Header image: Testing a solar array with Fluke's 393 FC Solar Clamp Meter | www.fluke.com