Smart technology has extended intelligence outdoors to lawns, gardens and landscapes. Solutions leverage everything from low-voltage lighting to Bluetooth and Wi-Fi systems. The systems are designed for ease of deployment, but installation and specification often fall to contractors and lighting designers.

Contractors and owners should consider fixture longevity, cost, power consumption, durability and the increased lifespan of LEDs to tens of thousands of hours.
Lighting can be controlled in multiple ways. Lighting controls today most commonly rely on the DMX protocol to enable color changes in an outdoor area, including a high RGB color-rendering index to reproduce an object's original color, and RGBW with added white color to achieve more full-color lighting.
Vista Professional Outdoor Lighting, Simi Valley, Calif., offers a variety of solutions for these outdoor lighting experiences, including Chroma Connect, with colored and tunable white lighting.
Vista's solutions use connectivity through Bluetooth mesh technology as a wireless alternative to Wi-Fi, which can lose its signal in a wide outdoor area, said Rick Baird, national sales manager for Vista's landscape division.
Installers often discover by auditing Wi-Fi networks prior to installation that there is limited coverage. Many buildings have good Wi-Fi access indoors, Baird said, "but when you go outside, it is a completely different story."
Building owners or homeowners may install Wi-Fi devices outdoors and then bring in experts to identify why they aren't working.
Vista offers its Bluetooth Low Energy alternative. Its applied spotlights, bullets and wall wash area lights can stick in the ground on a stake with a nonmetallic composite knuckle, with a built-in Bluetooth radio to create a mesh network in a landscaped area.
As long as users can connect to one fixture, it then interacts with the others in the area to create that web of connectivity. The system also may include a repeater antenna for large yards or to send signals around a corner. If it wouldn't make sense to put a light fixture on a corner, for example, the repeater antenna can carry the signal to the other side of the building.
Users then set up and change lighting settings with an app. They can pull up all fixtures or a single set and create schedules or change light levels and colors in real time. The system also employs a gateway that acts as the router by forwarding data to a server. Without the gateway, the user's phone could be employed for that access, but changing lighting remotely would not be possible.
Lights may be placed in a subgroup so users could, for example, program the eight front-yard fixtures to turn on at a different time than those in the backyard.
Tunable white light
Lighting designers leverage tunable white light to create a transition from indoor and outdoor lighting. For instance, a building may take advantage of indoor lighting that illuminates the outdoors through windows.
"The light inside may be of a specific color temperature, a neutral color," Baird said. With that example, a homeowner or building manager could adjust the outdoor fixtures to match or extend the light illuminating from indoors.
Then, as fixtures illuminate the landscape further from the building, the light levels can increase, or become warmer.
"So as a lighting designer, to have that tunable light is just as good, if not maybe more beneficial than the RGB [controller]," Baird said.
He expects to see the number of wireless controllable lights increase. While they may represent 20% of homes or small businesses now, he said, that percentage could approach 50% of the products Vista sells in the future. The company also offers professional outdoor audio that can be linked to lighting and outdoor TVs.
Power over ethernet
Another way to bring intelligence outside to the landscape is power over ethernet (PoE), which uses ethernet cables to supply the power needed for outdoor lighting.
One of PoE's benefits is the ability to leverage security or other digital features with the lighting, said Dusan Jankov, co-CEO and co-founder at PoEWit Technologies Inc., Fort Lauderdale, Fla. For instance, the company's MV-1 integrates landscape lighting with security lighting and solutions, he said. Landscape lights can be triggered by motion detectors, security camera and alarm panel outputs, illuminating the entire property at the luminosity the owner chooses.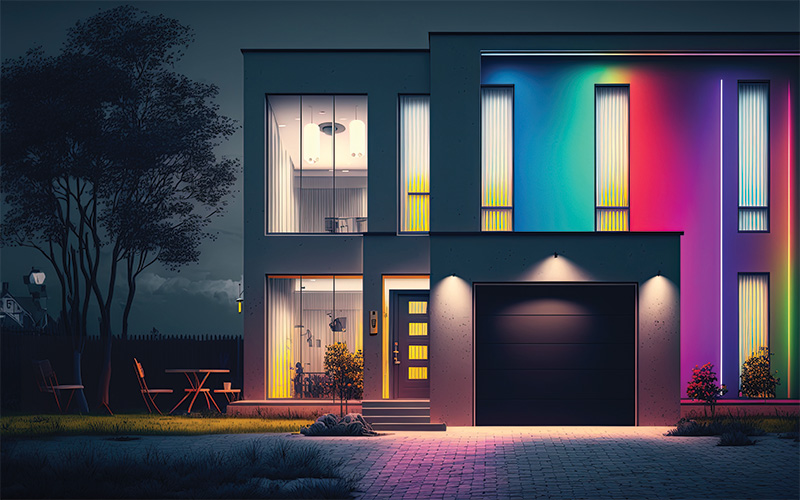 Incorporating landscape lighting into the building's automation systems, those lights can be triggered alongside outdoor security lights by motion detectors, alarm outputs and security camera outputs.
Incorporating landscape lighting into the building's automation systems, those lights can be triggered alongside outdoor security lights by motion detectors, alarm outputs and security camera outputs. When it comes to trends in the landscape sector, PoEWit is noting an uptick in security-mindedness among home and business owners.
"This uptick brings outdoor lighting into focus, as lighting is the number one theft deterrent and goes hand-in-hand with security," Jankov said.
Wireless options
Another advantage of PoE is that it can serve as an even more efficient and safe option to traditional wiring. Users find it can be easy to install where they only need 12 to 30 constant­-voltage LEDs, Jankov said. They could also use the network for waterfall pumps, water walls and pond motors. These kinds of PoE systems (including those offered by PoEWit) can serve owners of smart home automation systems such as Crestron, Control4 and URC.
PoEWit also offers an app for iOS and Android that can be used to configure and control PoEWit's lighting, motion sensors and networking solutions, as well as devices connected to the MV-1's output channels.
PoE-powered drivers are a safe, easy-to-install alternative to high-voltage power, according to Jankov. The safety enhancement results from the fact that the transfer of PoE power only occurs when a powered device (PD) is connected to the power sourcing equipment (PSE). If no PD is connected, no power is delivered.
Additionally, Jankov said, "Once the connection between the PD and PSE is established, the PSE constantly monitors the amount of current being sent and will immediately discontinue sending power if the detected current is too high or too low."
For PoEWit, he said, "The cloud-intelligent driver enables the integration of landscape lighting and security lighting solutions, thereby increasing the security of a property."
As with Bluetooth or other wireless technologies, an app can enable users to set up lighting schedules.
Case in point: users can power 12V landscape lighting on one channel and 24V on the other, or landscape lighting on one channel and an alarm siren on the other. Jankov added that, "The MV-1's tunable voltages allow for longer cable runs without voltage drops."
PoEWit is receiving an increased interest in multicolored landscape lighting. Multicolor LED strip lights are illuminating outdoor environments in places such as underneath home and building overhangs.
"We expect the market for RGB and tunable white landscape lighting to continue expanding in the coming years, and we're currently developing lighting and drivers to meet this demand," he said.
stock.adobe.com / shutterstock / Cali6ro