The 2020 U.S. Census pegged the population of Hillsboro, Va., at 197 residents, but an infrastructure improvement project had the community punching far above its weight in terms of complexity and successful project management. What started 15 years ago as a plan to calm commuter traffic on the two-lane state highway that runs through the town evolved into a major construction job that added sidewalks, undergrounded all overhead utilities, added new retro-style street lighting and created a town-owned, fiber-to-the home internet service. Richardson-Wayland Electrical Co. (RWEC), Roanoke, Va., led the undergrounding effort that has transformed the town's appearance and residents' lives.
Hillsboro was founded in 1752 as a mill town. Its location in a Blue Ridge Mountains gap enabled 18th-century entrepreneurs to capture the power of the North Fork of Catoctin Creek to drive their milling operations. The main street through the community—Charles Town Pike to locals and Route 9 to highway officials and commuters—is lined with historic homes fronted by old stone walls. However, over the decades, Hillsboro's picture-postcard quaintness was hidden behind overhead utility lines, and residents had to use their cars to run local errands because the narrow shoulder space alongside the road was unsafe for walking.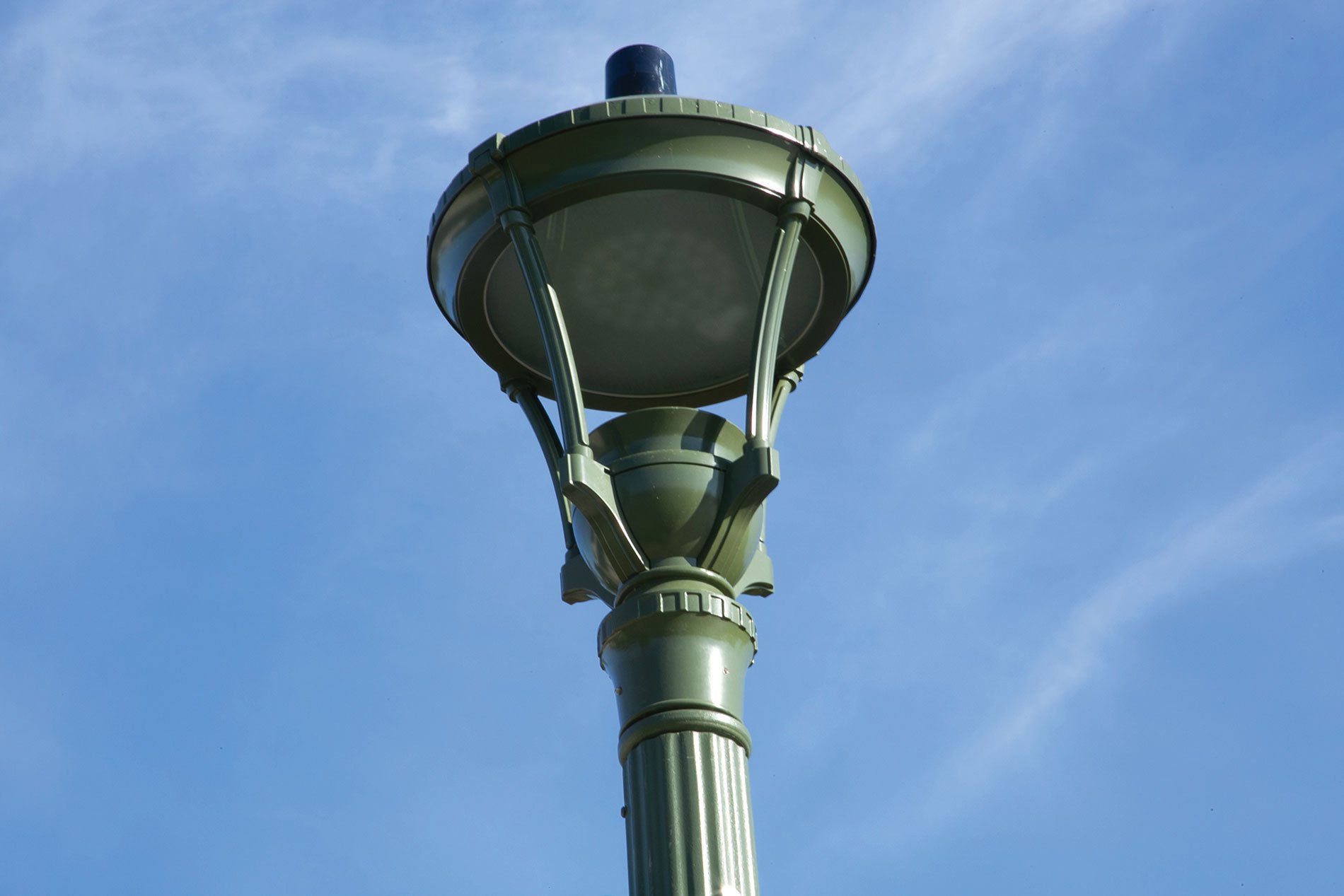 Town leaders began working with the Virginia Department of Transportation (VDOT) around 2006 on a traffic-calming plan they had developed with help from outside consultants. Burying the aerial utilities was part of the initial proposal, but that component initially drew opposition from VDOT and the two utilities—Dominion Power and Verizon—that owned the wires. However, according to Hillsboro mayor Roger Vance, as the plan evolved, the state and utilities recognized that this would be the only solution for achieving the vision of a redesigned roadway with sidewalks on both sides.
Reliability issues helped drive this decision—the existing poles were almost historic artifacts themselves, and they were prone to damage from vehicles and severe weather, Vance said. The crisscrossing mix of power, cable TV and telephone wires was also masking the town's historic beauty.
"We saw it as all of a piece, and, yes, the aesthetics were very important," Vance said, noting the plethora of 18th- and 19th-century houses lining that stretch of Route 9. "It's virtually unchanged over the last century and a half."
While the plan developed, funding from VDOT stalled, so Vance and his team reached out to Loudoun County and the Northern Virginia Transportation Authority, eventually piecing together backing for the $34 million project. Engineering and planning firm Volkert Inc., which has an office in Springfield, Va., and designed the plan, was brought in. Vance and vice mayor Amy Marasco served as project managers and worked closely with Volkert personnel. Archer Western Construction, Herndon, Va., the project's general contractor, in turn, hired RWEC, along with CES Consulting, Dulles, Va., to coordinate RWEC's installation work and utility operations. Vance's team also created a marketing campaign directed toward residents and funding authorities that branded the project as "ReThink 9."
Executing the plan
Adding to planning efforts was the fact that the town also wanted to take advantage of the roadway and utility excavation to upgrade its drinking water and add a municipal sewer system. The town had been under a boil-water order for two decades and had identified a new source for potable water. New delivery pipes were needed to bring the safe supply to residents' taps, and new sewer lines were needed to direct wastewater away from private septic systems to a new public treatment plant.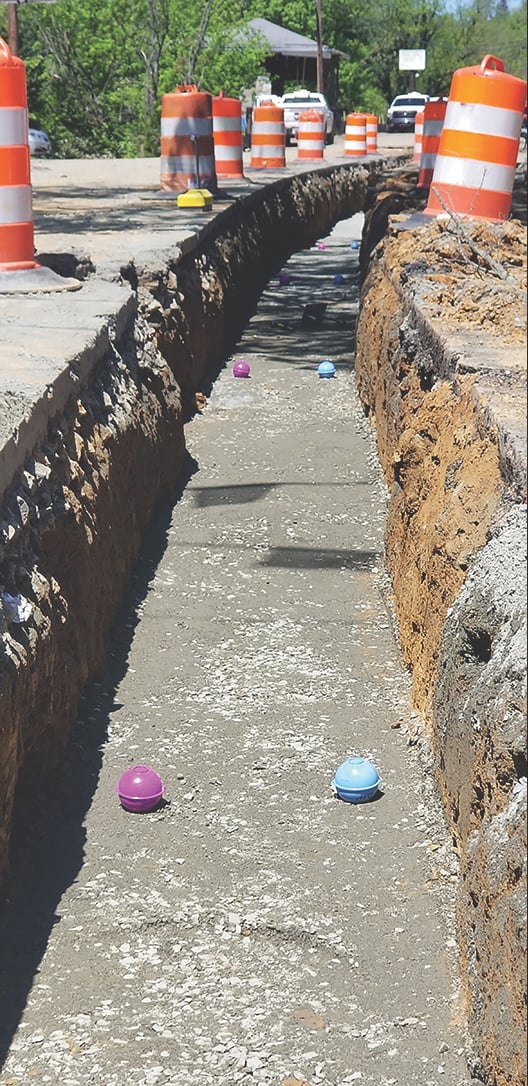 VDOT initially made work even harder by allowing only minimal full road closures. Construction bids submitted under those restrictions drove costs over the budget and pushed the timeline out to three years.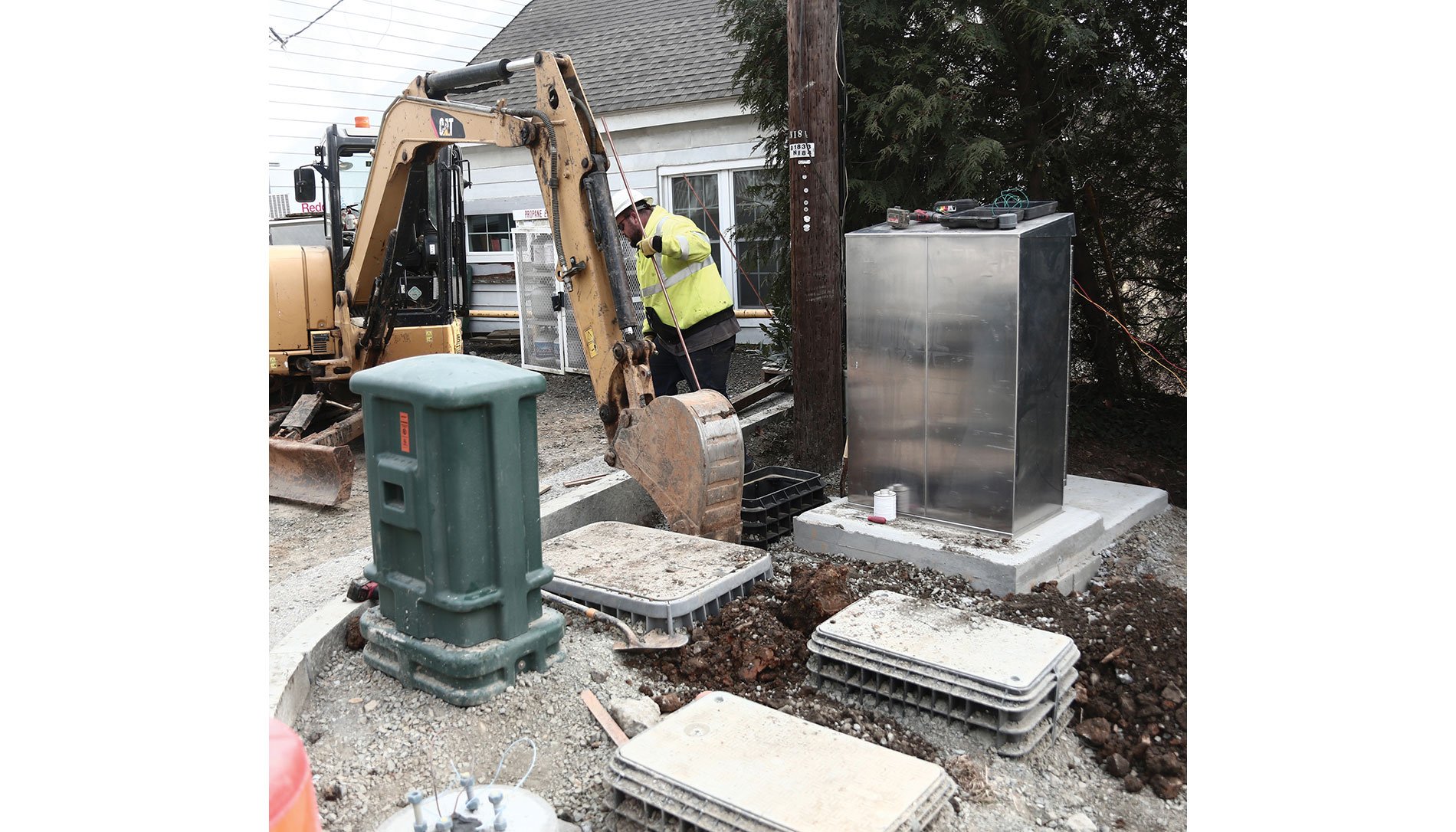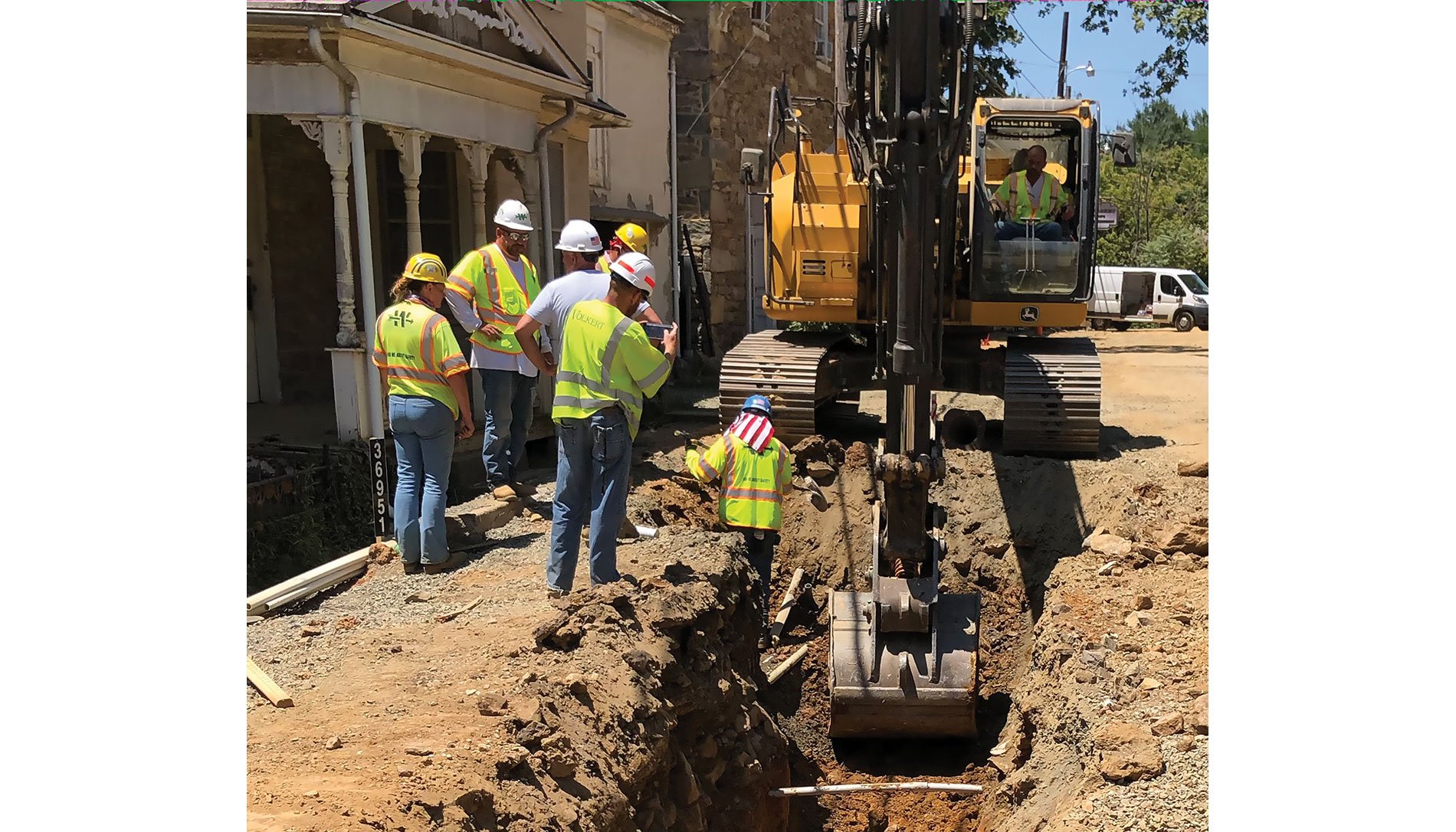 Then two disasters occurred that forced an option to simply shut down Route 9 to through-traffic for four months. The onset of COVID-19 just as the project broke ground led to a dramatic drop in traffic, and the collapse of the underground pipes serving the existing water system made the excavation work an immediate necessity. The potentially three-year schedule was cut to 18 months, with a substantial drop in costs.
Kevin King, superintendent of RWEC's transportation systems division, notes the ability to excavate the entire roadway at once offered many advantages, including the opportunity to push the duct banks farther out into the roadbed and away from the existing power poles, which had to stay in place until homes had been reconnected to the new underground wires.
"The original design showed our duct bank going pretty much where the utility powers were," he said, with 3 feet of clearance between homes and the utility service, instead of the 5 feet that's generally required.
"We had to change 200 feet of the duct bank because it was too close to the existing poles," said Matt McLaughlin, director of utility management services for CES. He added that potential interference with centuries-old house foundations was also a concern. And then there was the need to keep existing services running while new systems were installed.
"This project was very unusual, because we had to do temporary work at the same time we were doing permanent work and building the roadway," he said.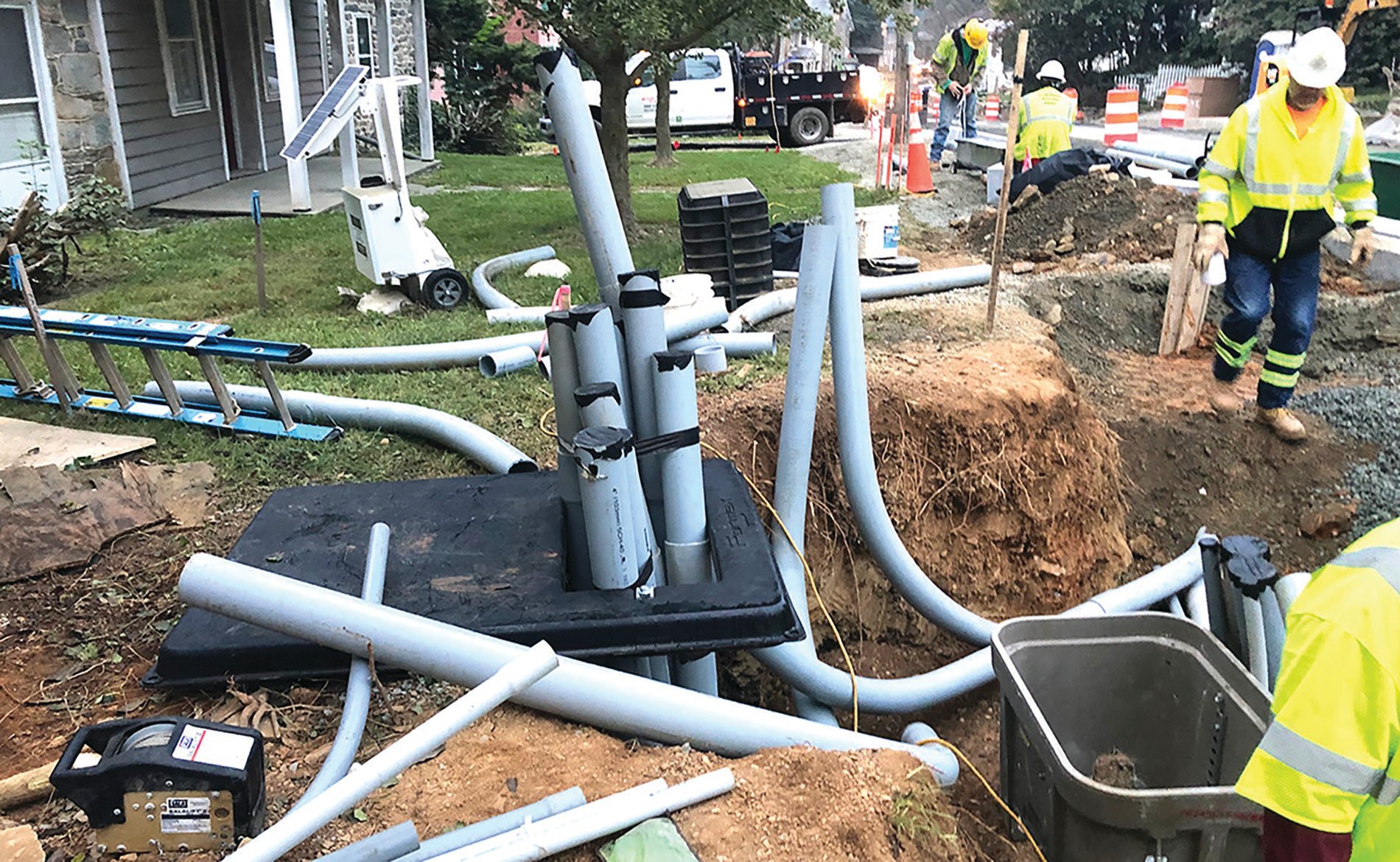 The collaboration situation
Staging and scheduling the order in which each team's installation efforts were completed was another logistical hurdle, especially considering the project was focused on a stretch of roadway that was only 0.7 miles long and just 24 feet wide. RWEC and Archer Western, which was responsible for building the duct bank enclosures, had to keep lines of communication open to ensure work progressed as efficiently as possible.
"We had our own separate area where we kept our material, and then coordinated with Archer Western on what part of town they were going to be working on," King said. "Once they got done, we'd move in right behind them. We tried to stay apart as much as we could. On certain days it was really tight, but we tried to avoid those situations as much as possible. If it hadn't been for the crew we had at Archer Western, the job would have been hard to complete."
The actual installation process was a bit of a dance, according to King, given the layering of utility services within the duct bank. Once the concrete for the bank was formed, RWEC would install the electrical cabling in approximately 200-foot lengths. This layer was then encased in concrete for protection.
Lines for Verizon and the town's fiber optic service were then installed above the concrete encasement. Stone was backfilled above this layer before the road was repaved.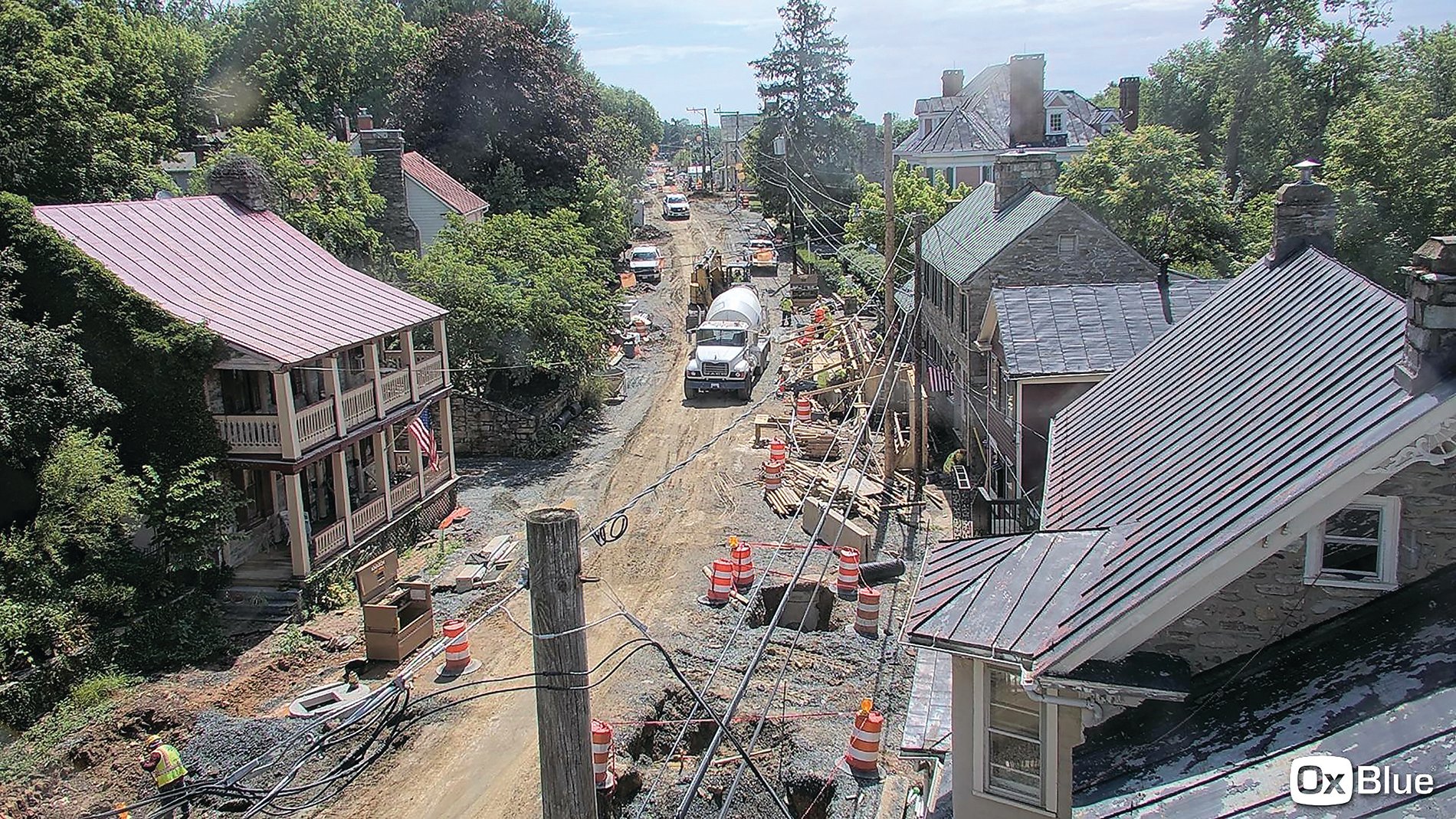 While this sounds like a standard, old-school infrastructure installation, it also incorporated a high-tech, internet-of-things component to make future utility work easier and more efficient. Radio frequency identification (RFID) markers equipped with GPS and mapping capabilities were installed with the utilities as they were laid into place in an approach McLaughlin said he developed while working with VDOT in a previous position.
"Each utility has a specific frequency, and RFID marker balls are place on each utility system, creating an accurate as-built map and allowing for real-time system location," he said. "The RFID locators are the greatest thing since sliced bread when it comes to utility systems. They've become very prevalent within the gas industry, because a lot of time, they leave their old pipe in the ground. Now we're telling them 'This is the old pipe and that is the new pipe.' It's a very low-cost solution to a major problem."
Investing in infrastructure's benefits
The project wrapped up in April 2021, on-budget and slightly ahead of schedule. Drivers now must slow down to 25 mph, from 45 mph, when entering the roundabouts that replaced traffic lights at either end of town. Sidewalks line both sides of Route 9 and marked crosswalks help pedestrians get safely from one side to the other. Vance calls the project "transformational" for the residents of his small community.
"You could not walk two houses down safely, so you didn't," Vance said. "Now people are walking all the time. I think we really hit a home run, in terms of fitting the historic context of the town."
He said that this project, along with the new wastewater treatment plant that's still under construction, has fostered significant development activity in Hillsboro.
"The rapidity of that surprised me—it's happening faster than I could have imagined," he said, again noting the critical role such a foundational project can play in a community's success. "When you invest in basic infrastructure, good things are going to follow."
---
Bringing Hillsboro Residents up to Code
Richardson-Wayland's remit wasn't limited to the utility work in the street—the company also was responsible for the new connections from the new duct banks to individual homes. This meant installing new conduit under historically significant stone walls, which Kevin King, superintendent of RWEC's transportation systems division, described as a challenging and time-consuming process.
Establishing the new individual service connections also was more complicated than one might expect, according to Matt McLaughlin, CES' director of utility management services, because the power line connections were now coming into the bottom of the meter instead of the top.
"If the meter boxes aren't big enough, that presents a challenge," McLaughlin said, noting that changing meter bases triggers National Electrical Code requirements for electrical panel compliance.
In all, 12 bases had to be replaced, and in eight of those cases, homeowner panels also needed upgrading. That work was all covered by the town, but significant paperwork was required to ensure the new panel was considered the homeowner's property and not an easement granted to the town. —C.R.
Header image by Town of Hillsboro.