The retail landscape has changed over the past few years, as stores and malls close and shoppers turn to their phones to browse and buy. Some people, however, like to check out products in person before buying. Temporary or pop-up shops that open for a limited time provide this tactile experience and offer a new life for brick-and-mortar stores. Some sites require no electrical accommodation, but others put unique low-voltage and lighting demands on a space, requiring quick wiring.

Firms have started serving this niche of temporary physical experiences. They help property owners share out a space rebuilt for a new but temporary purpose. Peerspace, San Francisco, for example, is a marketplace for space rentals. Hosts list their spaces with Peerspace to generate additional income, and guests then use the service to bring a temporary experience to a specific area.
Beyond the Halloween store
Over the last few years, Peerspace has seen increased interest for space rentals across activities including photo and video shoots, milestone birthday parties, weddings, meetings and, of course, retail.
"It's easier than ever to book unique and interesting spaces by the hour, and hosts are happy to generate additional income from their spaces," said Matt Bendett, Peerspace's co-founder and senior vice president of global operations.
He pointed to a confluence of events that has led to increased demand for pop-ups.
"Rising costs and the uncertainty of the last few years prompted many established brands to give up their permanent retail spaces and focus on online sales," he said.
This shift has made it easier for online-first retailers to launch and successfully meet customers without permanent storefronts. A 2022 Wall Street Journal report found that urban retail vacancies have surpassed suburban vacancies for the first time in a decade. That means the space is available for those who focus their sales online but want to offer limited-time, in-person experiences. Some prepandemic shopping habits have returned with a vengeance, and many are looking to physical shopping sites.
The U.S. pop-up sales industry has grown to approximately $10 billion, according to PopUp Republic. Data from Statista in 2019 found that 50% of pop-ups see an average increase of 30% on social media engagement over the lifespan of the shop, meaning these temporary sites help build awareness of a new or established business.
Pop-ups can increase presence on social media and can be used to explore shopper behavior in a specific city or part of the country. Once a business discovers its customer base is frequenting a different area or a specific open spot, it has the opportunity to better reach them.
Rapid or temporary installs
Electrical work for pop-up shops may include the low-voltage management of systems such as automated point-of-sale systems, but fixtures and lighting often require electricians to rapidly install and sometimes uninstall the pop-up's connectivity.
"Hosts are responsible for ensuring their spaces are up and running to match their description and amenities published on our site," Bendett said. At Peerspace, "they will likely consider their electrical needs in relation to the primary business they run, or what they expect the space to be most commonly used for."
That can include power for a photo studio that needs proper amperage support for high-powered lighting rigs, as one example.
Many hosts offer such add-ons as high-speed internet and additional lighting to their spaces. All of those elements are determined and managed by hosts on-site in their spaces, and guests coordinate all the elements of their event or activation.
Because pop-up sites often have limited sales staff, low-voltage deployments can include self-checkout services and automation of inventory data so products can be stored out of reach and made available after payment.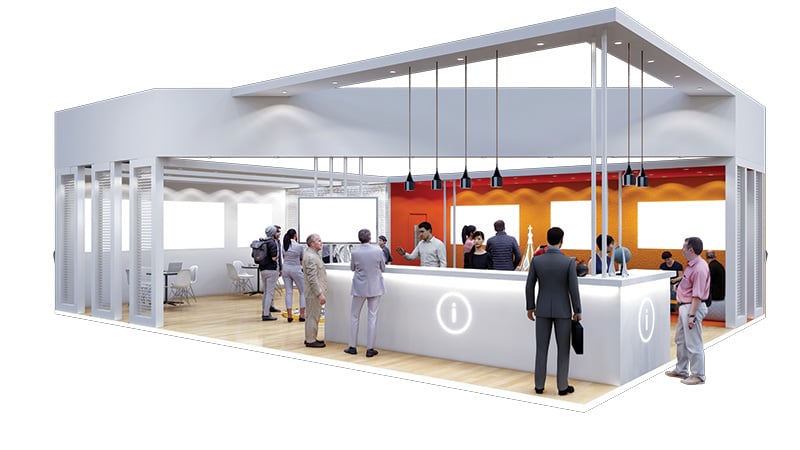 Because pop-up sites often have limited sales staff, they may feature low-voltage deployments such as self-checkout services and automation of inventory data so products can be stored out of reach, where they can be requested and then made available after payment.
German technology company Payfree, for instance, offers RFID self-checkout systems with software integration between the point of sale and the backend inventory management system. Shoppers help themselves to merchandise, place their products in the checkout kiosk counter and the cloud-based payment system and backend inventory management communicate. In that way, said Nino Raddao, Payfree's CEO, the system provides a premium shopping experience without requiring many associates on-site. The system was designed to make entering, scanning, paying and leaving the checkout zone a smooth and frictionless end-to-end process, he said.
In February 2023, Payfree provided a payment and inventory system for an Armani pop-up store during the Berlin International Film Festival. Readers installed at the doorway meant shoppers simply passed their shopping bag through the scanning unit at the exit. All the items were automatically identified and paid for with a contactless card or digital wallet.
Cities such as New York offer dozens of facilities and spaces working as pop-ups that can be reconfigured to meet electrical and low-voltage demands. Barneys New York department store on Madison Avenue, which closed in 2019, last year reopened as a Louis Vuitton Malletier traveling exhibit. This pop-up site, known as "200 Trunks, 200 Visionaries," marked the last installation in the traveling program commemorating the luxury fashion brand. It occupied four floors, filled with trunks created by artists, targeted lighting and digital content so visitors could watch interviews. The company's leather goods were for sale in the gift store and a restaurant was on the top floor.
Plazas, ballrooms, restaurants and theaters all over the city, and sites such as Duffy Square and Military Island, are opening up with pop-up businesses and events, according to the Pop Up Shop Agency, New York.
"We recently had a retailer host a pop-up where they showcased their jewelry line and hosted a yoga class led by a fitness influencer," Bendett said.
These hybrid activities create buzz and engagement around a retailer, and might require more square footage or a particular layout to accommodate different services.
Do they know it's Christmas?
The flexibility of temporary sites allows brands to align with the season their products cater to. A bathing suit company may run successful pop-ups in the spring and summer, and not have use for permanent retail space in the fall and winter. Access to flexible space frees up more resources for brands to engage with customers in ways aligning with their business model.
"I'd expect pop-ups to continue to have an extremely bright future for retailers," Bendett said, in large part because of the flexibility in space and short time on site. Retail pop-ups are proven to deliver greater brand awareness, he said, and can provide a call to action to generate a new stream of social media content to keep customers interested and engaged.
"Online shopping isn't going anywhere, but brands still see the value of meeting customers and showcasing their products in-person," Bendett said.
stock.adobe.com / krooogle