Originally founded as Clover Park Vocational­-Technical Institute in 1942, Clover Park Technical College (CPTC) in Lakewood, Wash., was expanded and renamed in the 1990s. It offers more than 120 certificates or degree opportunities in aerospace, advanced manufacturing, health sciences, human services, business, hospitality, science, technology, engineering, transportation and the trades. Accredited by the Northwest Commission on Colleges and Universities and serving nearly 7,000 students on two campuses, CPTC offers affordable education, hands-on training and nationally accredited programs.
CPTC is dedicated to delivering cutting-edge instruction that enables students to succeed in today's high-tech business landscape. To further this goal, CPTC unveiled its new School of Advanced Manufacturing in 2019 to help students build expertise in electrical systems, programmable logic controllers, mechanical systems, sensors and actuators, robotics, computer numerical controlled machine centers and quality assurance while preparing them to participate in the growing fields of automation, robotics, manufacturing, instrumentation and process control and supply chain logistics.
Tacoma, Wash.-based Danard Electric Inc. brought electrical contracting expertise to the construction of the 68,000-square-foot, two-story School of Advanced Manufacturing in 2018–2019.The company answered the call with strong project management skills and a progressive design-build approach that reflected the school's own spirit of innovation.
Founded in 1947 and currently celebrating its 75th anniversary, "we're a fourth-generation family-owned business and have 50 employees," said Kenny Doyle, Danard Electric project manager, who's been with the firm for six years. "We specialize in design-build projects, through which we'll take a concept from the client or building owner, develop it with our construction partners, and build it."
Primarily serving customers throughout the Pacific Northwest, the company mostly focuses on commercial work, he said, "but we also support light industrial and federal projects as well as handle service and emergency calls, such as when a transformer goes offline or a breaker or motor malfunctions."
"We were already familiar with Clover Park Technical College because it's been a local mainstay of education for careers in the trades for generations," Doyle said. "In 2017, we were brought in by the Seattle branch of our general contracting/architectural partner Mortenson Construction and subsequently collaborated with Tacoma­-based electrical engineering firm Tres West Engineers to help design and install the electrical infrastructure for CPTC's new School of Advanced Manufacturing from the ground up."
Turning vision into reality
"In terms of their concept for the building, the owners wanted flexibility so that the facility could accommodate the relocation of equipment and/or the acquisition of new technology over time," said Blake Hammer, Danard Electric foreman and a 15-year veteran.
"Offering big spaces with heavy-duty machinery such as sanders, grinders, lathes, computer numerical controlled systems and metalworking equipment, as well as sit-down classrooms and training labs, the facility teaches students how to operate equipment used in modern manufacturing settings and features four zones dedicated to the specialties of robotics (mechatronics), machining/metalworking, nondestructive testing and composites. The 'Fifth Lab,' [is] a lobby/atrium area with nearly 30-foot-high ceilings designed to be an interdisciplinary collaborative space for demonstrations, displays and industry events," he said.
According to Doyle, the Danard team brought a progressive approach to its design-build activities right out of the gate.
"We met with the owner and trade partners directly at the very beginning of the process to have a 'big room collaboration,'" he said.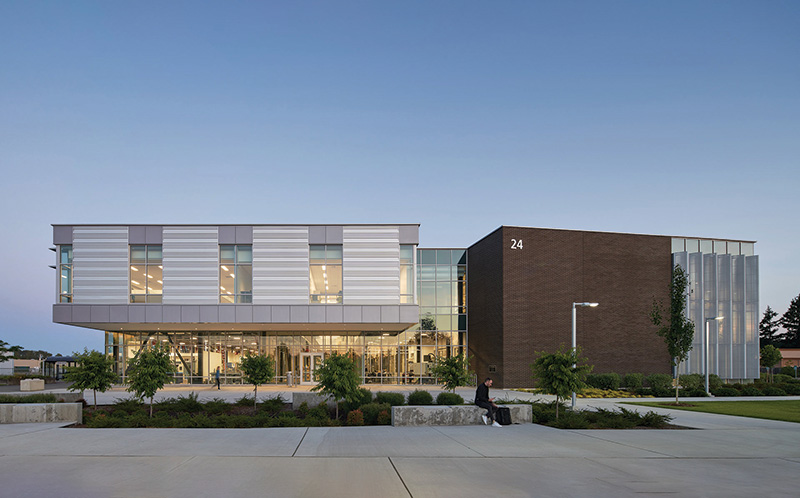 Clover Park Technical College's new School of Advanced Manufacturing in Lakewood, Wash., was unveiled in September 2019. Photo courtesy of Danard Electric/Clover Park Technical College.
"In the industry, it's not so common for all of the players to sit around a table together, but there are many benefits to everyone being there. Among them, all of the players are represented, the owner gets exactly what they want, everyone's expectations and issues are all put on the table, and nothing is lost in translation because the communication is direct."
When not done this way, Doyle noted, "jobs have a tendency to go over budget because of misunderstandings and subsequent change orders. On a design-build project, the onus is on us to meet the budget, so we've found the 'big room' approach to be much more streamlined and efficient; projects tend to stay on budget, there are fewer surprises and it's a more transparent process overall."
Starting in the winter of 2018, "we used 3D-modeling software from Autodesk Revit to design the electrical layout," Doyle said of a design and approval process that took over six months and allowed the building owner to see the whole project before it got off the ground.
"Thanks to its robust clash-detection capabilities, the Revit platform enables us to coordinate with our partners, avoid conflicts with other trades and ensure that the building is clash-free before construction even starts," he said. "In the past, clashes were typically dealt with in the field, but it's much easier and less costly to move something on a computer before it's been installed than to rework it after the fact."
"We had a target completion date of September 2019 so that the building could open in time for the start of the school term, so we had to meet the schedule," Doyle said.
Supported by 8–10 crew members on any given day and as many as 16 at the height of the project, Danard Electric team members engaged in everything from site work, installation of conduit deep underground and slab rough-in, to running as much raceway underground as they could.
Along with more than 180 pieces of equipment, "we also installed panels, switches, generators, a 45-kilowatt solar array, LED lighting and lighting controls that supported dimming and occupancy sensing, and we designed the entire lighting system in-house," Hammer said of product brands that included Legrand's Wattstopper digital lighting management system, Square D for panelboards and gear, and MTU generators.
Danard Electric crew members assess the electrical infrastructure needs at CPTC's School of Advanced Manufacturing during construction. Photo courtesy of Danard Electric/Clover Park Technical College.
"We used the Trimble Robotic Total Station [RTS] 873 to pinpoint locations for things we needed to install," Hammer said. "In the past, we used gridlines and strings in the field to measure a line to a wall, which was a more manual, labor-intensive process and introduced greater opportunity for human error. But now, if you need to turn pipe into a wall, for example, the Trimble RTS will do it by locating a point within an eighth of an inch in the field," he said. "We got our Trimble surveying system in 2017 and, while it took a bit of time for our team members to learn how it worked and trust it, we've since found it to be very reliable and it really helps us stay on schedule and on budget."
"In the past, clashes were typically dealt with in the field, but it's much easier and less costly to move something on a computer before it's been installed than to rework it after the fact." —Kenny Doyle
Employing the usual extensive range of safety measures on the job, "we also utilized a lot of prefabrication to help streamline our activities—all the way from box assemblies and preprogrammed lighting controls to punching cans for conduit entries and wiring up transformers," Hammer said.
He said the company's prefab area comes in handy given the frequently rainy, muddy conditions in the Pacific Northwest that can threaten the consistency of electrical power on a job site.
Building a better world
Completed on-time and on-budget and commemorated with a ribbon-cutting ceremony on Sept. 20, 2019, "the project went very smoothly, and the owner and occupants were very happy with the final result," Hammer said.
"Between Blake, myself and the foremen from the other trades, it was a very collaborative environment," Doyle said. "We worked directly with the project's plumbing, HVAC, fire and sprinkler specialists, and we brought in several subcontractors of our own—including Bothell-based Powercom, Tukwila-based Jaymarc AV and Sound Electronics in Tacoma—to address the building's telecom, audiovisual and fire alarm needs, respectively. It was great that we could go to them and talk things out beforehand."
In use for three years, the airy, modern School of Advanced Manufacturing has clean lines, open and inviting spaces and a lot of glass and natural daylight.
"Because its design considered growth opportunities in the future, the building is highly flexible and has a lot of capabilities," Doyle said.
"Busway runs in a gutter and offers a flexible connection that you can change without the need for an electrician to install new outlets. We also surface-mounted all of the panels so that additional conduit could be easily added, and we ensured that the panels had ample capacity so that other systems could be added later without fear of overloading the circuit," he said.
CPTC "offers great career opportunities for students, and the new School of Advanced Manufacturing now opens additional doors to students in the unique and dynamic field of manufacturing," Hammer said.
"As part of Danard Electric's mission, we're committed to building a better world, and this project falls right in line with that philosophy," Doyle said. "It provides students and community members with a lot of new opportunities and a great learning environment within a cutting-edge building."
"We felt the rewards as soon as we finished [this project]," Doyle said. "We take pride in our outstanding team, the strong relationships we have with our exceptional partners, and our use of progressive design-build, which is a new concept and a great model for what construction could and should be."