As LED fixtures and related controls increasingly influence outdoor lighting, electrical contractors have an opportunity to integrate experiences that boost outdoor commercial spaces. Today's luminaires, controls and related sensor systems are designed to improve the image of building owners through highly precise illumination, more flexibility in outdoor spaces, greater security and ambiance.
Lighting controls alone have changed significantly over the decade, said Robert Fagnant, associate partner at Syska Hennessy Group, New York. The options are not just standard 120V line voltage installations anymore, he said. Systems that include low-voltage power or Bluetooth Low Energy (operated through an app) are beginning to illuminate the outdoors.
Users then have the power to change lighting conditions with a tablet or smartphone. They can adjust color, dim overall light, set schedules and even manage individual luminaires regardless of their location. Beyond putting control in the hands of facility or business managers remotely, however, such systems often have artificial intelligence built in to respond to conditions, report changes and store data on a server.
Lighting is better equipped to respond to changes in and around a building than ever before. Commercial building owners and contractors installing outdoor lighting systems on a new construction or renovation have expectations centered around the flexibility lighting controls can provide, especially with the changing nature of a commercial building's use case. As company tenants come and go from a structure, for example, the lighting needs to be ready for readjustment outside and inside.
Consider the example of a medical office building with multiple tenants. The smart lighting can be transformed to the needs of a new tenant, with a simple app-based reprogramming—without requiring branch circuit changes and rewiring. That means quick lighting changes in front of and inside that space. Today's facilities are using such controls on the exterior and interior of commercial buildings, schools and other public locations, Fagnant noted.
Advanced lighting fixture technology continues to broaden the options for building owners and electrical contractors, said Aaron Severtson, product manager for Legrand North America, West Hartford, Conn. Today, he said, outdoor lighting users are setting different color temperatures of light with onboard controls or advanced DMX wired controls.
"There is an ongoing push to utilize wireless control of lighting fixtures. Wireless reliability has and continues to improve," he said.
That trend is likely to gain momentum. "We may continue to see this being used, but wired control will continue to be the primary choice," Severtson said.
Power over ethernet
The notion of power over ethernet (PoE) has come a long way as well, Fagnant said. In the past, there were limitations on ethernet-powered lighting, based on the Cisco network switches, which traditionally had a limited number of ports and a maximum of 60W. Now, multiple ports can be daisy-chained together and provide enough power to make such low-voltage lighting systems possible.
Typically, a low-voltage lighting system with controls can be relatively simple to install because of the intelligence already built into the system. That's where the wireless controls come into play. Bluetooth enables users to adjust settings without the need for wires.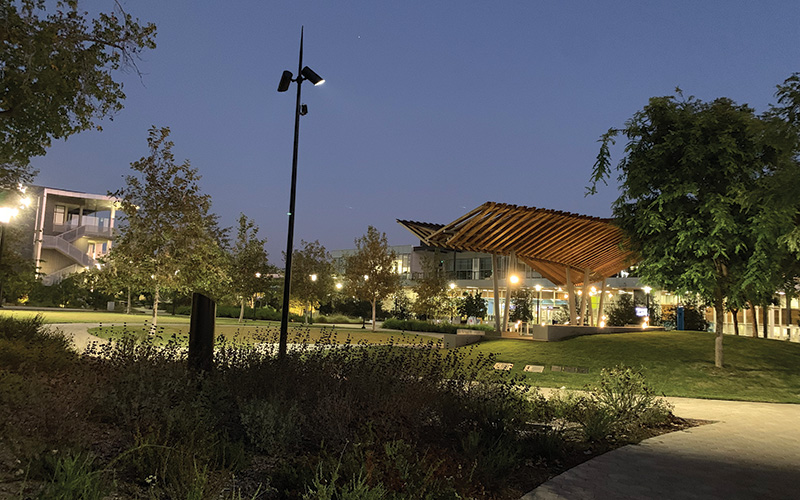 Electrical contractors frequently install low-voltage lighting systems.
"If [an electrical contractor] was going to position themselves" as a provider of these low-voltage systems, Fagnant said, "they could learn how to do those kinds of controls and have a little bit of an edge." Such systems are quicker to install and don't require a journeyman to run the cable. "You can have an apprentice do that work, and it makes it much quicker and less costly."
Installers of such systems are most frequently the electrical contractor, however, and they'd do well to add integration services. It is a natural expansion of services, Fagnant said.
"Electrical guys are still going to install the light," while "an integrator could come in" and set up the low-voltage lighting and controls.
And those controls can go far beyond adjusting the lighting itself. Today, some integrated lights include cameras, sensors and other intelligence devices that run on Wi-Fi or other wireless connectivity to bring data back to a server.
Light quality and precision installations
The precision of today's lighting systems is also bringing new opportunities to outdoor installations.
"There's been a lot more technology into the optics that help us put the light where we want it," Fagnant said.
While traditional lights offered limited control, leading to lighting spillage in neighborhoods and light-caused hazards, LED systems can direct the lighting exactly where it needs to go.
In many cities, the transient color temperature has become a talking point for planners and developers. Whether in Seattle or San Diego or Miami, municipalities have ordinances with specific color temperature requirements, "not just for ambiance but for the environment," Fagnant said.
So, understanding the local codes on color temperature benefits every contractor. California contractors know this better than most. Buildings with permit applications applied for on or after Jan. 1, 2023, must comply with the state's 2022 energy code, which focuses on energy-efficiency standards for new construction, additions and alterations. It requires, among other things, some level of sensors and controls. Codes can also dictate how many watts per square foot are admissible, which varies from one governing body to another.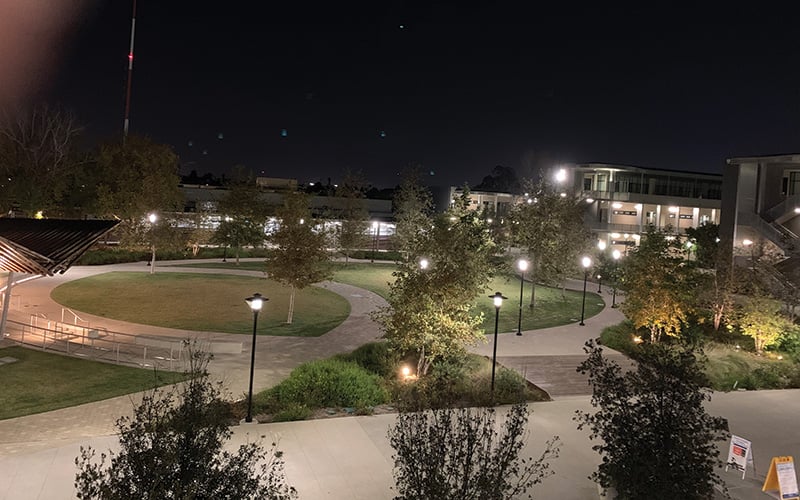 Local energy codes can dictate what is allowed in outdoor installations, including the number of watts per square foot, color temperature and sensor and control usage.
Contractors can help customers prevent mistakes by understanding energy code requirements as well as determining whether a quality fixture meets the installation's application.
Recent technology advancements have also improved the aesthetic qualities of outdoor lighting, especially when it comes to color. In recent construction projects, developers are using dramatic outdoor color lighting to compete for tenants who could rent or buy space inside.
For many developers, attracting tenants in today's competitive market means offering safer, more attractive lighting that gives the building a modern and contemporary look. In some cases, they include internet of things (IoT) functionality such as wayfinding, with Bluetooth beacons that guide individuals—through their smartphones—to the office or individual they are looking for.
San Diego Mesa College quad
The quad at San Diego Mesa College opened in spring 2022, aimed at becoming the heart of the college. The quad's design includes an outdoor stage area to hold campus events such as the traditional Welcome Week, job fairs, financial aid fairs and pep rallies.
It also provides a space students can congregate outdoors, said Angelo Pellegrini, facilities services director at San Diego Community College. That means proper lighting after daylight hours.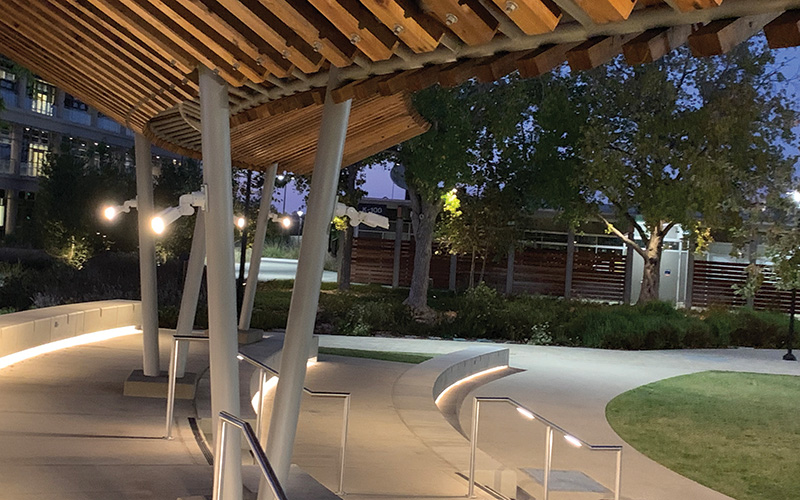 The quad at San Diego Mesa College is a dynamically lighted area where people can congregate and events can take place day or night.
LED fixtures were installed on every light pole, and the controls were tapped from the school's existing system to manage that lighting. Because of the age of the existing Wattstopper lighting control panel, the electrical contractor, Dynalectric Co., had to upgrade the panel, Pellegrini said.
It's a far cry from traditional outdoor lighting.
"Back in the day, we would do a lighting assessment, we would turn certain lights off at, say, 11:00 and the campus [lights] shut down," Pellegrini said. "We would just keep enough lights on for security."
Today, however, LED and controls take lighting out of the hands of individual planners and make it automatic.
The school started its LED conversions around 2015, "so we've done a ton of lighting projects over the years," Pellegrini said. More recently, in 2019, California's Title 24 dictated energy-efficient lighting, which further supported the LED transition.
With wireless connectivity in the Mesa quad, authorized users (with a password) can access the lights wirelessly and make adjustments. And today, the quad area is a dynamically lighted area where people can congregate and events can take place day or night.
Managing quality
Outdoor lighting quality continues to improve, with products focusing more on color, reduced glare and greater comfort, said Erik Milz, vice president of product strategy and management at Cree Lighting, Racine, Wis. That's due in part to stakeholders becoming more educated about these topics, he said.
As a result, contractors and designers are looking for solutions that either have internal glare control or fixtures that can be attached in the field should customers want or need additional glare control, Milz said. He also pointed to an increasing awareness of the need to manage backlight and light trespass, ultimately to help avoid complaints and callbacks.
More people are becoming aware of light pollution and the importance of controlling light based on time of night, among other factors, Milz said.
Right-sizing systems for time and usage without compromising safety brings value. A good example is lighting for any (public, private or college) school campus—the ability to provide proper illumination of parking lots on nights with athletic events, without overlighting the lots on nights without on-campus events.
If electrical contractors are aware of the latest lighting controls, whether it be site lighting or interior lighting, they will have an advantage, Fagnant said.
Supply chain issues continue to impact lighting installations, though. Some contractors are reaching out directly to manufacturers to learn what their availability issues are before signing contracts, Fagnant said.
"So when we create a luminaire schedule on a set of drawings, sometimes it's based on who we know can deliver and in 8 weeks versus 24," he said.
The ability to communicate with outdoor lighting will continue to lead technology innovation, Fagnant predicted, as intelligence grows and IoT solutions bring more value to outdoor lighting fixtures.
For electrical contractors, Severtson said, being familiar and versed in digital control and the associated topologies will help them stay relevant with the emerging tech.
Photos courtesy of Senior Custodial Crew Leader, Alma Fuentes