Family-owned businesses produce nearly 60% of America's GDP. They also make up 63% of its workforce, according to the latest available 2020 U.S. Chamber of Commerce statistics.
While competition compels family-­operated electrical contracting firms to grow in new ways, many continue to be led by family members. Family and generational dynamics play an important role at ASF Electric Inc., Daly City, Calif.
ASF's CEO Andrew Ferrari established A.S. Ferrari & Son Inc. in 1971, with the help of his now deceased wife, Louise, who worked for the FBI.
Wearing a suit jacket pinned to a maternity blouse at the sides, Louise Ferrari kept her supervisor at the FBI from noticing she was pregnant. She also defied late 1950s tradition by continuing to work while raising her four children.
Fast forward to 1975: her oldest child, Cathy (Ferrari) Lagomarsino was married for one year, in college and working. She told her supervisor she was pregnant and was fired. So, she approached her parents about joining the family business.
"I started as a sort of Girl Friday, answering the phone, typing, doing a little accounting ... even [restocking] electrical materials," she said. "I did basically everything [involving] estimating and project managing, but not electrical work. There are still women today being fired or passed over for promotions for being pregnant. I never had to deal with a glass ceiling. There was no one saying you couldn't be project manager or president."
In 1983, she earned a C-10 Electrical Contractor License from the state licensing board. Now, she leads ASF as president.
Her brother, John Ferrari, third oldest, entered the family business as a light fixture washer while in high school. He became a journeyman in 1986.
"I started working for another company because, back then, they wouldn't let you work for family," John Ferrari said. "That business closed down, so I went back to work for my father in 1989. I've been there ever since." Now he's a senior estimator and project manager.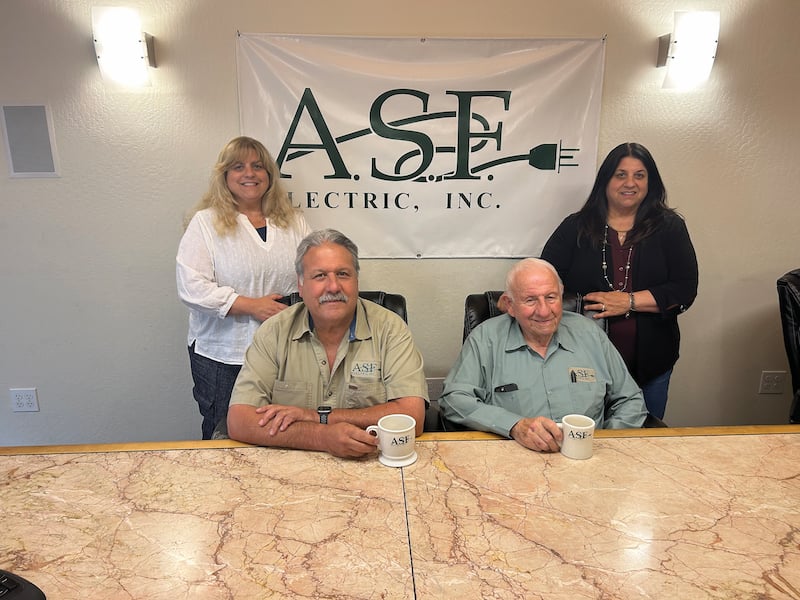 The Ferrari family runs ASF Electric Inc. Back row, Caren Ferrari, treasurer and director of operations, and Cathy Lagomarsino, president. Front row, John Ferrari, senior estimator and project manager, and Andrew Ferrari, founder and CEO. Photo courtesy of the Ferrari family.
Caren Ferrari, the youngest, serves as treasurer and director of operations.
"We all fill a lot of different roles, but I've always enjoyed the service department aspect," she said.
Other family members involved in the business include a sister, Jayne, who owns a one-fifth share of the business; Lagomarsino's husband Steve; her son Jimmy, project manager and estimator; daughter Nicole, A/R service director; daughter-in-law Nicole, Qmerit service/social media coordinator; cousin Marc Leveroni, service director; and Leveroni's son Jake, who is a pre-apprentice.
In 1996, All State Electric Inc. and Ferrari & Son Inc. merged to become ASF and Caren Ferrari became treasurer. The change facilitated the company's transition from a C-corporation to an S-corp, which allowed more flexibility and for succession of the business to younger generations, she said.
While the Ferraris value flexibility, they insist on honest communication.
"We're Italian," Lagomarsino said. "Some of our employees say we need to have an electrical contractor reality show. Our father encouraged us to express our opinions. In fact, he likes it when we're all debating. He loves the back-and-forth."
Besides weekly meetings, the family gathers with a moderator for annual meetings in a hotel conference room.
"We're making big decisions, and we do this off-site because things tend to get heated," Lagomarsino said with a laugh. "We may go at each other, but we're family and we know we'll be going out to dinner afterward. We get over it, but we don't want our employees to be upset."
In 2020, ASF posted annual revenues of $21 million. The company steadied itself through the pandemic by serving schools and taking on public works projects, as well as by focusing on existing customers and following Andrew Ferrari's direction to "Do what you can each day."
ASF kept all of its electricians working, Lagomarsino said. Family members assumed a supportive role for employees, providing free food packages for pickup at ASF locations.
ASF specializes in lighting, maintenance, electric vehicle charging installations and emergency backup power.
Like others in the industry, the company must grapple with new challenges, including supply chain issues and bureaucratic permitting processes.
"There's so much constantly coming at us, we're being more strategic, going after selective work that's more profitable," Lagomarsino said. "We don't necessarily want to grow bigger, either."
That savvy approach requires passing on industry knowledge to new generations. For that reason, and for the love of their work, the Ferrari siblings, who are in their 50s and 60s, do not plan to retire anytime soon.
All in the family
Big State Electric Ltd., San Antonio, employs nine members of president and CEO Vincent Real's family.
Real's wife, Donna Real, serves as office manager. His daughter Kelsie Bacon is project coordinator; son Colton Real, estimator; brother Mark Real, fleet/equipment mechanic; first cousin Daryl Real, project manager and estimator; first cousin once removed Dylan Real, tool manager and welder; nephew Chris Real, journeyman/foreman; and his niece's husband Chris Kreckler is an apprentice.
"My family was raised on a farm. You get up in the morning and immediately get to work. You don't have your hand held," Real said. "There is always plenty to do, and you work until it is completed."
After graduating from high school in 1981, Real tried working in the oil industry, which held no future for him. His father-in-law-to-be told him Big State Electric needed a truck driver.
"I delivered materials to the field, and this gave me a chance to see firsthand what it was like to work in the construction industry," Real said.
Within a year, he entered the local apprentice program. After becoming a journeyman in 1985, he went to work for another electrical contractor and was later invited back to Big State as an electrician/foreman.
In 1997, when Big State promoted Real to project manager, the company had 47 employees. When he bought the company from other stockholders and became CEO in 2004, Real began expanding the workforce in earnest. This year, Big State expects to top 1,000 employees. The company's 2022 revenues were $200 million.
Big State's growth coincides with expansions to new locations. Its Austin location resulted from the 2008 acquisition of another electrical contractor with no succession plans. Its Houston location resulted from the 2015 acquisition of another contractor, also without succession plans. Big State built its Corpus Christi location in 2018 from the ground up.
Each office operates independently with separate payrolls, project managers and estimators. Even so, for all employees hired, Real looks for the same qualities that can be found in family members.
"It is also what kind of person they are ethically and morally," he said. "Like family members, you hope for dependability. When hiring new employees, I look and hope for the same."
Members of the Real family at Big State Electric's headquarters in San Antonio. From left: Colton Real, estimator; Kelsie Bacon, project coordinator; Donna Real, office manager; Chris Real, journeyman/foreman; Vincent Real, president and CEO; Chris Kreckler, apprentice; Daryl Real, project manager and estimator; Dylan Real, tool manager and welder; and Mark Real, fleet/equipment mechanic. Photo courtesy of the Real family.
Real has noticed a lack of work ethic and patience in many job applicants.
"There seems to be steps in the ladder missing," he said. "Certain applicants expect to be hired for jobs requiring 10 years of additional experience."
Just as for outside applicants, Real urges training and education for family members and caution when promoting them.
"I've seen businesses fail because they make the son or daughter a vice president and it sets them up for failure," Real said. "I've been very clear with my children. If you want to be a vice president or a director, you are going to have to earn it. That goes for anyone here. There is no special privilege. I tell everyone, 'If there is a position you want, let me know and send me your resume. Give me a narrative on what you are seeking for yourself.' There is nothing more we like to do than hiring from within."
Donna Real takes care of human resources matters and onboarding new employees. She worked as a legal assistant for 10 years before becoming a mother. Soon after, she earned a master's degree in education. Then 14 years ago, she started working part-time at Big State. Not long after, she became a full-time employee.
"I enjoy working for Big State and love having my son and daughter here," she said. "It is why I'm not wanting to retire right away. It is great knowing my children as adults. I am an only child and Vincent is from a family of seven. It has been great for my children to have such a large family."
For annual holiday steak dinners at each Big State location, management comes together to cook and serve employees. This touch-of-family tradition has been in place for more than 20 years.
Vincent Real values new approaches advocated by younger generations such as prefabrication to save labor costs, the digitization of purchasing and storing larger inventories to avoid supply chain shocks.
But, he said, "The first generation sets the groundwork, establishes the culture, and each generation improves on what the other started."
Header image: Shutterstock / Alberto Masnovo/ stock.adobe.com / Redwall/ ontronix
About
The Author
DeGrane is a Chicago-based freelance writer. She has covered electrical contracting, renewable energy, senior living and other industries with articles published in the Chicago Tribune, New York Times and trade publications. Reach her at [email protected].
Email:

[email protected]