Battery storage is a done deal, but it has a way to go. This clean energy resource is profitable in a handful of states that either have deep, clean energy goals, plenty of deployed renewables or both. It's found behind and in front of the meter, with batteries charged by photovoltaics (PV) or wind.
The American Clean Power Association (ACP) reported U.S. battery storage has increased from 47 megawatts (MW) in 2010 to 6,471 MW in the second quarter of 2022. Assisting in this growth has been a dramatic drop in cost for lithium-ion battery packs, which have fallen 89% from $1,200 per kilowatt-hour (kWh) in 2010 to $132 per kWh in 2021. Meanwhile, large-scale battery storage capacity stood at 1 gigawatt (GW) in 2019. It is forecast to grow to 80 GW on average by 2030.
The U.S. Energy Storage Monitor is a quarterly publication of Wood Mackenzie Power & Renewables and ACP. Wood Mackenzie is a Versik-owned global research and consultancy business. The Monitor shares data on U.S. energy storage deployments, prices, policies, regulations and business models.
"California is aggressive with energy storage. So is Texas. Other states have set targets, too," said Vanessa Witte, senior research analyst for energy storage with Wood Mackenzie. "Conversely, many utilities haven't explored energy storage at all. The concept of battery storage has only been a thing in the last 10 years, but energy storage is now the next big thing to have on the grid for both power resiliency and sustainability."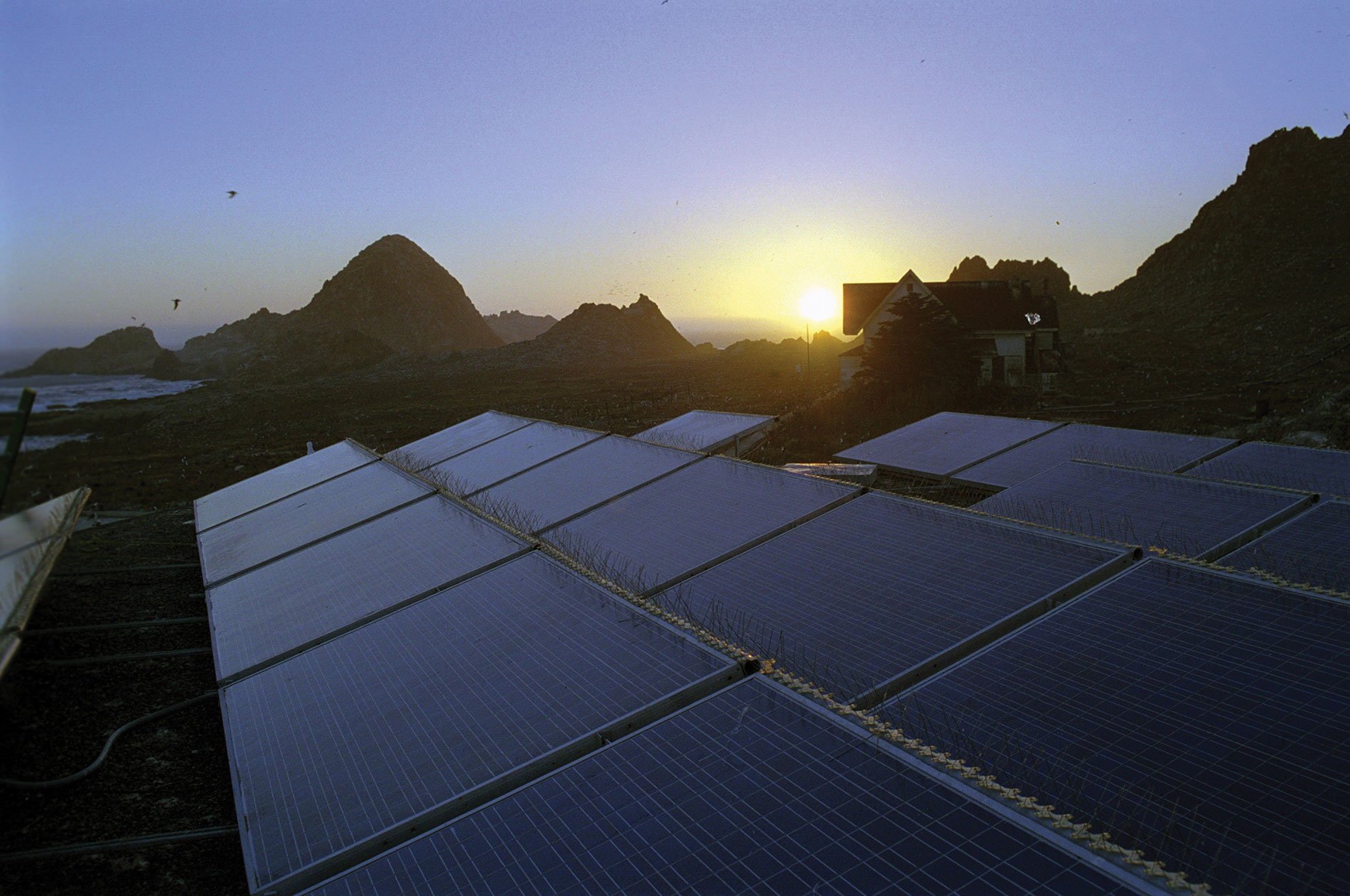 The U.S. Fish and Wildlife Service needed a cleaner, quieter power source for the Farallon Islands National Wildlife Refuge, 30 miles west of San Francisco. A solar-plus-storage system runs the facility serving biologists and volunteers. A battery bank charged by photovoltaics can store up to three days' worth of energy. The system was designed to withstand the extremely corrosive island environment. Photo courtesy of NREL.
Witte has found utilities and developers in a "wait and see" mode.
"They are looking to see successful installations, see payback," she said. "Batteries can be profitable, as California and Texas have found. In these states, developers, asset owners and independent power producers are finding agreeable payback times."
On the other side of the meter, interest is growing for on-site battery energy storage among commercial, industrial and institutional customers. The biggest customer by far is residential.
"So, you have grid-scale energy storage that represents the big projects," said Chloe Holden, energy storage analyst at Wood Mackenzie. "Commercial applications use energy storage on-site at a facility to help control energy cost, maybe offer some power resiliency. Then, there's residential, its own market."
Grid-scale projects provide the greatest capacity for energy storage. "If you look, however, at the numbers of energy storage installations, residential leads with homeowners using it for backup power, sometimes pairing it with rooftop solar. Solar-plus-storage is currently used most heavily in residential applications providing power reliance," she said.
Wood Mackenzie analysts estimate that by 2026, residential storage will grow annually by 5.7 gigawatt-hours; nonresidential storage is predicted to grow 1 GW.
The power of incentives
Payback on an energy storage investment can vary depending on the U.S. location. "That's why incentives are important," Witte added. "If you are a utility, you might be incentivized if your state has mandated storage and/or renewable energy projects. Those mandates mean you have targets to meet. Those without incentives are watching what other utilities are doing with energy storage and how they are doing it."
"New York is what I would call an emerging market," Witte said. "It has clean energy mandates, but the financial incentives for energy storage aren't there. New York State Energy Research and Development Authority offered some grant money, but that is now gone. Other incentives may need to appear."
New York is one of nine U.S. states with energy storage targets. The others are California, Connecticut, Maine, Massachusetts, Nevada, New Jersey, Oregon and Virginia.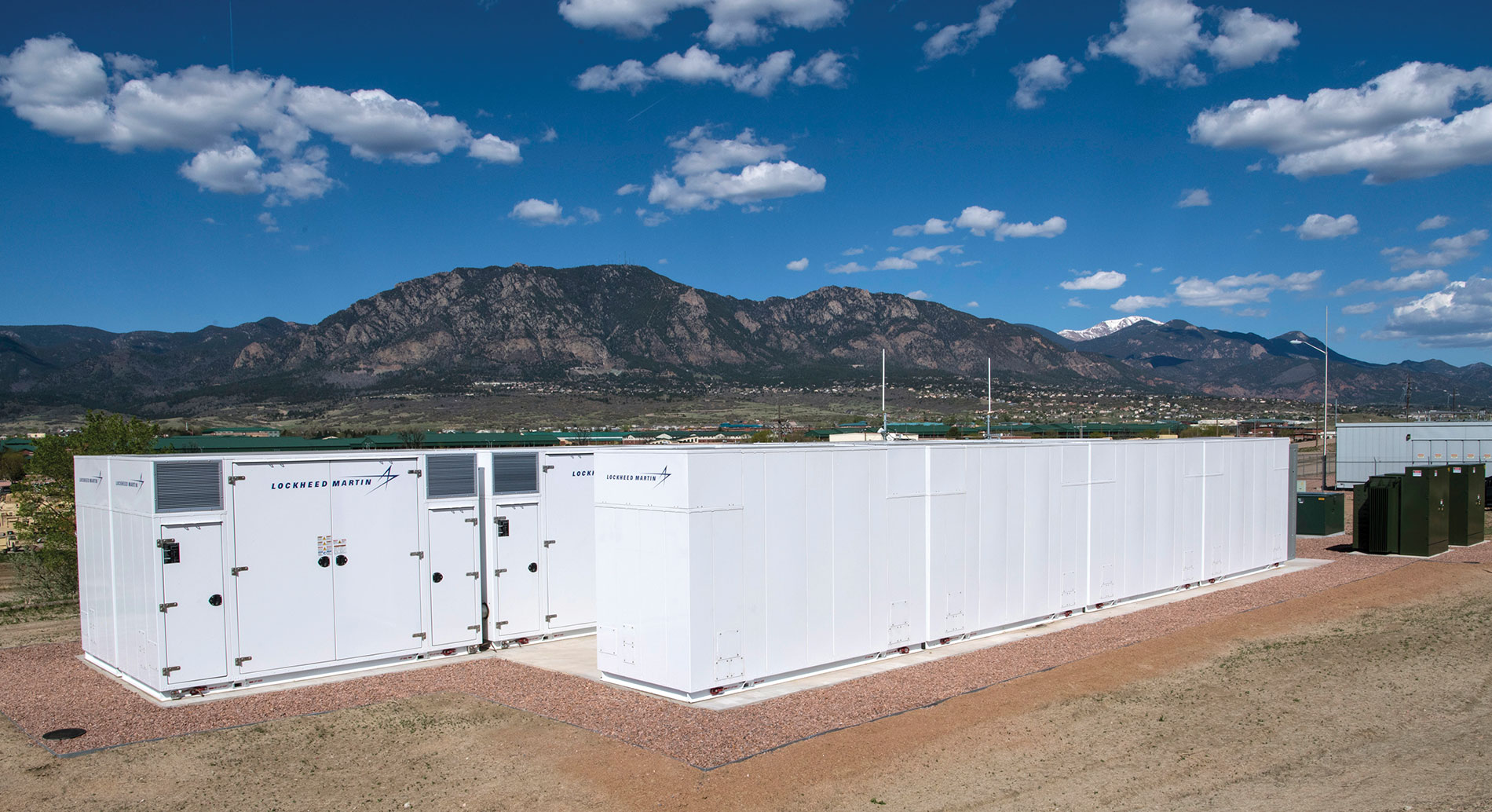 A utility-scale lithium-ion battery energy storage system is installed at Fort Carson, a U.S. Army post south of Colorado Springs, Colo. The National Renewable Energy Laboratory verified the batteries' potential economic savings and helped Fort Carson characterize technology risk. Photo courtesy of NREL.
Broadly speaking, energy storage has not been incentivized with one caveat—a battery system sited with utility solar power. This configuration can take advantage of the solar investment tax credit. Incentivization for energy storage may get a big boost thanks to the Inflation Reduction Act of 2022, which will invest in hydrogen, nuclear, renewable energy and more.
"Energy storage is cited in a 30% storage tax credit," Witte said. "Credits start at 5% but can climb based on add-ons, including the use of apprentices and other labor requirements."
An answer to coal plant retirements
With a decarbonization goal becoming increasingly attractive for utilities, battery storage is slowly coming into view. It could play a role in providing peaking and base load, while accelerating the retirement of coal-fired plants, and maybe someday natural gas. Storage does tend to follow solar.
Illinois' Climate and Equitable Jobs Act passed in September 2021 is an example of energy storage replacing coal capacity. The Coal to Solar and Storage Initiative offers grant funding of up to $110,000 per MW of energy storage capacity, capped at $28.05 million per year. Grants will be paid out over a 10-year term. Three 37-MW energy storage projects have been chosen, to date.
One of the grant winners, Vistra Energy Corp., is a retail electricity and power generation company based in Irving, Texas, providing clean energy retail services in Illinois. The company is applying its grant dollars to three standalone battery storage sites, but is also planning six solar-plus-storage projects at other Illinois coal plant sites. Curt Morgan, Vistra CEO at the time of interview, said this "first-in-the-nation program" allows Illinois to begin transitioning its legacy coal plant sites into zero-emission, renewable energy centers. The state initiative's selected coal plant sites are already closed or are in the process of closing, according to the Illinois Department of Commerce and Economic Opportunity, which is overseeing the energy storage portion of the transition program. Vistra has committed to energy storage in other states, too.
A crystal ball
The National Renewable Energy Laboratory (NREL), which has three campuses across the country and an office in Washington, D.C., released its final Storage Futures Study in April 2022, capping seven previous reports over the past two years. The report's "key learnings" were developed to help policymakers, technology developers and grid operators prepare for what NREL expects to be a "coming wave" of storage deployment. Studies included impacts of widespread energy storage grid deployment, short-duration and long-duration battery discharge, adoption of distributed solar and storage and other topics.
"At the grid level, we have had energy storage for decades in the form of pumped hydro," said Nate Blair, group manager for distributed systems and storage analysis at NREL. "Different grid operators have used that to help during peak energy needs. Pumped hydro is a great technology and provides longer power duration. For the near term, however, lithium battery storage provides a better and faster build-out."
Like analysts at Wood Mackenzie, analysts at NREL have found significant energy storage growth behind the meter (on-site) and an upward trajectory for grid-scale battery storage.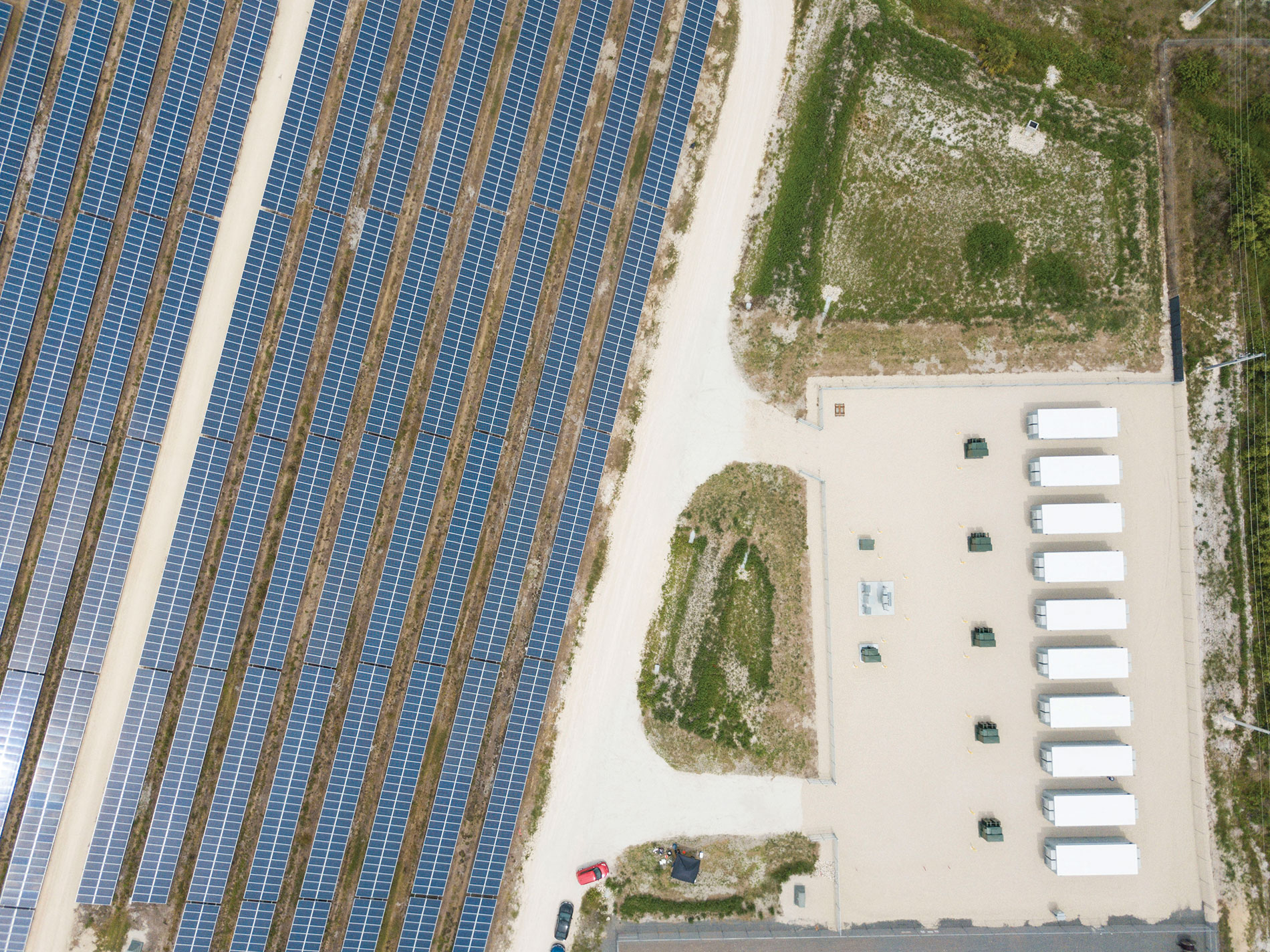 Florida Power & Light uses an on-site solarplus-storage system to support the 17,000-acre, all-solar planned community Babcock Ranch, outside of Fort Myers, Fla. Photo courtesy of Florida Power & Light.
"Though not in our futures study, newly emergent are electric vehicle batteries being used as energy storage. For electrical contractors, they are learning how to install not just EV chargers, but new bidirectional chargers for a single-family or multifamily setting," Blair said.
"Such charging could find its way into commercial parking lots, municipal yards and other areas. These sites might also have on-site renewables [green charging]. Homeowners or others using their EV[s] as battery storage device[s] might enter in an agreement with their utility so the utility can tap the battery energy when needed. Maybe the consumer sets a charging schedule in accordance with the price of electricity at a cheaper time of the day."
Going long
NREL devoted an entire report in its futures study about what qualifies as long-term hours of battery power.
"We sensed there was some confusion to what represented long-term deployment of battery power," Blair said. "Diurnal or short-term is considered between two and maybe up to 10 hours of battery charge and discharge in one day. Tapping battery power between 10 and up to 48 hours would be considered long-term."
He said one use of long-term would be to help support the grid in times of extreme weather events.
While policy and economic headwinds hit clean power in the second quarter of 2022, energy storage experienced growth with a 13% installation increase. Blair expects longterm trends for clean power to continue.
"Cost should only improve on the PV side. Already, two-thirds of Americans live in a zone where utility companies have adopted a clean energy code of some form," he said. "Grid operators forecast what percentage of their fuel mix they need to tap during peak load times. As the use of renewables grows in a utility's energy mix, the more it can tap. Further, energy storage can handle the overgeneration of renewables by storing the power and releasing it when needed."
A market opportunity
"When it comes to battery manufacturing, we gave up a lot of this market share to Korea and China," Witte said. "There's a lot of talk of battery facilities being built in the United States. While stationary storage is a small slice of the battery pie compared to car batteries, it is still a job creator, and longer-term jobs, too. There's also employment to consider in scheduled and unscheduled maintenance and asset management. When people make the correlation of jobs that could be created, you may see a build-out for the energy storage industry. Vehicle-to-grid, vehicle-to-home is another economic driver. Some are more bullish than others when it comes to energy storage. I view the market as a when and how. It will take time to mature."
"Fair to say, for your audience, storage opens a new project stream for utility electric contractors and those serving commercial, institutional and residential markets," Blair said.
About
The Author
GAVIN, Gavo Communications, is a LEED Green Associate providing marketing services for the energy, construction and urban planning industries. He can be reached at [email protected]
Email:

[email protected]