In November 2021, Congress passed the Infrastructure Investment and Jobs Act, which promised to expand the ridiculed phrase "infrastructure week" into a real and substantial "infrastructure decade," authorizing $550 billion in new funding to start making significant improvements to water systems, rail lines, transit and, significantly, roads and bridges. Collectively, these investments could pay for themselves multiple times over in reduced transportation times, improved efficiency and even better health for citizens.
At the local level, each upgrade has the opportunity to bring real, positive change to its surrounding communities. That's definitely been the case with the new Frederick Douglass Memorial Bridge (FDMB) in Washington, D.C. Opened just a couple months before the infrastructure legislation's passing, the effort is a great example of the benefits such projects can offer when designed with local needs in mind. The architecturally striking new span is also an example of the important role electrical contractors play in bringing such projects to life.
The nation's report card needs improvement
In its most recent infrastructure report card, released in April 2021, the American Society of Civil Engineers (ASCE) gave the nation an overall grade of C-minus. While this result is up from the D-minus the ASCE issued in 2017, it remains troubling—the boost, the group says, came from modest and incremental improvements in railroads, drinking water systems and inland waterways and ports. The nation's more than 617,000 bridges came in slightly higher, earning a C, but evaluators noted just how much work would be needed to keep that grade from slipping soon, much less raise it to more acceptable levels. Here are a few of the statistics raised by the ASCE:
42% of all bridges are at least 50 years old.
7.5% are considered structurally deficient, and 178 million trips are taken across those bridges daily.
Bridge repair backlogs have reached an estimated $125 billion.
At the current rate of investment, it will take until 2071 to make all needed repairs, and the added deterioration during that time will become overwhelming.
The American Road and Transportation Builders Association (ARTBA) estimates that nearly 224,000 U.S. bridges—about 36% of the total—need major repairs or replacement. Based on federal and state replacement cost data, the group estimates bringing these spans up to par would cost $260 billion.
Bridging Washington divides
Washington, D.C., has prioritized addressing structurally deficient bridges over the last decade. According to local news reports from around the time work on the FDMB began, it wasn't too long ago that 69 of the city's bridges fell into the "structurally deficient" category. As of February 2022, that number had dropped to seven, according to ARTBA. The new FDMB, which connects the city's neighborhoods east of the Anacostia river to downtown, is a key component to a separate, decades-long Anacostia Waterfront Initiative.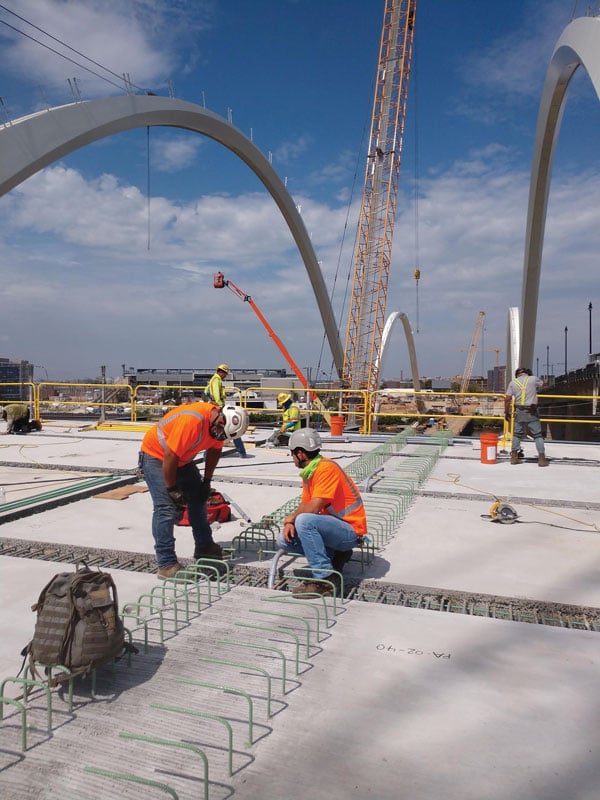 The previous span was almost 70 years old when work began to replace it. While it was still safe to support traffic, it was prone to problems that could quickly result in traffic nightmares for commuters. Designed to swing open to ease commercial shipping, the swing-span could get stuck for hours in the open position, forcing detours. As early as the 1990s, planners began studying options for replacement, and an initial environmental impact statement was approved in 2011 for another movable structure. The U.S. Coast Guard approved a fixed design in 2014, which cut $120 million off the bottom line. Groundbreaking for the new $441 million bridge—the most expensive infrastructure project in Washington, D.C.'s history—began in February 2018, approximately 200 years after the birth of the abolitionist and writer for whom it is named.
The plan incorporates three traffic lanes in each direction and was developed by designers with AECOM, Dallas, as members of the South Capitol Bridgebuilders joint venture led by Watsonville, Calif.-based Granite Construction Inc. and Atlanta-based Archer Western. It features three pairs of sweeping arches that create the gateway to Washington that city planners were hoping for. Dedicated pedestrian and bike lanes also were included, along with four overlook points and two attached piers that seem to float on the Anacostia, below. Additionally, traffic changes at either end allowed the larger design to incorporate outdoor recreation and event space, making the bridge an asset for the community, rather than simply a faster means for transiting through it.
The whole area is undergoing a renaissance. In the last few years, amenities were built, including stadiums for the Washington Nationals baseball team and DC United soccer team, and the former Washington Navy Yard experienced redevelopment.
"Now it's a completely rejuvenated area and the bridge is right in the middle of that—this bridge holds its own," said Jamie Breme, director of business development for Aldridge Electric Inc., Libertyville, Ill., the project's electrical contractor.
Aldridge's team was brought on to the project in August 2017 in a design-assist role, according to Jim Splendoria, vice president of operations for the Mid-Atlantic region. The charge included all navigational and aesthetic lighting, fiber optic cable installation, sign structures, traffic signaling, duct bank and communication and intelligent traffic systems. Aldridge also installed distribution equipment under the bridge and supplied power, lighting and ventilation inside the arches for maintenance workers.
One of the first jobs for Aldridge once construction began was the installation of the two under-bridge duct banks to house distribution cables for the local utility, Pepco. These were laid between the steel girders before the concrete deck was poured. Timing was critical in this effort, as any delay in getting the duct banks in place would hold up concrete pouring and, as a result, cause a slowdown in the entire project schedule.
The art of prefab
"It was like a just-in-time project," Splendoria said. "Everything had to be perfectly coordinated to make the operations go smoothly."
Prefabrication proved critical to success at this stage. The company worked with ductwork supplier Champion Fiberglass Inc., Spring, Texas, to minimize labor once the material was delivered. Champion's customization work included predrilling and preassembling the ducts and hangers, building expansion joints into the duct packages and developing specialized crating and packaging. At the job site, Aldridge's prefab team assembled the ductwork and rigged it at an angle to slide into place as a single section along the bridge's entire 1,450-foot lengths.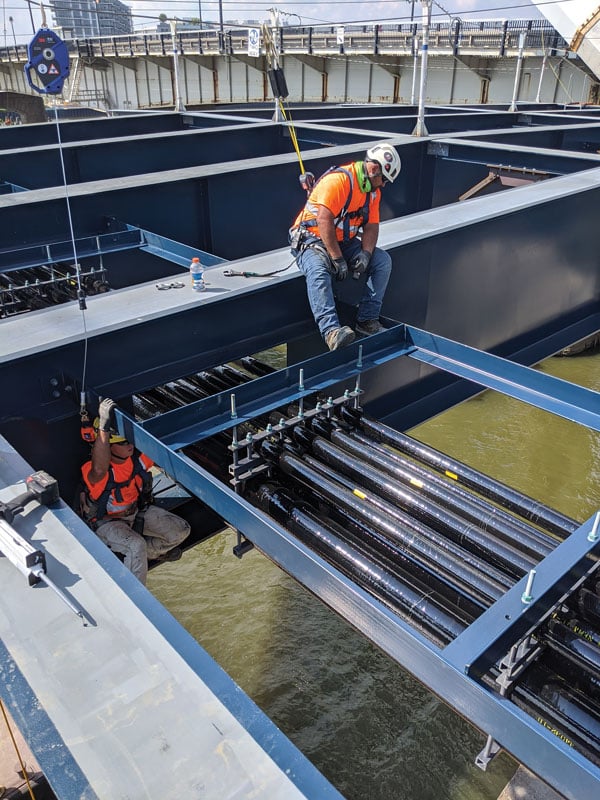 The massive arches, including the two 540-foot-wide central spans and four 452-foot-wide side spans, were fabricated in Northern Wisconsin and benefited from preplanning, according to Splendoria. The arch interiors are hollow, with ladders to allow maintenance access through hatches to the aviation lighting that tops the bridge. Aldridge's team was responsible for the lighting and ventilation equipment for these interior spaces.
"They prefabbed them at the manufacturer," he said. "It's complicated—you've got to have all your parts and pieces, and you have to be there at just the right time so you don't affect the timeline. The whole project was a partnership."
More than a traffic improvement
The FDMB provides traffic improvements for vehicles and infrastructure for bikers and pedestrians that had been sorely needed for decades. Residents will greatly benefit from the project, whether or not they use the bridge for commuting. Completing the bridge, two traffic ovals at either end and a new highway interchange represent just the first phase of a nearly $1 billion plan that also includes further interchange improvements along with surface-street rebuilding and new streetscape development.
And these investments are just one element of the broader Anacostia Waterways Initiative, a 30-year plan initiated in 2003 to clean up the Anacostia River and create new amenities dedicated to residents and visitors, not just drivers. These benefits recognize a broadening definition of both the word "infrastructure," and of those who improved infrastructure should serve. They also could serve as models for community planners of what they can achieve as billions of new federal dollars begin to roll out across the nation.
Paying It forward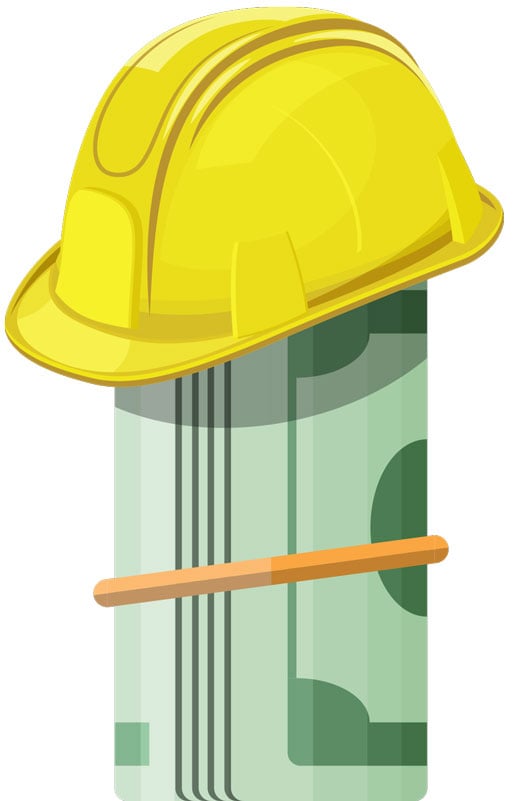 Washington, D.C.'s new Frederick Douglass Memorial Bridge (FDMB) was designed and constructed with a 100-year lifespan in mind, but easing traffic for the next century isn't the only benefit the project is meant to bring to residents. The District Department of Transportation (DDOT) also decided early on that this effort would offer a good opportunity to continue its unique Construction Management Training Program (CMTP), first established during its last major bridge project, the replacement of the 11th Street Bridge.
The program combines hands-on field training and classroom instruction to create an accelerated curriculum for primarily disadvantaged Washington residents. Completing the program can increase participants' chances of landing a full-time construction management job, starting at $20–$24 per hour. In just eight weeks, students can earn certifications in concrete, soils, aggregate compaction, safety and flagging. They also gain on-site experience, along with mentoring and opportunities to shadow construction management professionals on-the-job.
When evaluating applicants for this iteration of the CMTP, managers focused on helping those from the neighborhoods in the immediate area around the new bridge. Those students were each assigned a mentor to help them through the class and field work. The program has become more successful with each new session, as every group seems to earn more certifications—and get hired at a greater rate—than previous ones.
The FDMB project also presented training opportunities through a pilot civil construction program managed by DDOT and led by Jobenomics DC, a local grassroots organization focused on connecting residents to construction jobs and startup businesses. The local affiliate of North America's Building Trades Unions provided training in civil engineering basics, like blueprint reading, construction signals, bricklaying and steel/sheet metal work. Participants were also given life skills training on issues that include insurance, payroll and personal finance.
—C.R.
SHUTTERSTOCK / ANDRIO
All photos courtesy of Aldridge Electric Inc