Solder joint failure, slippage and connections that loosen over time are common issues in tape lighting installations, requiring contractors to head back to the job. So how can these callbacks be avoided?

After searching for a reliable solution on the market and not finding one, Alloy LED decided to start from the ground up with the goal to engineer a tape light connector that provides the most secure connection with the tightest fit to avoid these lighting failures.

The result is the AmpChamp family, the industry's first—and ONLY—UL Recognized terminal-style connectors featuring a patented design allowing for secure, fast and reliable tape light to wire connections.

Featuring high copper content construction that provides exceptional corrosion resistance and unmatched connectivity, the AmpChamp line-up provides secure connections between LED tape light sections, between tape light and wire or between pairs of wire leads, and is offered in multiple configurations including Straight, Corner and Up/Down.

In addition, the terminal-style staggered and stacked design allows for use with smaller tape lights—as narrow as 0.40 inches (10 mm)—and supports the most/highest number of connections within the smallest space.


"We love using the AmpChamp. It removes one of the most common failure issues in our tape lighting installations (solder joints) and allows for a quick labor-saving installation."
- An electrical contractor in San Rafeal, Calif.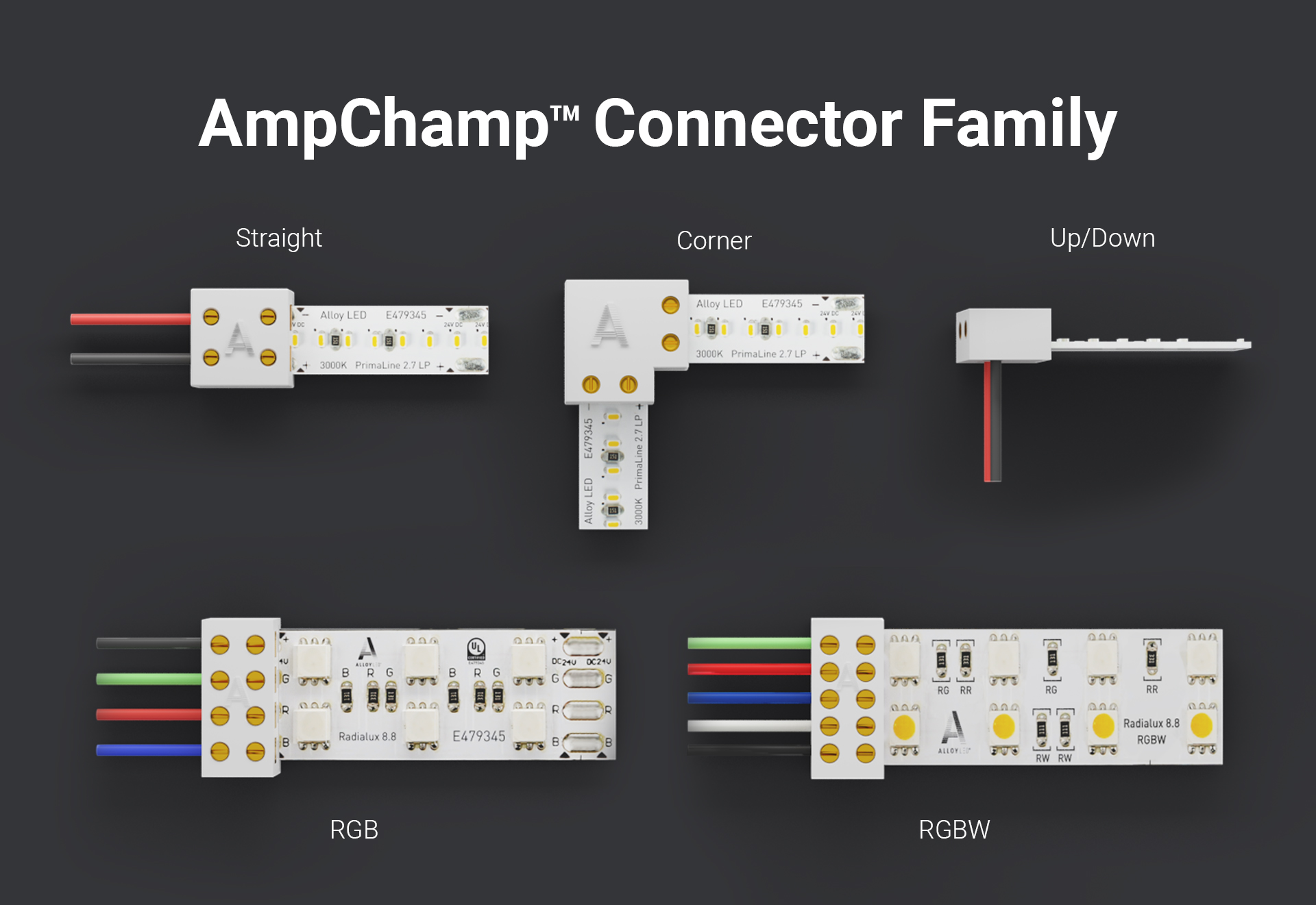 Why contractors choose AmpChamp
1. ONLY UL Recognized tape light connectors
The patented AmpChamp family is the only terminal tape light connectors that has proven to excel across safety and sustainability standards while undergoing testing and evaluation by Underwriters Laboratories (UL). They are the only LED tape light terminal-style connectors in the world to carry this distinction. Plus, the connectors are backed by a lifetime warranty!
2. Fewer callbacks
AmpChamp connectors were engineered from the ground up to provide secure and reliable connections that eliminate slippage and connections that loosen over time. Tight connections avoid lighting failures and expensive callbacks.
3. Corner and Up/Down connectors available
AmpChamp is available in a Corner model to easily achieve a 90-degree illuminated corner. An Up/Down connector is also available when the power feed is being connected from behind the tape, which is a popular connection style for clean-looking undercabinet installations.
4. Quick and labor-saving installation
Does your client want to install LED tape lights around a TV to enhance their movie-watching experience? Is your client a retail store owner who wants to outfit display cabinetry with LEDs? Maybe your client wants to illuminate the frame of their bed. Not a problem!
Simply slide in the tape light, screw down the corrosion-resistant copper screws and it's done! The AmpChamp connectors come equipped with pre-installed 3M VHB tape and an optional innovative mounting clip that makes installation quick, easy and provides excellent strain relief.
5. Complete difficult projects with ease
Lighting floating shelves can be challenging as it is often difficult to find a way to completely hide any wires for a clean, professional look. AmpChamp can simplify the installation experience.
WATCH: How to Install Floating Shelf LED Lighting with AmpChamp Up/Down
By utilizing the AmpChamp Up/Down connector, contractors can create a simple wire-to-tape light connection.
AmpChamp also fits easily into many aluminum channels with diffusers for a seamless installation that provides smooth, even illumination. AmpChamp not only makes it possible, but easy!
6. Make your job easier
The AmpChamp family has opened doors for contractors to have greater control over their projects.
Contractors can directly bring their own wire (16-gauge or less) to the connector. The tape and wire connectors are compatible with a solid core, tinned and stranded wire. This configuration includes four spade connectors for use with stranded wire as well as a screwdriver and optional mounting clip for added convenience.
The connectors offer maximum connectivity for high amp applications and enable longer tape light runs on a single connector.
The connectors are pre-installed with a 6-inch lead of 18 AWG, CL2 in-wall rated wire with tinned leads at one end for convenience.

It doesn't end there! The award-winning AmpChamp has been recognized for its uniqueness, innovation and significance in the light industry by the Illuminating Engineering Society (2022 IES Progress Report), LEDs Magazine (BrightStar Awards Honoree) and Architectural SSL Magazine (Product Innovation Award).
Alloy LED is the only company to manufacture a terminal connector for every LED tape light it offers, providing customers with the most complete and convenient solutions for the best, longest-lasting lighting installations.