Currently representing some 275 of golf's greatest players, the PGA Tour has been the world's premier membership organization for touring professional golfers since 1968. The 2021–22 PGA Tour schedule features 47 FedExCup events, including the famed Players Championship, Masters Tournament, PGA Championship, U.S. Open and the Open Championship.
As part of its mission to engage, inspire and positively impact fans, communities and partners worldwide through golf, the PGA Tour and its network of volunteers have donated nearly $3.4 billion to-date to support a range of local organizations and causes.
The multibillion-dollar PGA tour business has 750 employees working at its headquarters in Ponte Vedra Beach, Fla., plus another 300 worldwide. It must support a multitude of functions, equipment, space and capabilities to organize and broadcast events to more than 200 countries and territories in many languages. Therefore, the PGA Tour was overdue for a modern and centralized new facility that could house all of its activity under one roof.
"The PGA Tour moved to its current location in Ponte Vedra Beach in the late 1970s, and we ended up in 17 different buildings spread out across the local area as golf gained popularity and we grew into a global organization," said Kirsten Sabia, vice president of integrated communications for the PGA Tour.
"As a hub for professional golf as well as a leading sports/entertainment company, we wanted the PGA Tour's new headquarters facility to be an inviting, open and inclusive space that served multiple purposes while also reflecting our organization's commitment to environmental responsibility."
Thanks to a range of environmental practices and products—including the use of solar panels, a rooftop system for capturing and recycling rainwater, energy-efficient HVAC technology, electric vehicle charging stations and lighting controls from Lutron—as well as design and installation expertise from Miller Electric Co., Jacksonville, Fla., the new headquarters facility is a highly sustainable destination that will serve the organization and its members for decades to come. It officially opened to employees and visitors in January 2021.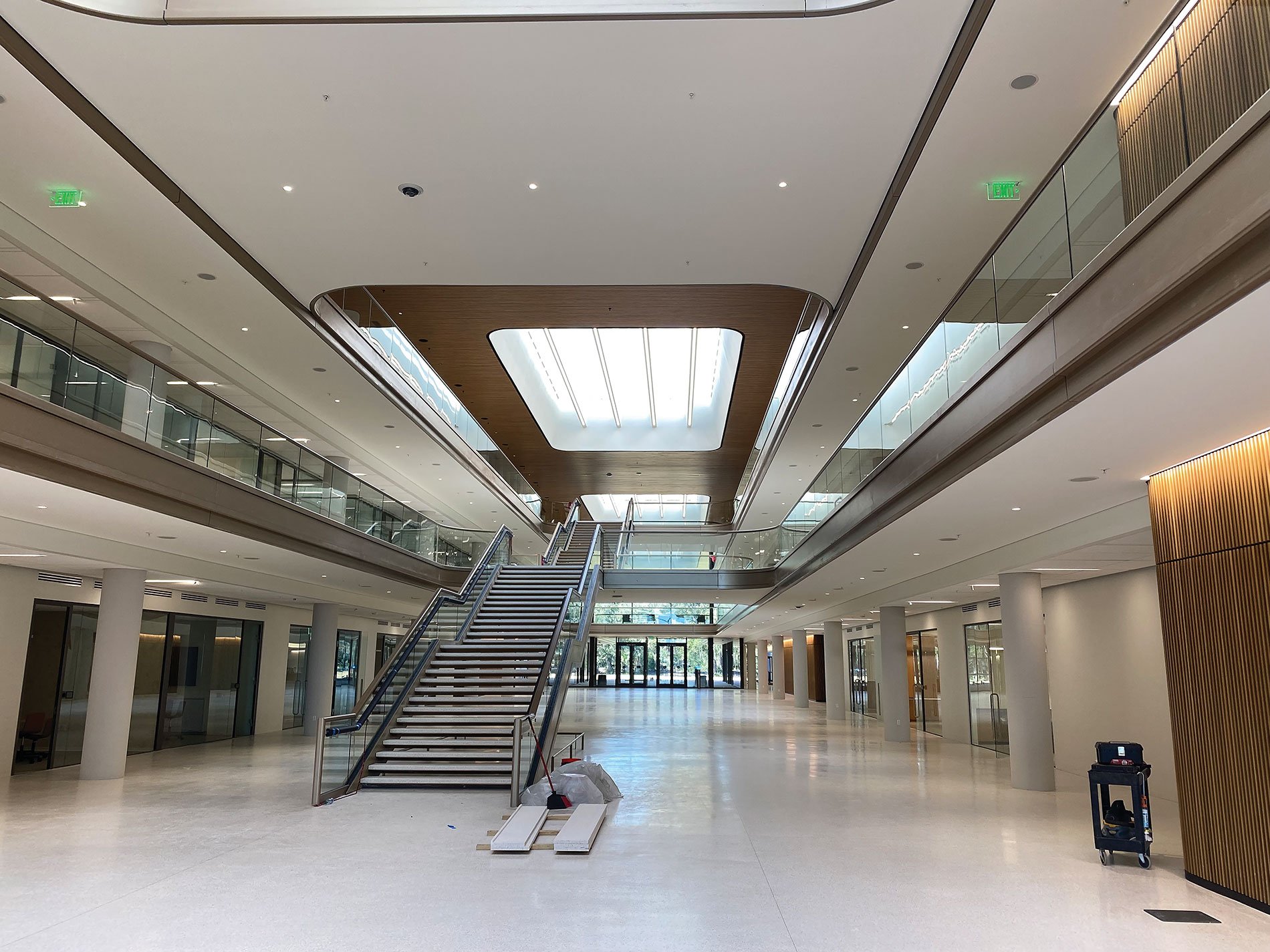 A grand global home
Work on the facility began in 2018 on a 750-acre property that also houses the 36-hole TPC Sawgrass (home of the Players Championship), a 25-acre practice facility, 55 acres of vacant land used for parking for the Players Championship and Audubon-certified wetlands. The Audubon Cooperative Sanctuary Program for Golf Courses is an education and certification program that helps golf courses protect the environment and "preserve the natural heritage of the game of golf," according to its website.
"Our three-story, 187,000-square-foot facility includes an open atrium with a central courtyard, spectacular views through glazed windows on all four sides, modern sit-stand workstations, collaborative areas and a series of inviting balconies and outdoor spaces, which offer great places to take a break, meet with colleagues or host events," said Michael Johnson, senior vice president of design and construction services for the PGA Tour.
The facility has a modern lighting and control system that enhances building ambiance while capitalizing on the availability of natural daylight.
"We wanted the lighting to be energy-efficient and controllable/programmable. The different facades of our building experience different levels of sunlight, and the system allows us to control those zones independently," Johnson said.
"Working with the environment is part of our culture at the PGA Tour, and we're very conscious of both how we play outside and how we care for our facilities inside," Sabia said. "All of the trade partners we selected on the design and construction side considered that in their plans, kept us current with the latest ideas and sustainability practices and shared similar goals."
For that reason, the PGA Tour didn't hesitate to involve Miller Electric in the construction of its new "global home."
"Miller Electric has been a trade partner of the PGA Tour for decades," Johnson said. "They've been great team players, great community partners and bring a lot to the table."
"Our core values as a company are trust, collaboration, safety, quality, stewardship and community, which truly align with those of the PGA Tour," said Will Jenkins, EV solutions leader at Miller Electric, a nearly century-old firm with more than 3,200 employees located across 18 branches throughout the United States. "We view ourselves as a strategic partner with our clients to help them grow their business and meet their goals and can cover everything from adding a receptacle to building a new global home."
"We have a dedicated service team assigned to the PGA Tour, and every day our people are on-site, supporting anything from renovations to power needs for the TPC Sawgrass event and more," Jenkins said. "We're a valued partner to the PGA Tour, and they're more than just a customer to us—they're part of our community."
A full design-build turnkey partner providing all electrical and networking needs, "we specialize in everything from data center work, access control and distributed antenna systems to in-house expertise such as BIM modeling and CAD drawing, and also do a great deal of work in the renewable and vehicle-charging sectors," Jenkins said.
"On the PGA Tour project, we were on-site for a little over two years and were heavily involved in the design of the project for a solid year before that. Among other activities, we installed all of the lighting and controls as well as conduits under the foundations, coordinated with subcontractors for security and fire alarm systems, and oversaw everything from installation of the lighting control wiring to the data cabling, networking, PV solar arrays and security and fire alarm systems," he said.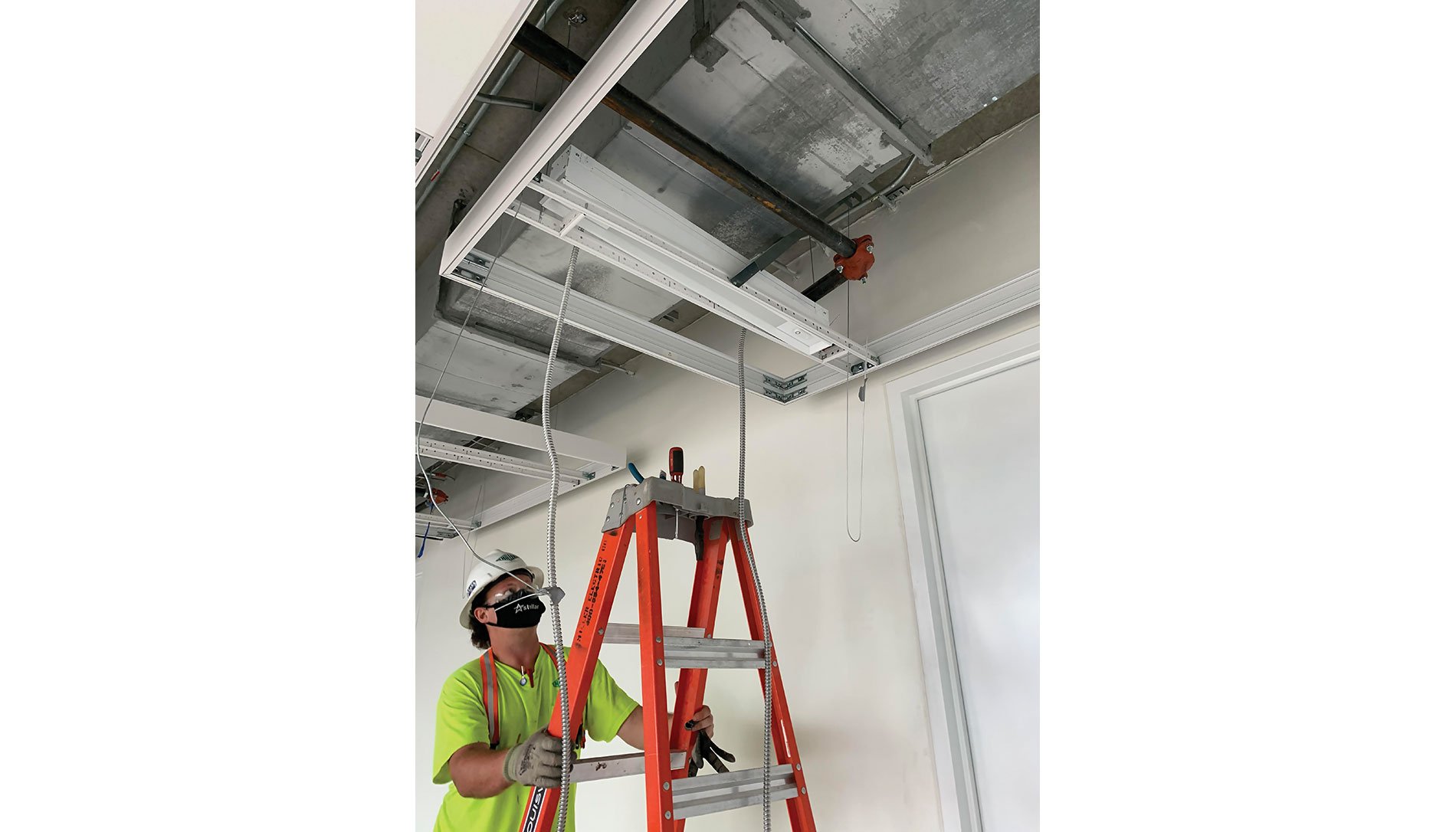 For the building's lighting control, "we went with Lutron's Vive wireless commercial lighting control system for the job because, with such features as daylight harvesting, controllability, dimmability and automatic motion turnoff, it really met the PGA's needs," Jenkins said. "The Lutron Vive system utilizes hubs that are hard-wired back to the main distribution frame room with racks that have switches and Cat cablings going to the phone lines, Wi-Fi access points, fire alarm and security system—essentially the network backbone of the building.
"Each hub has a 71-foot radius, every light fixture in the radius is controlled by that hub, and we had 19 hubs in the project," he said, noting that all lights go to full brightness in case of an emergency. "The system is also very customizable to the needs of the client or the tasks being performed, so the PGA Tour can program its 1,700 fixtures into hundreds of different lighting schedules."
Dealing with the unexpected
Jenkins said the team faced unprecedented challenges due to the pandemic.
With as many as 70 electricians and more than 30 subcontractors on-site at the height of the project, "several members of our team contracted COVID early on, and at that time, there was a 14-day quarantine period, so for the safety of the team and project, we shut down on and off between March and August 2020 to avoid an outbreak," he said.
In addition to installing handwashing stations everywhere, "everybody wore masks, which is hard when you're huffing, puffing and sweating in the hot Florida sun, and only a certain number of people were allowed in a room at the same time," Jenkins said, adding that his company still paid its employees even if they had to leave the job site or quarantine. "It was a daily obstacle to overcome."
Supply-chain issues presented an even greater problem.
"Specifically, we experienced 3- to 5-month delays on the drivers in the fixtures that were going to be controlled by Lutron's lighting control system," Jenkins said. "The second- and first-floor ceiling configurations were 'clouds'—e.g., fancy, drop-in, 4-by-6 tiles with a gap in the ceiling—and we had all of the overhead conduit and branch wiring pulled and were just waiting on the fixtures to arrive so that we could keep other trades going.
"Between the extra time required to work with the more complicated wooden-panel ceiling on the third floor and the delays on the lighting fixtures, we ended up having to install all 1,700 fixtures in one month," he said. "We'd originally estimated 35–40 crew members for peak manpower, but ended up having to put the pedal to the metal and increase our manpower to over 70 people to make up for the lost time caused by those supply-chain issues."
A testament to teamwork
"With its advanced lighting controls, building management system, solar system feeding energy back to the local utility and more, the PGA Tour's new headquarters is an extremely efficient facility," Jenkins said. "It has an open, bright and airy design that invites the outdoors in and is a smart, forward-thinking building with a modern, industrial vibe that truly speaks to how people work today.
"We started with 60% drawings while construction was happening and worked collaboratively with the owner, the owner's rep and the general contractor in a true team effort. The PGA Tour is a fantastic customer and strategic partner of ours and we're proud to have been entrusted with the electric design and installation on such a prominent project.
"After giving us clear direction on what they wanted and then relying on our expertise, it was rewarding to have played a vital role in helping to achieve the PGA Tour's goal and see their vision come to fruition," Jenkins said.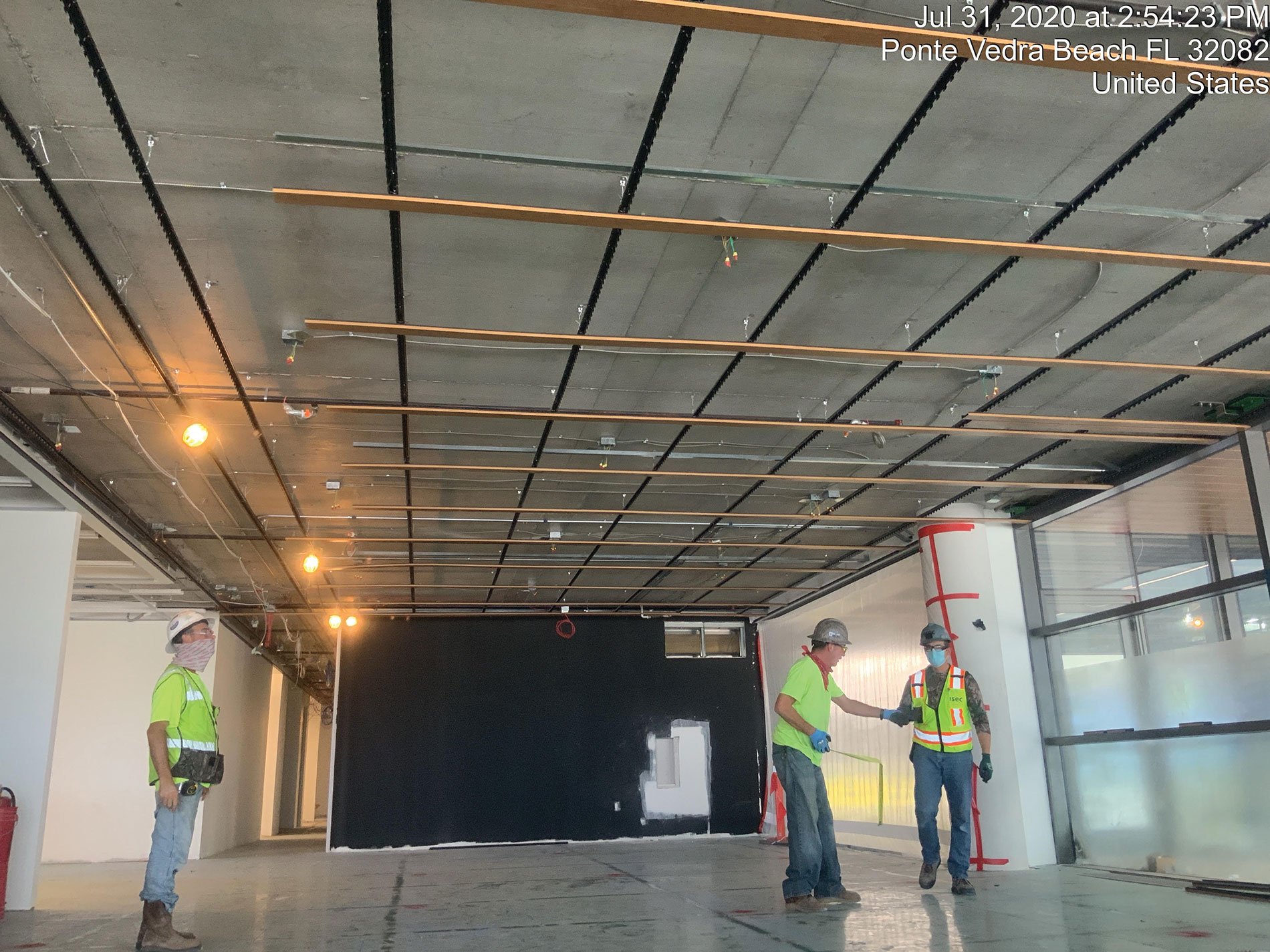 "We couldn't be happier about our new 'lifestyle' building, where occupants can gather, meet at the coffee bar, in the atrium, in a conference room or outside, work out in the gym, eat in the cafeteria, use the swing simulator and more," Johnson said. "The variety of options is incredible, and there's so much open space."
"The team from Miller Electric did everything possible for us to stay on schedule and on budget and was instrumental in helping us achieve a successful outcome," Johnson said. "We always want to surround ourselves with the best people in the industry, and Miller Electric has the firepower and integrity that we look for in a partner. They're good people as well as outstanding electrical contractors."
Jenkins said that he and his team couldn't be prouder to partner with the PGA Tour and to see the final result.
"When you drive up to the headquarters and see an incredible campus with beautiful landscaping surrounding an amazing building reflected on a pond, it's truly a 'shock and awe' moment," he said. "It's the epitome of grand."
Header image by Shutterstock / nyker.