There's a future for electric cars that involves more than driving. Vehicle Grid Integration (VGI) occurs when electric vehicles (EV) and charging stations interact with the electrical grid. This interplay could be one more tool to better manage, decarbonize and decentralize utility power.
A march to broader EV adoption has begun. Automakers, such as General Motors in Detroit, are making increasing commitments to electrification as consumers warm to the idea of EV transportation. States such as California and Massachusetts want all new cars and trucks sold to be electric (or zero-emission) by 2035. Other states may follow. Add in incentives and considerably lower battery prices, and the EV market is poised for exponential growth.
Deloitte, a global financial services firm, predicts all-electric cars will likely account for 81% (25.3 million) of total car sales worldwide by 2030. With such anticipation, it's no wonder that using EV power beyond transport is an idea taking hold.
Jumping into VGI
VGI offers diverse applications. V1G, or single direction, enables managed charging, perhaps a simple demand-response agreement with a utility. V2G provides bidirectional charging and discharging that allows vehicles to discharge stored energy back into the grid, a building or local power system.
Control Module Inc. (CMI), Enfield, Conn., is a global systems and solutions provider for workforce data collection, EV charging and fleet management. EVSE LLC, a subsidiary of the company, designs and manufactures smart Level 1 and Level 2 electric car charging stations. A line of its V1G chargers featuring mechanized cable extension and retraction (Autocoil) helped create a unique opportunity with the Los Angeles Bureau of Street Lighting and National Grid, an East Coast utility serving New York, Massachusetts and Rhode Island.
In Los Angeles, vandalism of the initial 40 EVSE installations triggered a rethink.
"In the next phase of the LA project, we developed a way to install the same charger model 10 feet up on the light pole and use the motorized feature to drop a 25-foot cable to ground level, on command," said Dean Spacht, vice president of sales and marketing for CMI.
A smartphone app was also developed to read a ground-level QR code that communicated with the EV charger, allowing the charging gun (J1772 connector) to descend. It dropped to a level of 48 inches for ADA compliance (e.g., drivers who use a wheelchair). Further, a pole-mounted back plate and power disconnect was designed for easy charger service removal. Most of the more than 200 EVSE chargers installed in Los Angeles are now placed at that 10-foot elevation on the city's metal light poles. That venture informed EVSE's next project with National Grid.
Double duty distribution poles
National Grid and EVSE are currently engaged in a pilot project with Melrose, Mass., a city outside Boston. The project represents a first in the utility distribution pole-mounted EV chargers. The approach is also saving money.
"The installation [cost] of the pole-mounted charger is 70% less than a ground-mounted charger because no digging and trenching is needed to bring electricity to the site," said Cassandra Vickers, senior clean transportation product developer at National Grid. "Instead, the electricity is available just a few feet away on the wooden distribution pole, which carries power to homes. When all costs are considered, the pole-mounted chargers provide a savings of 30%."
When complete, 15 EVSE V1G chargers will be installed on nine distribution poles. Vickers expects continued savings.
The wooden utility distribution poles in Melrose are owned by National Grid in partnership with Verizon.
"These poles offer the right voltage (208–240V) and the right current capacity," Spacht said. "Streetlights can operate across a range of voltages and currents, depending upon the site. The National Grid wooden poles eliminate these complications."
With the elevated utility pole approach, a contractor would install brackets, mount a back plate with breakers to the brackets, and mount the charger to the back plate, Spacht explained.
"Power is pulled from the weatherhead," he said. "For servicing purposes, a bucket truck would be used to reach and shut off the back plate breaker, remove the charger, reconnect a new charger and reactivate the breaker."
Spacht thinks the elevated install approach could help expand charger installations while making them safer and less prone to damage and offering broader access. He added that elevated chargers could also be a good fit for beaches, coastal areas or other flood-prone locations.
Vickers said distribution poles in the Melrose project were vetted. Factors included selecting poles that could support the additional weight of one (35 pounds) or two chargers (70 pounds); finding favored pole locations (e.g., apartment complexes, parks and playing fields and businesses); locating rare instances where poles stood between two parking spaces in a lot; and avoiding poles near accident-prone areas such as intersections.
"We know customers from the large apartment buildings (without EV chargers) are using the charging stations, so the solution is proving to be a source of charging for those without a private driveway or garage," Vickers said.
Going bidirectional
Underwriters Laboratories, Northbrook, Ill., has been involved in EV battery research for 35 years and has been working with EV charging companies to ensure safe products that are workable with all EVs. Its work laid the groundwork for UL 9741, UL Outline of Investigation for Bidirectional Electric Vehicle Charging System Equipment, introduced in 2014. A recently revised second edition addresses all common modes of V2G, including the newer vehicle-to-load where a port on an electric car (e.g., 2022 Hyundai Ioniq 5) allows owners to charge other equipment, and vehicle-to-home allowing an EV to service an energy-storage application.
"An EV is a battery on wheels that can also provide grid support during peaking," said Scott Picco, senior manager for strategy and portfolio innovation—integrated systems at UL. "VGI has a lot of promise as well when you move from a centralized generation concept to distributed generation. Energy storage (24-hour accessibility) is key to supporting renewable power. An EV can be a transportable and bidirectional form of energy storage. In California, an EV can back up power for homes."
In Toronto, the light pole-mounted charger idea is extending to energy-storage exploration, as well. Picco hopes UL 9741 will build adoption for bidirectional EV charging.
"UL 9741 does open up the market quite a bit in terms of providing safety and reliability for utilities and furthering/adding distributed generation to the grid," Picco said. "The standard was created in a way to be familiar to utilities based on a strong foundation of UL and other standards referenced in it (e.g., IEEE 1547 and IEEE 1547). There's a history of self-certification in the auto industry. It's opposite in the power industry (e.g., National Electrical Code, UL standards and third-party certification). Standard 9741 offers a good intersection that didn't really exist before."
Picco added that UL 9741 is UL's fastest-growing EV charging standard.
Putting state-of-the-art to work
Fermata Energy's VX2 technology features a V2G bidirectional EV charging system. It is the first to earn UL 9741 certification.
"We're excited to be the first company to receive UL 9741 certification and look forward to partnering with other organizations to advance V2G applications," said David Slutzky, founder and CEO at the Charlottesville, Va.-based company.
One of those partners is Virtual Peaker. Based in Louisville, Ky., the firm has developed a cloud-based, internet of things, energy-­management platform that is applicable across industries but is helping utilities, municipalities, cooperatives and IOUs deliver more assured grid power.
"A basic omnidirectional can offer control (demand-­response), but bidirectional can do more," said William Burke, founder and CEO at Virtual Peaker. "Utilities are figuring out the business model for it. When does a bidirectional charger demand-response program make economic sense? Can software be a service?"
In a pilot program announced last September with Fermata and Green Mountain Power (GMP), Colchester, Vt., Peaker's distributed energy software has been integrated with Fermata's V2G charger. Currently being used with the utility's fleet of Nissan Leaf EVs, it charges the vehicle and supplies power back to the grid during peak times. A similar pilot is being developed for GMP business customers who are electrifying their car and bus fleets.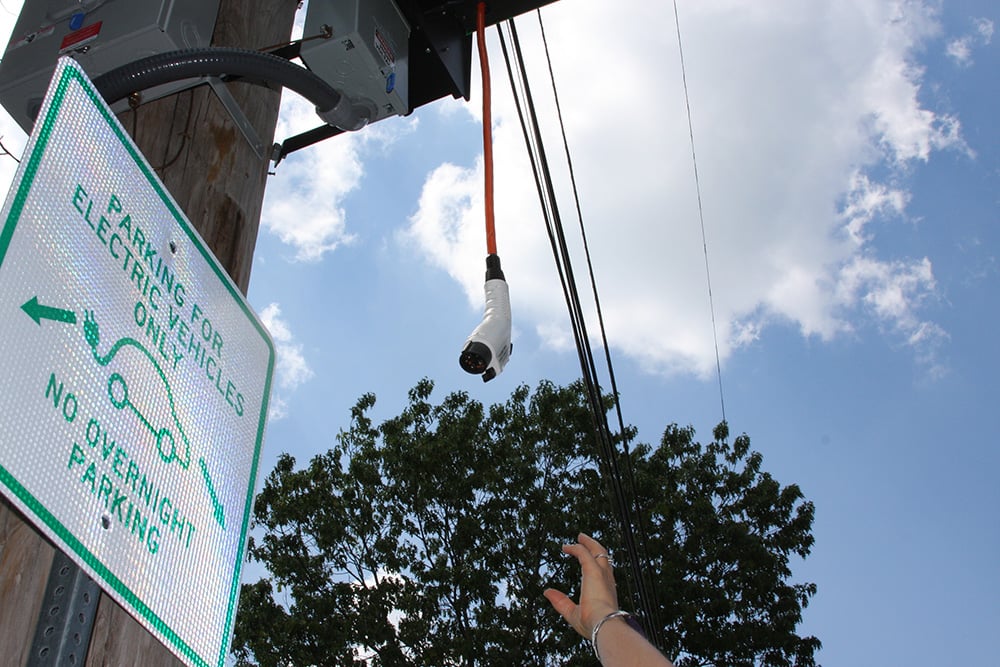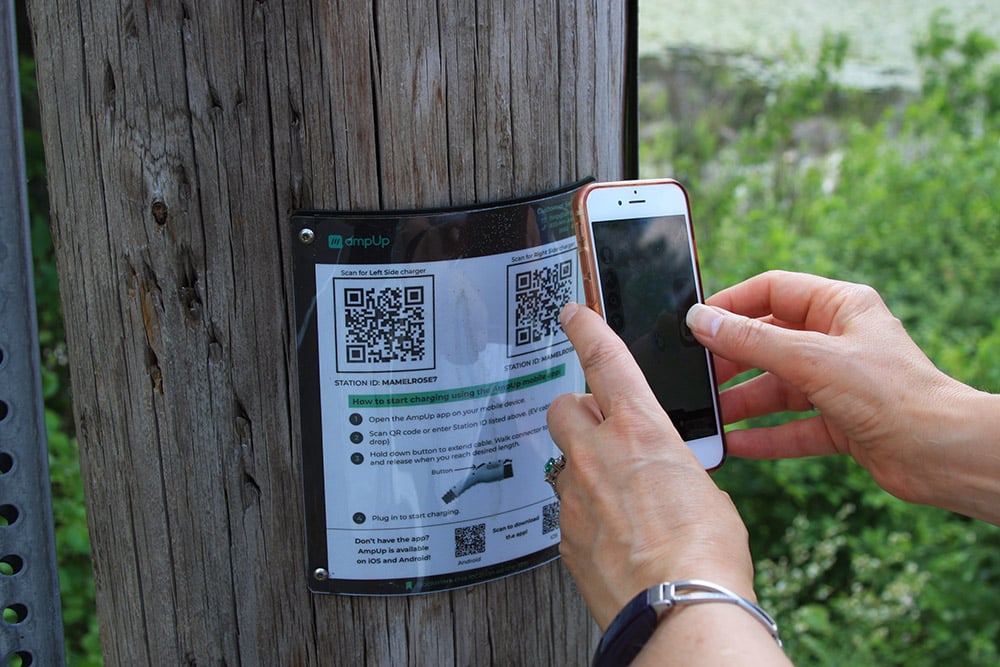 Burke sees utilities and EVs sitting in an interesting spot.
"Likely the only load growth for utilities is from EVs," he said. "They represent a massive opportunity. Utilities are looking for the right economic incentive. Time-of-use rates might not be the answer if everyone charges their car at the same low-rate time. That still taxes the grid. It may be only a half-hour charge, but it's a load ramped up very quickly and ramped down just as quickly. So, you need the right technology, something that could help spread out the load. For instance, a utility promises to charge the vehicle at night, but it selects the time. Software manages the process, helping signal when an EV charger runs, or if bidirectional, when it might feed power back to the grid."
Burke said his software and Fermata's charger are integrating well, and performance is revealing charger capacity that can deliver power back to the grid and still maintain power for the EV. Bidirectionality is something EVSE might look at down the road. National Grid has installed the infrastructure in one city that is planning V2G with its electric school buses.
Seeing an EV as a "battery on wheels" may happen sooner than later. It's time to get ready. VGI is already happening.
About
The Author
GAVIN, Gavo Communications, is a LEED Green Associate providing marketing services for the energy, construction and urban planning industries. He can be reached at [email protected].
Email:

[email protected]