There are three levels for testing network cabling: verification, qualification and certification. Representatives from two tester manufacturers discussed differences among the three and how qualification fits into the network testing processes.
Mark Mullins, a founding member of Fluke Networks, Everett, Wash., said qualification testing measures the performance of a cabling link to determine if it can support a specific network application, such as those from the IEEE 1000BASE-T.
"Qualification testing is a 'middle ground' between verification (determining if the cable is terminated properly) and certification (comparing the performance against cabling standards such as those developed by the TIA, e.g., Category 6A)," Mullins said. "Certification considers a longer time horizon. A system that meets cabling standards is ready for future network standards, which could be designed to operate on cabling supporting those standards.
"A good example of this is the Category 5e cabling standard, which was developed to support the 1000BASE-T networking standard. Years after the 5e standard was adopted, two new standards that are designed to run on Category 5e compliant cabling—2.5GBASE-T and 5GBASE-T—have been developed," he said.
Mullins said qualification tools often speed installation and troubleshooting, such as cable troubleshooting (distance to faults), the ability to gather switch port details (name, VLAN, speed), power over ethernet (PoE) and network connectivity tests.
According to Mullins, a good example illustrating how qualification testing is used is when a network support team does not have access to certification reports made when cabling was installed, so qualification testing is used to troubleshoot network performance or when upgrading networks to faster standards. A smaller number of new cabling links can use qualification to ensure the cabling will support the devices that will be connected using those links.
Mullins said Fluke Networks offers the LinkIQ cable and network tester that provides cable qualification up to 10 gbps and a variety of other functions for installation and troubleshooting.
"Parametric qualification measures the performance of the cable (crosstalk, delay, loss, etc.) and compares it against the application's requirements to yield a pass or fail result. These limits include margins to take into account variations in the environment that could affect performance, such as temperature," he said. "Functional qualification is a measure borrowed from network testing that sends a 100% application traffic load across the link and measures the percentage of error-free packets that are received at the far end. This is sometimes called bit-error-rate testing, or BERT.
"While this is a confidence-inducing method, passing this test doesn't ensure that any two randomly selected network devices will be able to achieve the same results under the same or different circumstances."
Computers using software such as iPerf can perform functional testing, Mullins said. However, their performance is typically limited by the physical interfaces in the computer, which are typically not designed to achieve a 100% traffic load. For full functional testing, a dedicated tester is recommended. Parametric testing can only be performed by a dedicated device.
Testers can store results in their own memory, but, he said, it's much more useful to be able to store them in some sort of database.
"Most manufacturers provide a software solution for storing and viewing results and generating reports," he said. "This is useful for documenting, especially to a second party such as an installer's client, or for troubleshooting to see if something has changed on a link."
He suggests a solution that supports multiple testers, possibly even qualification and certification, that can store the results in a tamper-proof format to provide results for a client.
Dan Barrera, global product manager at Trend Networks, Rockaway, N.J., said qualification testing is a term used to describe a type of network cable test that determines the performance capabilities of the cabling but does not meet the requirements of the TIA or other standards bodies for a certification test.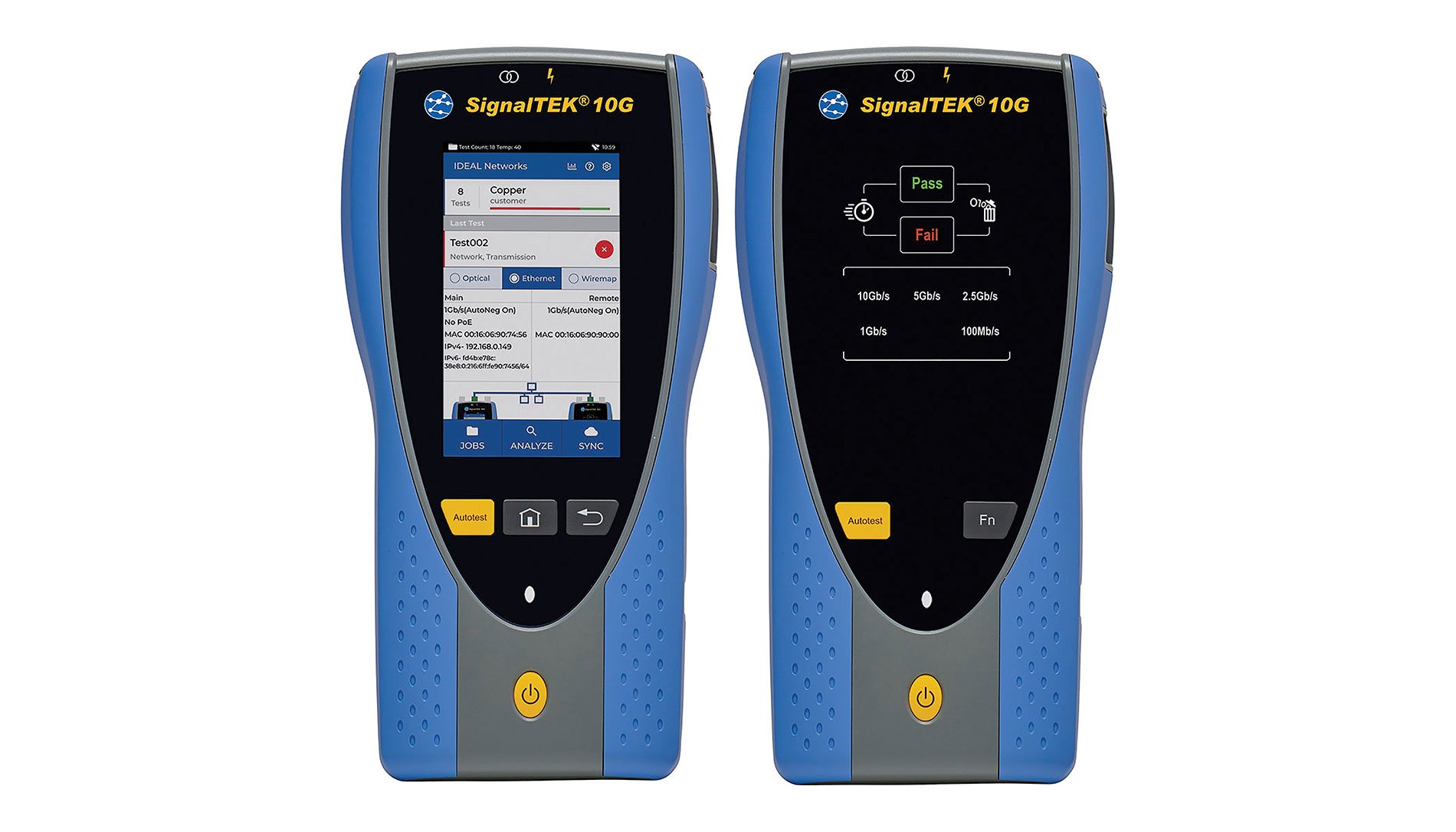 Trend SignalTEK 10G network tester and remote www.trend-networks.com
Barrera summarized the differences between verification and qualification testing:
Verification testing is a continuity or wiremap test. It does not test the cabling's performance capability. Verification testers simply check that the connector at each end of the cable has been properly terminated without any opens, shorts, reversals or other miswires. A wide range of verification testers are available; some measure length, check for active network ports or live PoE service. They are typically the testers that an installation crew will use to ensure the cables are terminated correctly immediately after completing the install. Some verifiers have the ability to store tests and generate reports, but this should not be confused with a performance report because it is just a continuity test.
Qualification testers measure the performance capability of cabling, though not in a way that is defined by the TIA or other standards body. For example, the TIA-570.D residential cabling standard references qualification testing but does not define what type of measurements should be performed to qualify a cabling system.
Qualification testers are typically used for installations where performance testing is desired, Barrera said, but a full certification test is not required for cabling manufacturer warranty or where a designer/specifier has called for certification testing.
"A qualification test is perfect for small to midsize projects where the installer wants to provide proof that the cabling provides the desired level of performance and is looking for a testing solution that is more affordable than a certifier," he said.
"Qualifiers typically cost a fraction of certifiers, allowing companies to equip more of their fleet with testers than if they were to purchase certifiers. Qualifiers also tend to have network diagnostic functions that make them the perfect choice for service trucks. The tester can be used to check the performance of just the cabling, check the link speed of active ports, check the switch port number from the work area side of the cable, run ping and trace-route tests, perform PoE tests and many more measurements that certifiers cannot perform," Barrera said.
"The reason certifiers cannot perform active network tests is that the measurements for certification require a specific type of circuitry that cannot be connected to active network ports. A certifier may have modules or secondary ports for diagnostics, but the module/port for certification is incompatible with active circuits," he said. "The type of measurement for qualification tests is not defined by any standard, so it is left to the test equipment manufacturer to determine the best way to qualify a cable.
"With the TrendSignal TEK 10G network tester, we use a method called transmission testing, where we send actual data packets in both directions across the cabling link and count packets that are dropped due to poor cable quality or poor termination that result in high crosstalk and low signal-tonoise ratios. We then compare the ratio of dropped packets to the IEEE 802.3 ethernet standard to determine whether the link passes or fails.
"This is a proven test method that has been used in the telecom industry for decades and lets us provide users with standards-based testing for utmost confidence in the results.
"Another advantage with transmission testing is that it can be performed on active networks in addition to passive cable links. For example, in addition to testing cabling links, the SignalTEK 10G can perform a transmission test through network switches on copper and fiber media to provide the user with proof that the entire network supports 10 gigabit transmission," he said.
Other manufacturers may use proprietary test methods with pass/fail criteria that is unspecified to the user.
"Some qualification testers," Barrera continued, "incorporate other test and diagnostic functions that can be used to troubleshoot networks in addition to qualifying the cabling. Examples are measuring the optical power of fiber transmitters to check the output of SFP modules or performing network diagnostic tests to confirm connectivity to network resources or the internet."
How a tester manages and permits access to information is important.
"The SignalTEK 10G offers two reporting options," Barrera said. "The tester can create PDF reports directly and export them to a USB flash drive for local reporting. It also can use Wi-Fi to upload results to AnyWARE Cloud, which is a cloud platform for managing results and generating reports. AnyWARE Cloud allows results from multiple testers to be combined into single projects for work on large projects and lets users create a tree structure for job sites by defining Building/Floor/Room/Rack/Panel to organize test results into an organized structure.
"By using the cloud, technicians can be anywhere in the field and can use local Wi-Fi or a mobile hot spot to upload results each day, allowing project management to see test results," he said.
How data is used
"Some companies use the qualification reports as proof that the work was performed and that the cabling meets the desired performance requirements. These reports may also be shared with customers to document project completeness," Barrera said.
"Companies may use the reports for internal documentation so that if a problem arises at the customer's site after the project is complete, the contractor has documentation to prove that the cabling was tested and met requirements at a certain date. Having documentation of cabling performance can settle disputes with customers and can convert warranty calls into billable service calls."
The inherent issue with qualification testing, he said, is that the methodology is not defined by any standard, so it is up to the user to understand what their equipment is telling them about the link under test and if the test results comply with a recognized standard.
Header image: Fluke Networks' LinkIQ Cable+Network Tester provides cable qualification up to 10 gbps. www.flukenetworks.com