Bending electrical conduit is a common task for electricians, whether it's a few bends in a house under construction or multiple bends of various angles at an industrial facility.
Making the correct bend quickly and correctly is always the goal. That has become more important as the cost of conduit has increased, making wasted conduit and time for unusable bends more costly.
Bending products available today have been designed to help electricians minimize bending errors.
"As the price of electrical conduit increased 50%–100%, it became very important to reduce scrapping conduit because of bad bends or mistakes," said Jae Lee, director of product management at Greenlee, Rockford, Ill. "In order to help contractors with this goal, some electrical benders have adopted the technology to program the desired bend angle and keep the bender from over-bending by displaying the live bend angles."
This gives the operator much better control and prevents mistakes during the conduit bending process, he said. Also, some benders are qualified to use the bending data from the BIM models. This can bring seamless data flow from the modelers to the field, which can eliminate miscommunication and human error.
"This process automatically calculates the bend marks from the BIM model and provides the most accurate values to the operator," Lee said. "The operator has the choice to view the data through paper copy or mobile app. Some advanced benders have the capability to directly upload the data to the bender to enhance the process."
Lee said making hand benders out of aluminum significantly reduces the bender's weight, making it easier to carry them to and around job sites.
"Offset benders are an innovative type of hand benders," Lee said. "They help electricians connect the conduit joint to the electrical box, which requires perfect offset bends. These offset benders make the process much easier and improve the quality of the bend by applying two bends at the same time while keeping the conduit perfectly straight."
Bend a drinking straw to a 90-degree angle, and it kinks at the bend. How do conduit benders prevent this?
"It is important to have the right amount of pressure applied to the electrical conduit," Lee said. "With a hand bender, the groove on the shoe will support the dimension/shape of conduit while the floor or the operator provides pressure to the right area of the conduit. Not enough pressure will often result in wrinkling the conduit, and not applying the pressure in the right location will fold the conduit."
What is the difference between bending EMT and IMC?
Overall, the bending technique is similar when dealing with EMT and IMC conduit, Lee said. "The only differences are the required force to bend and the dimension. These factors can significantly impact the quality of the bend. It is highly recommended to use electrical or hydraulic benders to bend larger-size EMT or IMC conduit, which will eliminate the required force issue.
"Also, some benders are designed to have a special set of roller support to handle both EMT and IMC conduit without change over," he said. "This is the solution to the dimension difference between EMT and IMC conduit, which eliminates scrap caused by using the wrong roller support setup."
Greenlee provides a full breadth of electrical conduit bending solutions, from manual benders such as hand benders, hickey benders and mechanical benders, to electrically powered and hydraulic conduit benders.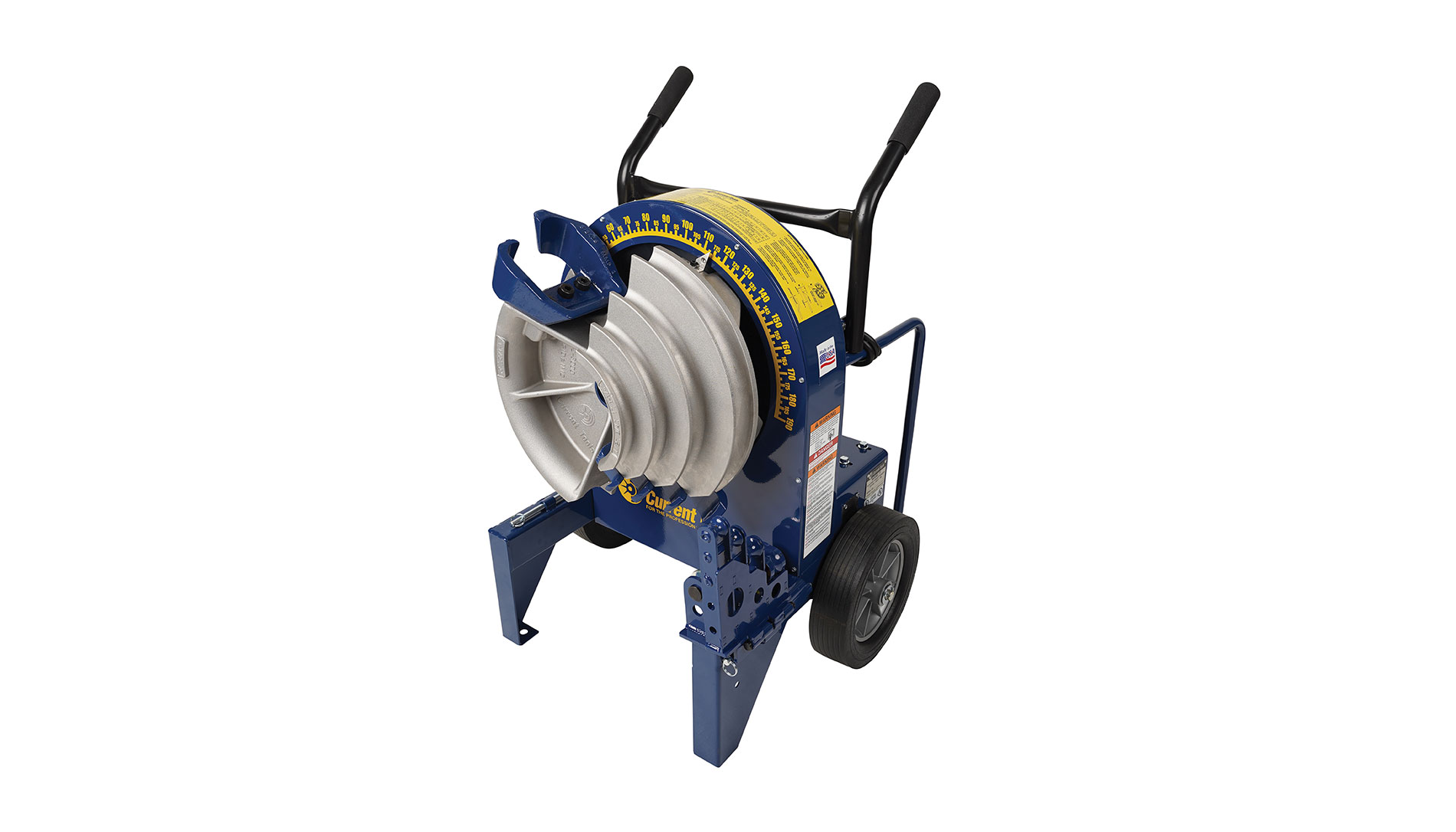 John Henry, general manager at Current Tools, Greenville, S.C., said drill-driven and hand-operated offset benders increase operator productivity while quickly making consistent bends in one setup. Optional shoes are available to bend 4 pieces of ½-inch EMT conduit or two pieces of ¾-inch EMT conduit at one time.
"Electric benders use a simple electrical system that allows the benders to be used just as reliably on job sites as it does in prefab or warehouse applications," Henry said. "In addition, we have two versions of shoe groups available for each type of conduit that offer users flexibility in how they wish to complete their bends as well as allowing them to take fewer pieces to the job site."
Henry said hydraulic benders that bend 2½- to 4-inch EMT, rigid and IMC conduit offer several options that help the users complete jobs in a timely manner and with added safety.
"For example, our newly released transfer cart allows the user to store all the shoes, follow bars and saddles on a mobile cart and transfer those components to the bender mounted on a bending table, without having to lift any of those components," he said. "The cart greatly reduces the risk of injury caused by lifting heavy components when changing to different sizes of conduit."
Electric benders, Henry said, use different shoe groups to bend EMT and IMC conduit. Although similar in appearance, the shoes and roller supports are manufactured to accommodate the different overall diameters and wall thicknesses.
"The roller supports for both EMT and IMC have a squeeze adjustment feature that helps eliminate conduit wrinkling and side marking," he said. "These problems occur more often when bending EMT conduit."
The mobile bending station helps reduce the time needed to move the bender from one location to another.
"A bending station stores all the components that are sold with the hydraulic bender and allows the contractor to use the bender without the need for an extra storage box, keeping all the components together and eliminating the need for a forklift to move the storage box," he said.
Current Tools offers conduit benders to bend all types of conduit including EMT, rigid, IMC and PVC-coated rigid. These benders range from drill-driven and hand-operated offset benders that bend ½– to 1-inch EMT and ½- to ¾-inch rigid conduit; mechanical benders that bend from ½- to 1½-inch rigid/IMC and ½- to 1¼-inch EMT; electric benders that bend ½- to 2-inch EMT, rigid, IMC and PVC-coated rigid conduit; and hydraulic benders that bend up to 4-inch EMT, rigid and IMC conduit. Current Tools also offers heating blankets and heater boxes to heat ½- to 6-inch PVC conduit for bending.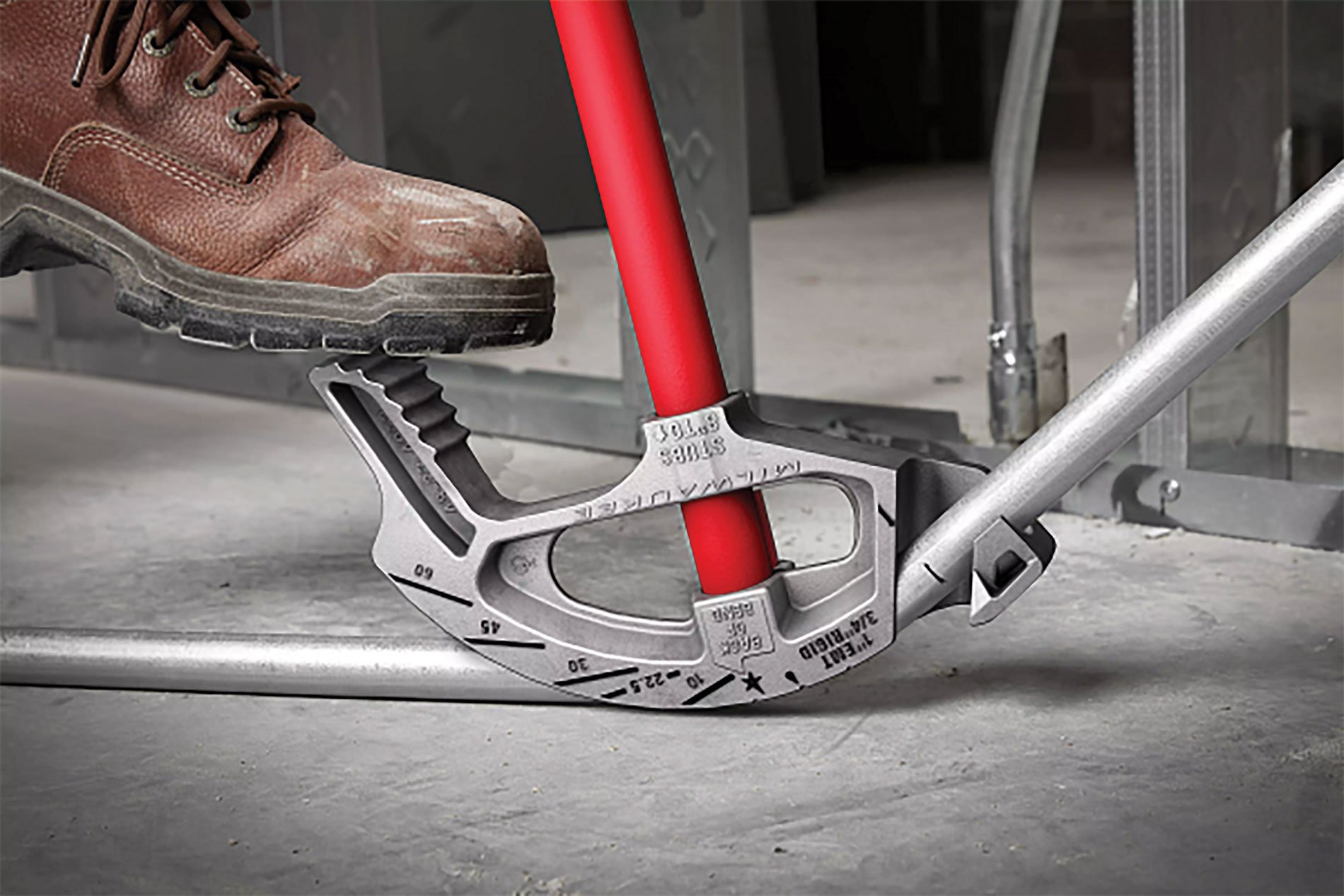 Adam Moscherosch, group product manager at Milwaukee Tool, Brookfield, Wis., said users have had trouble seeing the angle markings on hand benders, which makes it difficult to make accurate bends.
"A direct innovation to address this is incorporating high-contrast markings for those reference angles on the face of the bender. These markings allow the best visibility and enables the user to make precise bends during electrical installs," he said.
Another user frustration with hand benders, Moscherosch said, is handles loosening from the shoe.
"Best-in-class conduit benders have a double-bolted handle, which provides the user with confidence in handling security and overall accuracy. Another improvement is including a wear-resistant reference chart on the bender's handle, making the bending process more efficient without additional resources," he said.
Because IMC has a thicker wall than EMT, bending IMC requires the electrician to use a bender that is one size up from the pipe size. For example, if you're bending a ½-inch IMC conduit, then a ¾-inch EMT bender should be used.
Moscherosch said that for electricians to make a bend without reducing the interior dimension of the pipe, they need to maintain consistent pressure to avoid kinking the conduit. Using a premium bender with a reinforced hook and pedal will also help create bends without deforming or reducing the interior pipe dimension. These improvements reduce the likelihood of the hook or pedal becoming deformed, which can result in an inconsistent bend.
Milwaukee Tool makes aluminum and iron conduit benders in ½-, ¾- and 1-inch sizes.
---
Bending PVC conduit
John Henry is general manager at Current Tools, Greenville, S.C. The manufacturer offers a range of heater boxes and heating blankets that heat PVC conduit in diameters from ½–6 inches for bending. By placing the conduit inside the heater box, or wrapping it with the heating blanket, the user is able to heat the PVC conduit to a point where it is flexible and pliable and can be bent to the desired degree. This type of bending requires some skill because once you remove the conduit from the heater, it starts to cool and becomes harder to shape. The user must work quickly to get the bend required without deforming the conduit, and then let it cool, Henry said.
Jae Lee, director of product management at Greenlee, Rockford, Ill., emphasized that when bending PVC conduit, it is important to apply a consistent amount of heat to the area where the bend is desired. When using a PVC heater or blanket, make sure to locate the right area and apply consistent heat.
Using PVC plugs can help to speed up the heating process by containing the hot air inside the PVC. Once it is heated, shape the PVC to the desired dimension and cool it off until it is hardened again. Using a wet rag can significantly help this process. PVC heaters and blankets should only be used to bend PVC conduit and not PVC-coated rigid conduit.
You can also use a product such as Hot Bend, which is a portable heat gun that helps save time bending ½- to 8-inch schedule 40 or 80 conduit. Unlike other options, it can be used on conduit that is already placed.—J.G.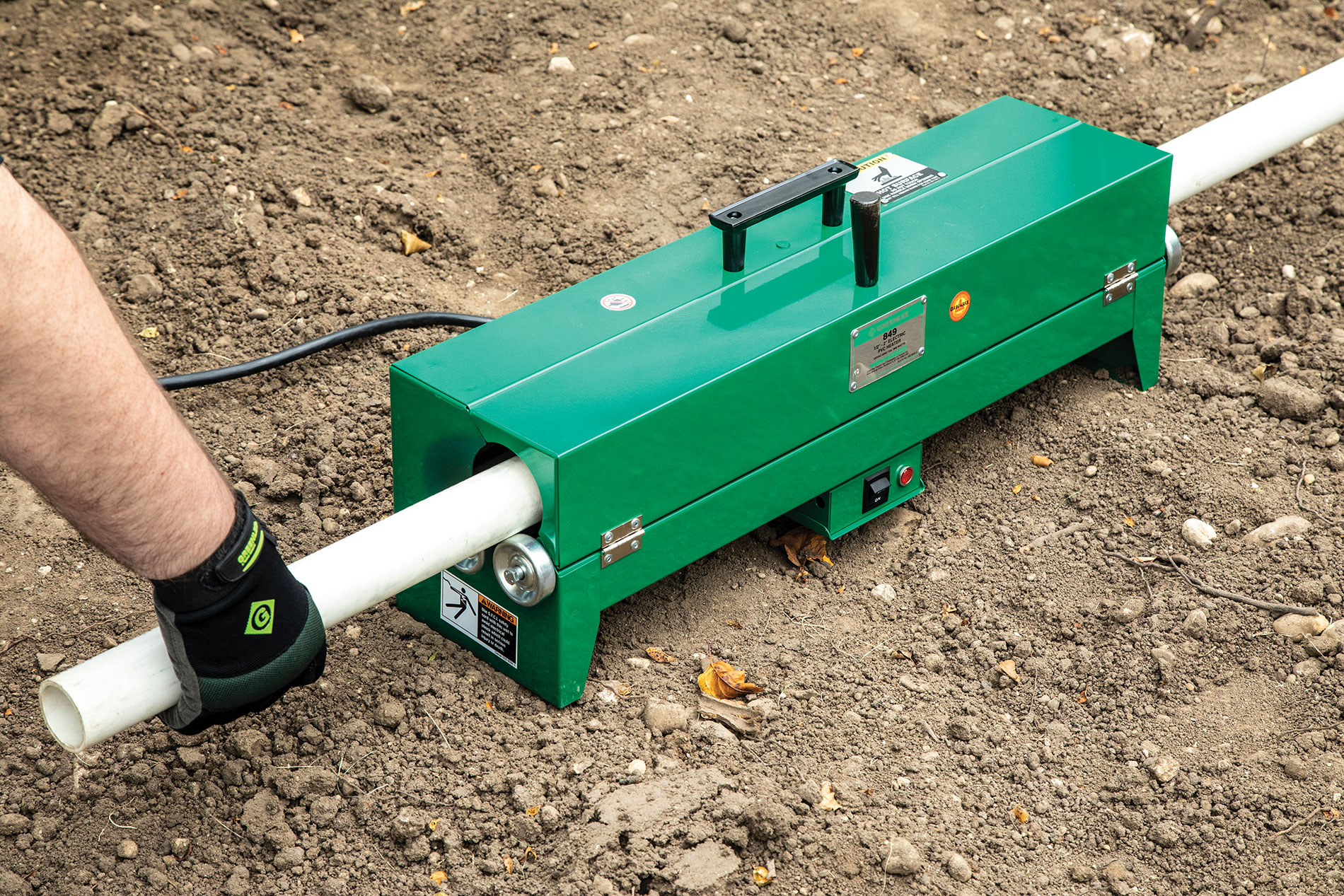 Header image by Greenlee 881 hydraulic bender on bending cart. Image by www.greenlee.com.